Creative Cooking...Shrimp and Grits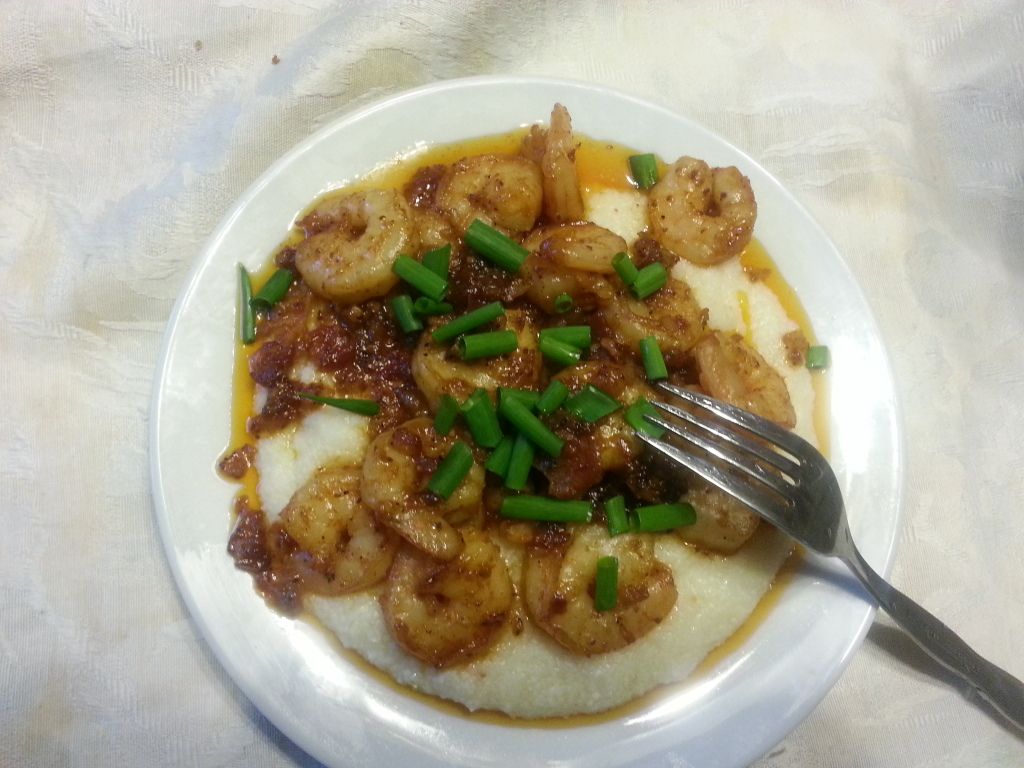 I love shrimp and since I am a Southern girl, I love me some grits too! So I decided to make Shrimp and Grits for dinner. I already had the shrimp in the freezer and all Southern girls keep grits on hand. But before I did all that, I googled some easy Shrimp & Grits recipes and most of the recipes were simple and not very time consuming. However, there was a problem, you see I like my grits plain with a little butter and a little sea salt that is all. No really. All the recipes I saw wanted me to add cheese and chicken base or broth to the grits so they could be creamy. Shoot, just add milk or cream if you want them creamy. Growing up in a Southern family, one can expect to have their grits ruined by the addition of cheese, chicken base or stock or another other additive, but I don't like mine that way. When I moved to Alabama I stopped eating grits soon after my arrival. They tasted funny. My aunt and uncle always added chicken base to their grits, so I just stopped eating them, but my love for them never died. Ya'll know I do not eat cheese. So after perusing the web, I knew I was just going to wing it, because I wasn't going to ruin a perfectly good pot of grits and sautéed shrimp shouldn't be that hard.
Ingredients:
½ pound of peeled and deveined medium shrimp
1 whole shallot minced
1 tbs of olive oil
1 tbs of minced garlic
1 tbs of cooked bacon
Tony Chachere's to taste
Black Pepper to taste
Green onions for garnish
Grits – cooked to your liking…
Season your shrimp with Tony's and black pepper and set aside. In a sauté pan, add your olive oil, minced garlic, minced shallots and bacon and sauté for about 3 minutes. Meanwhile, bring a cup of water to boil for your grits, once it boils add a ½ of cup of grits and stir and stir. Add your shrimp to the sauté pan and cook until done, do not overcook your shrimp. When the grits get to the consistency you like, turn them off. Allow them to sit for about 2 minutes and transfer to your plate with a pinch of butter and pour your shrimp and pan drippings over them and sprinkle some cut green onions for garnish. I did not season my grits because of the seasoning on the shrimp. Serve hot. And enjoy!
Since this was my own recipe not much to complain about. This was enough for one person a full pound of shrimp will serve two people very well. It is filling and quite tasty. Don't overcook your grits or your shrimp. Of course I didn't have anyone to taste test for me, but the pictures caused an uproar of "OMG!" Or "Damn that looks good!" If you do try this recipe, let me know how you like it. One the kids on my second job asked why I didn't test the recipe on them, um, because shrimp is too expensive to test on them. LOL!