Creative Cooking...Thai Basil Beef Stir Fry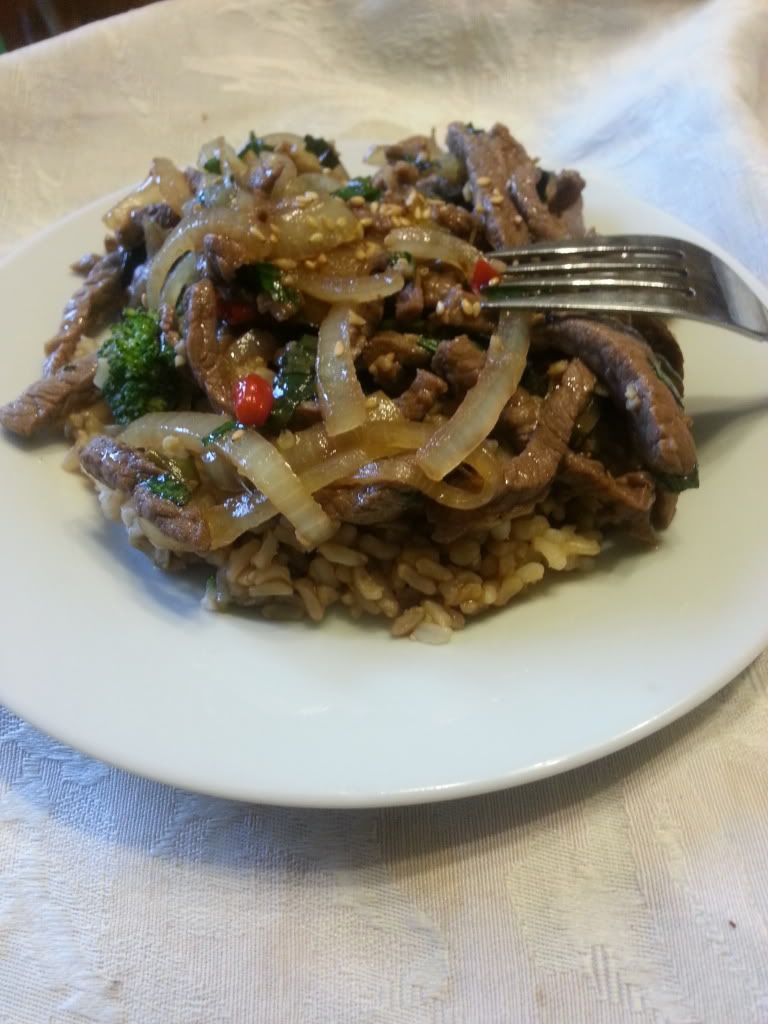 Thai Basil Beef Stir Fry

I love making Asian dishes. Some are so simple you can't help but try them, and then there are some that are a bit too complicated for me to even want to try. Frankly, I live in Alabama and sometimes finding the ingredients isn't easy. Luckily, I have found a really good Asian market not far from my house with the ingredients that you can't find in your local grocery store.
This particular weekend, I just wanted something simple and easy to fix and I ran across several simple Thai beef stir fry recipes. I liked the one found on
Beyond Kimchee
it looked simple.
I only had to purchase some Thai basil and Thai chilies. And they were relatively cheap. Side note: I don't know about many of you, but I rarely carry cash. And this particular Asian market requires a minimum purchase of $10 in order to use your debit/credit card. Boo! My total was exactly $2.75, luckily I carry my checkbook now with me always and I wrote a check and she didn't require any extra information on the check. And baby since my break in, my checks just have my name and address. Back to this dish…
Ingredients:
As adapted from
Beyond Kimchee
The stars of the dish aka the Ingredients
1 lb of beef (I used thin cut sandwich steaks) (scored a pound in a half for 1.82)
1 medium onion sliced
2 tbs of canola oil
2 handfuls of Thai basil
5 Thai chilies finely chopped
3 tsp of minced garlic (because I rarely buy fresh garlic and I used already minced garlic) I need to do better, but um, I need convenience sometimes.
1 tbs of Fish sauce
3 tbs of oyster sauce
½ tsp of sugar
1 tbs of water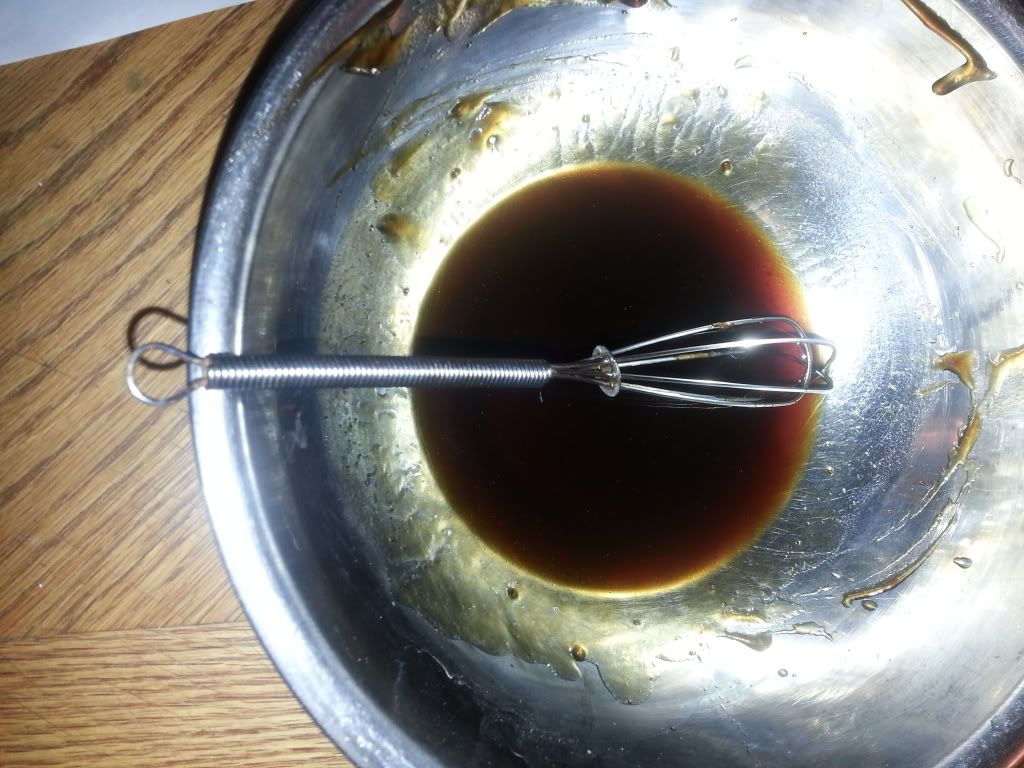 First, you need to combine your Oyster sauce, fish sauce, sugar and water in a small bowl and set
aside.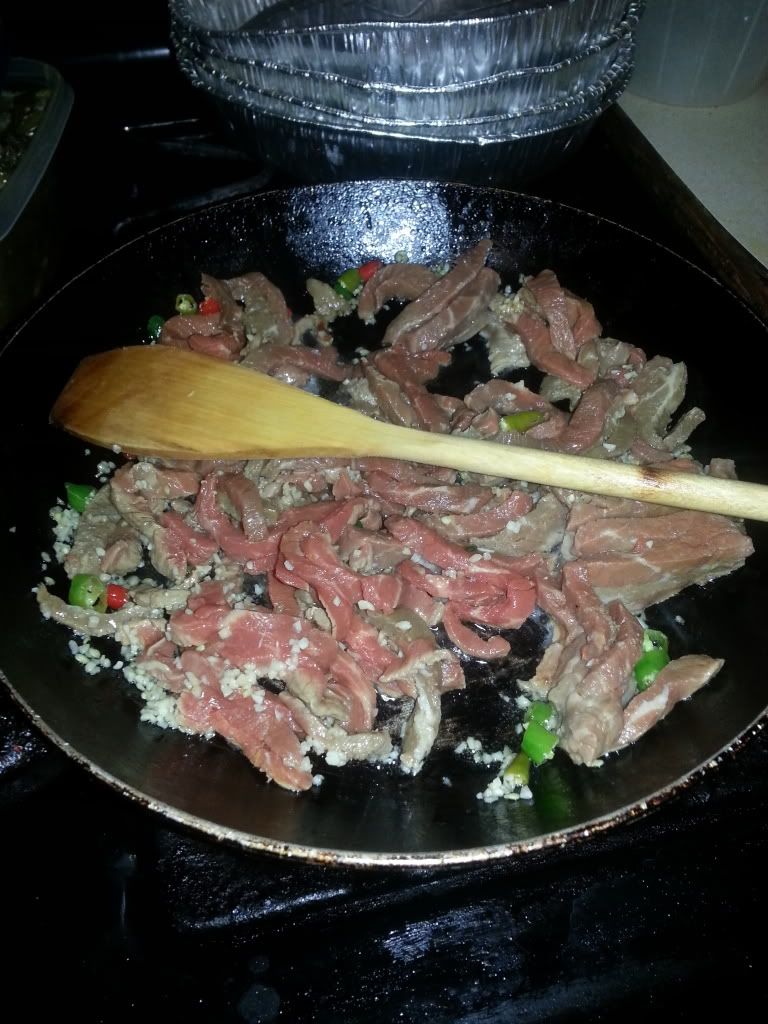 Then heat 1 tbs of oil in a skillet over medium heat and add garlic and chilies for a few seconds then add your sliced beef and cook for about 2 minutes. Remove beef from pan and set aside.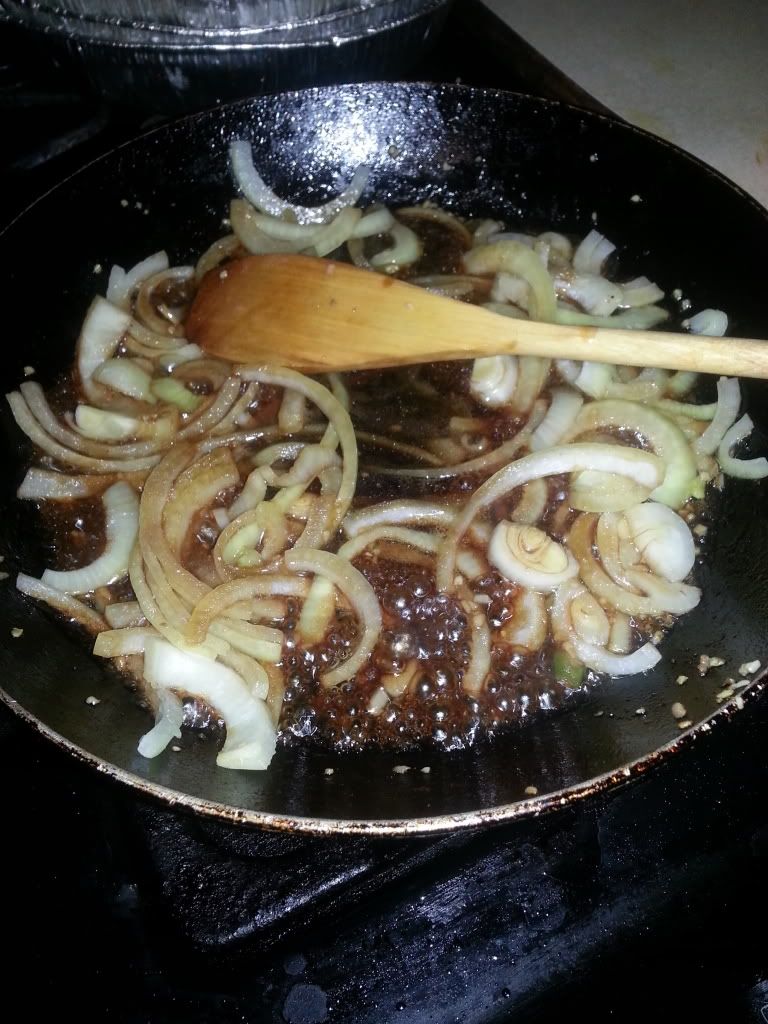 Now, add your remaining oil to the pan and then add your onions and sauce and cook until your onions are soft.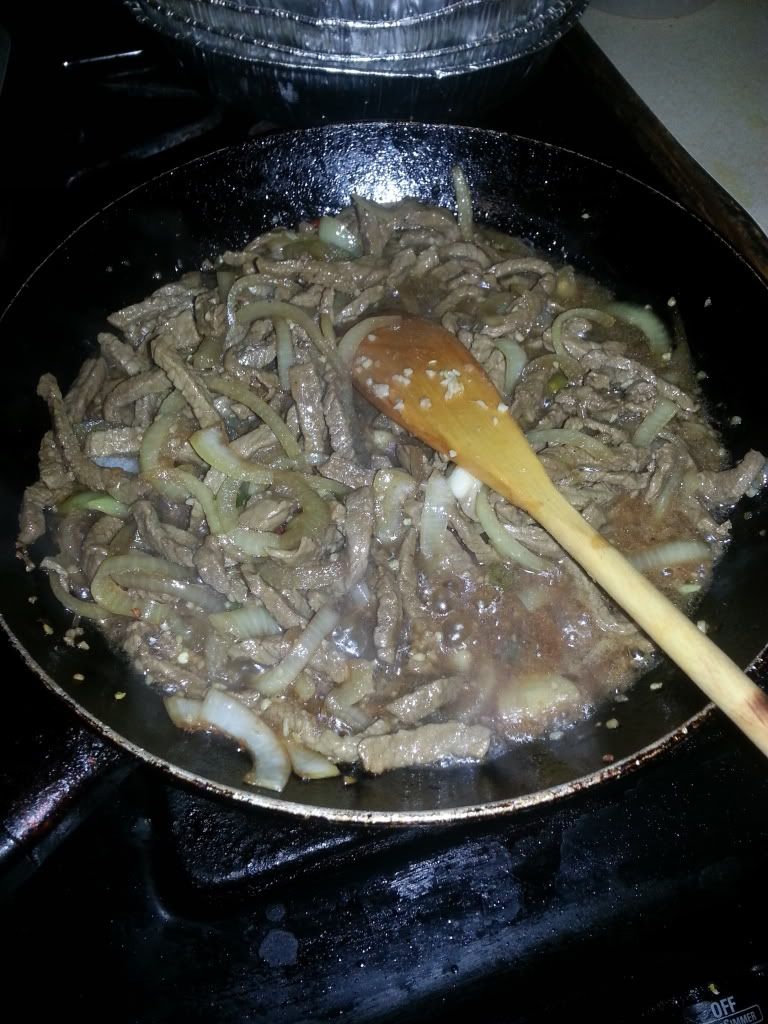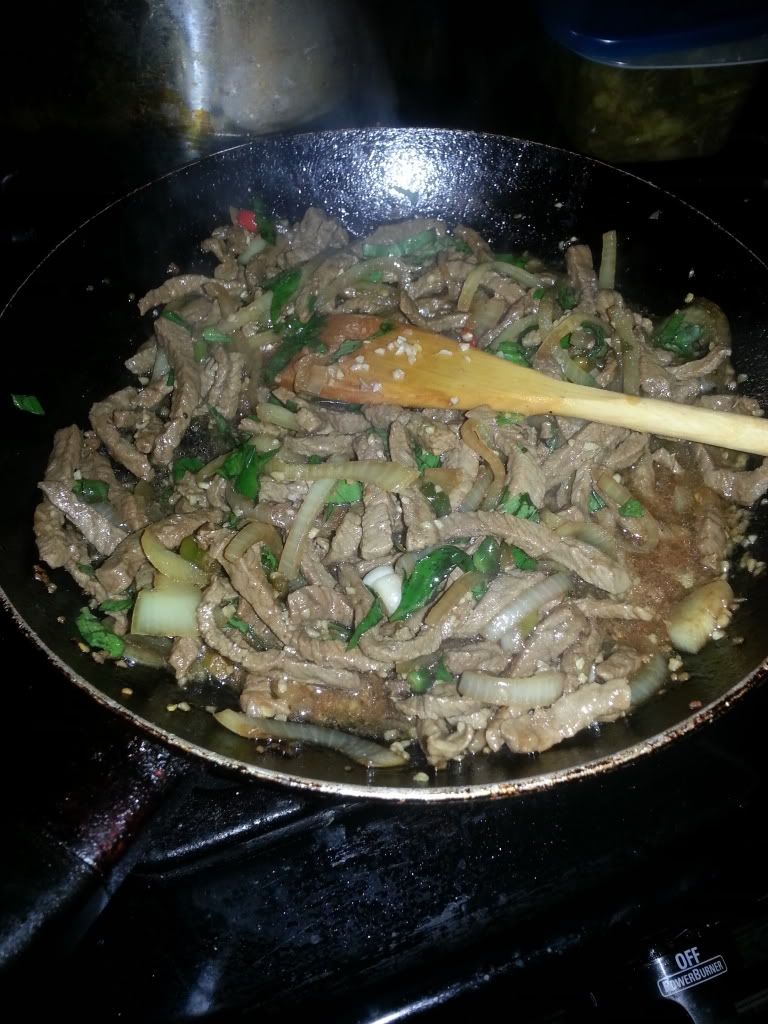 Add your beef back to the pan and heat through and finally add your Thai basil and remove from the heat.
I served mine with brown rice that I added a bit of soy sauce to as well as steamed broccoli and carrots. Meal couldn't be any simpler.
Verdict:
Baby, baby! The little Thai chilies aren't to be played with, they are hot. This dish isn't as hot as the Thai Shrimp, which contains chili paste, but it does give a bit of a pause. I knew I couldn't serve this to The Guy. LOL! The heat is part of what makes this simple dish an amazing flavored dish. It is almost sinful it is so easy to make, but it is equally sinful because it tastes so good. I will definitely be making this dish again and probably with chicken as well or shrimp. Let me know if try it.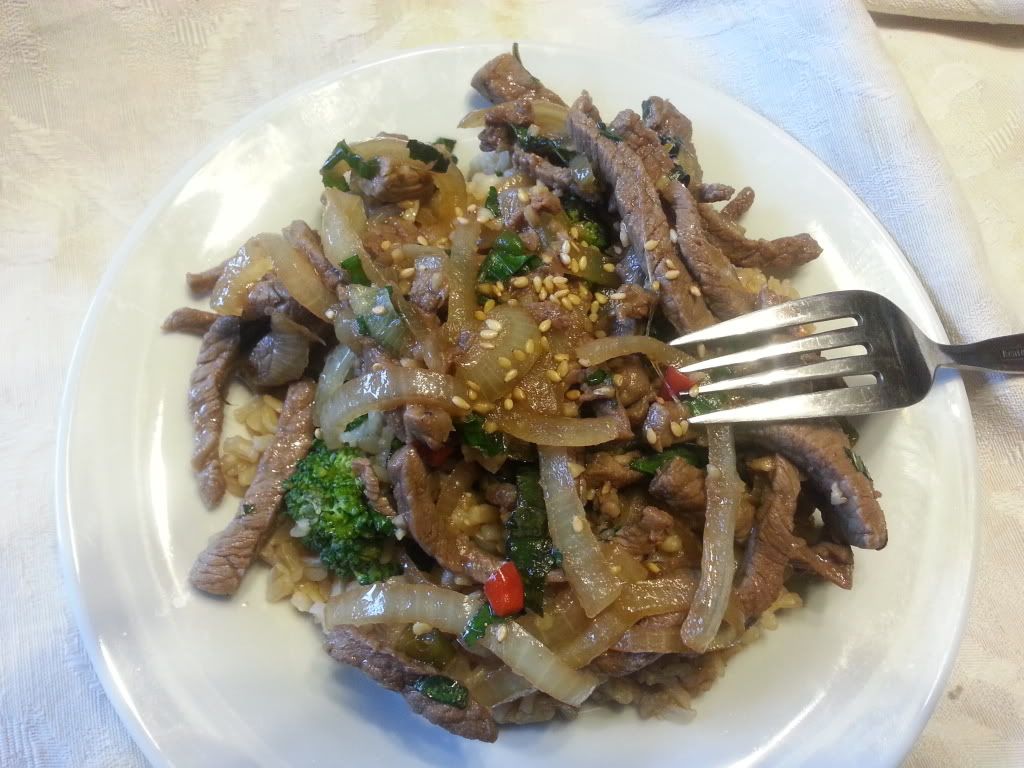 Now, tell me your mouth isn't watering...