Creative Cooking...Mini Vanilla Wafers

As a Southern girl, vanilla wafers were the one kind of cookie you didn't necessarily get to eat just as a cookie. Typically, they were served in grandma's banana pudding. And Southern banana pudding is a staple in many households. Thing is, if you are health conscious, banana pudding is something one doesn't partake of on a regular basis. I haven't had banana pudding in 5 or 7 years. But this creative cooking isn't about banana pudding, but one of the main ingredients of a banana pudding and that is vanilla wafers. In fact, I won't eat a banana pudding where the ratio of bananas is more than the cookie, just won't.
As per usual, I was on Pinterest and saw a recipe for mini vanilla wafers and figured, why not give them a try. The ingredients I already had and they looked pretty simple to make. And for the most part they were easy to make. I got the recipe from
http://bakingbites.com/2008/07/mini-vanilla-wafer-cookies/
.
Ingredients:
½ cup of soften butter
½ cup of sugar
½ cup of brown sugar
1 large egg
1 tsp of vanilla extract
1 1/3 cup of all purpose flour
½ tsp of salt
½ tsp baking powder
Preheat your oven to 325 degree. Cream your butter and sugars until light. Beat in your egg and vanilla extract. Sift flour, salt and baking powder and mix with your butter mixture until combined. Yes, I did this all in the mixer.
Put your dough, which is pretty thick in a pastry bag with a piping tip, I used the one I had and it worked fine. Pipe on a parchment lined cookie sheet. The size depends on you. I did a dollop, but I found the cookies do spread and if your cookie sheet is hot, they spread even quicker. I got about 100 cookies on my cookie sheet.
Just a dollop... You see the tip I used.
Bake for 10 to 15 minutes or until they are golden brown. Baking time depends on the size of your cookies and the color variation you may want. Cool on the cookie sheet. Note: they cool really fast.
Look good, but see the color variations these were on the same pan...
Verdict:
Nothing to sing praises about. I didn't change this recipe at all. First of all, the cookie dough is messy when trying to get it in the pastry bag. I should have used the clear wrap method and maybe I wouldn't have gotten the dough all over my hands. You know I can't stand stuff on my hands. 2nd of all not really knowing how much the cookies would spread was also a problem so of course I had quite a few cookies that melded together. 3rd, seriously the cookies didn't all brown at the same time so I would have a pan with some dark and some too light. 4thly, there wasn't enough vanilla used in this recipe. Finally, they just didn't taste like vanilla wafers. I am sorry, but they didn't. They tasted like sugar cookies. They tasted fine, but fell short of my taste buds and what I clearly remember vanilla wafers tasting like. If you try this recipe, let me know how they turn out for you. Seriously, I made them as a healthier snack for PMS week, they were okay but when you have your mind set on one taste and you get another, there is bound to be some disappointment. So yeah, I will be looking for another vanilla wafer recipe.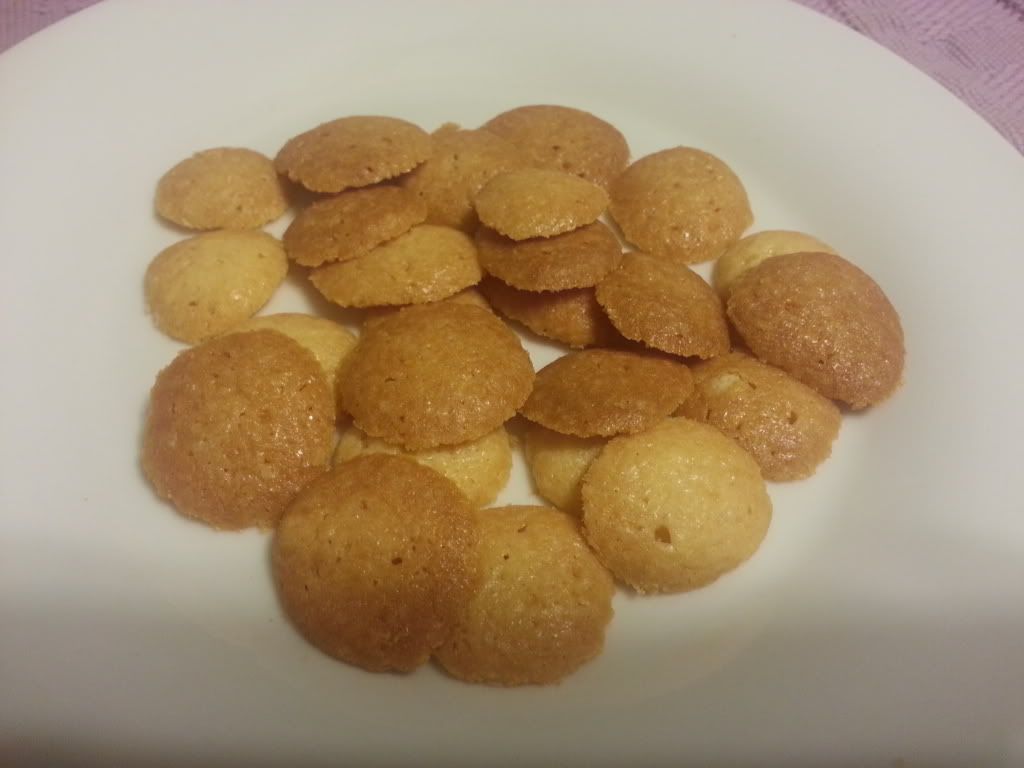 Tasty, but do not taste like the orig