Creative Cooking...Chicken Tortilla Soup
This weekend I decided to try my hand at a simple dish that would provide a light lunch for me this week. I am a fan of Chicken Tortilla soup. I don't remember when I first had a bowl, but I remember distinctly when Chic Fi La had it on their menu last winter and boy was it really good. Now trying to find a good version of the dish can be a bit daunting, because there are varying versions, but I wanted one that was simple, flavorful and could be done in the crock pot. I use the hell out of my crock pot. So my search began. My version combines ingredients mostly from the Spark People site and a bit from Ree Drummond of The Pioneer Woman site.
Ingredients:
1 pound of frozen boneless chicken breasts
1 can of diced tomatoes
1 10 oz can of enchilada sauce
1 medium chopped onion
1 can of Rotel tomatoes and green chilies
2 cloves of garlic
3 cans of chicken of low sodium broth
1 ½ teaspoon of cumin
1 teaspoon of sea salt
1 teaspoon of black pepper
1 10 oz package of frozen corn
1 can of rinsed black beans
Corn tortillas strips for garnish
Lime slices for garnish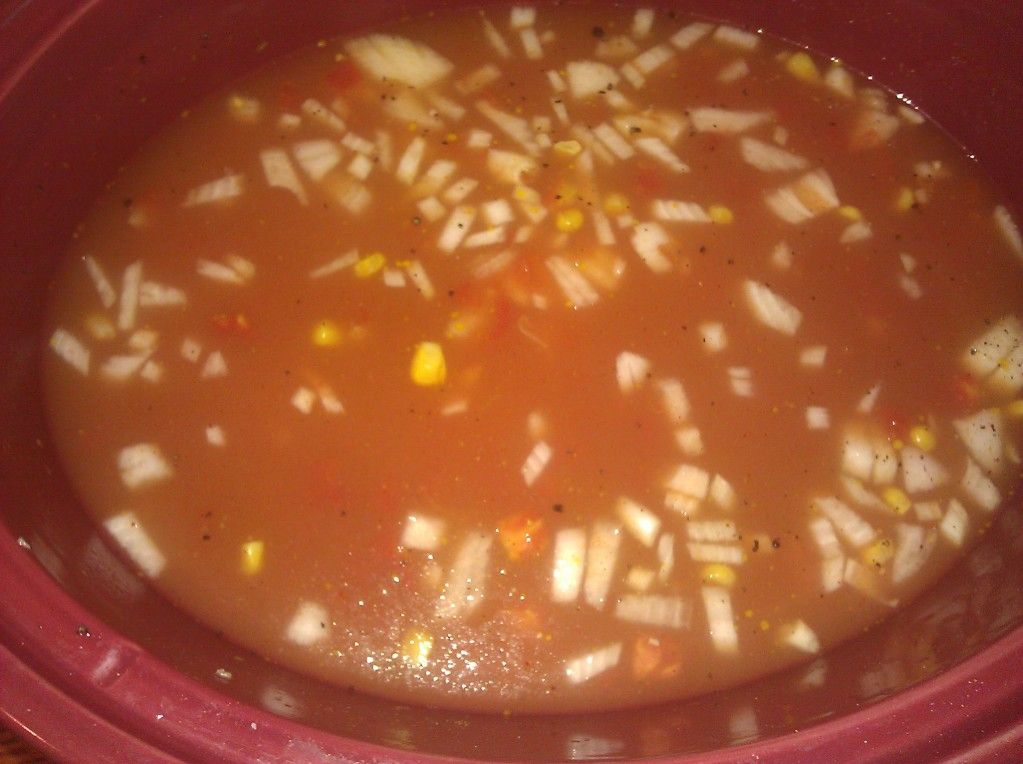 Every thing in the crock pot. You can see my crushed black pepper.
I find using frozen chicken breasts in crock pot dishes works best. So in my crock pot went my frozen chicken breasts, the can of dice tomatoes, Rotel, onions, enchilada sauce, garlic, chicken broth, corn, black beans and salt and pepper. Cooking the ingredients on low for 6 to 8 hours and about 2 hours before done, take out your chicken breast and shred and add back to simmer a bit longer. Only issue I found at this point is my whole house was so fragrant my mouth was watering. I served with the tortilla strips as garnish and a squeeze or two of fresh lime juice.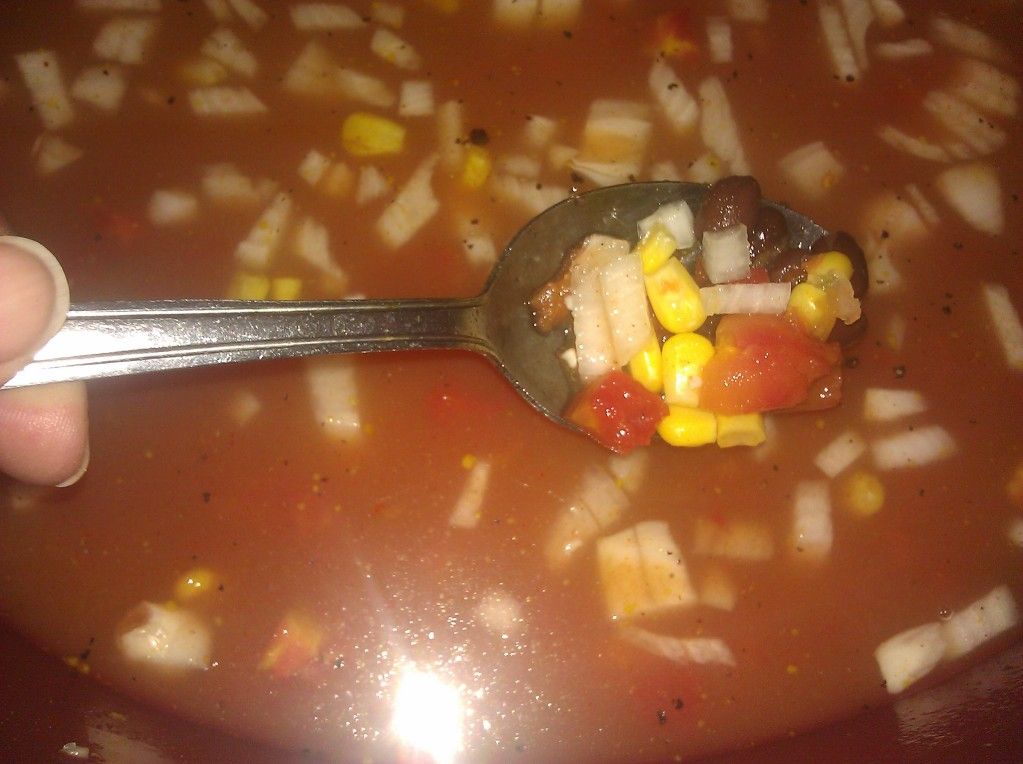 Just a little closer look at the items as they began their journey in the crock pot.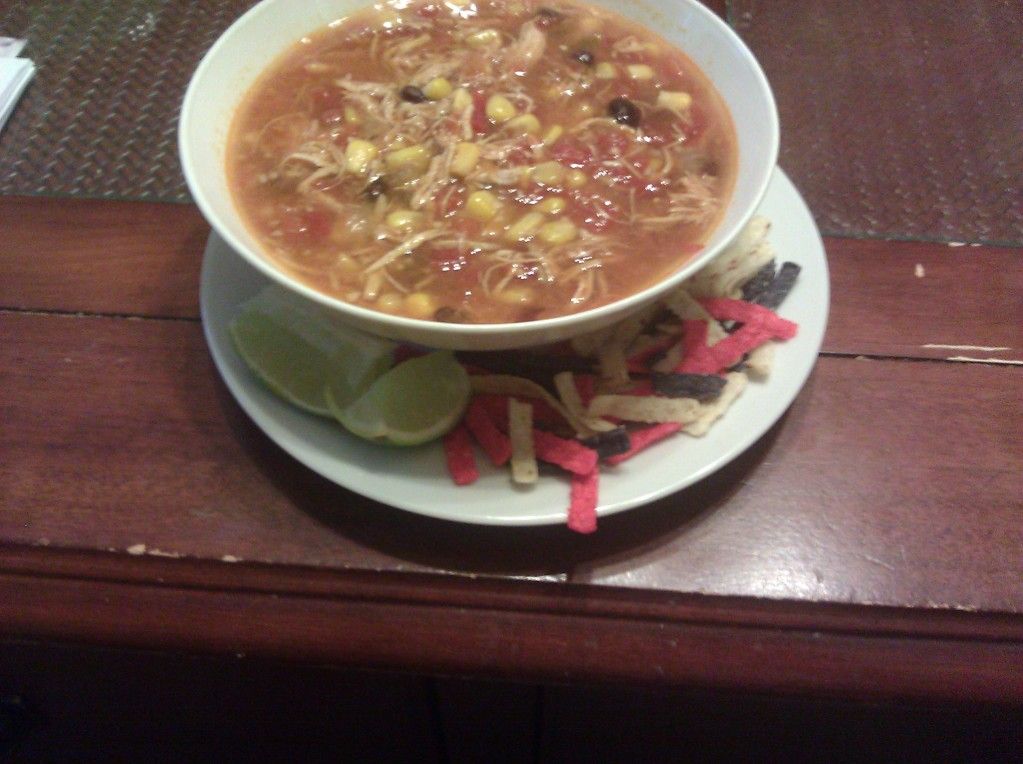 Yes, I got a little fancy with the tortilla strips using the tri-color. Doesn't it look yummy!
Verdict: This was entirely too easy. Although I could have just followed the Pioneer Woman's recipe, her version is a slow cook on the stove type deal and since this was my first time making this I wanted to go the easy route and see what I liked and disliked about the easy version and customize it more to my taste. Seriously, just throwing everything into the crock pot made this a cinch to make. The aroma was so intoxicating. The actually taste was great. I loved the subtle and boldness of the soup itself. When I make this one again, I will be adding the tomato paste, which I intended to do so, but forgot and add another can of black beans. Frankly, I just love black beans so adding another can just plays into my taste buds of wanting more beans. As far as garnishing, I didn't want to buy a bunch of cilantro for this one dish and end up throwing it away a week later. Too bad my cilantro was done from my garden. I also found a simple recipe for enchilada sauce, which is an easy way to encourage me to make my own, but frankly I doubt I will because the sauce in the can is cheap and you all know I am lazy when it comes to cooking. I enjoyed my first taste out of the crock pot of this Chicken Tortilla soup and I know during the next week the flavors will meld further together to magnify its richness. This is a light but filling soup. Well worth giving a try.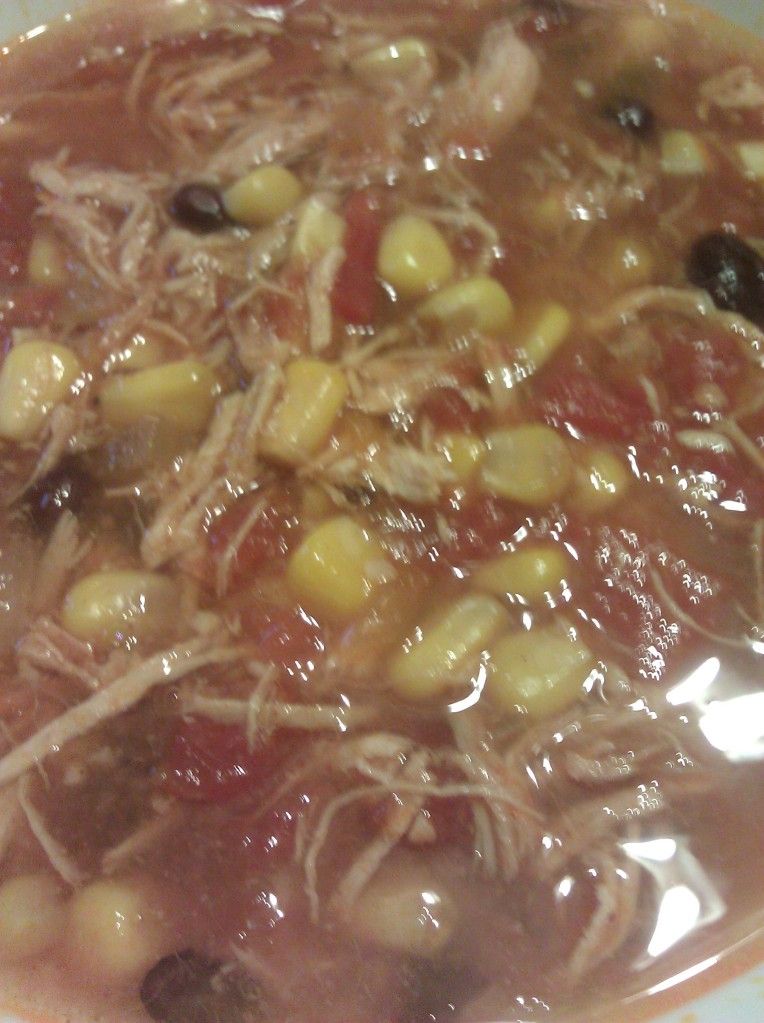 I love that you can see every thing.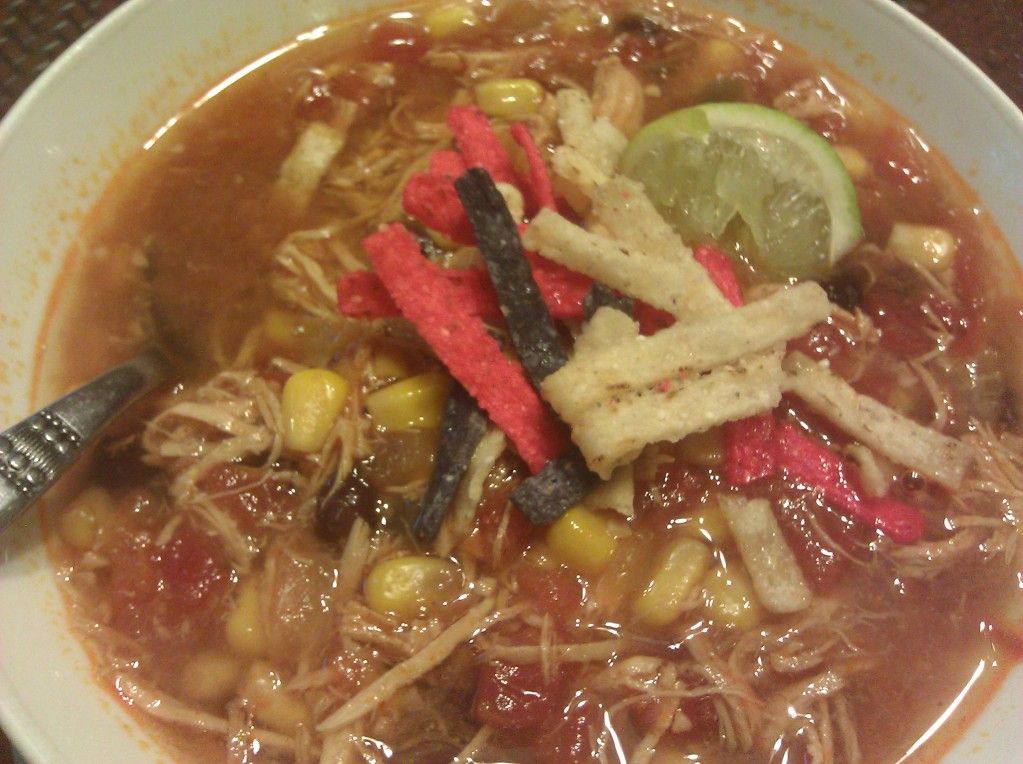 All dressed up with no where to go except into my tummy!