Creative Cooking...Mini Salted Caramel Apple Pies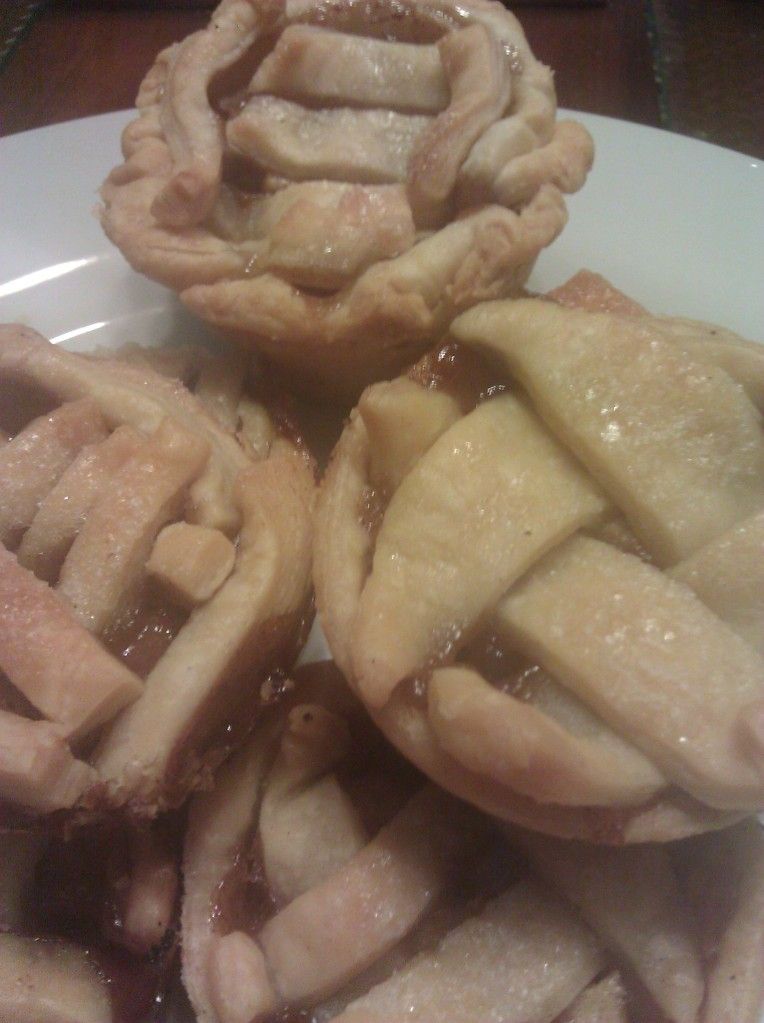 Mini Salted Caramel Apple Pies (The one in the back is bigger the most becaue I had a lot of leftover dough after the first test)
As I was wasting time on Pinterest, and my goodness I know time will go fast when I am on that thing especially since I have the app on my cell phone, I came across this little gem. Mini Salted Caramel Apple Pies. I was excited about making them and was grateful I didn't have to learn to make pie dough. I just ain't ready for that type of commitment. I also made the mistake of allowing my kids on my second job see me reading the recipe online and of course they wanted to try them. They are quite simple to make and quite tasty to boot. Let me warn you, they are "minis" so keep that in mind. When the kids saw them, they were like they could eat at least two or four a piece (these are girls mind you) and I was saying one should be sufficient. Well, when I made the first batch, I had to bite my words because serious they are a two bite dessert, minis. Really.
The recipe comes from Jersey Girl Cooks with a few tweaks.
Ingredients:
2 or 3 medium apples cored, sliced and diced thinly
¼ cup of Caramel sauce with a teaspoon sea salt added
½ teaspoon of cinnamon
1 9 in prepared pie dough
2 tablespoons of butter
Sugar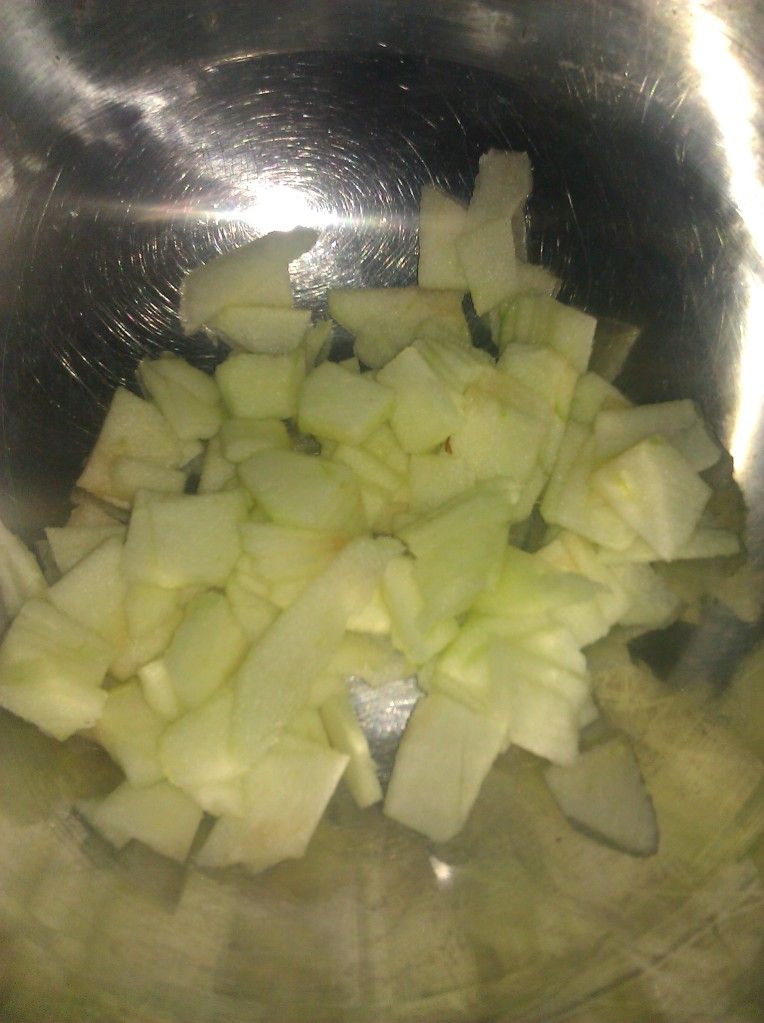 Preheat your oven to 350 degrees. Slice and dice your apples. Then add salt to your caramel and your cinnamon and mix together until incorporated. Taste your caramel and add more caramel or salt depending on your taste.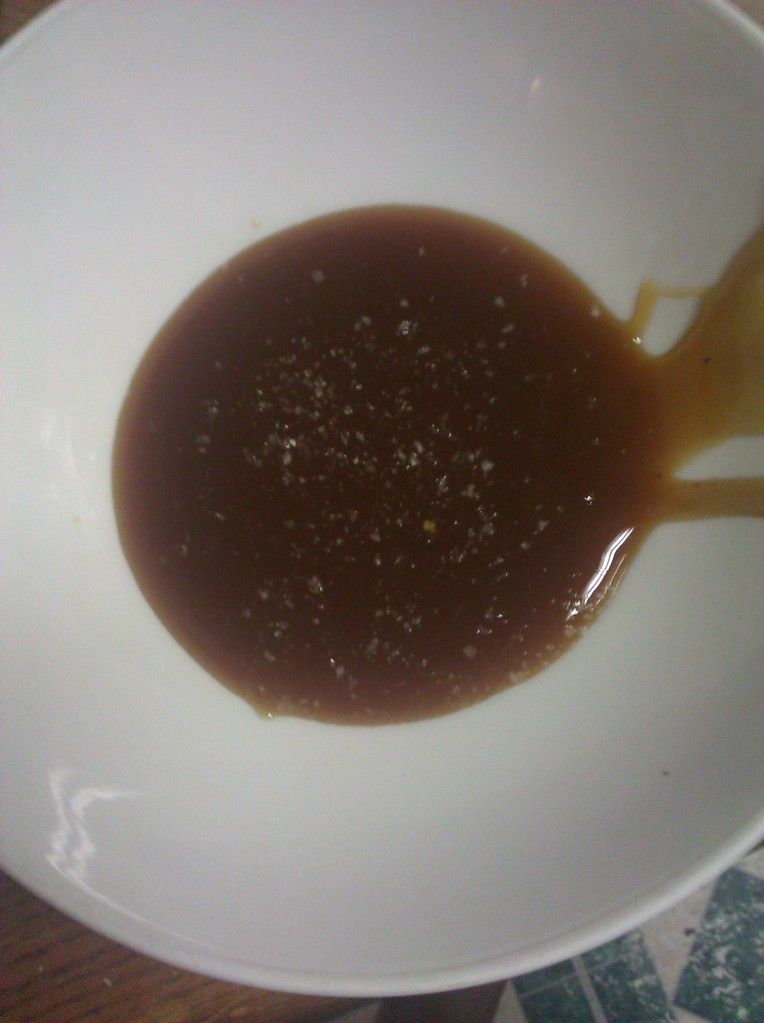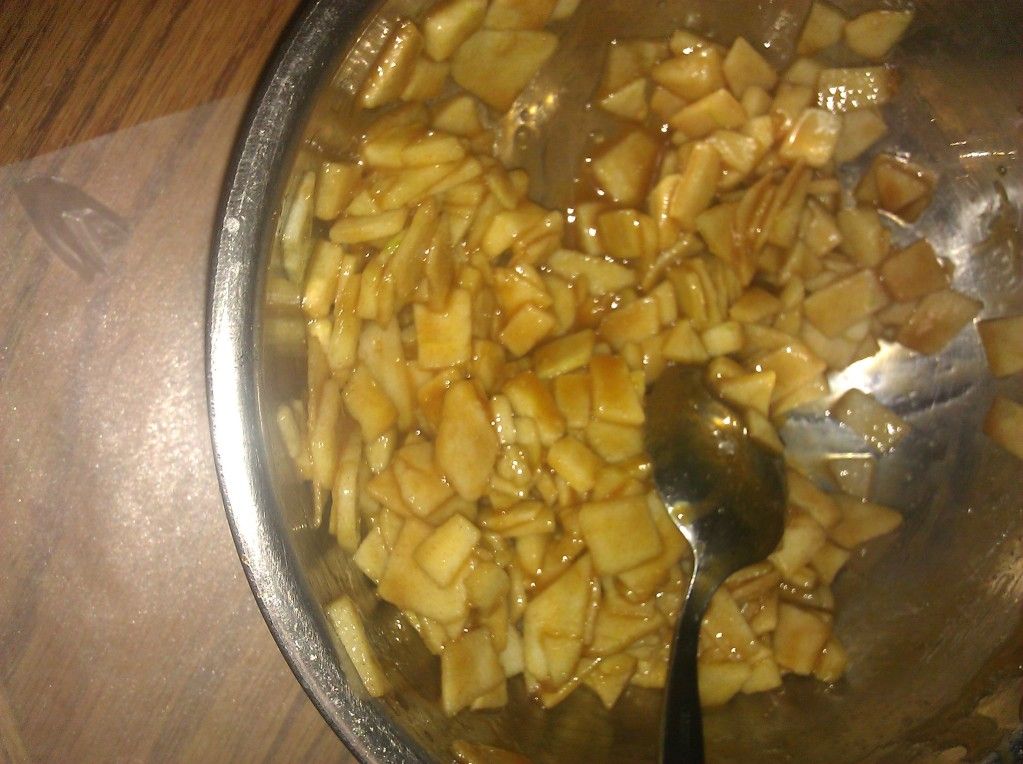 Apples and salted caramel mixed together
On a piece of wax paper roll out your prepared pie dough. And using a biscuit or in my case a juice glass cut out round circles. I was able to get 10 circles per round. When you finish you will have some scraps left to roll out to use as your lattice work on top of the mini pies.
Patted rounds in muffin pan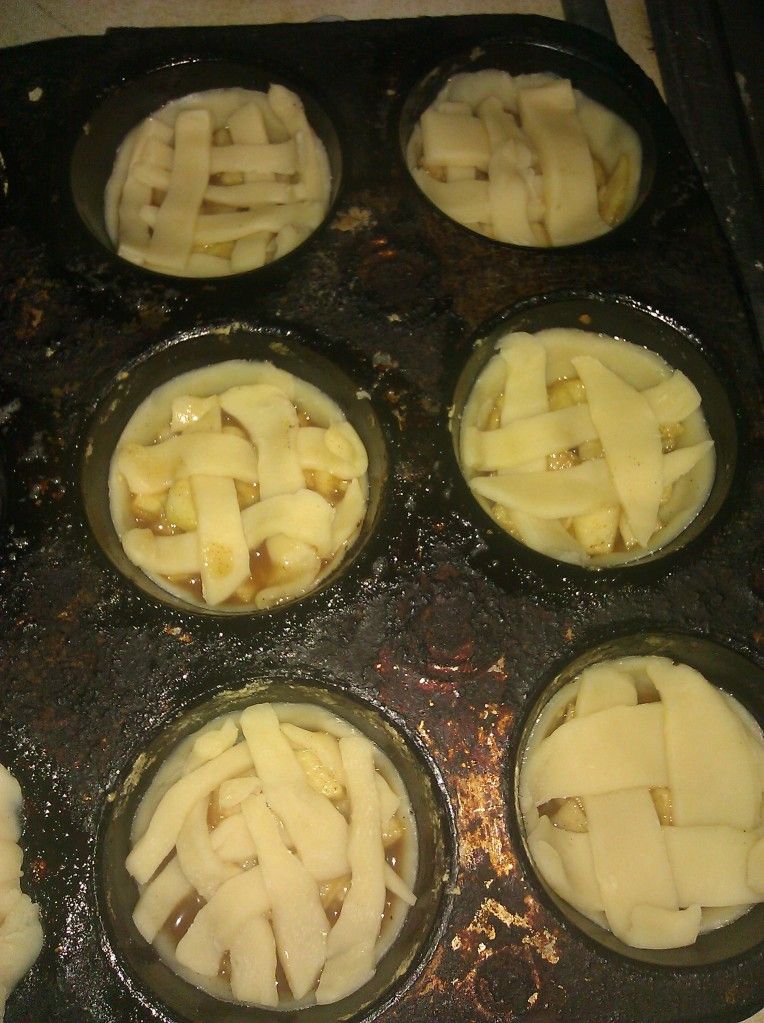 Stop laughing at my lattice work. I know I need to make them even and you just lay them across each other. LOL!
In a greased muffin pan place your pie rounds in the pan and insure the bottoms are flat and you bring the dough up on the sides. Now fill your mini crust with the apple mixture. Do not overfill or add extra liquid to the pies. If you read Jersey Girl's comments she insists you not do it because it will make getting your pies out of the pan an adventure. However, I sprayed my pans to avoid this problem and it worked all three times I made these pies. What? I really liked them. Then with the rolled scraps make some strips about four or so for each mini and place on over the filled mixture. Then using your melted butter or margarine, brush each mini pie and then sprinkle with sugar.
Bake in the oven for about 20 – 25 minutes until they are golden and bubbly. Allow them to cool for about 20 minutes and using a knife I gently went around all the minis and they easily lifted out of the pan.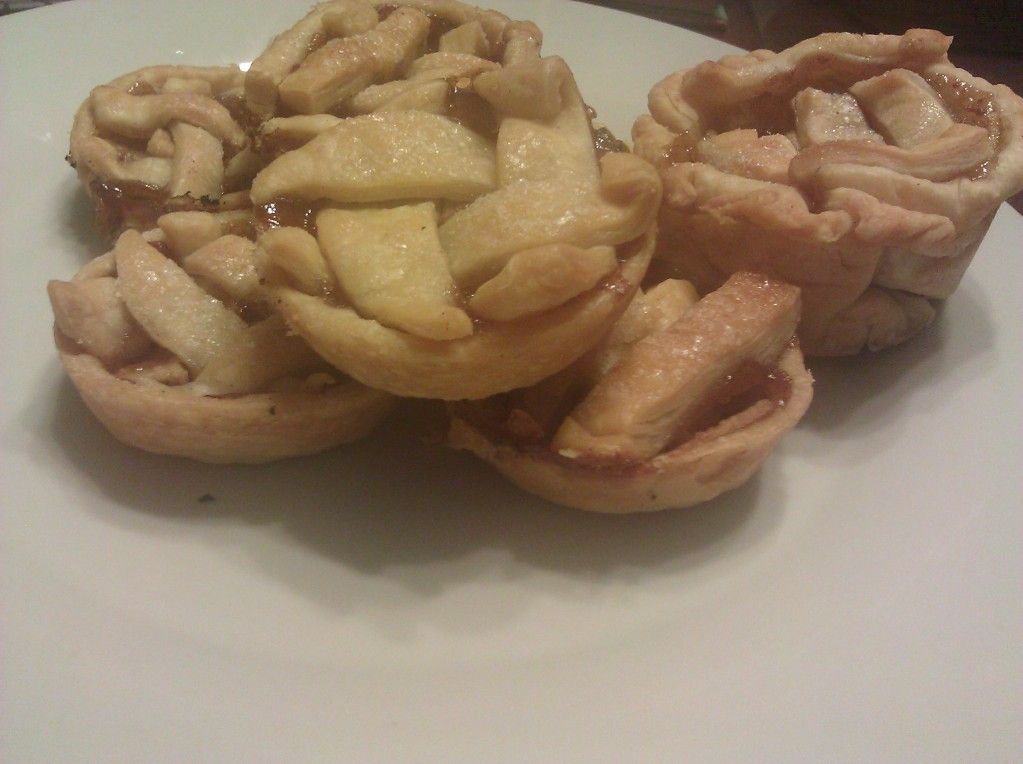 VERDICT: Um, I made them three times. The first time was to see if they were easy enough to make before I promise to take them to the kids on my second job. And they were. It takes about 20 minutes of prep work before they go in the oven. They are absolutely tasty and those are the best two bites of apple pie you can imagine. I imagine serving it was homemade vanilla bean ice cream. (I need to go workout right now!) The crust tastes like homemade flaky and buttery and I use Pillsbury by the way. (FYI – read my disclaimer) The caramel with the salt is a wonderful blend with the tartness of the Granny smith apples I used. Amazing. The kids on my job thanked me profusely for making them and are constantly asking me to make them again, but a batch for each person. Um, that is a no. One of the cooks was eating them like a foodie, taking bites to discern the ingredients and savoring the flavors. I had to laugh at that. I plan to make them for Thanksgiving because they are so simple and easy. If you make these you will not be sorry!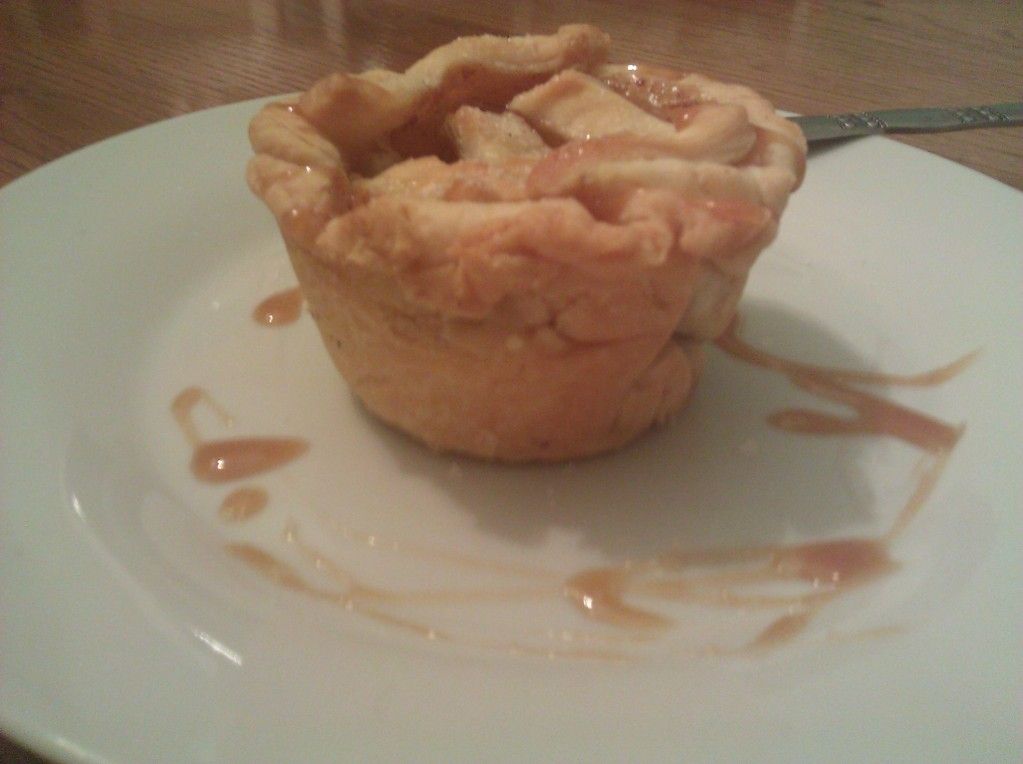 Labels: Cooking, employees, Family, Food, Fun stuff, Ramblings