Creative Cooking..."Spaghetti Steak"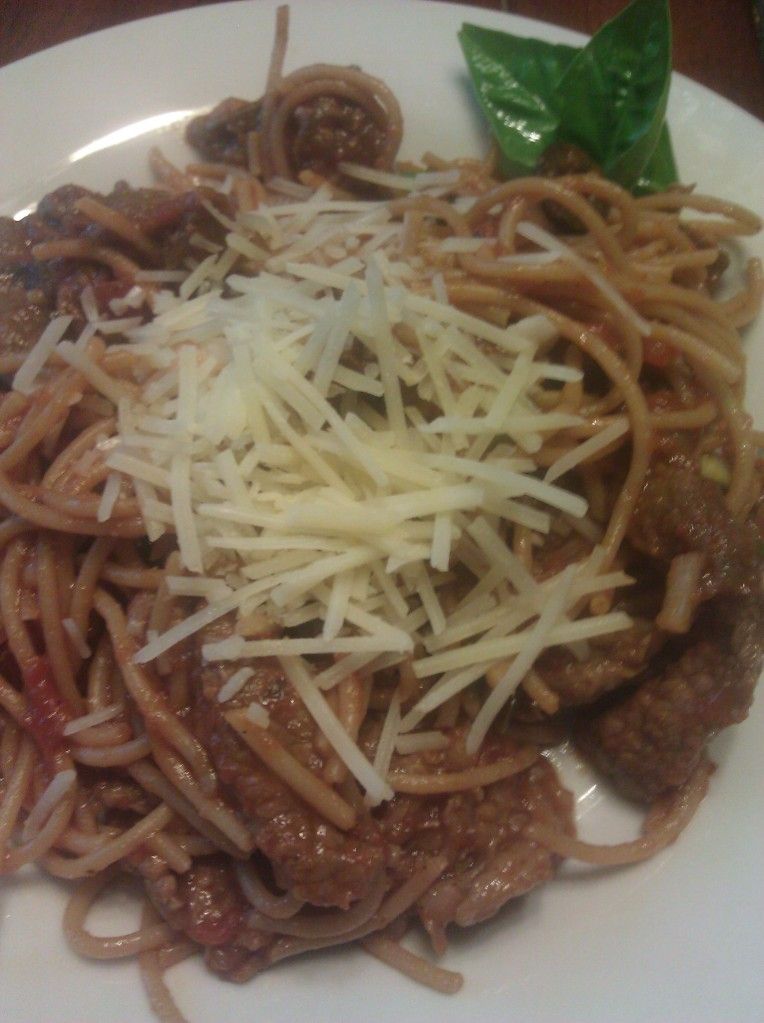 Look at this yummy goodness!

This is my ode to the tasty "Spaghetti Steak" we were served on Air Jamaica back in 2001. We had the choice of Steak or chicken so we all ordered the steak, not knowing it wasn't what we expected but exceeded our expectations. Although my recipe isn't exactly like the original one, it is just as tasty. I don't make it a lot because it is labor intensive in the beginning, but really it doesn't take long and it is worth all the cutting and dicing.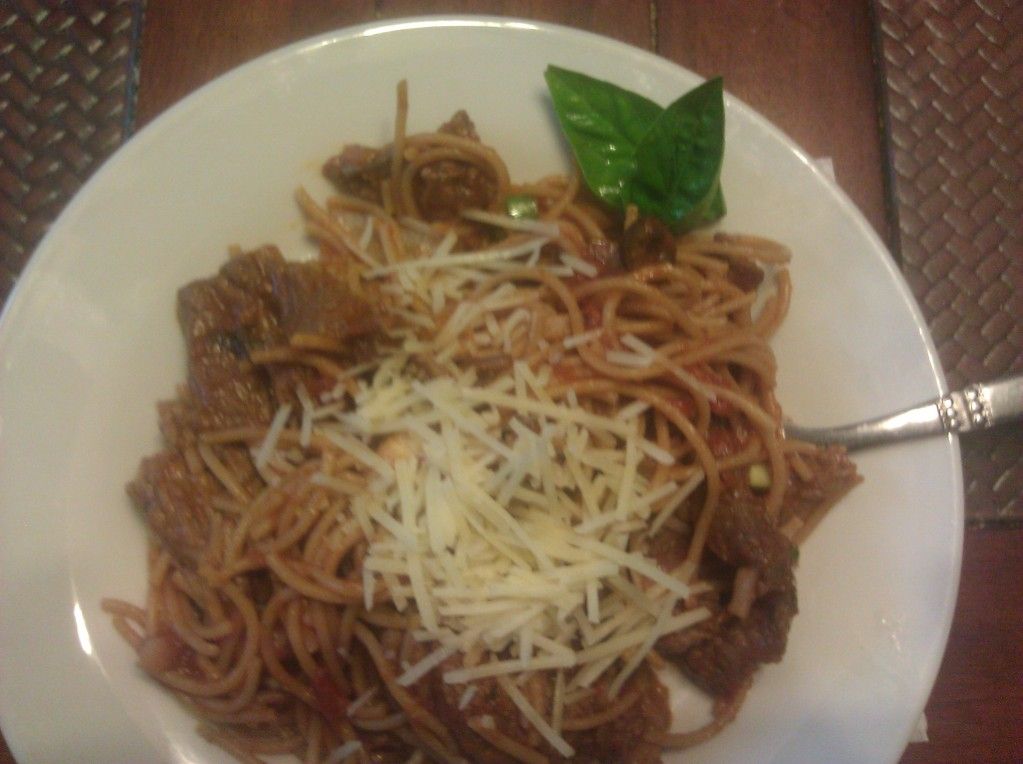 Basil and green onions are from my garden.
Ingredients: "Spaghetti Steak"
1 lb of sandwich steaks, or chuck roast or any easily sliced beef (you want a little fat) sliced into thin strips and seasoned with Tony's and cracked black pepper
1 lb Angel Hair pasta (I used whole grain)
1 lg tomato diced
1 medium red onion diced
2 large green onions or 4 small green onions
1 lb of sliced mushrooms
1 small can of sliced black olives
1 tbsp of tomato paste
1 jar of Bertolli's Marinara Burgundy Wine sauce (or any Marinara sauce you prefer even your own)
Worcestshire sauce
2 tbsp of olive oil
3 garlic cloves chopped
5 Basil leaves chopped (adjust to taste)
1 tsp of sugar
Parmesan cheese
The first thing I do is get my pasta boiling. Cook according to the directions on the package. I always add a bit of olive oil to the water. When finished and rinsed and strained put aside.
Then I begin the arduous task of dicing the vegetables: red onions, green onions, rough chop the mushrooms, garlic, basil leaves and the tomato.
Then I slice my beef. Thin strips are preferable.
Tomatoes, olives, sugar and tomato paste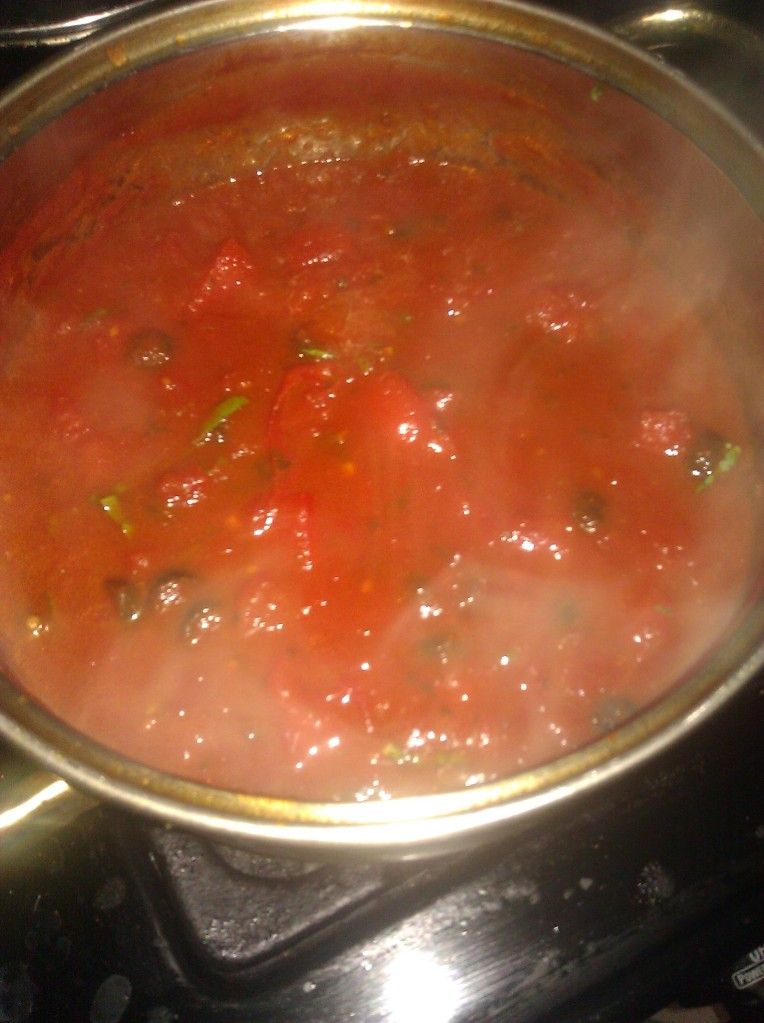 Simmering sauce w/basil added
In a medium sauce pan add your Bertolli with a half a jar of water, tomato paste, olives and your sugar and heat over medium heat bring to a slow boil and then let it simmer for about 15 to 20 minutes. Stirring as needed. Right before you add to your pasta throw in your basil
In a large skillet heat olive oil over medium heat and add your garlic, half of your red onions, and a 1/3 of your green onions and finally add your sliced and chopped mushrooms and add a bit of your Worcestshire sauce. Cook until the mushrooms start to break down. In batches, add your sliced beef to the mixture with a dollop of worcestshire sauce. Once the beef is done add to the pasta and transferring the vegetable as well. Once you are done with your beef you will have yummy bits in your skillet just add a little water and turn up the heat to make a little more sauce to add to the pasta. As it thickens it will have the best flavor and once you like the consistence add to your pasta.
Mushrooms, green onions, garlic and red onions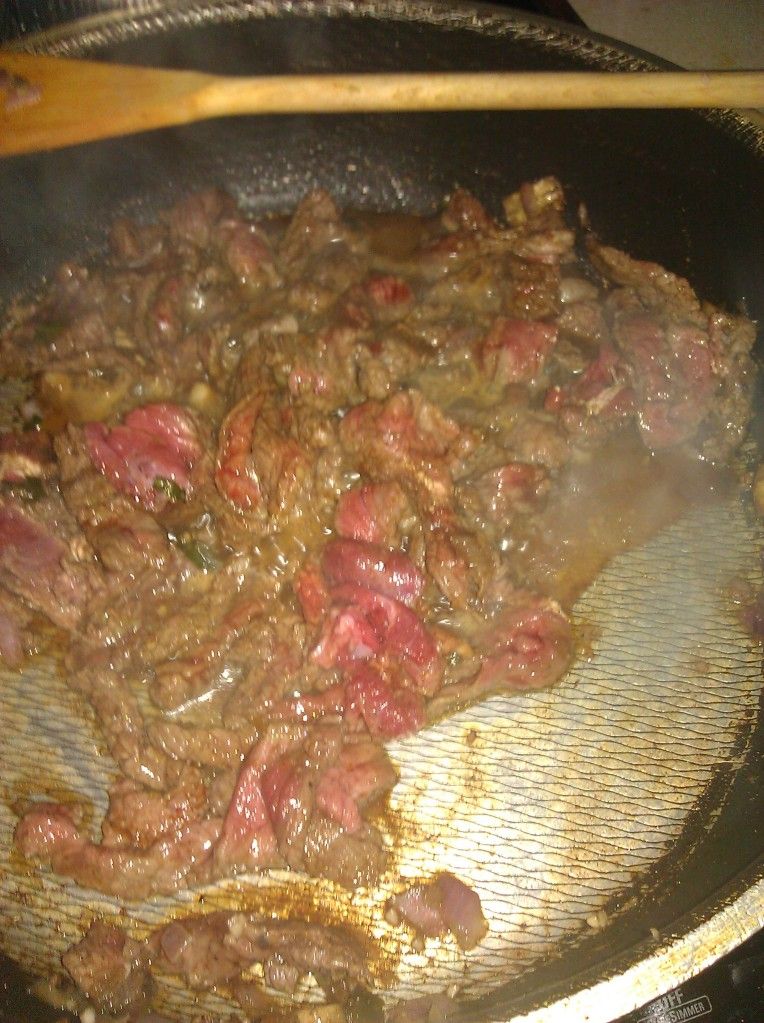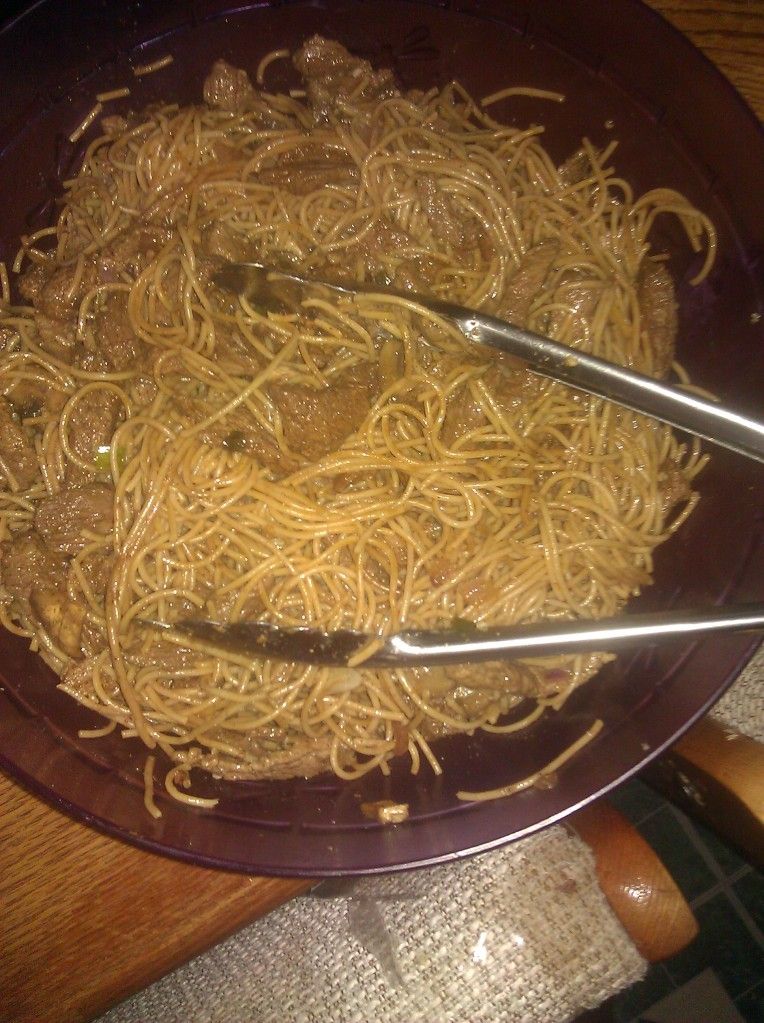 Mixing the steak, sauce from the steak and pasta
Toss the pasta, veggies and meat together so everything is well mixed. Then add your sauce a little at a time and get everything coated until you have added it all. Then add your leftover red onions and green onions. The colors are so vibrant and amazing. And the smell will have your mouth watering. When the entire dish is mixed together, you are done. Just plate and put a little parmesan cheese on top and you have a filling and delicious dish.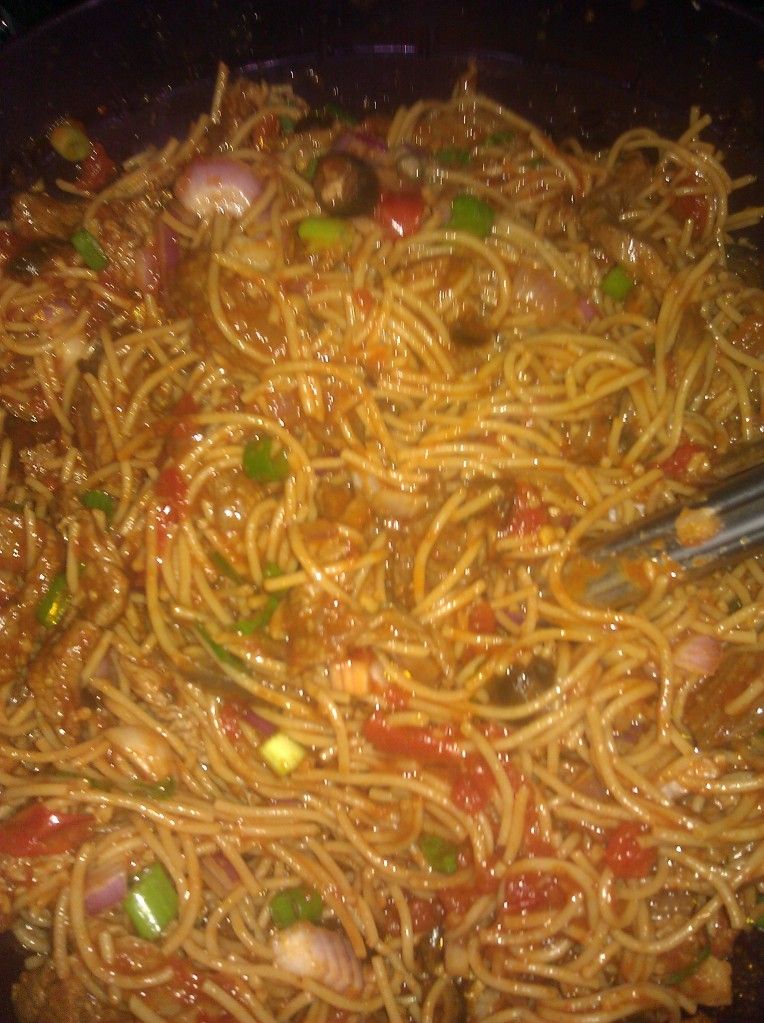 Looks amazing. The colors are so vibrant!
I have made this for folks and they love it. My aunt made sure to get her some when I made it. Although I consider this dish labor intensive, it is well worth it because it tastes so good.