About Last Weekend...
Walk of Life, April 20, 2013

I had a long weekend and it was quite welcome to say the least. I spent most of last week suffering from an aching back. I either need to stop sleeping contorted or invest in a new mattress, because this is a new week and my back is giving me fits again. This is so not the business, because it has me scrapping plans and such just so I can rest.
I had a pretty busy weekend planned because I volunteered for the Joy to Life walk on Saturday and I wanted to get my gardening started.
Last week our temperatures were ranging in the upper 80s until Friday. Then on Friday the temperatures dropped and you felt it immediately. So I am on my second job trying to figure out an alternative to my shorts I planned to wear on Saturday. I actually woke up on time Saturday at 5:30 am so I could take my time getting dressed, because I did go through 3 different outfits before I was satisfied. What was that all about? Geez. I thought leaving at 6:30 am would give me plenty of time to get parking and walk to the Train shed where we picked up our Volunteer shirts and gather to take the trolley to our posts. Well…I forgot they closed off streets so I ended up taking an extra 5 minutes to get to the parking area, but I was still there before 7 am. I met a lady in the parking deck, who followed me because she figured correctly I was a volunteer. We signed in and got coffee and donuts. Since they were free I shouldn't complain, but I am going to be truthful. I do not like McD's coffee and I am not a fan of Dunkin D's donuts. I am a Krispy Kreme fan and I seriously think it is about ones' taste, but I ate one donut because I didn't want to get hungry if things take longer than expected.
I was in the number 15 post there were 21 positions for volunteers along the course. I was dropped off a little after 7:30 am and man it was cold, I was standing in the sun as much as possible. I texted The Guy and my Sister and told them I am not a good candidate for selling azz on the corner, because it is lonely on the corner. LOL! So I had to stand for an hour or so before the 5k began. During this moment of quiet, I was a bit thoughtful but I was running through my errands in my head, ugh I am such a Virgo. Anyway, these two guys jogged by me twice I guess getting in their morning run before the race starts and the course is truly blocked off. Little did I know they were doing a trial run. I found out later because one of the guys had a personal police escort since he was going to be the first person to finish. He ran pass me and it was literally 5 minutes before the other guy doing the trial run came by me. I was so excited to see the runners because they were doing the dang thang. When the first female ran by me I was like, you go girl! You are setting the pace for the women and you are the first female to run pass me. Black girls do run because there were several running. And then there was a lull and finally the walkers started coming through. I greeted them all with a hearty and heartfelt good morning and good jobs. I thought I would be quite awkward, but I was comfortable.
Yet, as the time seemed to drag along I finally saw the Trolley behind the last walker on the first down street. By now the some of the walker were ready for it to be over. They kept asking me how far? Hell if I knew. I said not much further and you have come this far you can do it! Trying to be encouraging. But some folks cheated and took a short cut. SMH!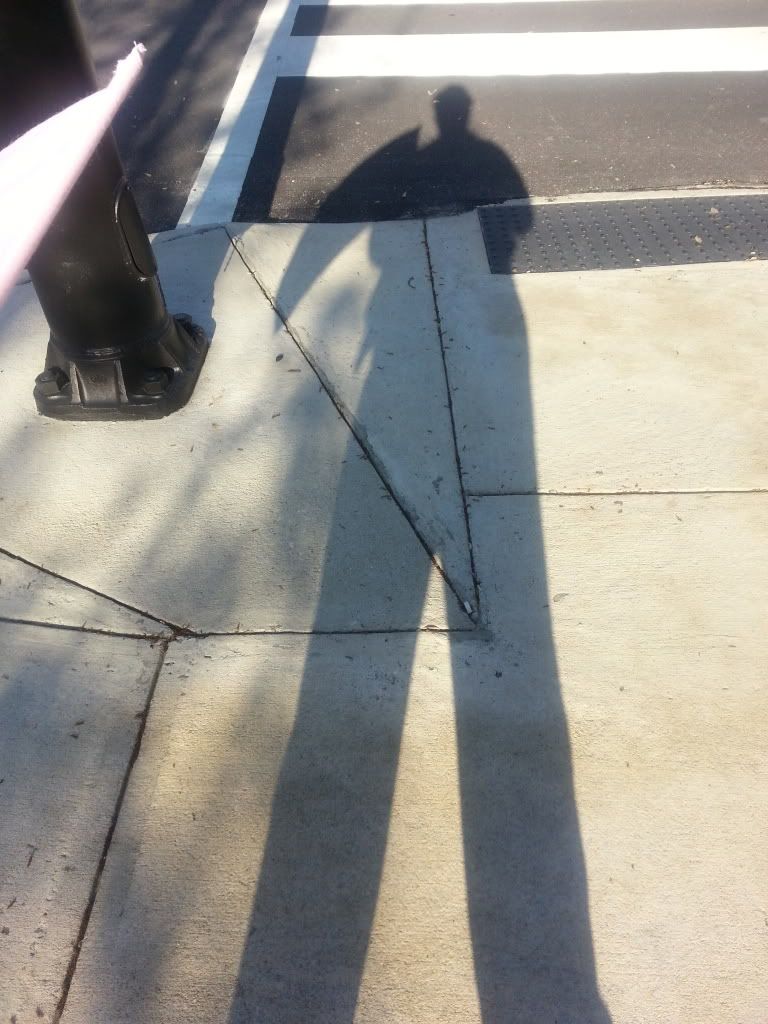 Don't laugh at me being creative...Me on the corner, with my flag, ready to assist...
There was a moment where I felt a bit overwhelmed because so many folks thanked me for volunteering. I really didn't think much of what I was doing it was simply wave a flag, cheer the folks on and give directions if needed. I thanked them in returned because we were both helping.
The last walker was a woman using a walker who had an ambulance escort and the trolley behind her. Let me tell you, I cheered her on and said I was proud of her because she walked with her walker the entire course. No shortcuts for her and if she can do it anyone can. When she crossed the finished line she got the biggest cheer. Perseverance.
My volunteer work was finished before 10 am, so I ran my errands and was in my bed by noon. I had the intentions of getting up before 4 pm to work on my garden. And I did get up, but I dragged until it was time to get the raised garden put together. But I did it and was quite proud of myself. Although, I am too old to be sickened by slugs and shit I was still hollering and carrying on. I think I did a good job with the first part. I did get a new raised garden, which is a mixture of recycled wood and plastic, I feel like it will last more than one season because last's year's garden, didn't.
Smaller bed, but better materials and because I already had the area set aside, it was leveled from last year.
Sunday morning I dragged yet again, but got up and planted my tomato plants and my seeds for flowers and vegetables. I was glad I was able to do such a good job. You know there was some drama right? Why was there a green frog on one of my planters? I almost had a forget it moment! I got the water hose and sprayed him away from my planters only to look under my planters and find wasps and the beginnings of wasps' nests? Got rid of them too! I even managed to fix a new dish for my Creative Cooking posts. Go me!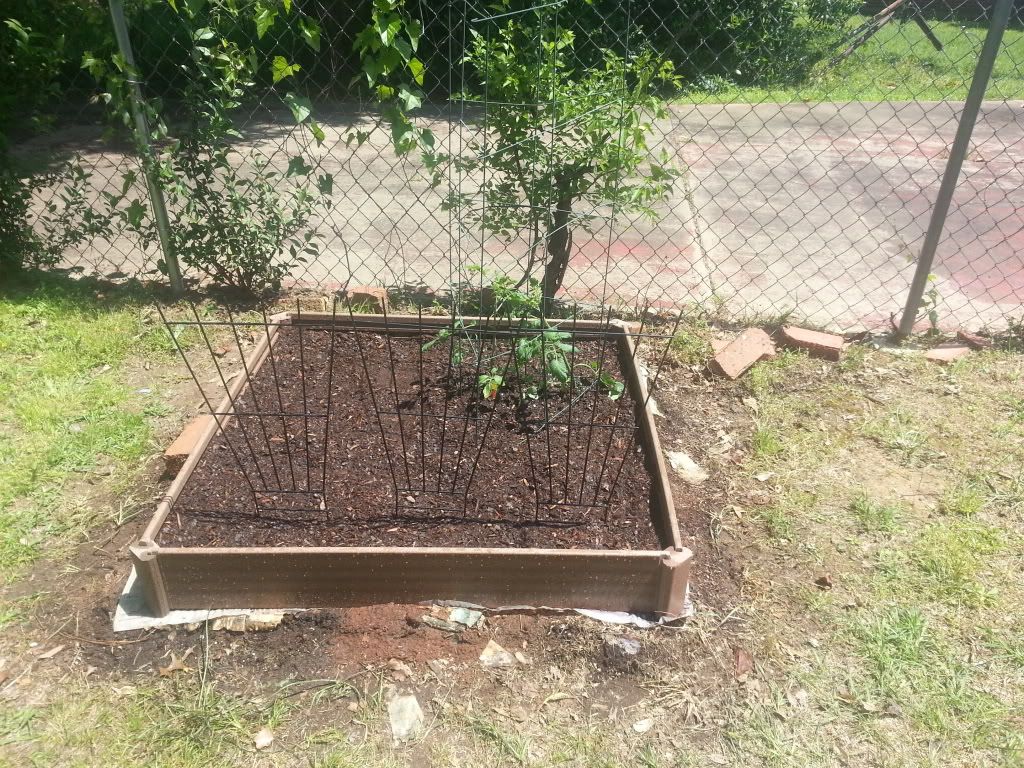 Grape tomatoes, cucumbers and zucchini and Marigolds in the far left corner.
Basil, lettuce, spinach, cilantro, green onions, Marigolds, Zinnias, Portulaca (Moss Roses). I also planted Sunflowers and Cone flowers.
I had a pretty busy weekend for me, but it felt good to do something for others and still find time to do something that makes me happy as well.
My poor roses suffered this fall and winter and I only had 2 buds, but I took some time a few weeks ago to prune, treat and prepare it for the spring/summer and I got this gift, my first bloom. And as you can see it is set to bloom for a while.
Labels: Friends, Fun stuff, Gardening, Life, Ramblings, Randoms, Vlounteering