Creative Cooking...45 Minute Whole Wheat Cinnamon Apple Rolls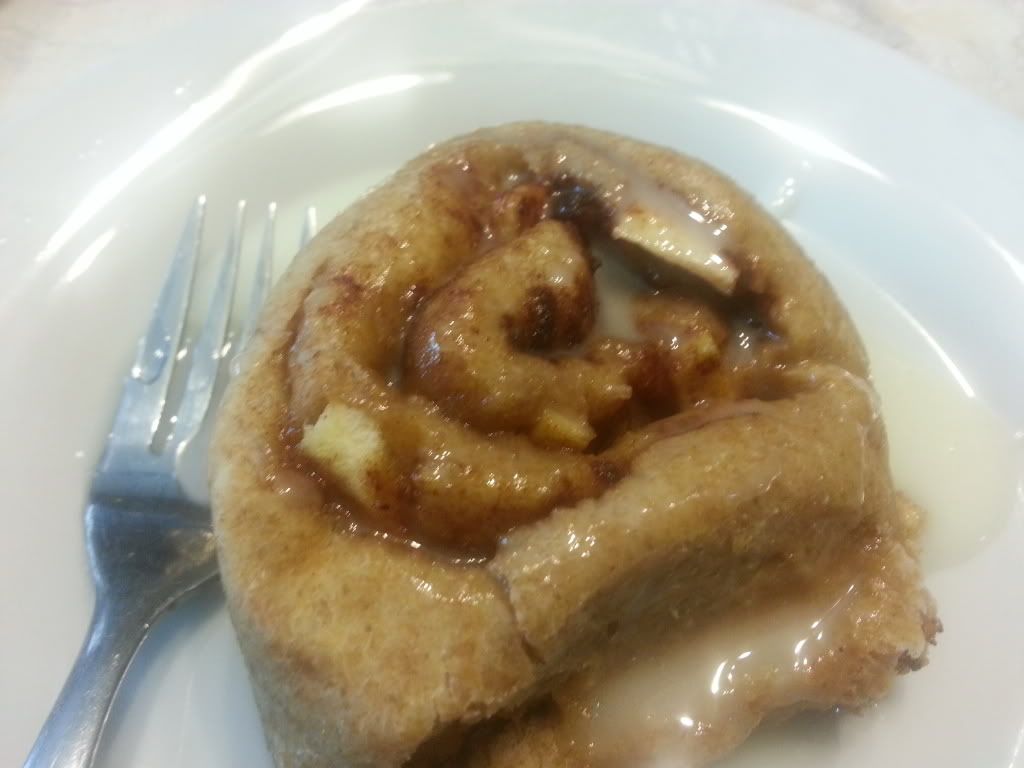 45 Minute Whole Wheat Cinnamon Apple Rolls...

It has taken me months to sit down and write out this recipe and I really should have done it sooner, but I get lazy when I have to write/type out the recipe and then I have to put in the pictures. This means nothing more than me being lazy.
Being lazy makes this recipe a good one for people who on occasion just want to be lazy. These cinnamon rolls take a short period of time to make. I make cinnamon rolls usually twice a year for Thanksgiving and Christmas, homemade, succulent, white flour cinnamon rolls. But you know from previous posts I had 5 lbs of whole wheat flour to use and what better way to do so than a nice breakfast sweet to be enjoyed with one's coffee. Plus, I had some yeast packages I needed to blow through as well from the ill-fated pretzel bites I messed up a while back. So from the simple recipe I got from
Everyday Food Storage
, I made this recipe and added the apples.
The prep time was 30 and cook time is 15, however, because of varying ovens this cook time may vary.
Ingredients:
1/3 cup of sugar
3 tbs of yeast (I used two packages)
½ cup of canola oil
2 eggs
1 ¼ cup of warm water
1 tsp of salt
5 ½ cups of whole wheat flour
¼ cup melted margarine or butter (I used margarine)
1 ½ tbs of cinnamon
½ cup of sugar
½ cup of nuts, raisins or apples (sliced into small pieces and coated in cinnamon and a touch of lemon juice) or all
Mix sugar, yeast, oil and water in let stand 15 minutes.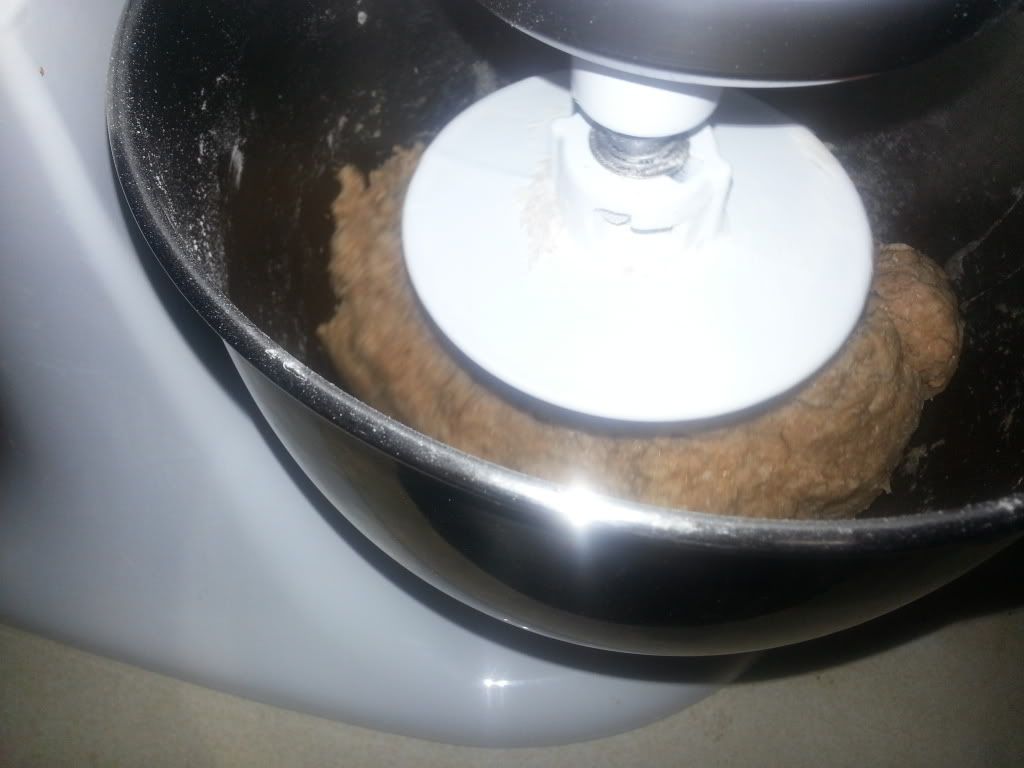 Add your eggs, salt and flour to your mixer with the hook attachment for about 5 minutes
Roll to a rectangle about ¼ inches thick.
Pour melted butter over dough and sprinkle sugar, raisins and apples. Nuts if you like, I didn't.
Ready to go in the oven...
Roll your dough carefully and cut 1 inch slices with knife.
Placed on a greased pan (I used round pie pans) and let rest for 15 minutes
Bake at 425 for 15 minutes more or less depending on your ovens until they are golden brown.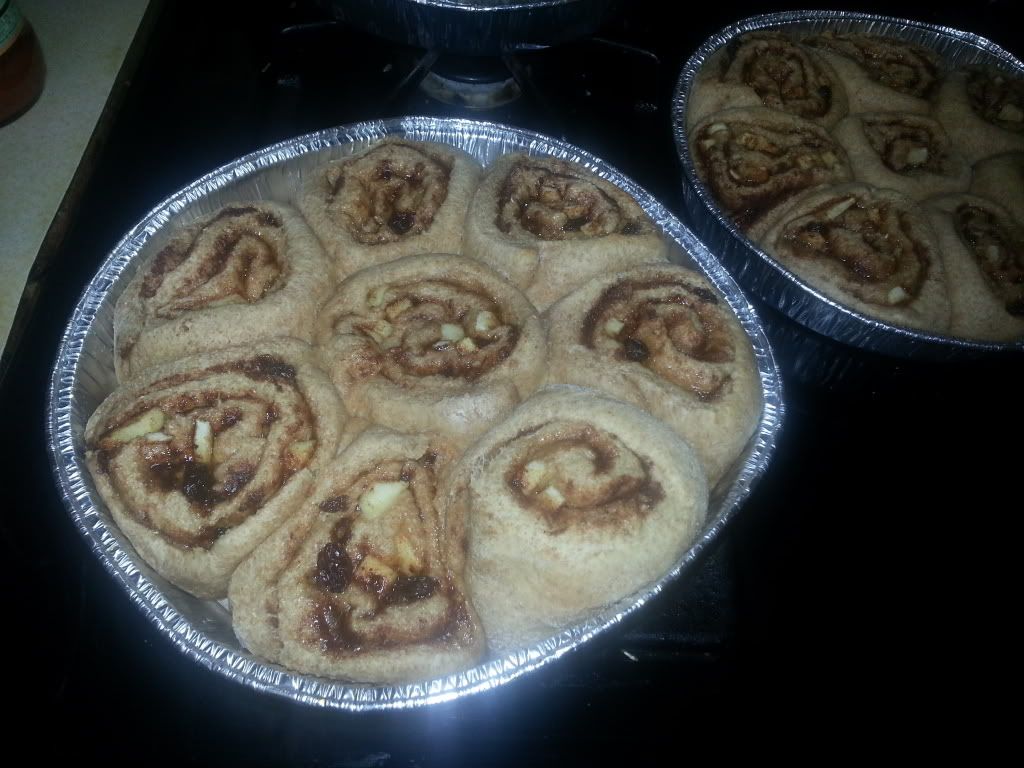 Before I put them back in the oven for another 15 minutes or so.
I made a glaze using powdered sugar and lemon juice. You can use milk, but I like the lemon juice because it cuts down on the sugar a bit. Plus, I use it with my other cinnamon rolls.
Verdict:
These were amazing. I did have to put them back in the oven because although they were golden brown, they were also still gooey in the middle so back they went for an additional 15 minutes. Other than that, they tasted amazing. The whole wheat dough didn't taste all grainy and dry. The rolls were fluffy and full of flavor without being overly sweet. The apples added a new flavor and were a nice addition. I actually froze all I didn't eat to have as a nice addition for breakfast or for overnight guests. They were as easy as my other homemade cinnamon rolls and I know I could have used my regular recipe, but I wanted to insure the whole wheat wouldn't come out dry and such so I used this recipe and it worked wonderfully. Plus, my own recipe takes a bit longer. Let me know if you try out this recipe.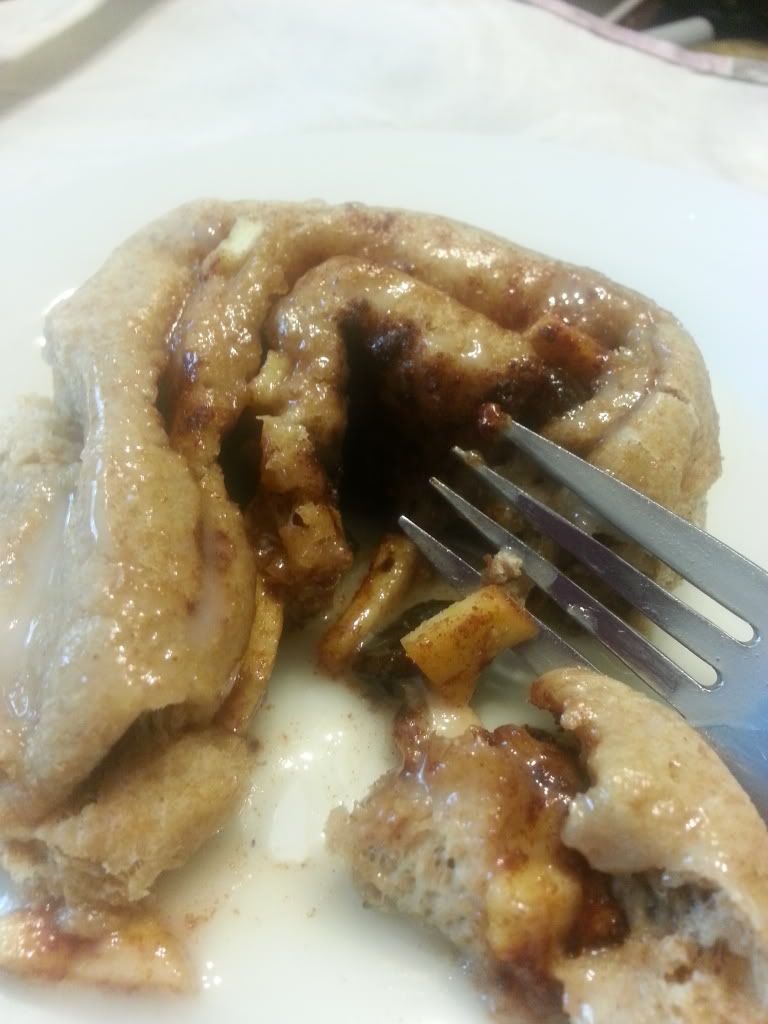 Look at that yummy goodness...apples and raisins and cinnamon!