Creative Cooking...Pan Seared Shrimp with Hoisin Ginger Glaze
Pan Seared Shrimp with Hoisin Ginger Glaze

This recipe came from
Tracey Culinary Adventures
. She is one of those food bloggers I check every day for a new recipe. She is a lot more adventuresome than I will ever be because her repertoire is quite extensive. When I saw this recipe recently on her site, I knew I had to try because she mentioned it was easy and one in which one can come home from work and prepare in no time. And one thing about eating healthy, you need to have food readily available and when you get home easy to prepare in a short amount of time. When I sent the picture to my sister and The Guy, both were instantly in love. Awww…
You know I love Asian inspired dishes so believe it or not I had everything but the green onions listed on the ingredients list, yes, even the shrimp.
Ingredients: (Adapted from Tracey's Culinary Adventures)
2 tablespoons hoisin sauce
1 tablespoon rice vinegar
2 teaspoons water
2 teaspoons grated fresh ginger
1 1/2 teaspoons low-sodium soy sauce
pinch red pepper flakes
1 1/2 lbs large shrimp, peeled and deveined
1/8 teaspoon sugar
4 teaspoons canola oil
2 scallions, thinly sliced or Cilantro (to garnish)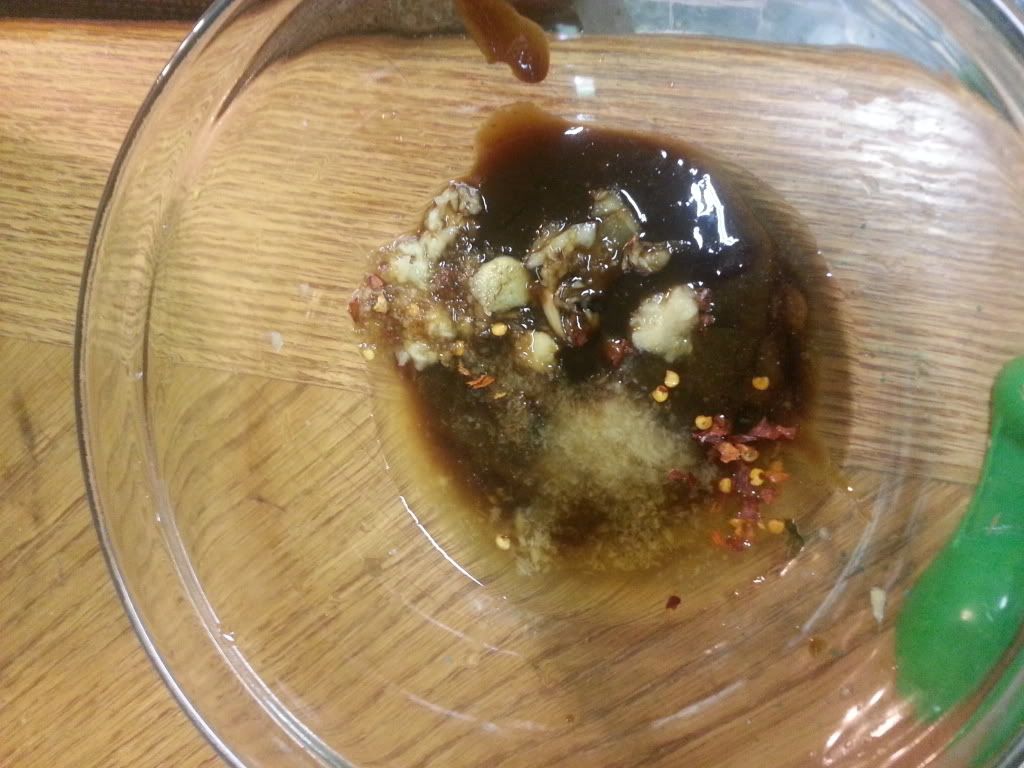 Glaze ready to be whisked...
In a small bowl, whisk together the hoisin sauce, rice vinegar, water, ginger, soy sauce, and red pepper flakes and set aside for later. At this point you want to completely pat dry your shrimp, Tracey is very emphatic about making sure your shrimp is dry! Then season both sides with salt and pepper and the sugar.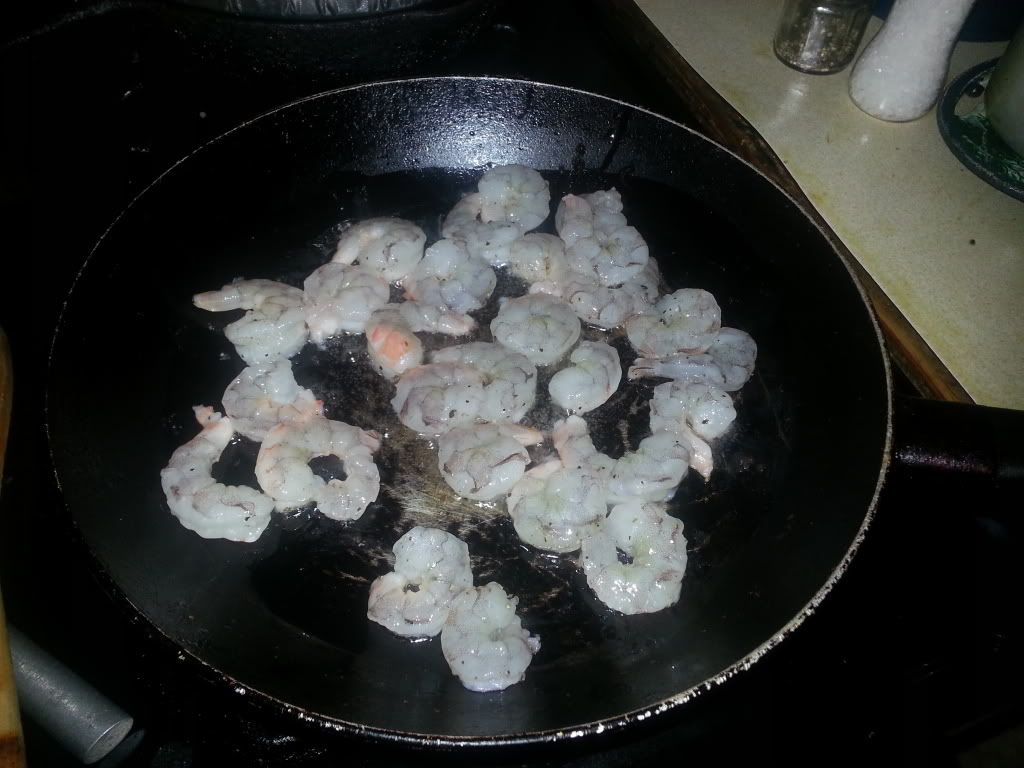 First batch of shrimp cooking...
Heat skillet over medium-high heat. Add half of the oil and heat. Cook your shrimp in batches at least two until cooked through. When your second batch is done add your first batch back to the pan and add your previously made hoison and ginger sauce. And make sure to coat all the shrimp in the sauce. I served mine over brown rice where I added fresh grated carrots, frozen peas, onions, a teaspoon of oyster sauce and a teaspoon of low sodium soy sauce. Garnish with cilantro!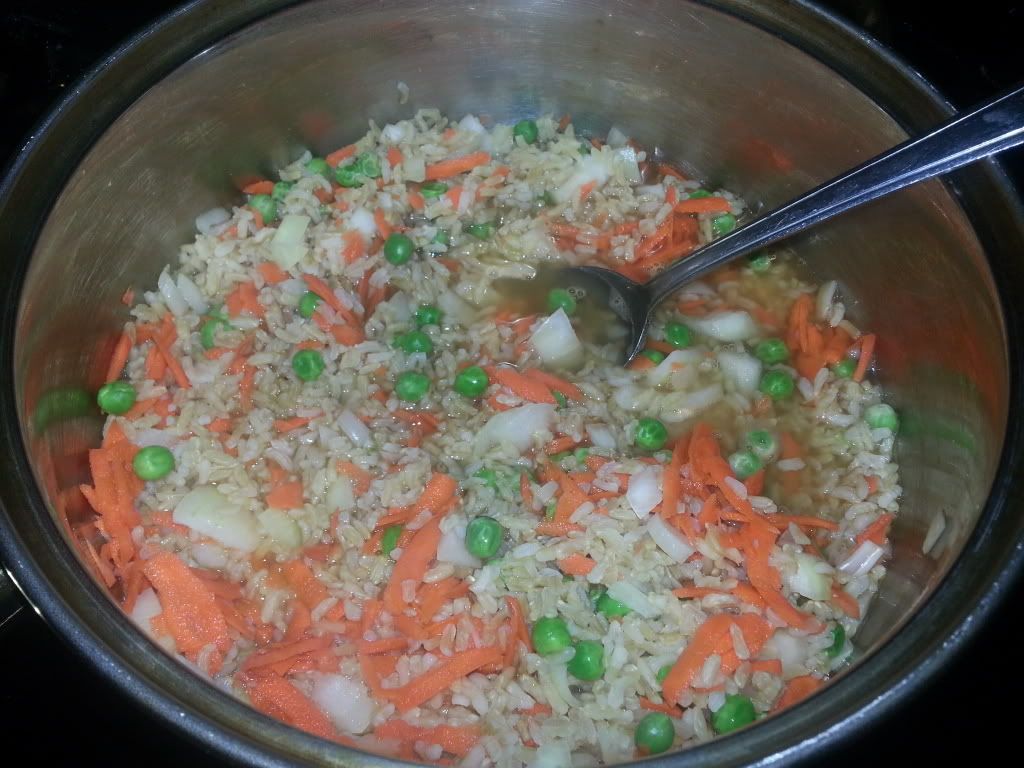 You can clearly see the veggies in this brown rice...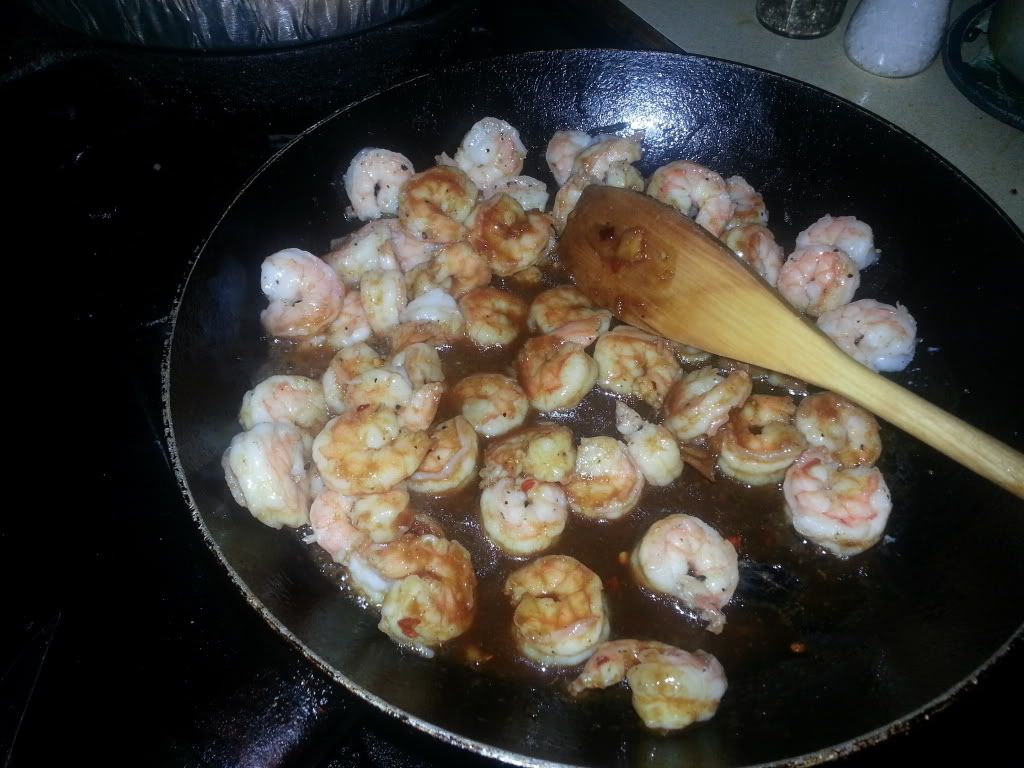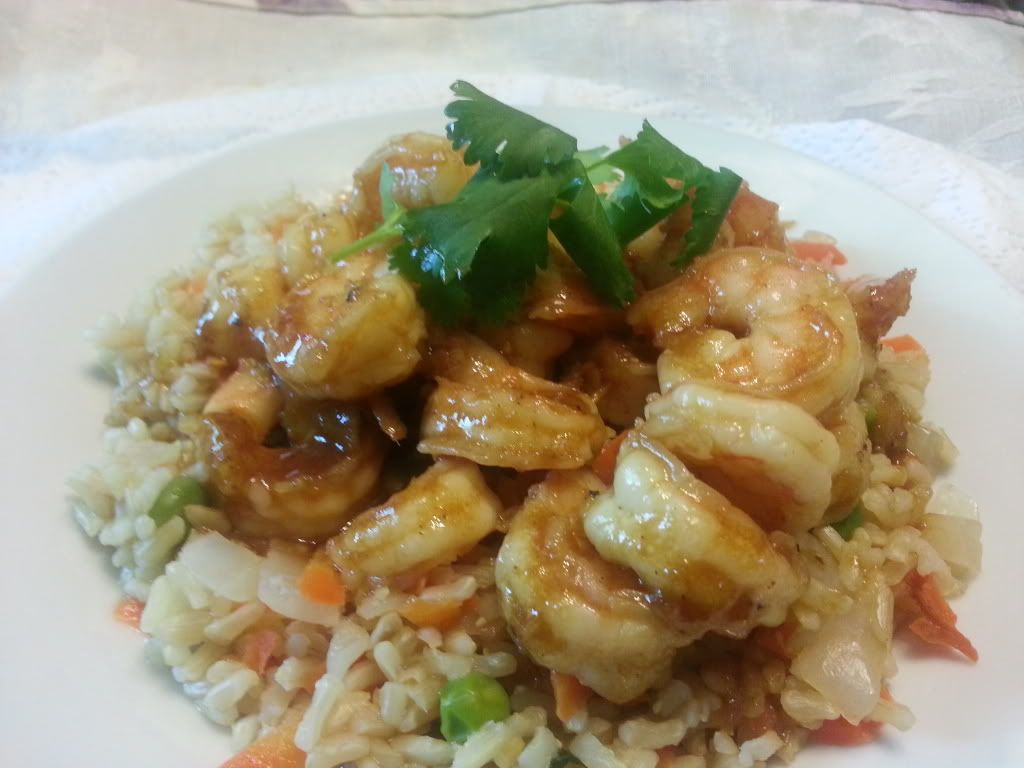 Verdict:
Easy to cook, wonderful to taste. I liked the ease in which this dish could be prepared. I look forward to making it for The Guy real soon. Only small thing I would do is add a pinch more salt, other than that this is a great weeknight dish. Let me know if you try it!