Beautiful sunflower, do you see the bees? Made me smile...
Maybe I should do a blog challenge, because I haven't felt like blogging lately, the only problem is I haven't wanted to do much lately. So, a challenge wouldn't work for me. I finally scheduled some post of the recipes I had done awhile ago, so by the end of the week I just didn't feel like being random and I had book club Saturday, so I figured I would blog Monday. Well Monday came and went and I still didn't feel like blogging. Plus, my allergies are acting up causing me headaches and such. So here I am this Friday, about to be totally random and rambling and probably boring.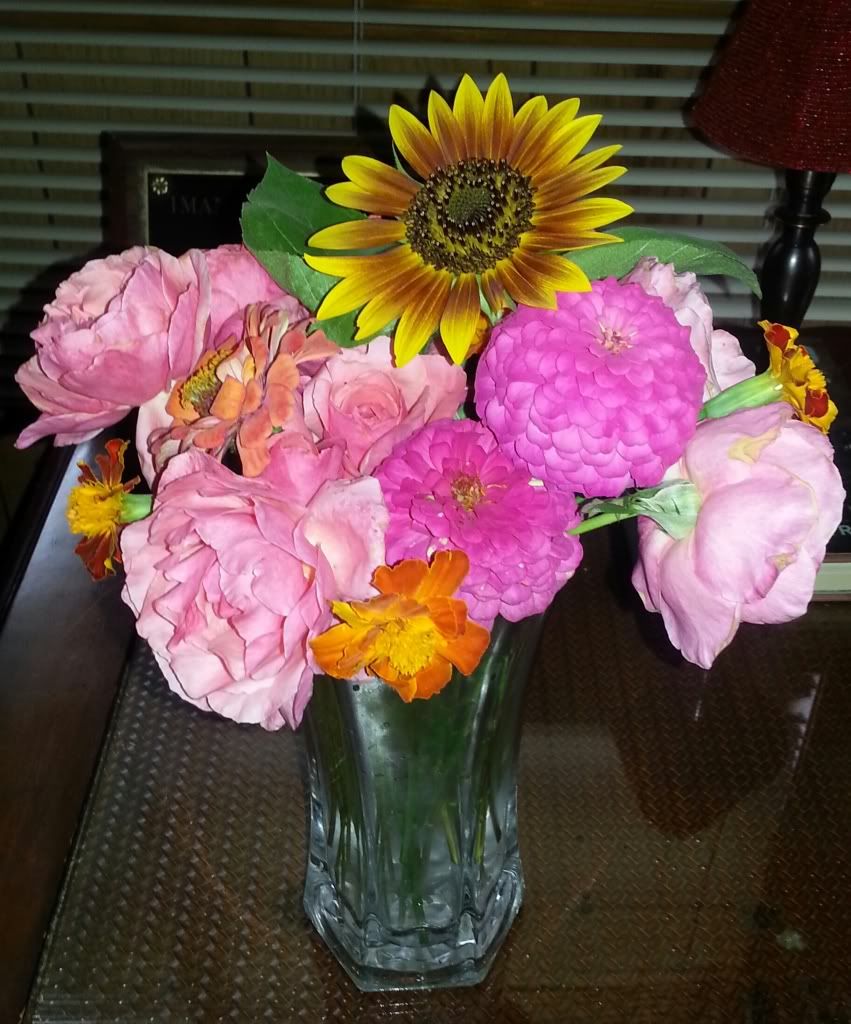 My first bouquet. Beautiful...
I will not be blogging about Trayvon Martin's case on this blog. My anonymous blog has my feelings, thoughts and what I feel needs to be done. I will say this, we as African-Americans need to start valuing our males so no one can devalue them any longer. Every day that I am in contact with a black male is an opportunity to see how much they are appreciated and I need to make it happen not sometimes, but all the times. A simple thank you with a smile to a young black male can make them feel a least for a moment special.
Speaking of book club, on discodiva's blog I went to rambling in the comments about my book club. We have been together 14 years and folks are always impressed with the idea. However, it hasn't always been smooth sailing and if you have read this blog long enough you know there were moments where I wanted to disband. Several moments. One reason I didn't was I didn't start my book club for any other reason but I loved to read and wanted to share that love with others and those not onboard with that mission are no longer a part of our book club. We currently have 11 members. We will be recruiting new members very soon. FYI – our members are found through our website and member and friend referrals. They go through an application process and then they actually attend three meetings where they can actually see how we are run and whether we are a good fit for them and we as members get to see if this person will be a good fit for our group. I always say, everyone wants to be in a book club, but aren't willing to put in the work needed to stay in get the value from it as well. I have gotten some nasty emails from folks who are appalled they can't just drop into a meeting and not be "vetted". We are a bonded group and we don't want someone to come in and fracture what has been built. If we were a transient group, bonding would not occur because folks wouldn't be comfortable discussing issues that come about from our books. My feelings still get hurt from the emails, but somehow I am able to shrug it off and say thank you Lord because they weren't going to be bringing the right energy to our group. My sister tried joining a group in California, but the group was transient and every meeting or outing there were different faces attending. Only the founder and her friend were consistent.
Smiling before book club meeting...
Our meeting Saturday was wonderful. We had a great time discussing Eric Jerome Dickey's, Decadence. Although a few of us, including myself weren't enamored with Dickey's latest, we have to give him credit for broad vocabulary and his ability to write a woman's voice. We also have some upcoming bonding excursions coming up as well and I can't wait.
I have two more Creative Cooking spots to write up. I am so lazy this week.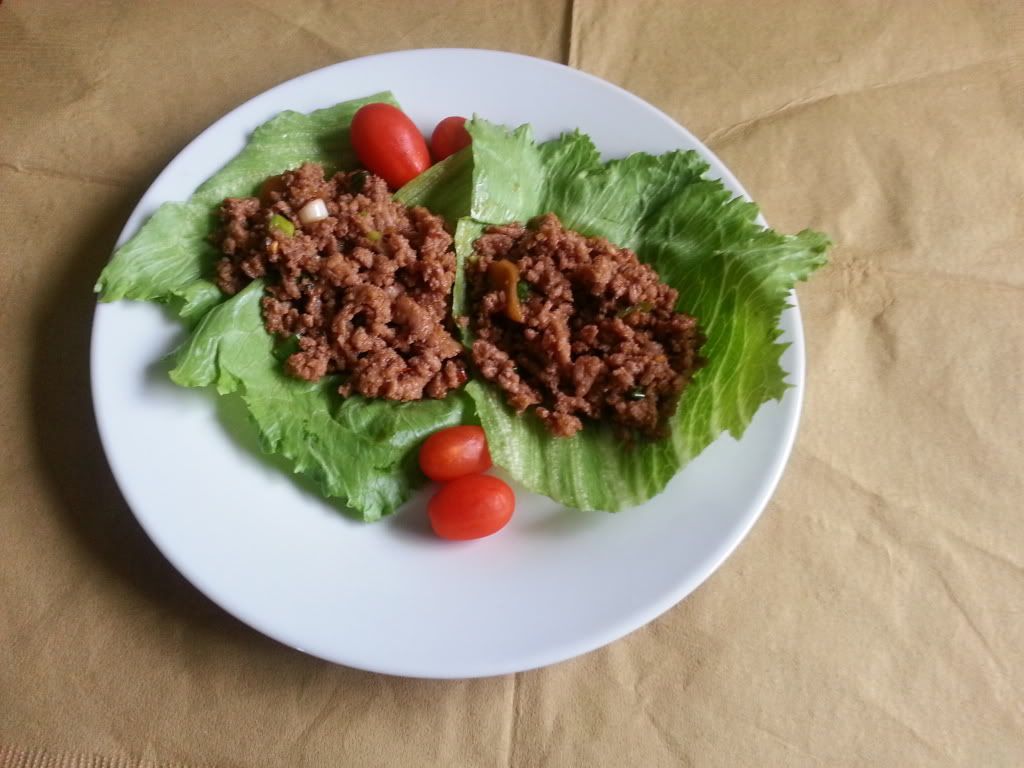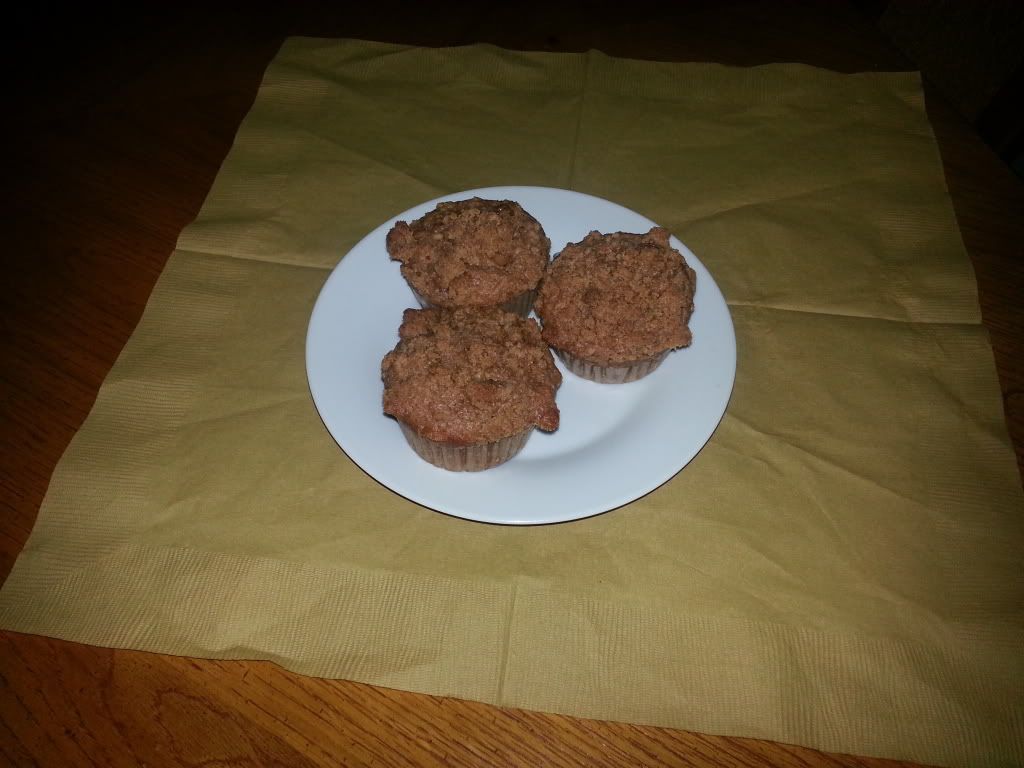 Apple cinnamon muffins with a crumb topping...
I need to retightened and wash my hair. I started and then I stopped because I just didn't feel like it. I need a vitamin or something. I told The Guy I needed to teach him how to retighten my hair. He responded, "Never had anyone want me to do their hair and I always wanted to see what you go through to do it." I took that is yes he will learn to retighten my hair, but don't hold your breath because I am still asking him to wash my hair.
I wished the treadmill was working again. The belt always needs lubing, which is ridiculous when it hasn't even been a month since the last maintenance was done. Back to the elliptical and weights.
I guess I will walk/jog the neighborhood.
Does God show up for you and show out? He did that this morning. I am so Thankful!
My brother isn't talking to me. It is my fault. Shrugging. I say what I mean and mean what I say. He recently went into the hospital and he posted on FB he had a sickle cell crisis. First of all, my brother has the sickle cell trait not the actual disease. He supposedly was re-diagnosed with a form of sickle cell that is in between the actual disease and the trait. However, him posting it on social media had my folks calling and it is so difficult explaining he doesn't have the disease, but form of it that even he can't explain to you. I learned about what his says he has and can explain it better than my brother and he is the one with the condition. But he isn't mad about that I called him on posting things of that nature on social media, he is mad because I told him to not have his married girlfriend call me. I don't care who he loves, but I don't live a life of drama and I damn sure ain't going to be in the middle of such drama. Whoosah!
My sister has finally given up the idea of going to New York for her 40th birthday. Thank you! Now we are looking at doing a family vacay in New Orleans where we do some community service while we are down there. Much more my speed. You know why I didn't really want to go to New York, besides the number of people and small quarters? Bedbugs.
I just finished a pretty good book for review, The Goody Box by Valerie Coleman. It was pretty good until the ending. I do not like books that leaves so much open in order for there to be a sequel. It is 2013, and this book was done in 2010. I forget about the book when there is a long span of time before the sequel. And author's every book doesn't need a sequel. Please and Thank you!
I have been having a rash of turnovers on my 2nd job. Folks will put in a two week notice, but only work one week. WTF? I have a lot of interviewing to do for the next two weeks. And I have to take the Servsafe test as well. So not cool.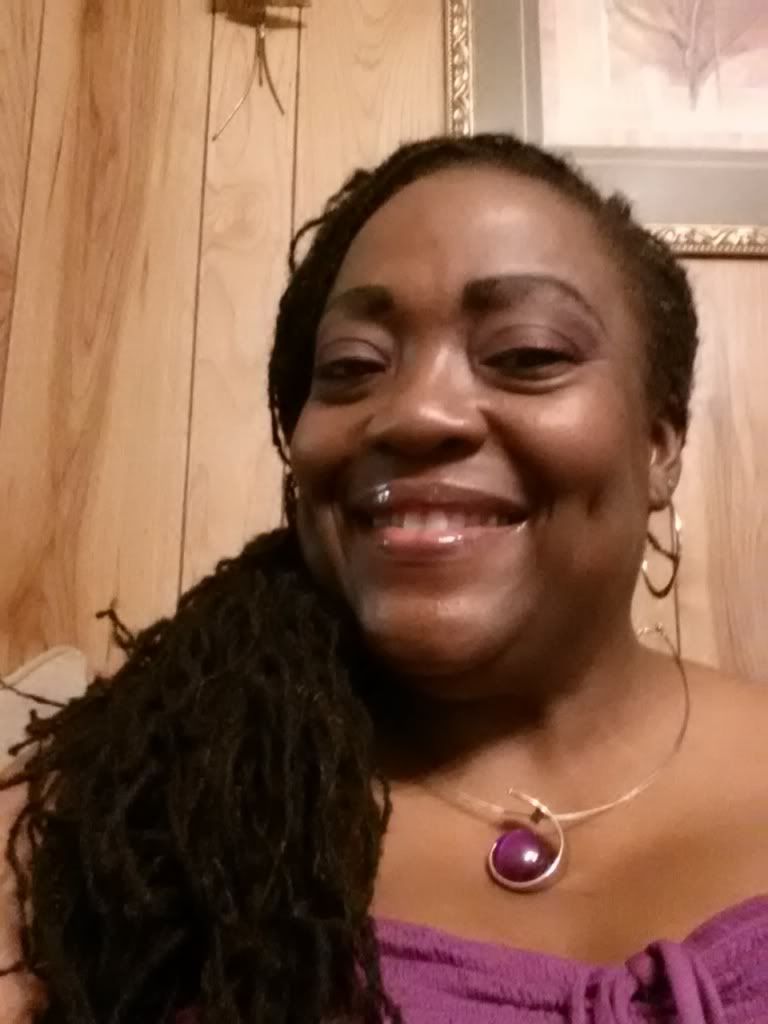 Losing weight isn't going well at all. I am so sorry I allowed the stress of my break in and the identity theft to make me not eat, because my metabolism is in the pits.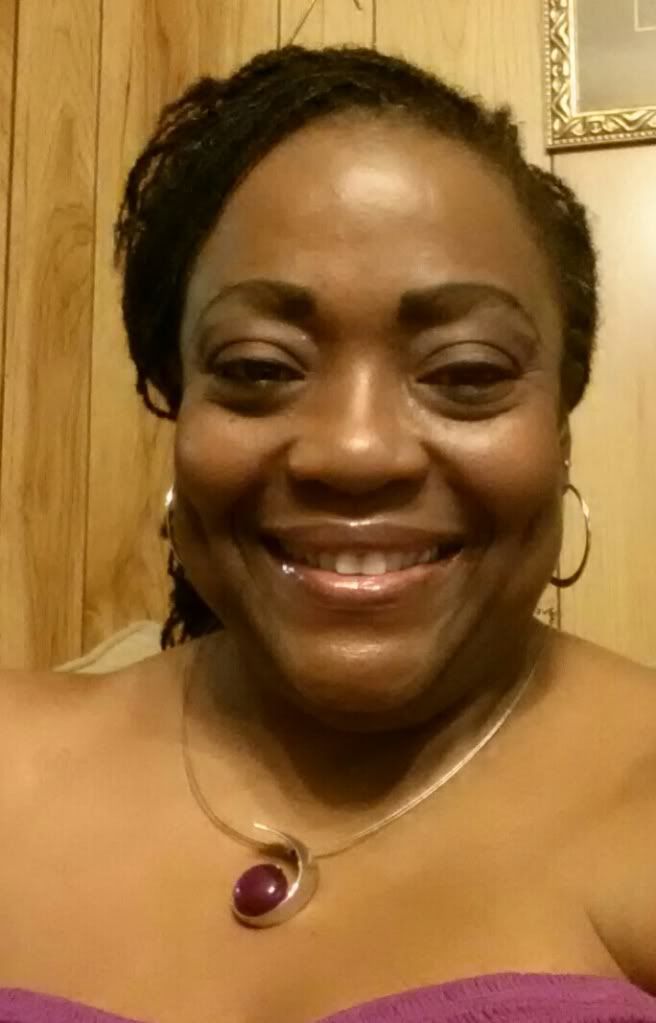 My garden is at its end. I still have tomatoes, so I will have fresh tomatoes until about September. But the cucumbers, well they are some still out there but unfortunately worms are finding their way into them. Okay, if you have been reading my blog I am scared of worms. And I will abandon the plants if I see a worm. I can't beat them. So I pulled three cucumbers last Thursday in between the rain, because it has rained everyday for a month. So I put them in a colander and thought nothing of them. On Sunday, I was making a tomato and cucumber salad and I started cutting a cucumber and it had a brown spot through it, the second was the same way and the third one when I went to cut it I looked down and there was a worm on my hand. Well, pandemonium ensued and I was trying to get the creature off me and throw the cucumber in the trash. Nothing was wrong with that cucumber, but I knew I was done with the damn things after that. Full disclosure, I ate one the other day after I made sure there was nary a hole on it. And the zucchini, forget about it. I got one good one and the other one I had some animal ate it so, whatever. No doing those again.
My cousin wanted to get some of my grape tomatoes for a salad they were preparing for a party. Guess what? I didn't have but a few because I gave them away and I know freeze them for soups this fall and winter. Last year when they were coming out my azz, she didn't need any. Oh well…
The other morning when I was talking to my sister, she had me on speaker phone and Lala was growling on the phone. Seriously?
How can such a pretty smile child, resort to growling? If you have an answer, please let me know!

Hunny Bunny had a new hairdo, that I so loved. She didn't care for it.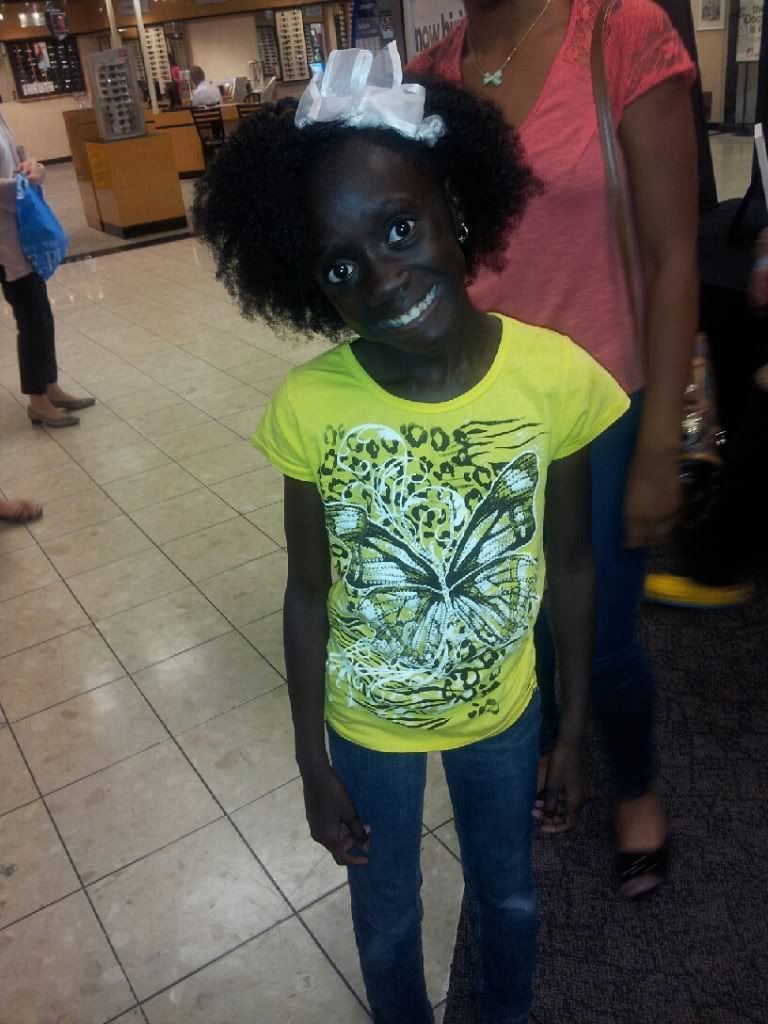 If Hunny Bunny would just get so vain, she has model potential. Love the hair...
My sister did her own Senegalese twists. Now if she would learn to do retighten my hair.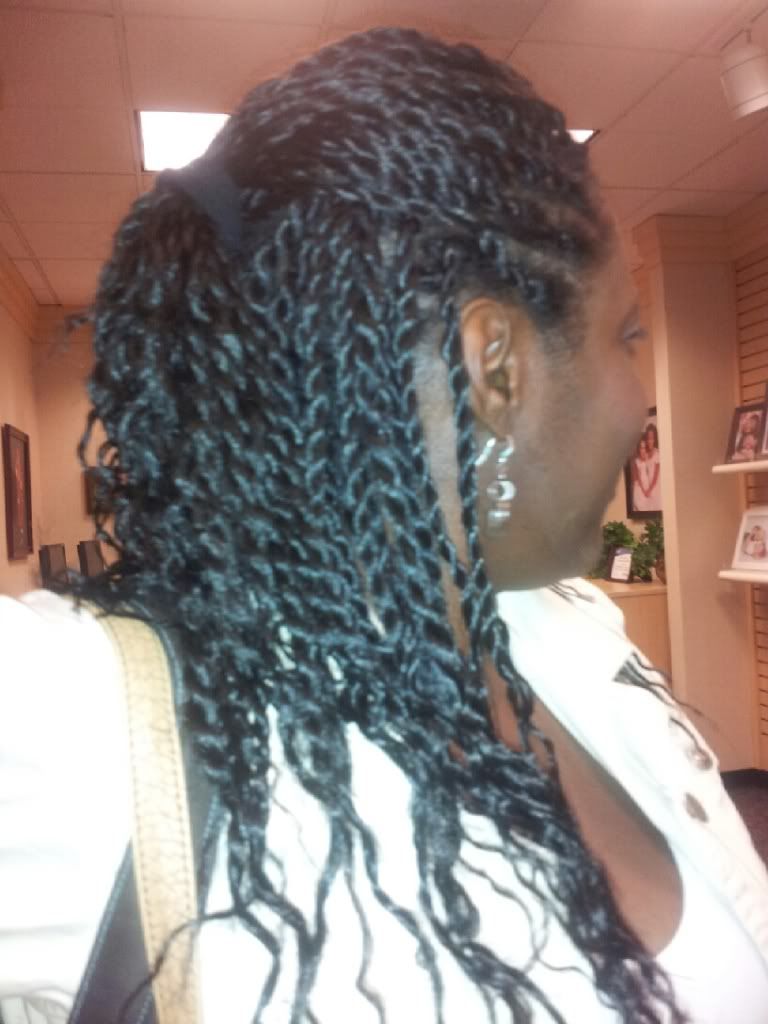 Great job, now if she would stop saying no to retightening my hair...
Caitlyn goes to WSSU very soon. Her mama is going to be a mess. Me...I ain't about that crying life.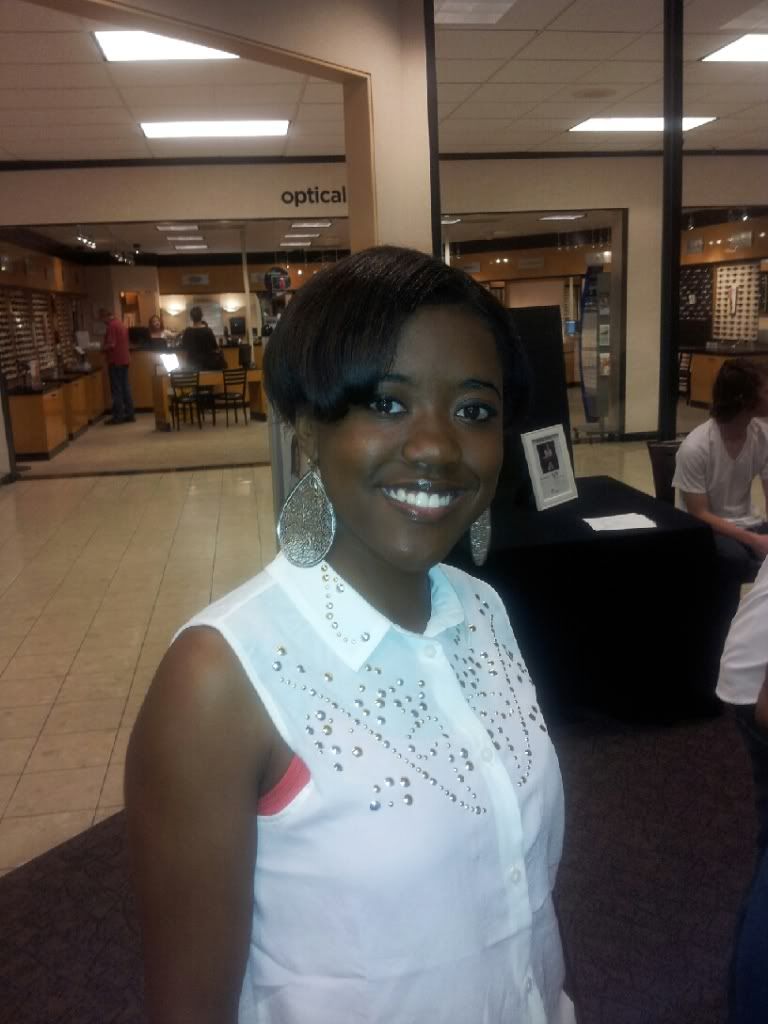 Caitlyn...she has a lovely, well paid for smile!
Just got back from Baumhowers' for lunch. It was okay. I am about to go workout because those were wasted calories. I was trying to be a team player. Wings and curly fries. I wish I had eaten my salad because I feel yucky!
No big plans for the weekend unless you call working the 2nd job a plan and interviewing folks. Otherwise, I will run a couple errands on Saturday and rest when not working. I ain't cooking anything, except my Sichuan wontons, but I am feeling light sandwiches.
Speaking of sandwiches, I made my chicken salad differently this time. I roasted my chicken instead of boiling it. OMG! The taste and texture and flavor took it to a new level. Thank you Barefoot Contessa for that tip!
I am so glad I feel great today, because yesterday was a bummer. The headache was aggravating. But when I got home and tinkered around in the garden, with some OFF on I felt better. Weird. I didn't even have an appetite either. Allergies…no and stop!
We now have a place to go and take pole dancing classes, at Her Moves Dance Fitness. I am so looking forward to that and chair tease. They even have erotic aerobics. If I can get the Ciara chair moves, man I will be on fire. LOL! Don't expect to see any pictures.
Hope you have some great plans for the weekend! If not, be sure to give yourself permission to do nothing if you want to!
And no post would be complete without a picture of my clubbing partner, Carson...w/his dad.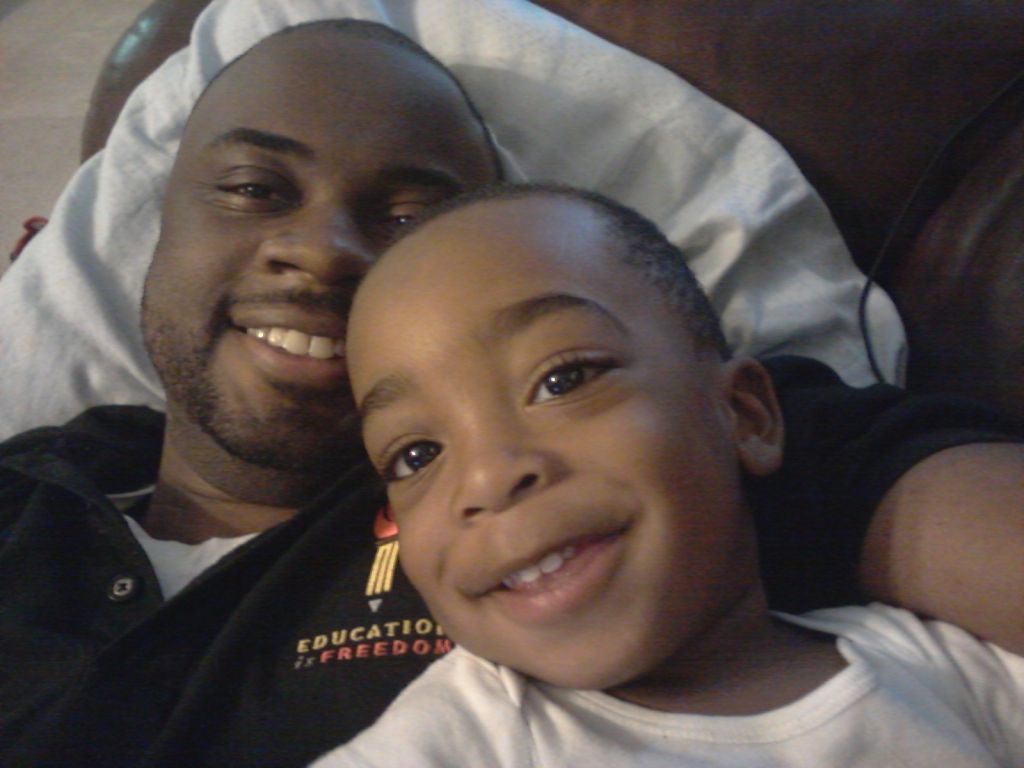 P. S. This post almost didn't get posted because Blogger and photobucket are on crack...!
Labels: Book Club, Book reviews, Cooking, Family, Food, Friends, Fun stuff, Hair photos, Happy, Ramblings, Randoms, Sisterlocks