Creative Cooking…Sichuan Wontons/Dumplings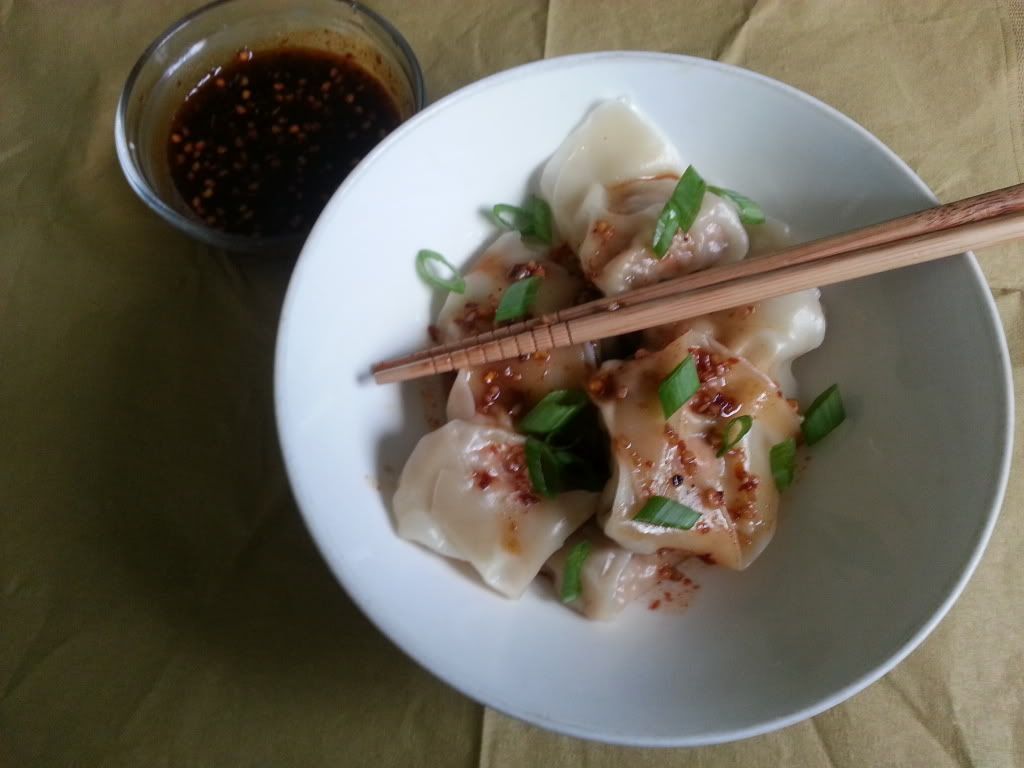 Sichuan Wontons/Dumplings

I love the site
Crepes of Wrath
as can be attested by the number of recipes I have tried of this young lady. Seriously, she is in her mid-twenties and she cooks like a true foodie and a person much older than she is because she appreciates food and she makes dishes that allow your senses to scream in enjoyment because they are all stimulated. I was searching the net for dumpling recipes and then I remembered Sydney,
Crepes of Wrath
, had posted a couple of months ago this recipe for wontons and to me the recipe screamed dumplings. I love dumplings. No, I really love dumplings especially pork dumplings. Yes, the other white meat. My first and only visit to PF Chang's was for their take on dumplings and I didn't even order from the entrée menu, because I already knew the dumplings were going to make me happy. After my visit, I thought how silly it was for me not to at least try to make my own dumplings and I knew I would be able to find either dumpling wraps or use another kind for this adventure. So back to
Crepes of Wrath
I went after I got exhausted reviewing sites which used dumpling skins and knowing I wasn't ready to do the intricate work needed for "dumplings" so Sydney's recipe was my go to. And all I had to purchase was some ground pork and wonton wraps.
I couldn't go to my normal grocery story for the ground pork, because I have only seen ground pork on 2 occasions so off I went to Publix, where they have a lot items considered specialties. I was in and out of the store in 10 minutes and 3 of those minutes was me looking for the ground pork before I got smart enough to ask where it was located.
So on the Sunday morning I decided Bourbon Chicken would be my dinner, I was going to have Sichuan wontons/dumplings for breakfast, yes I was. And I am glad I did.
Ingredients:
Sichuan Wontons as adapted from Crepes of Wrath and Appetite for China
For the wontons:
1 lb of ground pork
1 lg egg
4 teaspoons of sesame oil
1 teaspoon of salt
1 teaspoon of pepper
3 scallions, thinly sliced
1 package of wonton skins
For the Sauce:
1 teaspoon of minced garlic
2 tablespoons of soy sauce
½ teaspoon of sugar
½ teaspoon of brown sugar
1 teaspoon of chili paste
1 teaspoon of oyster sauce
2 teaspoons of Rice Vinegar
¼ ground black pepper
(2 tablespoons of chicken stock for boiling)
Green onions for garnish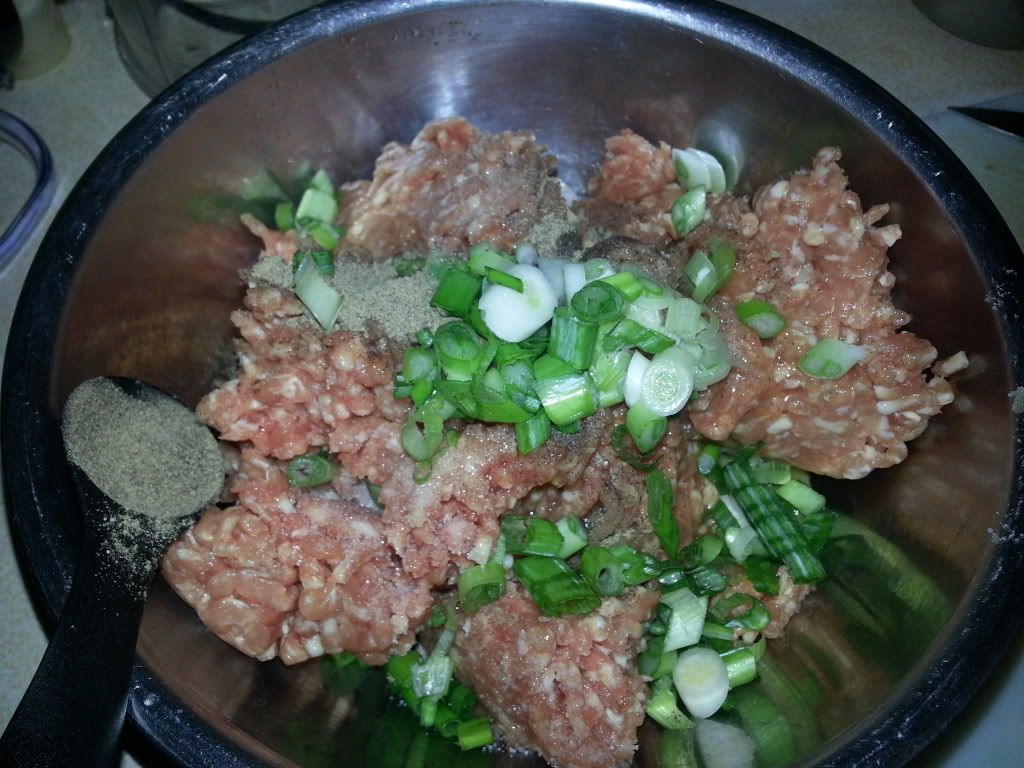 Ground pork, with all the ingredients and BTW, Crepes of Wrath doesn't include the green onions in the mixture, but I decided to do so, because I didn't read the directions properly. Hey, works for me.!
In a bowl combine all the ingredients for the wontons until incorporated. The filling should be sticky and a bit wet.
Then get comfortable to do your wontons. I set up with the wrappers, meat, a small bowl of water and cookie sheet lined with wax paper and a damp paper towels.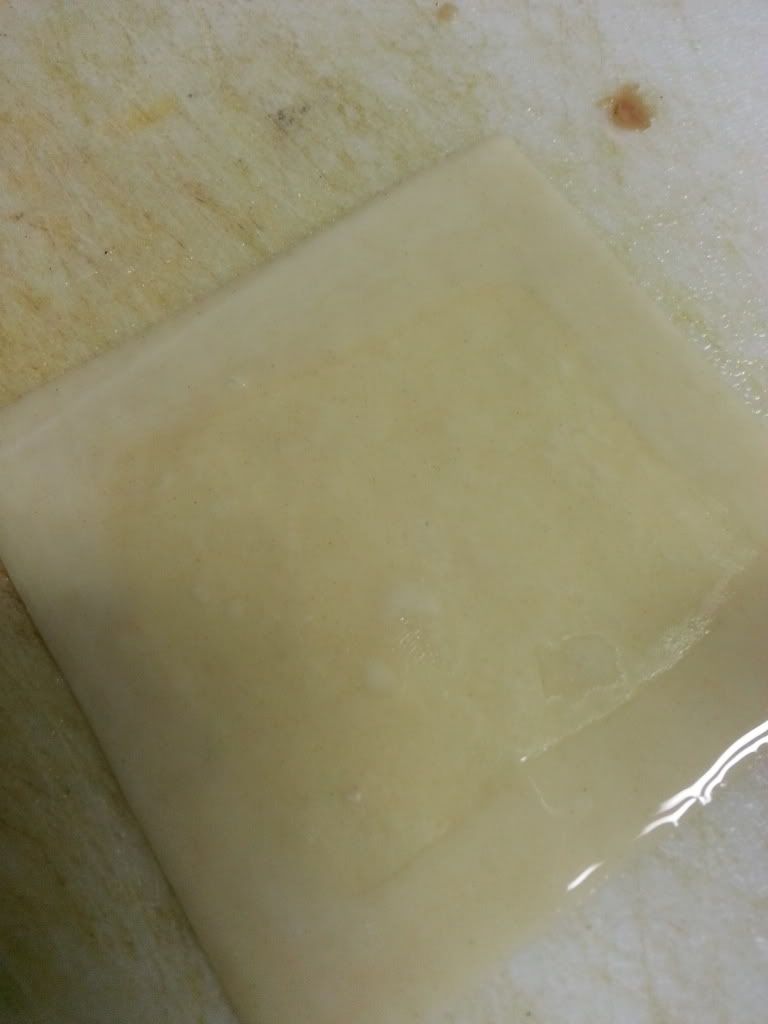 Dampen all edges of the wontons

For goodness sake do not overfill!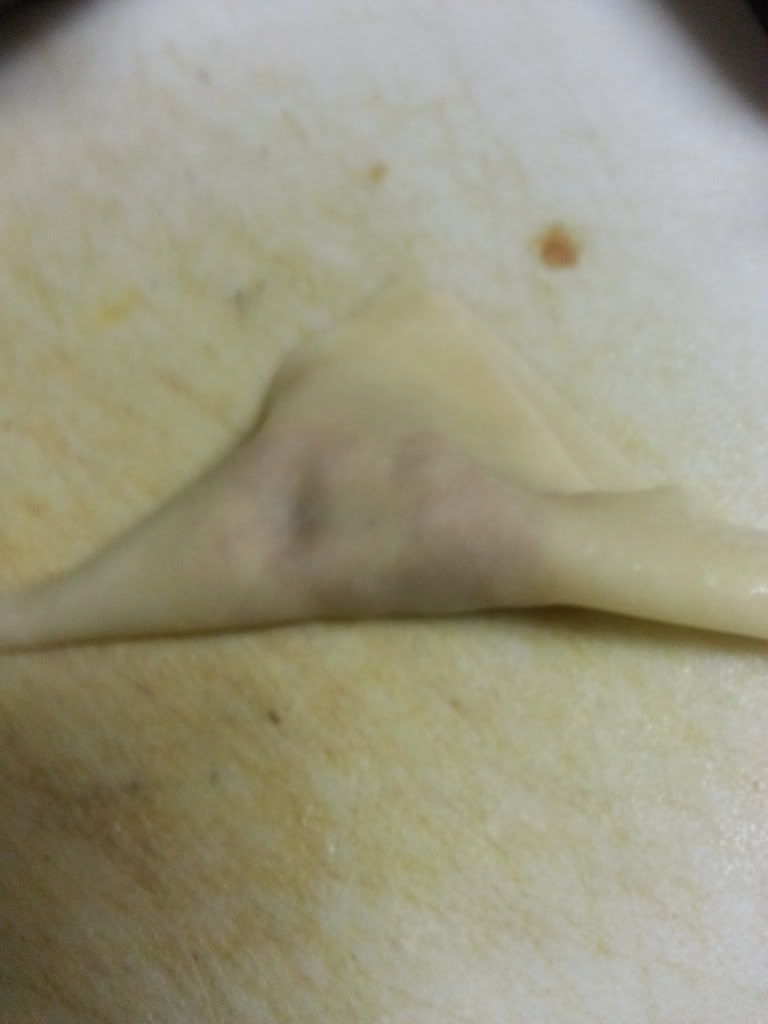 Bring the corners together to make a triangle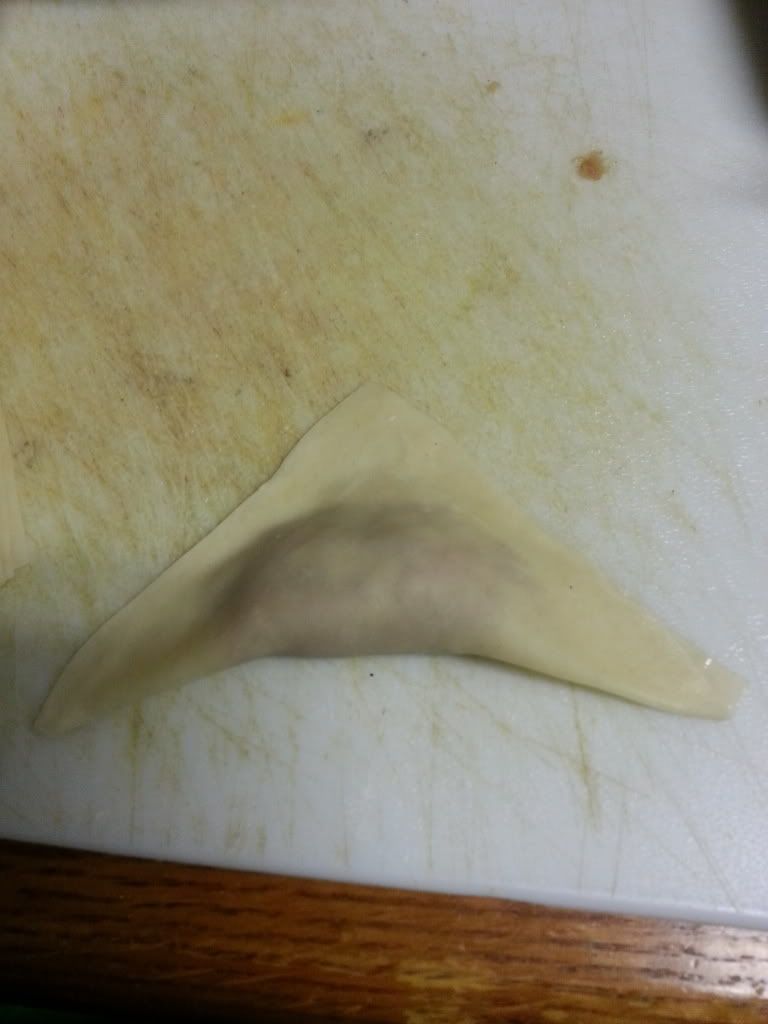 Press the edges together to seal
Bring side corners together and dampen one of them to seal
Bonus: And because I am fancy and actually looked at the tutorial on Appetite for China I do these shapes as well. Set up wonton as a square place filling in the middle. Pull the edges together to form a rectangle, then bring bottom corners together and dampen a corner to seal. See her site for a better description...
I place my wrappers on a diagonal and wet all sides and place a small spoon of filling in the center, do not overfill. Really don't do it. Then make a triangle by pulling the bottom corner to the top corner and seal the triangle wet one corner on the left or right of the triangle and press together and place on the cookie sheet and cover and keep going. It took me about 30 minutes to do this because I did a whole package of wontons and I had filling left over because I really didn't want to overfill the wrappers.
Next, mix all your ingredients for your sauce. This sauce basically will work for a half of the wontons and I only made enough for two servings. Mix them well and until the sugar dissolves. I love the flavor profiles in this version, but you can always use the exact ingredients Sydney uses. Set your sauce aside because you will need it as soon as the wontons are cook.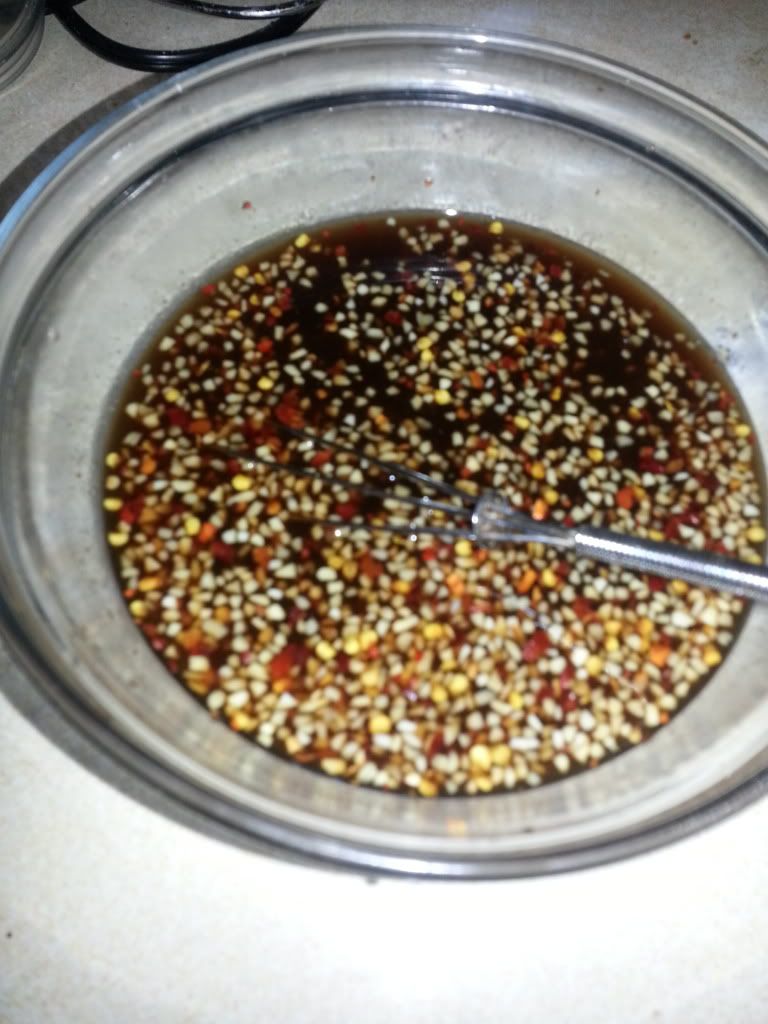 In a large pot boil water add the 2 tablespoons of chicken stock. Put your wontons in the water and boil for about 4 minutes until they float and removing them with a slotted spoon place them on your serving dish or bowl. Drizzle the sauce over the top and sprinkle with green onions for garnish. I froze the rest to be used as needed and you just boil them frozen in the pot for about 6 to 7 minutes to cook.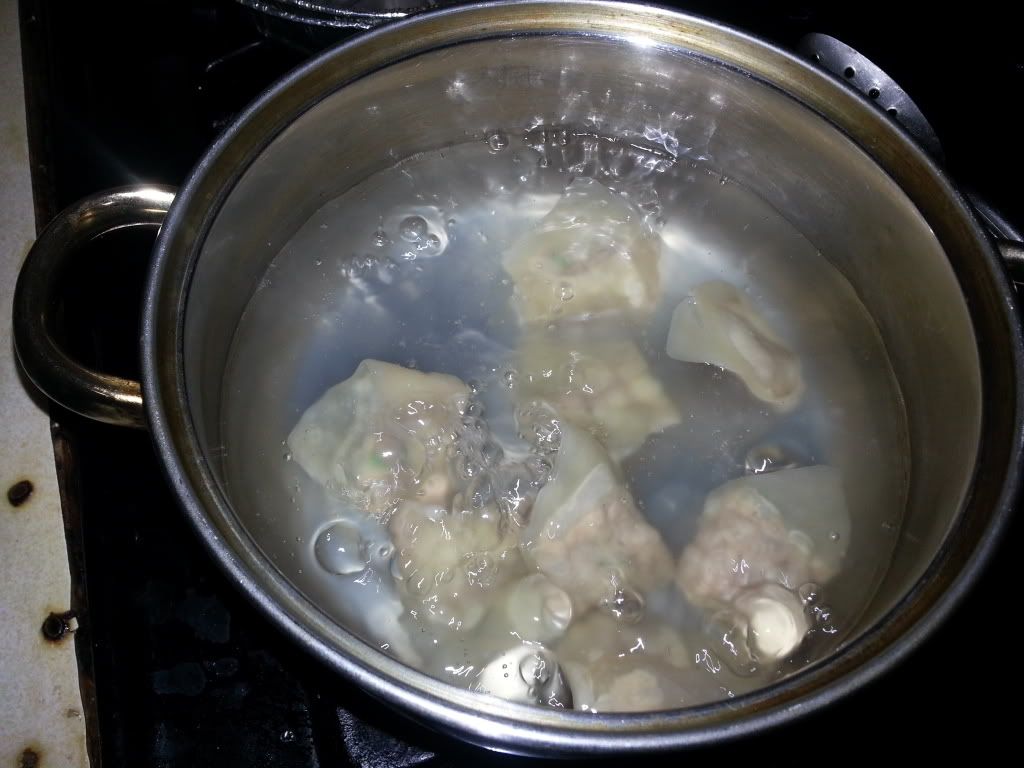 No you do not have to use chicken stock. I have boiled the wontons without it as much as I make it and they are just as delicious.
Verdict:
OMG! I love this dish. I could eat these wonton/dumplings for breakfast, lunch and dinner. 8 wonton skins are 160 calories and you add your meat and you have a good hearty meal. The flavors are so intense and the heat from the sauce made my morning, noon and night. Seriously. I enjoyed popping the little morsels into my mouth with the sauce. The sauce brings the heat, but the wontons are tender packages of flavor. Seriously, I will be making more this week, because this is a simple meal full of awesome Asian flavors. My love of dumplings just increased ten-fold. Let me know if you try this one. FYI this dish can be made with other protein such as shrimp or chicken. Update: I wrote this on July 1st and I have made Sichuan Wontons every week since. Seriously, I am in love with them.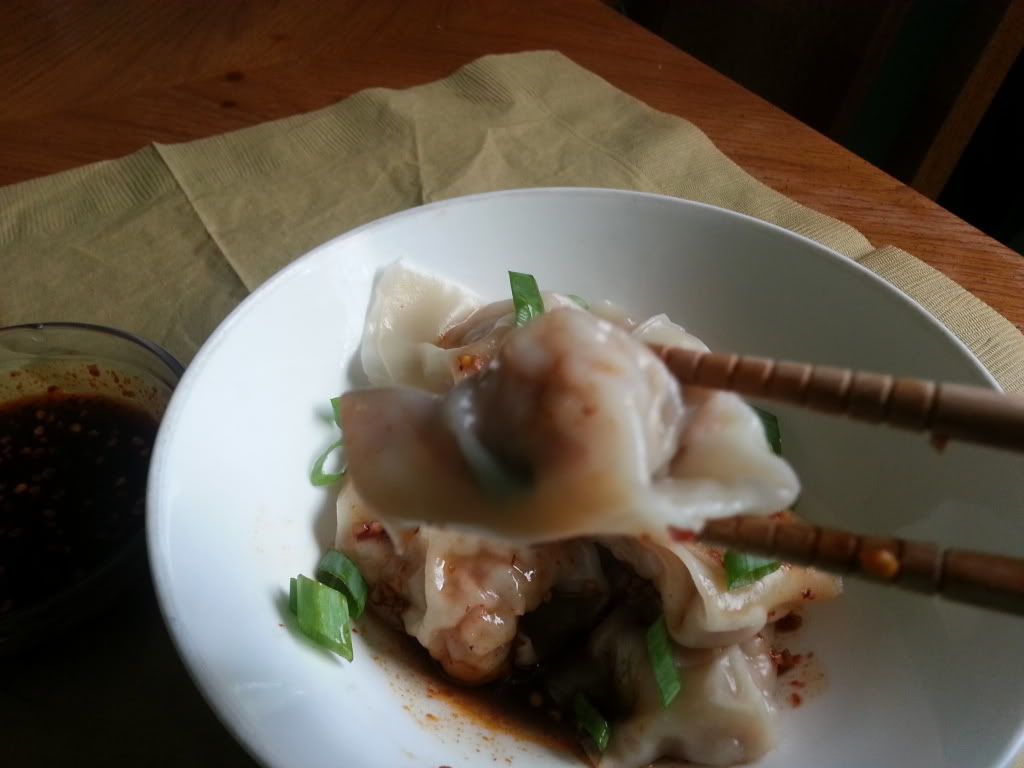 FYI - I eat them only with my chopsticks...Aren't I fancy...