Hair Post...Bantu Knots
I decided I needed to do something with my hair, because right now I am so sick of my hair it isn't a joke. Most people want the long hair, but I have long Sisterlocks and I ain't enjoying them right now. Seriously, they are a pain. Luckily or unluckily, we didn't have a real summer which means our temperatures didn't get to 100 degrees this year. In fact, it rained the entire month of July and for the last two weeks it has been more of the same. So I am thankful that my hair didn't get too hot and heavy this year. However, I would be remiss if I didn't say that I miss being able to roll my hair on Softspikes or flexi-rods and have this big hair full of curls. I loved my hair back then. I really did. Now I am forced to do a braidout or wear it in a bun. This isn't good because it thins the locks by wearing them in the same style, but hell I have few options.
So a couple of weeks ago, I sat down and looked at some Youtube videos on how to Bantu knot my hair. I love the vision of long locks with glorious and full curls. So after watching multiple tutorials, I decided to do it one night after my second job and right after a hair wash. Oh, I still hate washing my hair but really I just hate trying to dry it.
Freshly finished Bantu knots
First of all, I probably shouldn't have done them on freshly retightened locks, but I did. My hair was slightly damp, but not wet. I lightly sprayed my locks with Oyin's conditioner and Crimps and Curls to set the knots. It took me about 30 minutes to do my entire head, because I was also cooking my Sunday dinner that night as well. Multi-tasking. I found them tight and frankly they were very uncomfortable to sleep in and I knew this because the Youtube folks told me they would be hard to sleep in. I sleep on my arms (my years of wearing a perm and not wanting to mess up my curls) and it still was quite uncomfortable. I got up early that morning and sat under the dryer for 30 minutes trying to insure my hair would be dry. I took the Bantu knots down at about 3:30 pm and they had been in my head since 11 pm Saturday night. The hair in the front was dry, but you guessed it the hair in the back, which is denser and were in smaller bundles did not dry so that hair was straight. I was disappointed. Overall, the hair had curls and gave me a different way to make curls. However, the curls didn't last long and it was cute for about 20 minutes before I had to put it up in a bun for work. Yeah, didn't really have time for it to really set and give a great curly look. I am going to try it again soon, but I will make sure my hair is dry. I will use just the Crimps and Curls and hopefully let it set for at least 24 hours. The thing is once your locks get to a certain length it seems you aren't getting the huge and lasting curls because the ends are heavier and weigh down one's hair. My thoughts.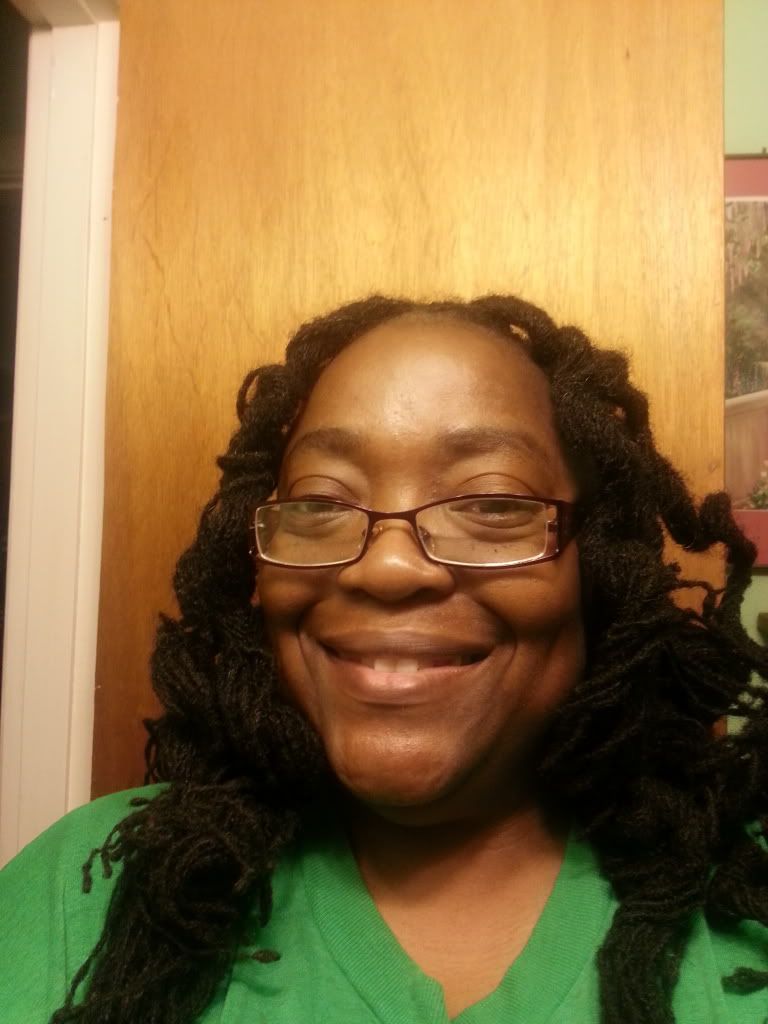 Freshly taken down before the fluffing.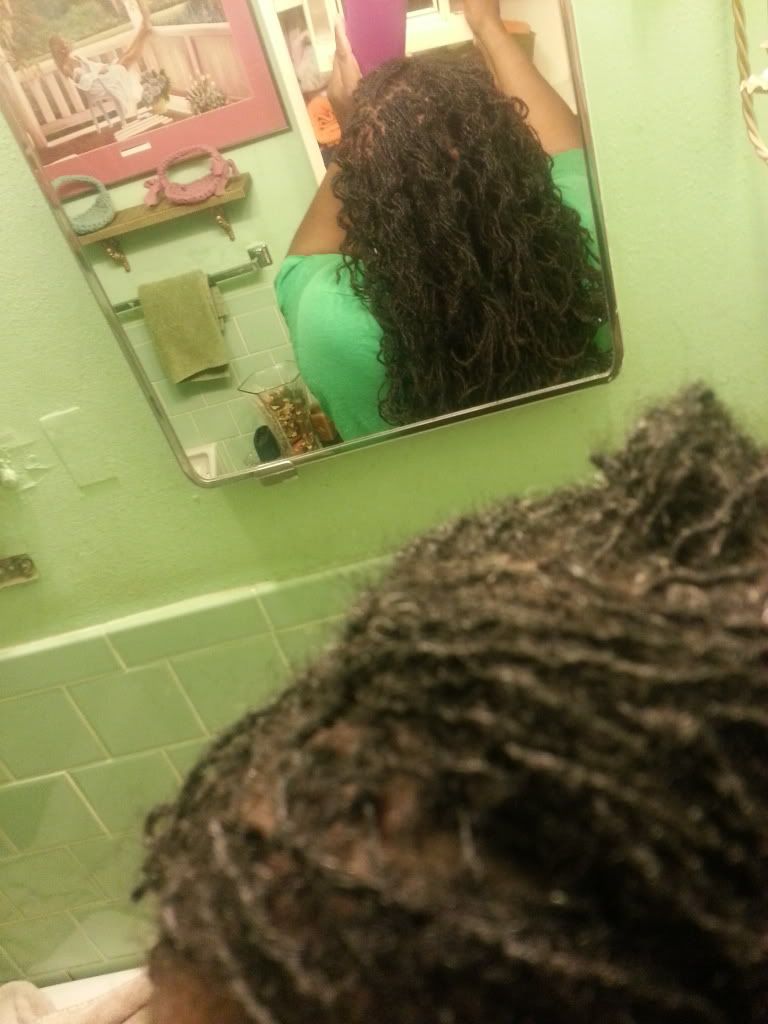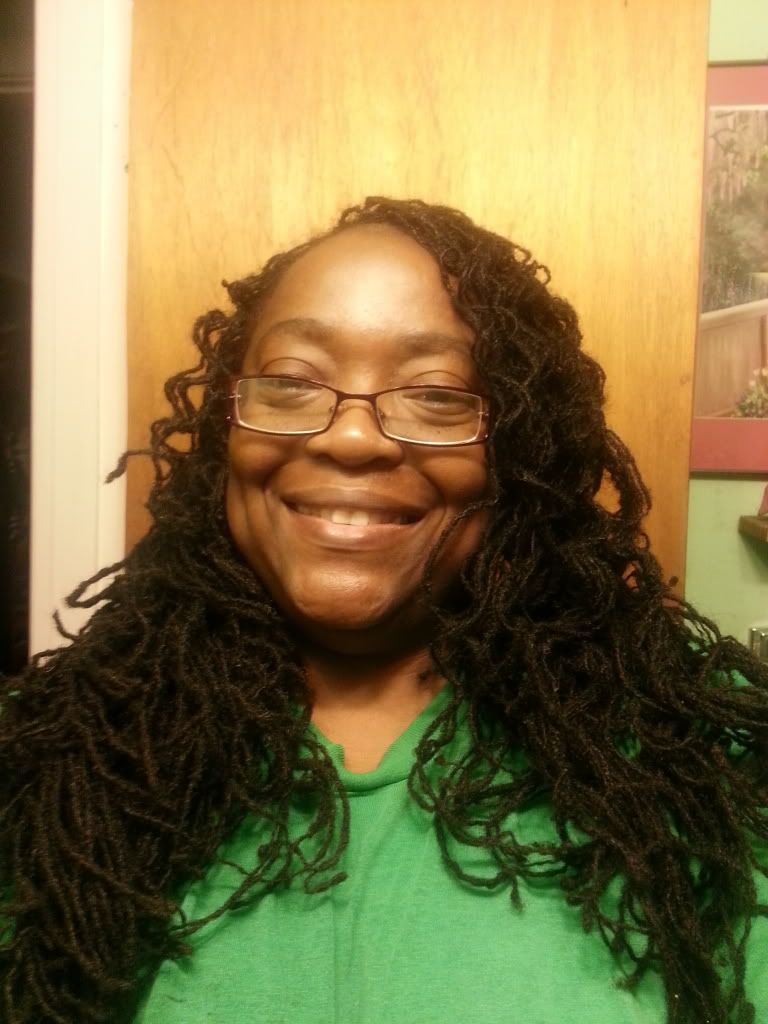 Bantu Knots - Results...Still straight in areas.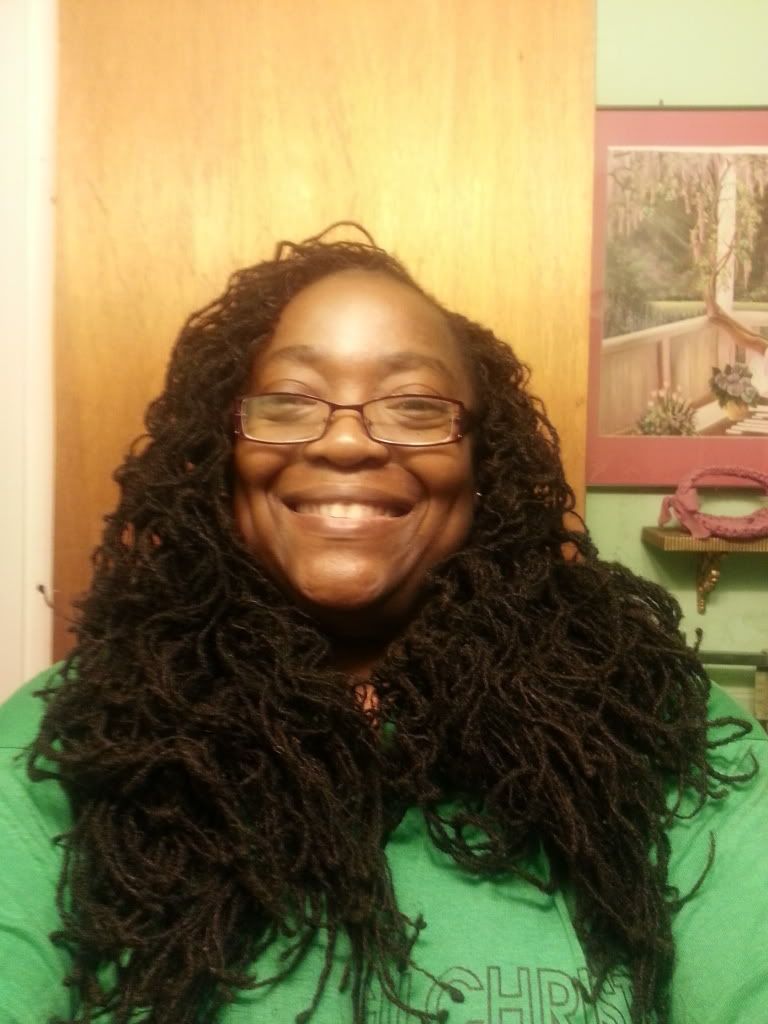 I switched hair to a different side and got a fuller look, which I did like. So I will try it again. Hopefully, all the hair will curl...

Anyone still reading my blog with Sisterlocks? Any styling tips or help? Otherwise, I will be calling my consultant one more time about cutting my hair and if she doesn't, well I guess I will be taking things into my own hands, after I watch a few more Youtube videos on trimming my locks.
Labels: Hair journey, Hair photos, Sisterlocks