Creative Cooking Part 3...
Yeah, I seriously need to get a life, but alas, this is my life. In between working two jobs, working out at work and at home, gardening (ok container gardening) and reading I find time to cook when I am bored. On April 2, 2011, I decided I was going to replicate the Bang, Bang shrimp I love from Bonefish Grill. You know you can google anything on the Internet, right? Well that is just what I did. And after reading reviews of folks who had tested the recipe I was ready. All I needed was some shrimp and Thai Sweet Chili Sauce. And since shrimp was on sale...What's a girl to do?
I rinsed my pound of peeled and deveined shrimp and dried them and then tossed them with cornstarch as I heated my Canola oil in my caste iron skillet. My skillet is old and pretty much has been passed down in the family so you know it is well seasoned.
To make the sauce you need 1/2 cup of mayo (I use Miracle Whip. I don't like real mayo. Don't ask.), 1/4 cup Thai Sweet Chili Sauce and 3 drops or to taste of Sirachi Chili sauce. That is it. (If you don't add the shredded lettuce and green onions.) Now you know I had to add some things. I don't know why I can't just follow the damn directions. Anyway, I added a pinch of salt to the sauce and I added way more than 3 drops of Sirachi Chili sauce because it didn't taste like the Bang, Bang shrimp I was accustomed to. I also added a bit more of the Thai Sweet Chili Sauce. I kept adding things and tasting until I felt it tasted just like the Bang, Bang sauce.
After I fried up the shrimp, I tossed them in the sauce.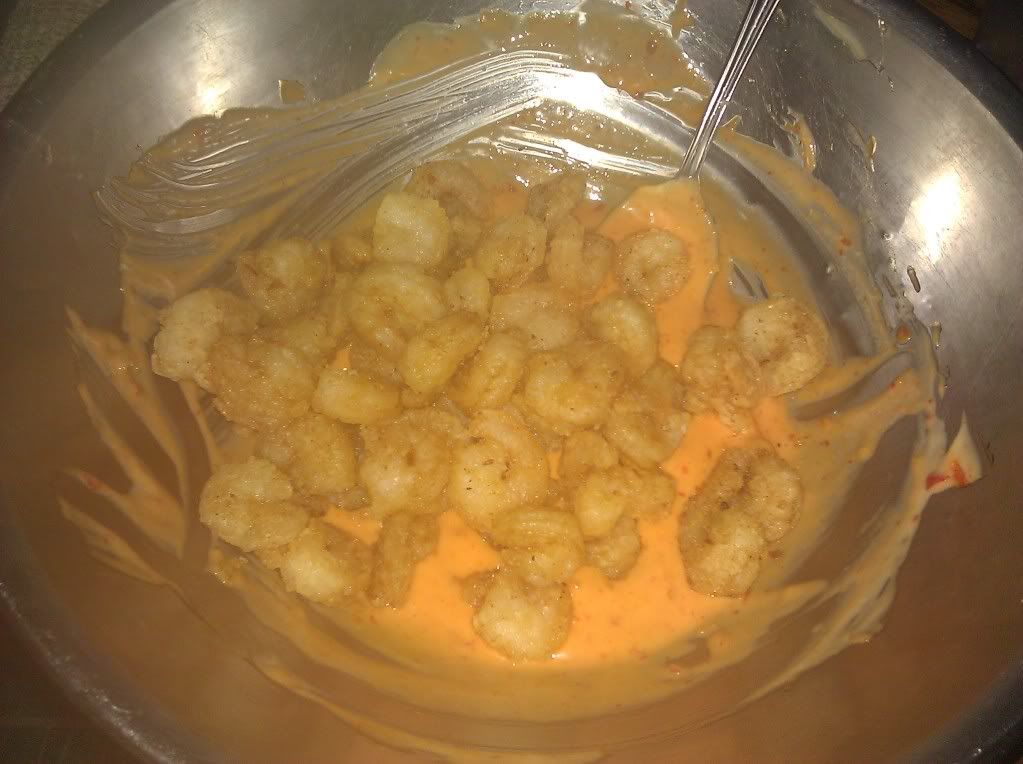 I was surprised the shrimp brown accordingly w/just cornstarch.
After I coated the shrimp completely, I plated without the lettuce, but with the green onions. And let me tell you, they tasted just like the Bang, Bang shrimp from BFG. And the longer they sat in the sauce, oh boy the better they tasted. I even took the leftovers to my second job and allowed the cashiers to taste them and they loved them. They wished I had given them more. Um, I gave them over a half of pound of shrimp, because I didn't trust myself to not eat the entire pound by myself in a 24 hour period.
Final presentation and again on a small saucer. LOL!