Creative Cooking...Yet Again!
Over the weekend, during some of my down time, seriously I was just bored and needed some blog fodder that was appropriate for this blog; I decided to make Carrot Cupcakes with White Chocolate Cream Cheese Frosting.
I couldn't have been too bored because I didn't fix these until 10 pm Saturday night. Sue me, I took a long nap Saturday and was wide awake prior to finally crashing after 1 am. Plus, I had to work that evening. Anyway, I didn't have to purchase much from the store because I had everything but Orange extract, walnuts, pineapples, white chocolate and heavy cream. For the exact ingredients, Google White Chocolate Cream Cheese Frosting Carrot Cake Cupcakes and find the one from Allrecipes.
I consider myself an organized cook so I chopped up my carrots and set them aside. Then mixed up the flour mixture (flour, baking soda, salt, cinnamon, nutmeg and ground ginger) and using my mixer I mixed the sugars, oil, eggs, and vanilla. Then I added the carrots and pineapples. Then I slowly added the flour mixture until evenly moist and finally folded in my walnuts. Then I put them in my lined muffin pan. And for my stove it took 30 minutes for the cupcakes to cook. So while they were cooking, I made my frosting.
Cupcake batter mixed together. See the carrots and walnuts?
Over a double boiler, I melted 2 oz of white chocolate and let it cool. Then I mixed my butter, 1/3rd less fat cream cheese, vanilla extract, orange extract and white chocolate. I slowly added about 3 cups of confectioners' sugar. Ya'll know I can't follow a recipe to the letter, 4 cups of powdered sugar was doing to damn much and it would have been overly sweet. I think I used approximately 2 ¾ cups of sugar and that was plenty.
Once the cupcakes were toothpick tested done, I placed them on a cooling rack. Once I thought there were cooled accordingly I piped my frosting on each cupcake. I wanted to put some shaved chocolate on the cupcakes, but hell I was tired by this time and just wanted to taste these bad boys.
Cooling Carrot Cake cupcake. Looks yummy!
Verdict: Best damn cupcakes I have ever made and that is saying a lot. Okay not much since I have only made two types previously. The carrot cake was moist and I have not tasted a carrot cake that moist in a very long time. The flavor was awesome. The icing was delicious, absolutely amazing. My kids on my second job asked if I had put meth or some other drug in them because they were so good. They started asking me do I bake. Um, I didn't want them to get any ideas, hell no was my response. I didn't bring any back home. My bestie brought her son over Sunday and they tried them and she was begging me to make her some if she buys the ingredients. I'd just make them because seriously, I don't bake for anything but making folks smile. And these cupcakes made several people smile. This is a very simple recipe, although there is a bit of prep, it is definitely worth it. The guy doesn't eat sweets, but next time he is going to have to taste them. So run out and get your ingredients and make them by sticking to the recipe and you should be successful.
Finished product! My sister says my icing is getting better.
My piping is getting better too!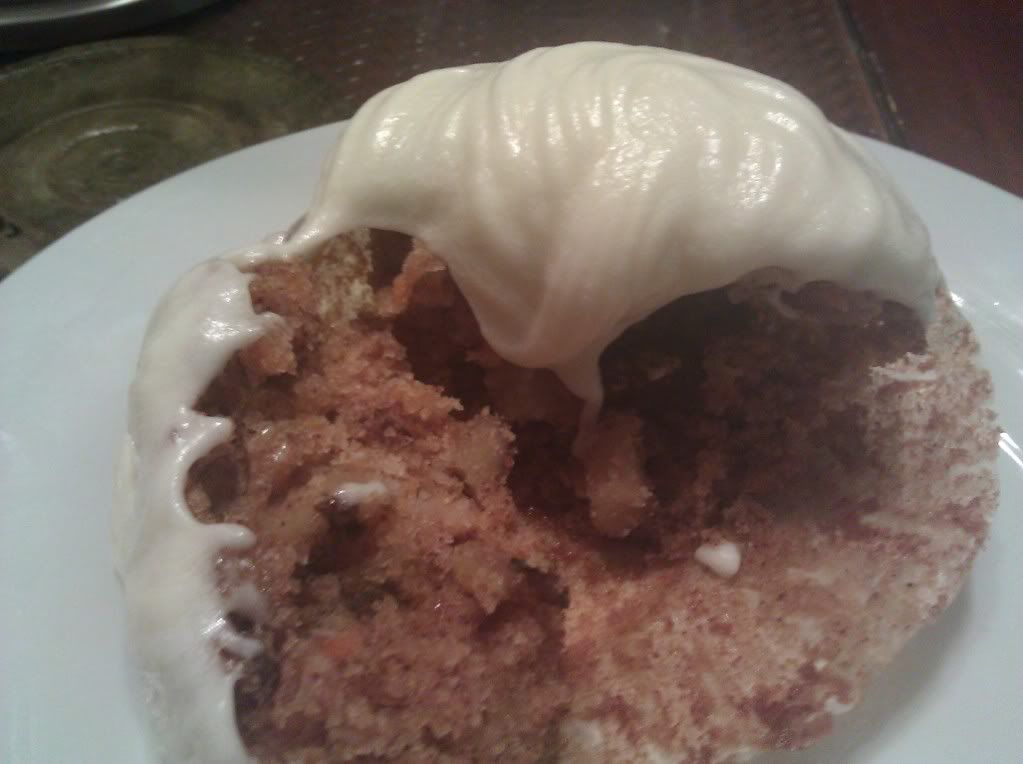 Look at this delicious moistness.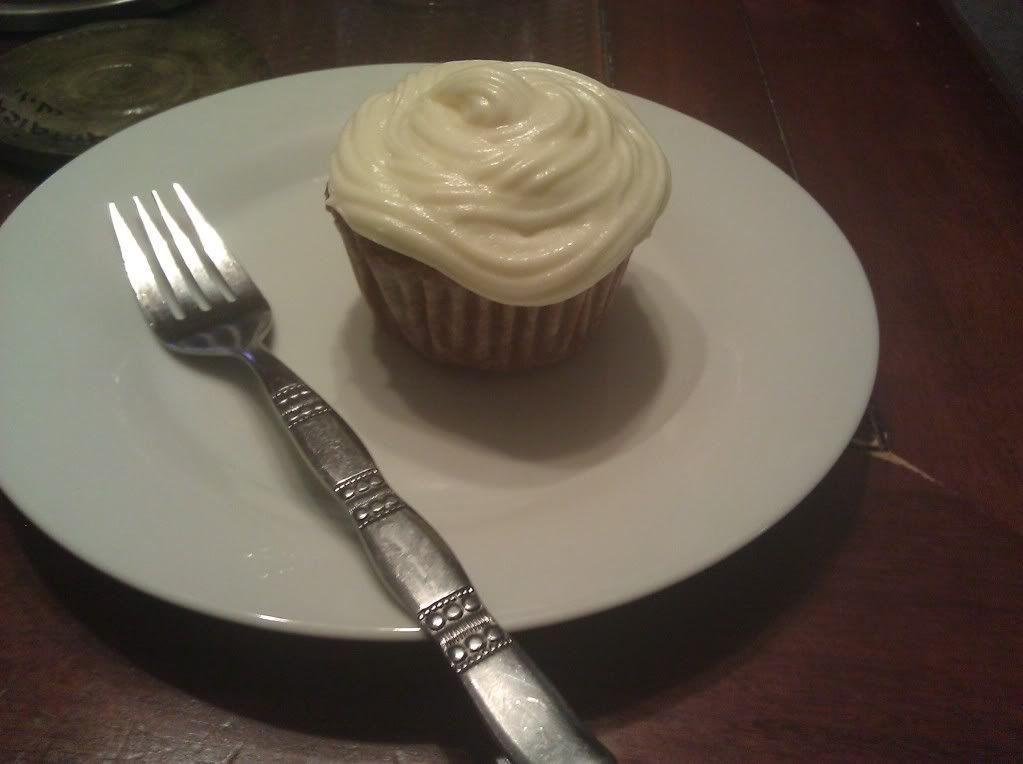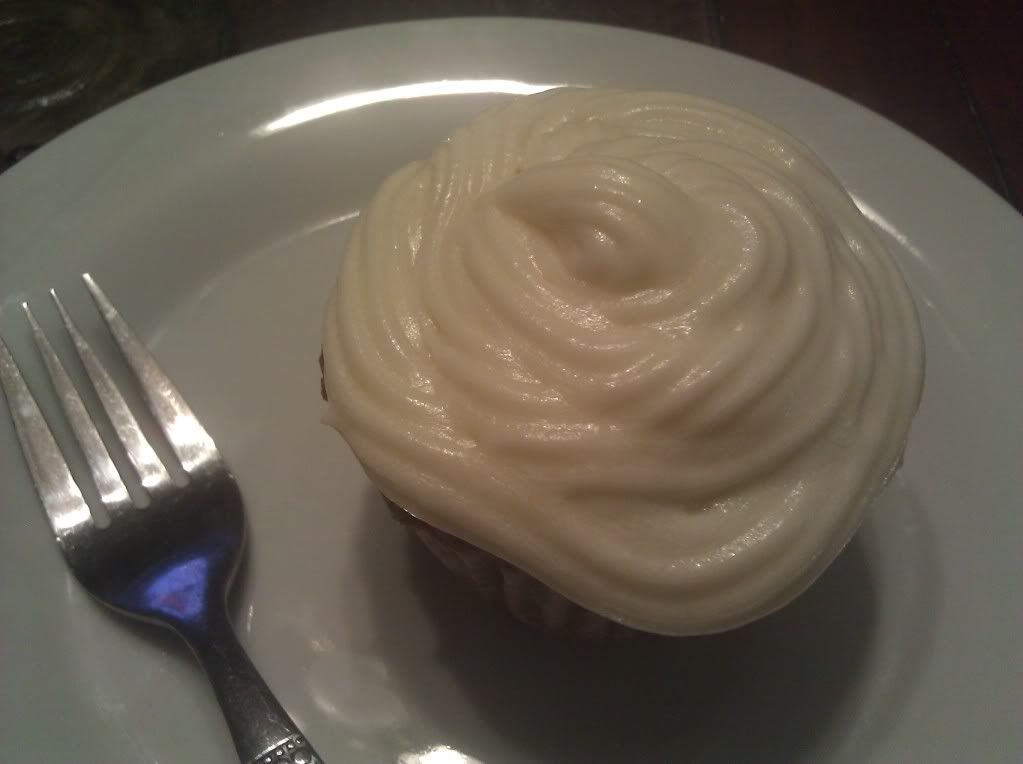 Just a little closer look!