Creative Cooking...Again
On the
Gina's Skinny Taste site
, she made a dish called "shaking beef", which is an Vietnamese inspired dish. When I saw it, I figured hey I can try that and it doesn't require too many ingredients. That's what I like the most, because I am a lazy cook.
On Sunday, after washing my hair, I got to the business of preparing the dish. The night before, I prepped the beef by marinating it in light soy sauce, garlic (minced), fish sauce, oyster sauce and sugar. I cut the beef into chunks, next time I will cut into thin strips since I had it w/angel hair pasta.
Now you know I strayed away from the recipe.
Disclaimer:
I am not doing the WW diet, but I find the dishes on this site to be low in calories and actually have flavor. Nothing I despise more than tasteless food. No one has money to just throw away. Oh, the straying away from the recipe part I made a sauce to put over the beef after I cooked it.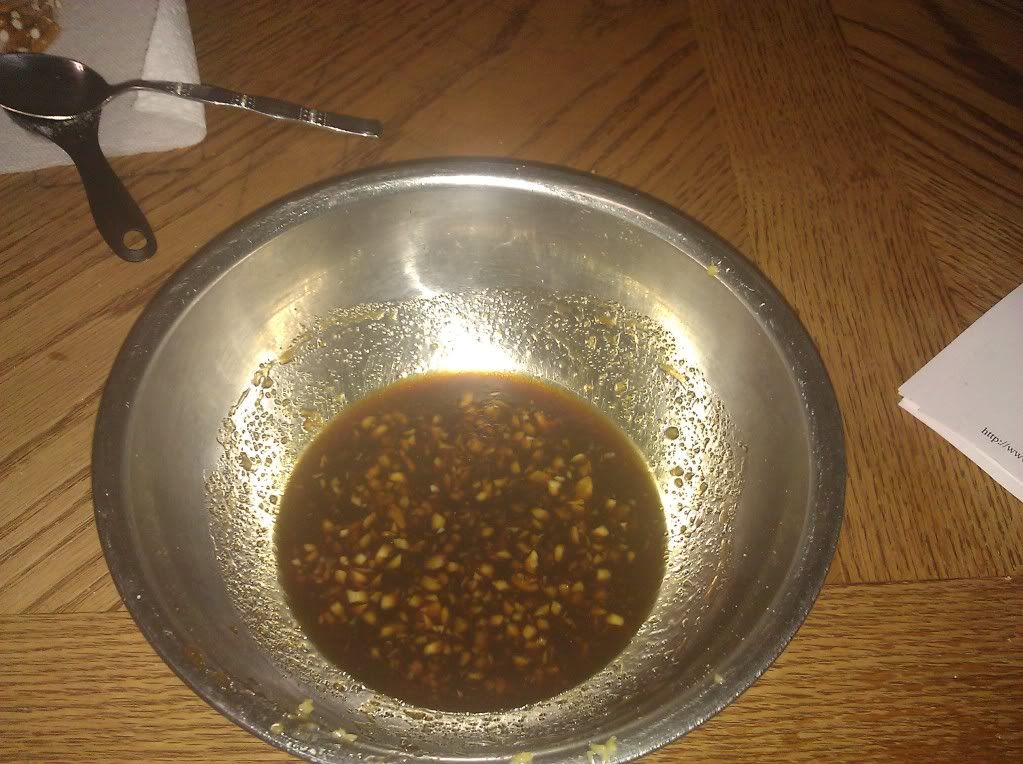 Before thickening in a sauce pan.
2 Tbs of Rice Wine Vinegar
1 tsp of ground ginger
2 Tbs of Oyster sauce
1 Tbs of fish sauce
2 Tbs of sugar
To taste Sirachi chili sauce
Combined in a sauce pan to simmer and thicken. Once thicken place to the side.
Now it is time to do some other prep before you go to "shaking beef". I cut up some roma tomatoes, cilantro & green onions from my own garden, and red onions.
With a screaming hot pan with canola oil I quickly cooked my beef, being sure not to overcook. Then in a change again in the recipe I sautéed some yellow onions and my tomatoes to add to the cook beef I sat aside. Once it was finished I stirred in the previously made sauce and tossed the beef and sautéed onions and tomatoes.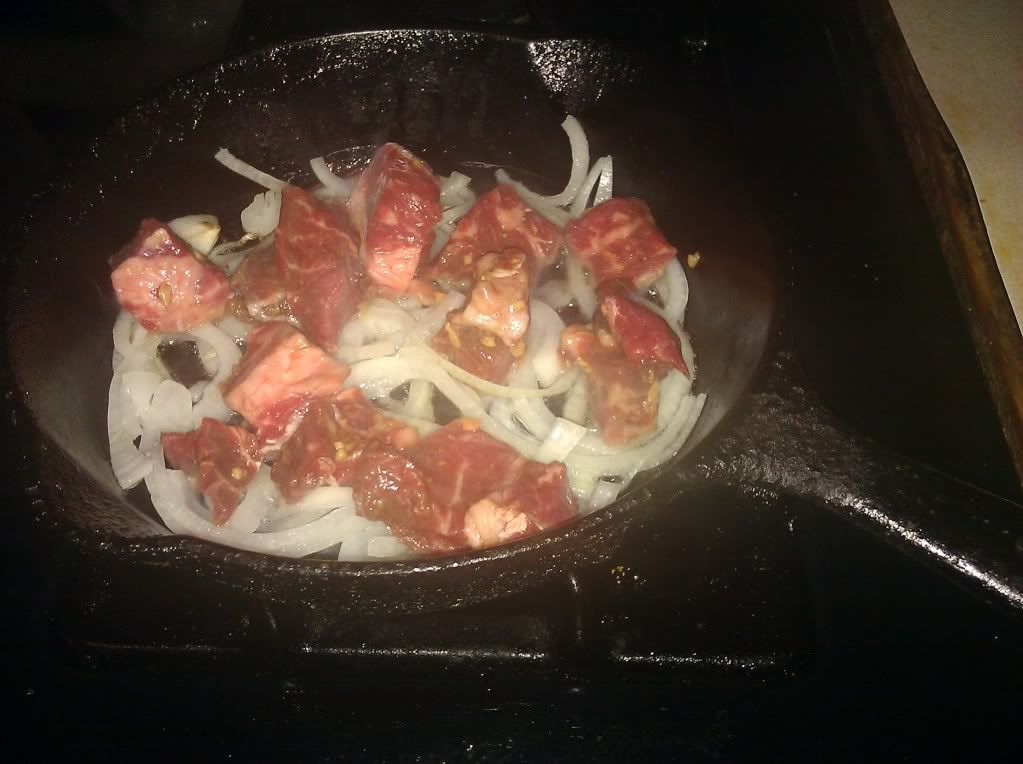 Somewhere in between I boiled some whole wheat angel hair pasta al dente. So yeah, do that or you can serve it as Gina Skinny Taste says with the salad, but I have eaten enough salads for the last few weeks and I need a break. I think it would be great with rice, if you like rice. I also made the dipping sauce of lime juice, kosher salt and cracked black pepper. Yummy!
I garnished the dish with the cilantro, red onions and green onions.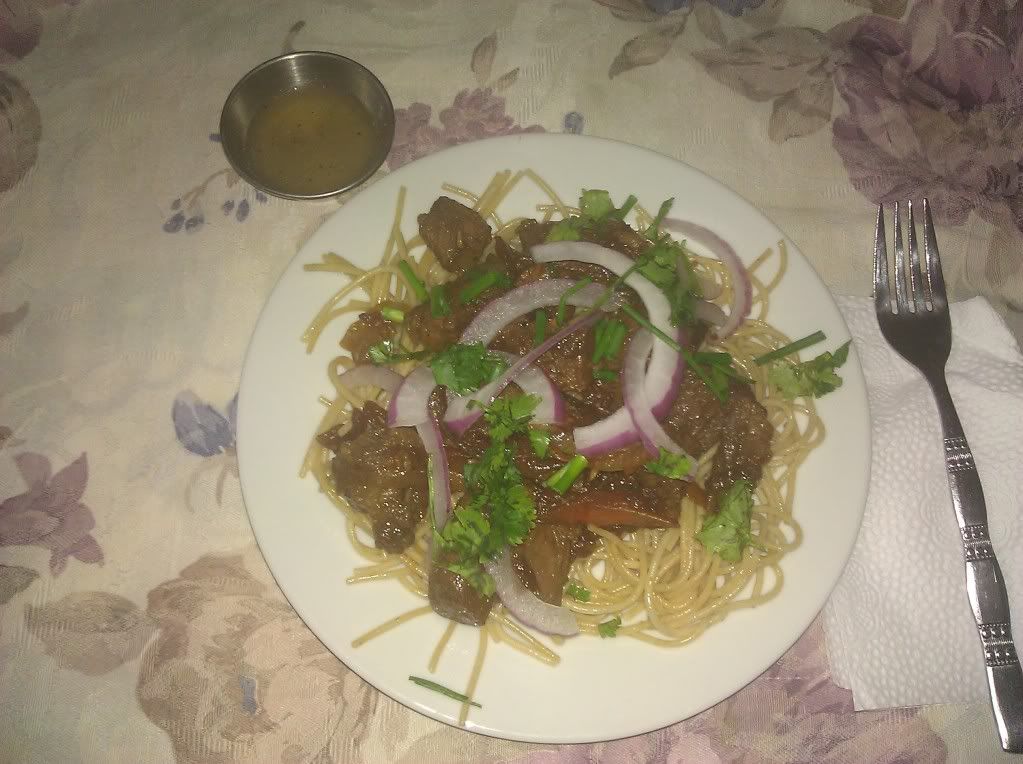 Shaking Beef with whole wheat Angel Hair pasta, garnished with cilantro, red and green onions w/lime, kosher salt and black pepper dipping sauce.
Verdict:
Loves it. It is flavorful and easy enough a novice like me had no trouble making this tasty meal. Only thing I would do differently is to slice my beef thinly.
Side note:
Why did the Asian store I normally go to not open on time Saturday? Geez, I had to get my fish sauce and oyster sauce from a grocery story. The horror!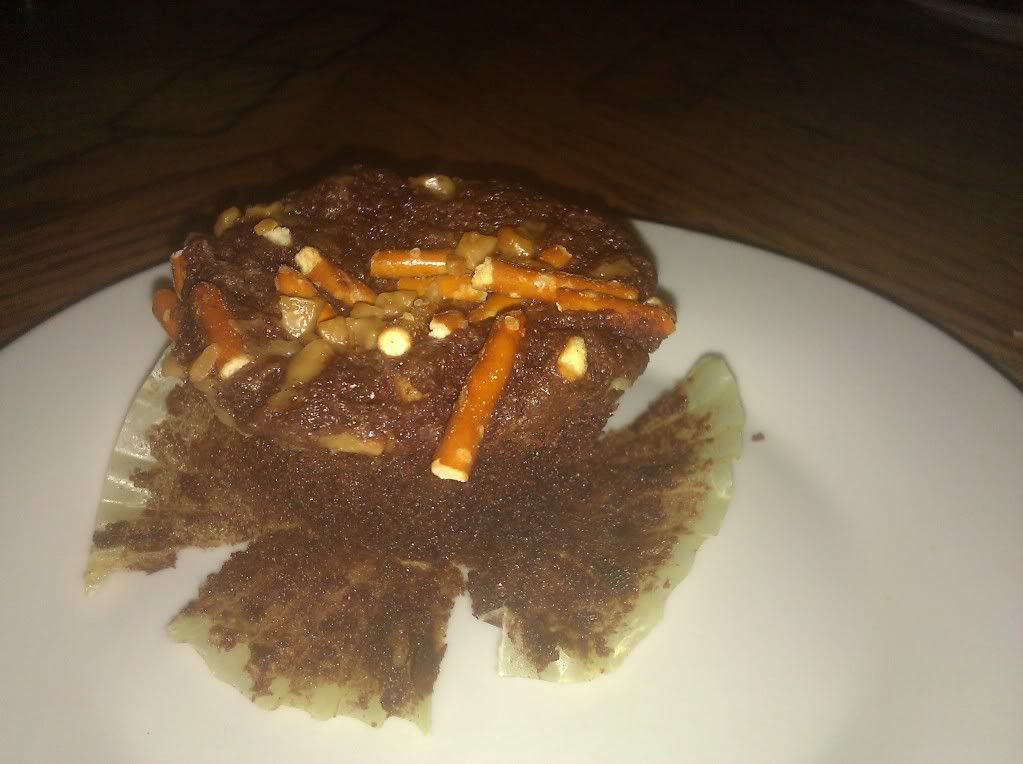 Next was Fudge brownies with a pretzel and toffee topping. This is so easy all you need is a box of your favorite brownie mix or if you are ambitious, you can make your own brownies from scratch, I ain't. What? Once you follow the directions on the box and in a lined muffin pan fill half way with mix and top with crushed pretzels and toffee and bake according to the box directions.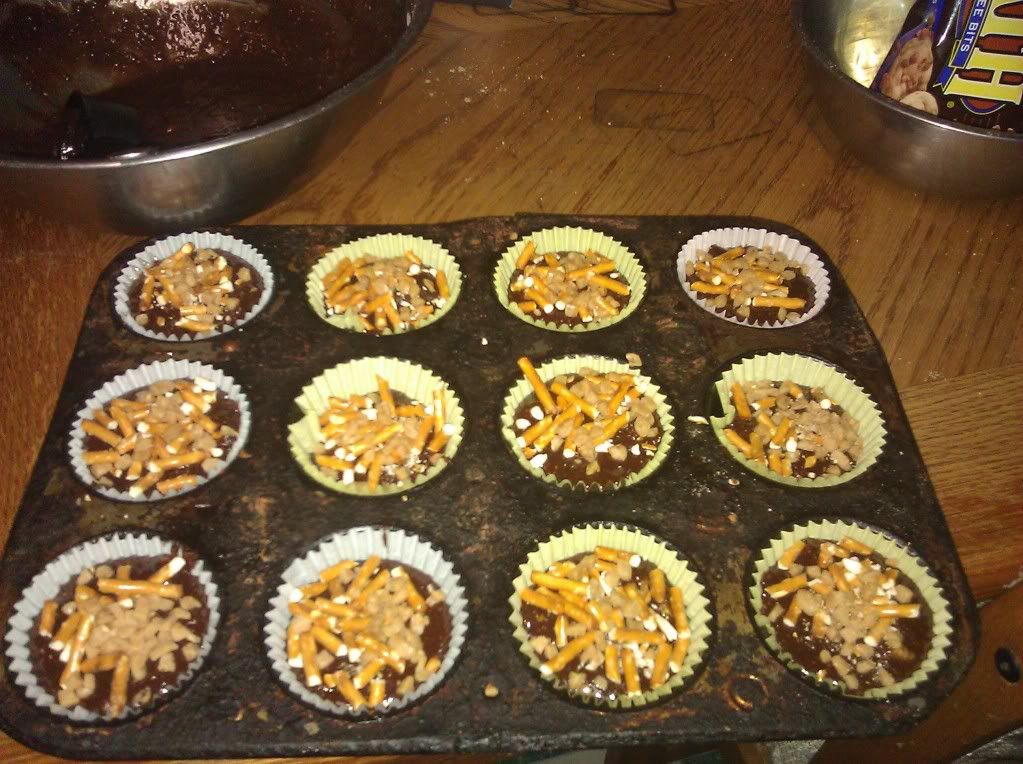 Verdict: Easy. Tasty. Rich. And evidently the book club members enjoyed them because I didn't bring any home.
Yummy!
Now you know I was supposed to take the pineapple cupcakes to book club, but I got lazy and I had so much to do I just didn't feel like working it out that icing issue I have with the recipe. This brownie recipe was inspired by
Crepes of Wrath
so check her out as well.
Technically, I wasn't really bored this weekend to be doing all this cooking, but I really do find joy in preparing and sharing food with my friends and family.
A little closer view. And yes, this is a saucer serving.