Day 2 of our Mini Family Vacation in Myrtle Beach
The second day of our mini family vacation had me up at 6 am, for an early morning workout since I was still feeling fat after the dinner the night before. Of course, calling my cousin who wanted to join me was a waste because she slept through her phone ringing. The exercise room was seriously, in need of a cleaning and please I do not even want to talk about the nastiness of the machines. I had begun my workout when I noticed just how nasty the treadmill was. Seriously, why wouldn't you wipe your dayum sweat off the machine when you finished? Really? Folks are just nasty!
After my workout, I promptly settled down to watch Law and Order, and then I took a nap because my sister and I were hoping to the Jeep tour of the area and then make it to the Aquarium. Well, my sister decided to get some free stuff by sitting in on a 90 minute timeshare spiel. She was livid because the person giving the tour and talking about the place, which by the way isn't built yet, was new and just kept rambling on and on. When she finally returned to the room, it was just too late to go on the tour. So we headed to Broadway on the Beach for lunch. When going with family, reason #1051, always have someone who can make a definitive decision about such things as where to eat and what to do if you want to do things as a family. We finally settled on Johnny Rockets. Okay, I ate a grilled chicken sandwich that I had to take the bread off because it was just too much.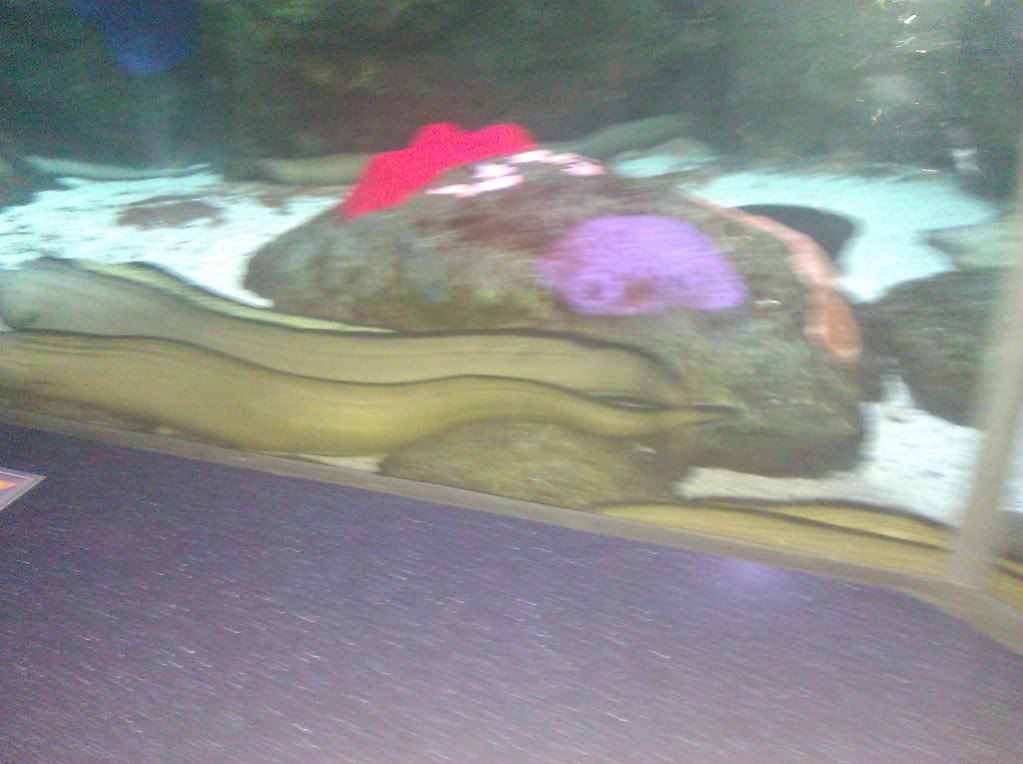 Some really weird eel like fish.
My sister and her kids and I went to Ripley's Aquarium. I have been to several aquariums and by far the best was New Orleans, with Baltimore coming in a close second. This aquarium was just okay. Nothing grand about it. It had an impressive amount of sharks, but it just wasn't big enough in my opinion. My sister at least got free tickets for this from the timeshare tour.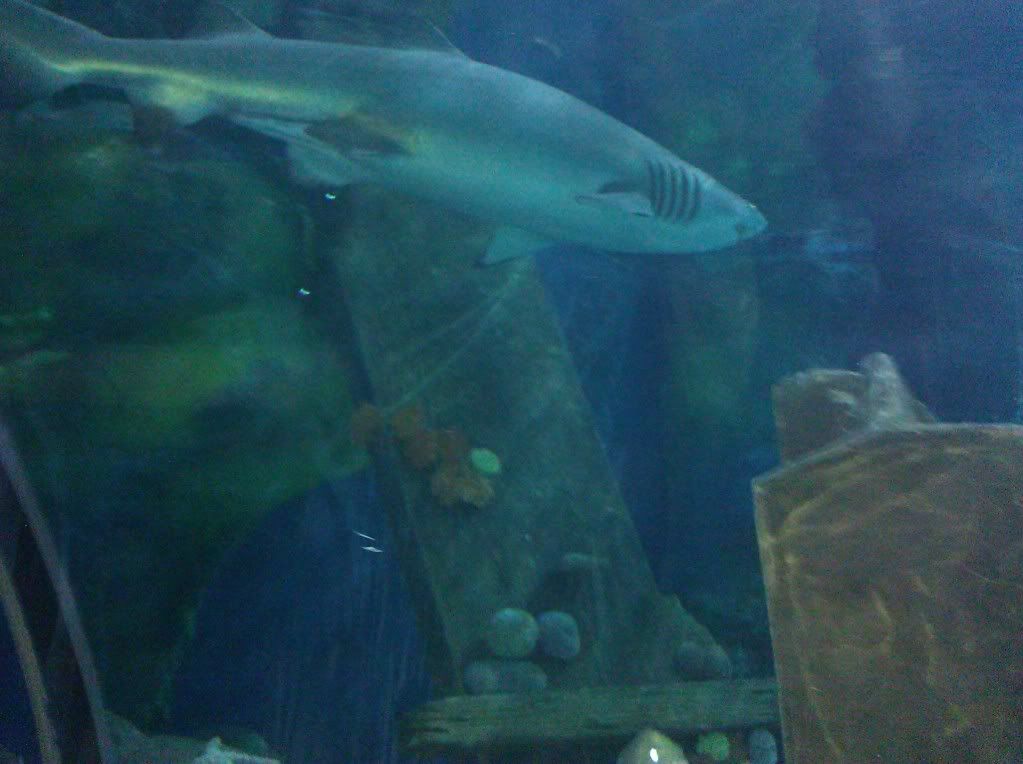 Then we decided to get some snacks. We went to Piggly Wiggly. Now I asked my cousin did the store stink earlier that morning and she kept asking me why I wanted to know. Well, I have yet to go to one that didn't stink. And this one did stink; we were in and out of there. Then we went to Godfather's Pizza. Ya'll I haven't had Godfather's pizza in 20 odd years I was giddy with excitement because I love Godfather's pizza. From Godfather's pizza we went to get more snacks from Dollar General (there was one on like every dayum corner), then it was back to the room to rest.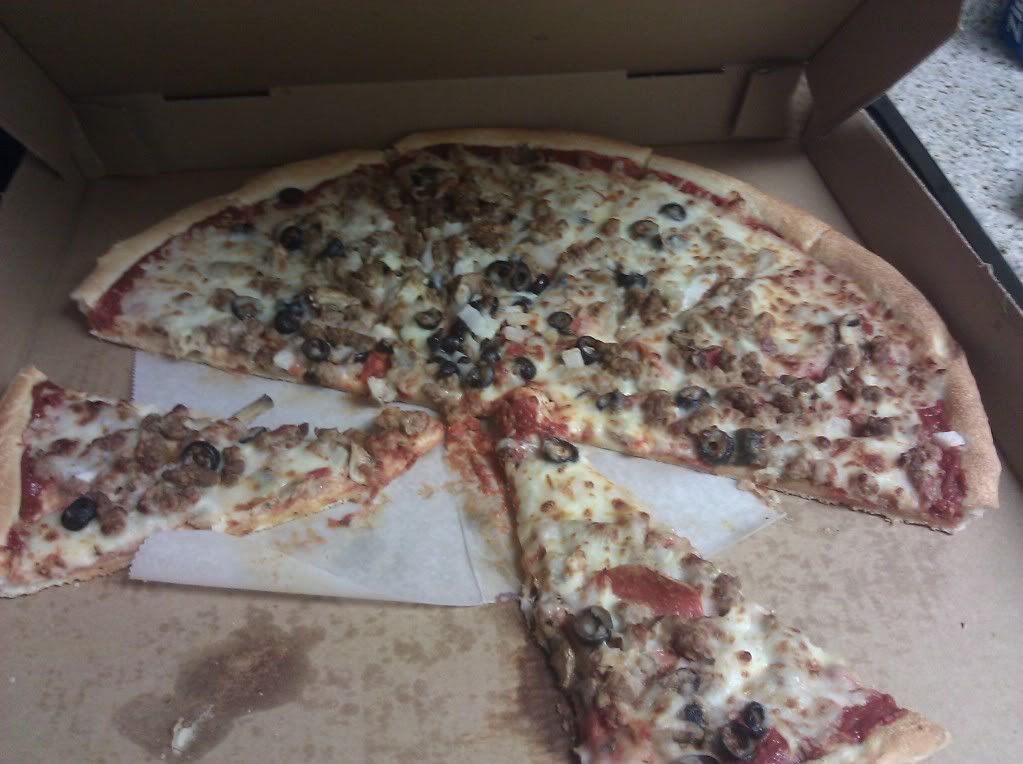 Godfather's Pizza - Jumbo Combo!
Saturday was also the day we were to visit Carolina Vineyards for a wine tasting. So about 7 pm we were off to the winery, which is a storefront in the really ritzy Barefoot Landing area. Before you could walk into the store your nose was assaulted by the actual fermentation of wine done on the premises. I was in heaven, the aroma was intoxicating. We had a ball learning about the wine and tasting more than the allowed samples, because the guy liked us. Even when my cousin AJ asked, "My cousin, Shana, down on the end, wants to know if you have any Boone Farm." Really? I have never drunk that in my life. Silly. I also realized that I prefer dry red wines, sweet wines turn my palate off. We left there a bit tipsy to head to Thorny's Steakhouse. After already eating a slice of Godfather's pizza I really wasn't hungry so I ordered a salad with steak, but um, the salad wasn't that good, but those dayum yeast rolls filled me up. LOL!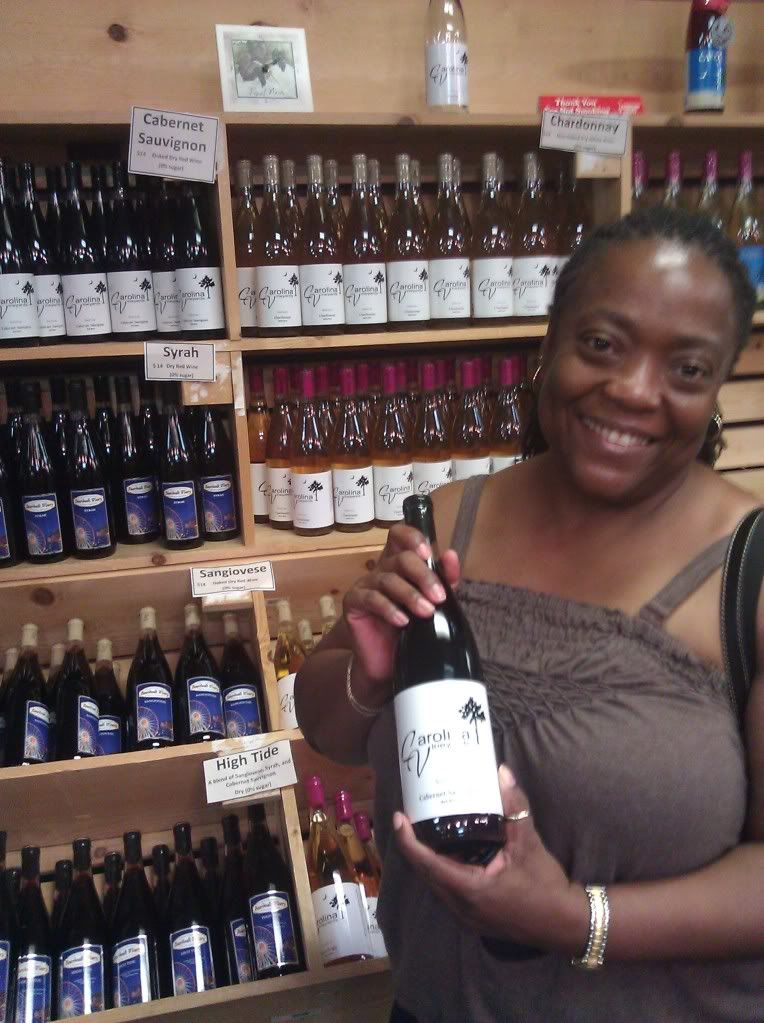 Labels: Family Vacation, Funny, Vacation 2011