After Christmas, Really, this is my life?, Lala and more Holiday Randoms…
(Be warned. This is long and filled with pictures)
Do you realize in two more days it will be 2012? This is mindboggling. This year has gone by so fast and it doesn't seem to be slowing down. I guess when you are older time flies and when you are younger it goes too slow.
I was off from my main job on December 23, 2011, and I did absolutely nothing until it was time for me to go to my second job. It was sunny that day.
On Christmas Eve, I thought about staying in my pjs all day, but I just got real casual and lounged on the couch watching Law & Order: Criminal Intent most of the day.
Exchanged gifts with the guy on Christmas Eve. I gave him his gifts which included the infamous cheesecake. I forgot to take a picture, but it came out pretty good and it had no cracks. I also made a strawberry topping to go along with it.
It rained all day Christmas. When I tell you I had a minor meltdown because of the rain, I am not joking. It was a sad sight to see. It has been raining here like every other day and I don't know about you but my mood can correspond with the weather, and rain depresses me so.
I got up early Christmas morning to bake the dinner rolls and cinnamon rolls. Besides the rain being frustrating, there wasn't anything on television at 5 am. Man, was I frustrated. And that is why I took my azz back to bed when I finished baking.
Do you know how hard it is to pack a car with food when it is raining?

Gratuitous outfit picture.
Christmas dinner was a low key event this year. Just family. And that was really nice. Food was pretty good, but being in the company of family is absolutely priceless. At least being with
most
of the family. Remember from your etiquette lessons, if you are invited to dinner, always bring the host something and if you don't, do not under any circumstances pack up plates to take home with you. Food ain't free!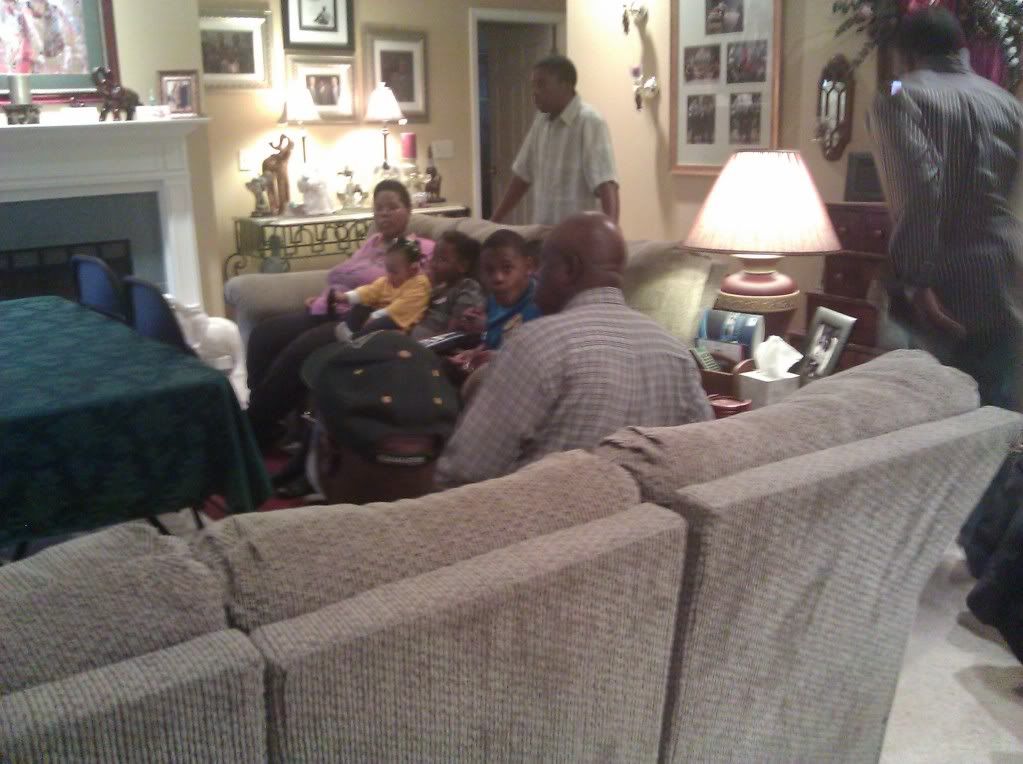 A few of the family waiting on dinner to be served.
We watched movies together after we were informed by one of the cousins there will be no talking during the movies. We watched The Help and Planet of the Apes. Let's just say, we failed majorly during the Planet of the Apes. That movie is wonderful. I loved it. This coming from a fan of the original Charleston Heston versions. The quality and believability was amazing. "Caesar is home." Watch it.
Here's what the guy got me for Christmas. I mean I really needed a wine rack and it fits perfectly on my entertainment center. I got him a pullover and fleece jacket. I also wrote him something that I put in a picture frame. For some reason, I have to make something to give to people because it gives that extra perspective in gift giving. He texted me when he ate some of his cheesecake saying, "It was hitting." Thank goodness. Because on Christmas Eve, he was sick from some devil eggs and I knew if it tasted bad or he got sick, he was going to blame my azz.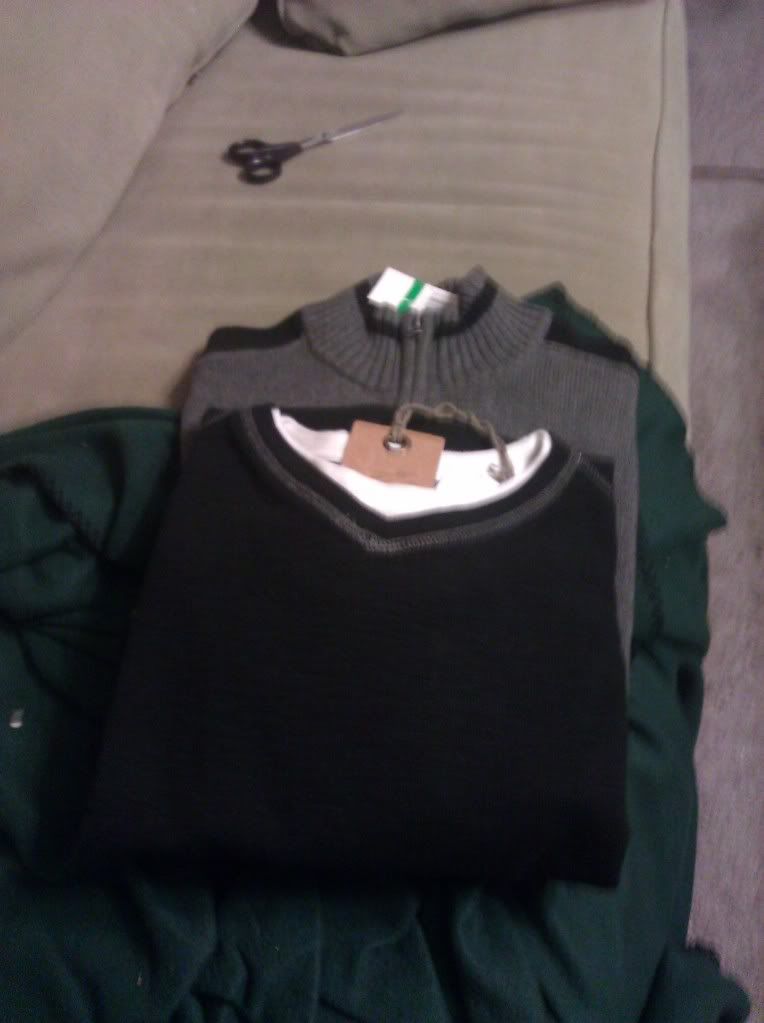 The guy also got his son the MJ Experience. He has challenged me. What? I told him be prepared to get his azz whipped. But, I better get in some practice sessions. Quick!
I made it back home to go to bed at a reasonable time so I could take down my decorations on Monday. I got up about 7 am and was at the Dollar General to garner some plastic bins for my decorations by 8:04 am. I didn't want to think about dealing with lizards next year. I started taking down the decorations about 9:45 am and by 10:15 am I was done. Containers in the storage shed and my back hurting, trying to put that damn heavy tree back on the top shelf in the storage room.
Skipping along to Dec. 27th, my sister texts me she thinks her water broke and she was at the hospital. I asked her if she was going to be tweeting the birth, I was kinda kidding. Um, but they sent her azz back home later that night.
My sister was mad as hell because she said she was so over this pregnancy. So Wednesday night she was cooking and cleaning trying to go into labor. Bless her heart. I mean she has been making some mean dishes I told her we should do a siblings cooking show since we are all cooking it up it seems.
Her stuffed chicken w/salad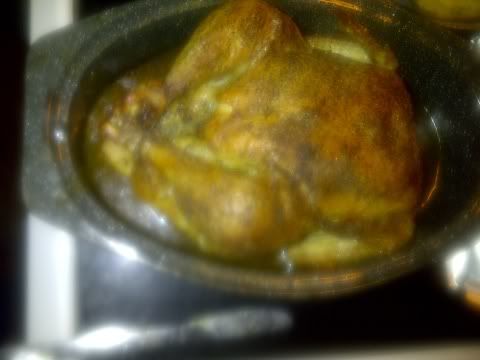 On Thursday morning she texted me she went to labor and delivery again because her contractions were 3 to 6 mins apart and HARD. Well, Thursday afternoon they sent her azz back home and gave her two Ambien to take. Seriously, one is too much! So she was sending out drug-induced texts. I was like put the phone down and go to sleep! Last night, she calls me and says she is finally and really admitted this time.
As she is talking to me she gets a contraction and I am like, "Um, I ain't about to listen to that damn groaning. Go do what you got to do and holla at me later." You can tell I have never given birth or been around folks who have for real. My brother and I laughed about this for a good 10 minutes.
All three times my sister went to the hospital, her best friend was right there. Thank goodness. And bless her heart.
I get a call at 5:51 am this morning from my brother saying the baby was here. I was like good and I am about to go back to sleep. I did look at the picture she sent me and forwarded it to my cousins. One said, 'where is the other baby?' She just knew my sister was having twins because she was so big. The other cousin said she looks just like you. I responded, "You reaching now."
Meet Layla Ann, 7 lbs 2 oz born December 30, 2011 born 6:30 am eastern time zone
And as soon as I rolled back over and fell right back to sleep, my damn doorbell rang. Are you serious? I looked out my window and it is the police. Oh shyte! I grab my housecoat but because I am so sleepy I cannot get it together so I wrap it around me and answer the door. They said they got a 911 call from my house and a hang up and they needed to make sure I was okay. I looked like I rolled out of bed and I know I didn't call 911 and the other phone line is unplugged because I got tired of the stupid phone calls. I don't know what happen, but sometimes that particular line will get crossed up. At this point I got up, because someone was telling me to get my azz up, now! If I wasn't actually living this life, I wouldn't believe this happened.
I am addicted to my morning mocha from my local coffee shop. Well, today I had my last cup from them. They are officially closing their doors. They told me on Wednesday and I have dreaded this day all week. I was a loyal customer, but a person who understands that you can't keep a business going on a few loyal customers. So I am sad to see Regina and Ralph of Stop and Sip, go. We will keep in touch! My co-workers are going to miss them too, when the espresso withdrawal kicks in. And they wouldn't even let me pay for my coffee today. Man, it was all I could do to keep from crying. Yeah, it is just that serious.
My house is almost completely cleaned for New Years. In fact, when I get home tonight I will mop and wax floors. Tomorrow I will wash, change linens and vacuum and I will be done.
I have no plans for New Years Day. No one is cooking, because none of us want to see much food right now. I am working New Year's Eve, but I should be back home no later than 9:30 pm. I am planning Martinelli's as my toasting drink and I plan to go to sleep and rest. Low-key and laid back.
2011 has been an incredible year. I have gone through a gamut of emotions this year. I have experience much happiness. I relish the peace I feel all around me. I am so blessed and so thankful! My family has been wonderful. Wishing you and yours, A Happy New Year! See you on the 2012 side.
You know I wouldn't leave you without a hair picture. December 25, 2011
Labels: Cooking, Family, Hair photos, Happy, Holiday