Creative Cooking… Easy Plain Cheesecake
I must preface this particular segment with the fact that I do not eat cheesecake. I don't like it. I have eaten one Key Lime cheesecake that I could tolerate, but the ability to really taste that cheese, um doesn't work for me. Because remember, I do not like cheese.
The guy doesn't eat many sweets and he doesn't eat any of the desserts that I make except a few cookies. I tease him that he doesn't like my cooking, but it is all right. The less I actually have to do. Anyway, his favorite dessert is a plain cheese cake with fresh strawberries.
My sister calls me the Internet crawler because I will find anything I need to know on the web by just goo.gling it. So that is exactly what I did. I googled, Easy Plain Cheesecake Recipe and this was the easiest to follow, plus it had pictures. Who doesn't love pretty pictures? I got this recipe from
whatscookingamerica.net
.
I did this Plain Cheesecake exactly as the recipe on the site except I didn't use fresh lemon juice. I used the concentrate from the bottle. What? They do a better job of giving step by step instructions than I would ever do so go on over there and get the full step by step directions with the pretty pictures.
Ingredients:
2 cups graham cracker crumbs
1 cup plus 2 tablespoons granulated sugar, divided
1/2 cup butter (1 stick) melted and cooled
3 (8-ounce) packages of cream cheese softened to room temperature
3 eggs, room temperature
1 teaspoon pure vanilla extract
1 tablespoon fresh-squeezed lemon juice
1 cup heavy cream room temperature
If you follow the directions as listed on the site, I pretty much can guarantee you will get a great result. It isn't difficult but from the directions I figured it was best I followed them accordingly. Yes, I crushed my own graham crackers, I do have a chopper so it didn't take too long to crush up 2 cups, my problem with forming the crust, but I did okay with it. And I did let it sit in the oven until I could cool and then on the wire rack for further cooling. Yep, lots of steps, but the results were worth it.
My crushed and formed graham cracker crust
All mixed and ready for the oven

The cooling in the oven process!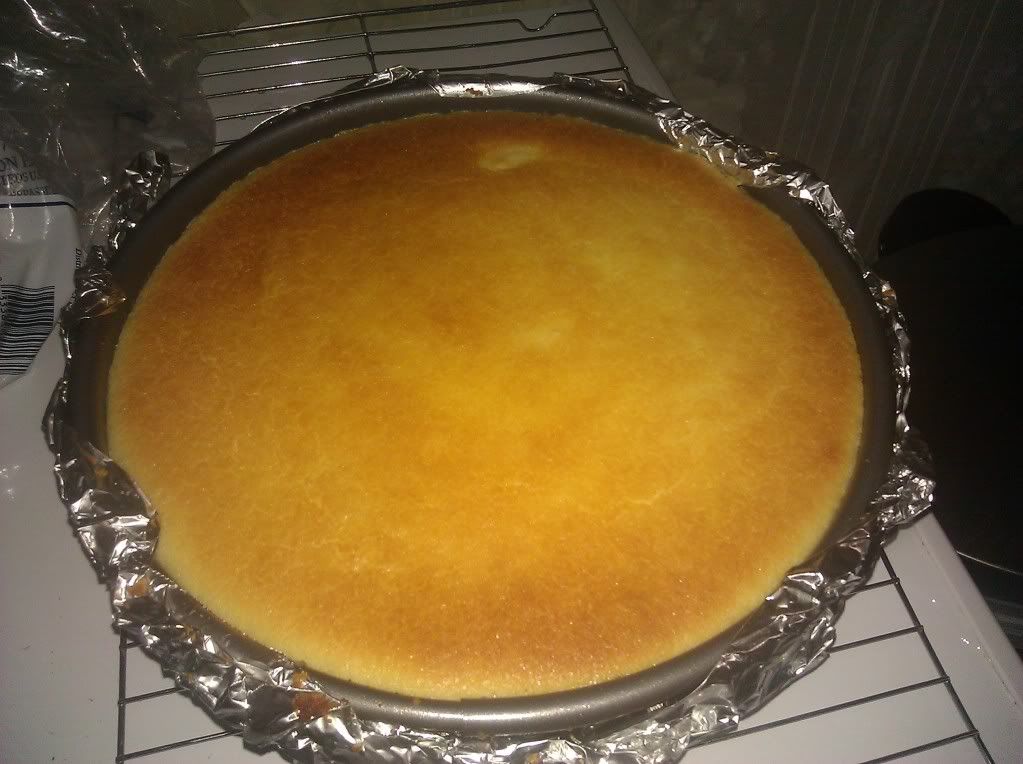 Cooling in the pan on a wire rack

Verdict:
Per family members, it was delicious. I macerated some strawberries to go on top, but it was according to family, really good even without the fruit. The cracks you see on the top of the cake were not done by the cooking process or the cooling process. It was done as I tried to shift the cake from my springform pan to the cake pan. Um, my cousin does not return dishes and I would hate to have to stop talking to her about the bottom of my springform pan. I can't wait until the guy gets a chance to taste it.
See the cracks, so impatient. And yes that is parchment paper.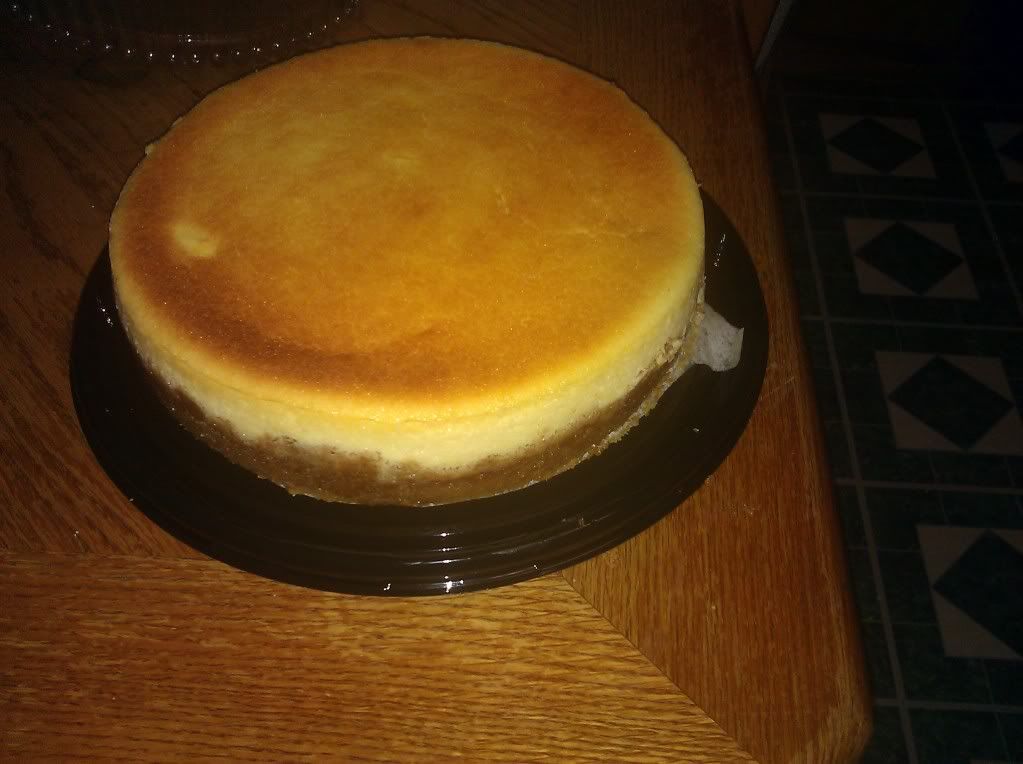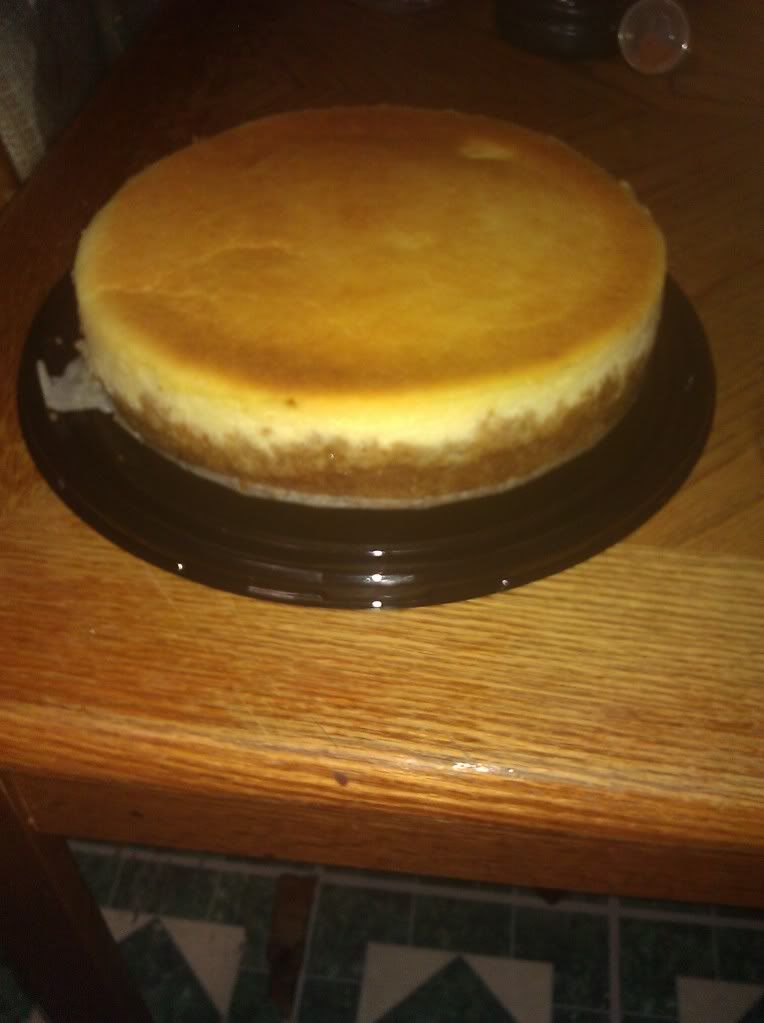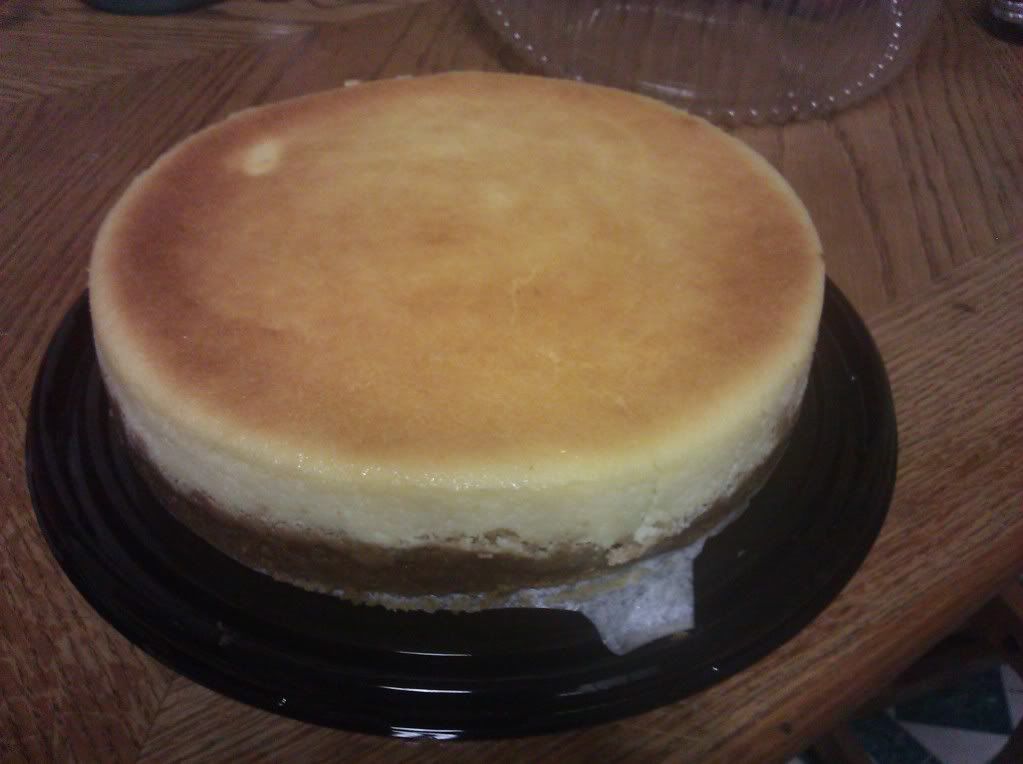 The finished product doesn't look too bad. And according to my cousin, he was surprised it tasted so good. He don't sugarcoat nothing, hurt feelings or not.