Me - 1 and Lizard - 0… After Thanksgiving Randoms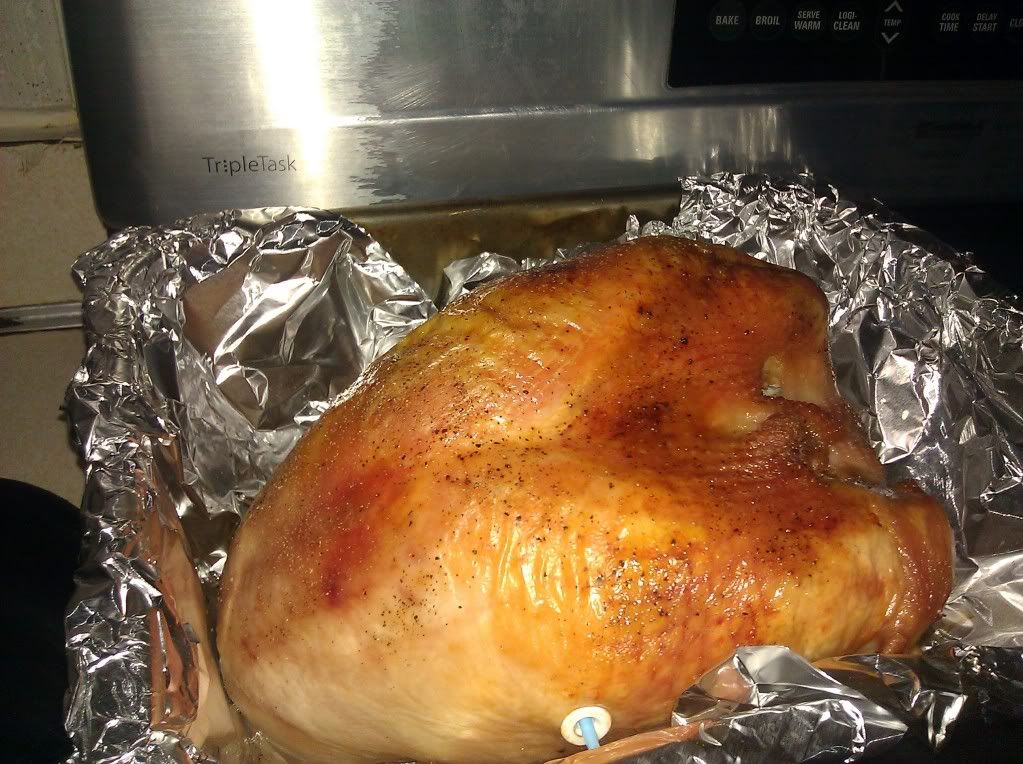 My roasted brined turkey. It is moist and seasoned all the way through.
Does anyone find the Mayhem commercials from All.State hilarious? I laugh out loud. The raccoon one is a mess and the GPS one is equally as funny.
I hope everyone had a wonderful Thanksgiving. I did. I actually made some of the best yeast and cinnamon rolls of my baking career. Family was fun. Food was okay. Thankfulness in abundance.
However, why in all that is beautiful and glorious would you come to someone's house and immediately pack food and you didn't bring not nary a damn dish, paper towel or something to contribute to the meal? Bad enough you ate elsewhere, and were here only for dessert, but we see dessert also means the food you didn't get to sample. How do you deal with that damn uncouthness in your family? Since it wasn't at my house…but if it was, somebody's feelings would be hurt.
Oh, baby Carson was so much fun. I taught him how to be vain and Rick Ross songs and everything. Now he did get a little fussy, but we had about 30 minutes of baby giggles, spit bubbles and the most precious of smiles imaginable. I also told him to look in the mirror everyday and say he is fabulous, gorgeous, and wonderful. His grandma said if he starts doing that he is gonna have to live with me. There is nothing wrong with being vain.
He even had the nerve to grab my hair and not let go. Ouch! LOL!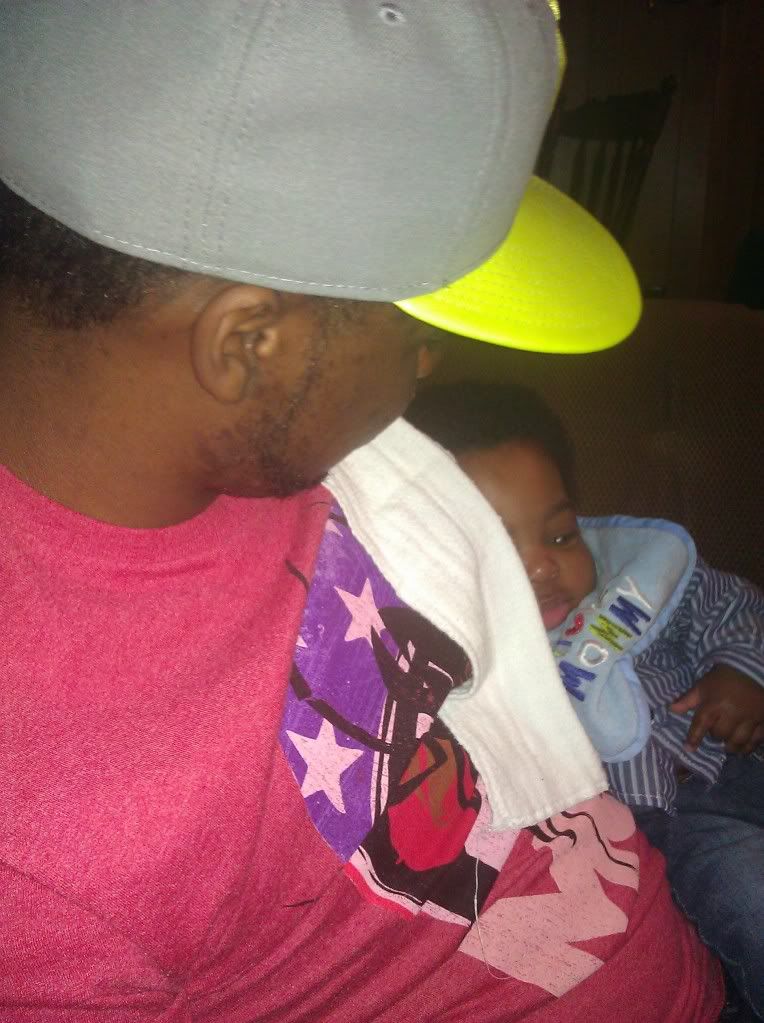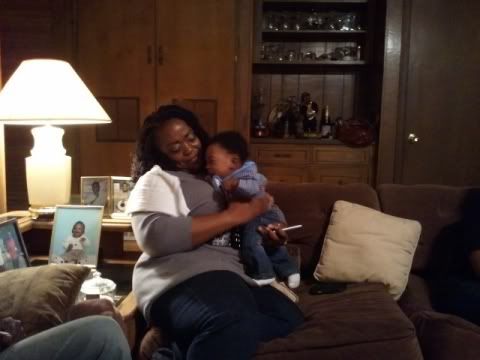 Me and Little Carson before the vanity lesson and rap song lesson!
My cousin JT tweeted about our dinner and the fun we had afterwards. He said he didn't know half of the folks there, me either. No really, I didn't know several of the folks there. But I tried to be cordial and stay with my cousins so as not to appear anti-social. Not sure that it worked.
My niece made the rolls and cinnamon rolls in VA. They looked good, but my sister says they weren't too bad. The student needs more practice. LOL!
My brother made a nice Thanksgiving spread for a friend and her family. No questions please. Because I have no answers. Thatisall!
My sister's sweet potato soufflé came out pretty good. So she can do more than pull up to a drive thru menu?
My friend, who had been praying on Black Friday shopping with me, got the right answer. Yes, she went with me and had the best time. Although she says I make her spend money she didn't plan to, but then I reminded her it really was Tiffany's fault. However, um, home girl was not ready when I arrived at her house at 2:53 a.m. She was still sleep. But baby she was dressed and ready to roll in 10 minutes. She was also amazed that I knew exactly what open at what time and how meticulous my list was.
Black Friday was even easier this year than last, because folks were out on Thanksgiving night and at midnight. So I wasn't fighting folks for items I wanted. I didn't have any big ticket items on my list this year. And at Target, the cashier came and got us to check out. So very different from last year. Here is a little thing to notice, not all the big ticket items on sale are gone by 6 am. There were a few of those items still available. Lucky for me I got the last copy of Bridesmaids.
Our Black Friday Haul and there was stuff on the back seat.
At 9:40 am I was back in my pjs and in bed for my rest. However, I woke at 2 pm and it was a wrap on the sleeping.
Saturday, was put up the tree time, so I planned to go out to the storage room at noon and get my Christmas tree and decorations. Well, my fear of lizards had me working up my nerve to go out there and I finally went out there by 3 pm. Ya'll, I shook each box and looked tentatively to insure there were no nasty lizards amongst my things. Mind you I had purchased some mothballs and put them out there hours before I went to retrieve the boxes. I even let the items sit on the car port for a minute in hopes if there was a lizard in my things it would mosey its azz right on out of there. So about 6 or 7 I heard a rustling by the boxes I had still in the den. (I was still spooked and said I would put the tree up Sunday.) I immediately started yelling, "No, no, no. I made sure there were no lizards in anything." Then tears formed in my eyes and I went to look by the boxes and didn't see anything and figured it was maybe a water bug or something. So Sunday I have put my tree up and was in the process of setting the dining room table and was taking a break with my Dsi in the den, because the guy was on his way over for dinner. As I looked out of the corner of my eye, what the hell did my lying eyes witness? A damn lizard. I jumped on top of the couch and started screaming and shaking to death. I couldn't believe it. I was just done. I thought I could wait on the guy to get there or try to get the nasty creature out of the house. So I ran in the kitchen to get the broom and I opened the back door. By now the damn thing went under the lazy boy chair, but I moved that sucker and was like, "Go, lizard, lizard, go," and I tried to sweep it towards the door and the thing almost went behind my television stand but I was able to redirect the thing out the door and I slammed that door. Me - 1 Lizard – 0. I still haven't finished decorating. My nerves are tore the hell up. The guy was like he was glad I got it out of there, but he promised to get me some snake away stuff. He also has to get my wrapping paper out of the storage shed, if it hadn't been raining on Sunday that would have been thoroughly checked. Note to self: time to buy the plastic containers that can be sealed.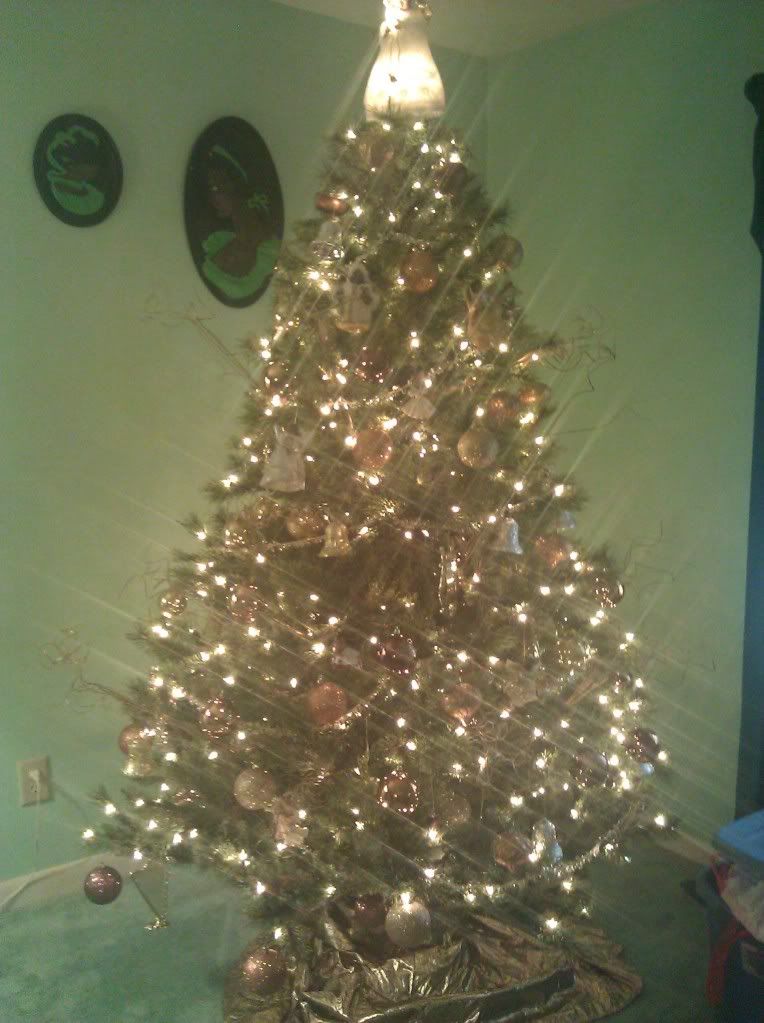 Did anyone watch Sisterwives? Robin is gangster. She delivered that baby like a champ. She wasn't screaming or carrying on and she had that baby without any medical intervention aka epidural. LOL! And the thoughtfulness in her question to Meri about being her surrogate, made me cry. I may not agree what their lifestyle, but I can't deny they really are invested in making their lifestyle work for them.
I watched the Soul Train Awards. Dry. Why does Lalah Hathaway's voice always makes me sleepy, like really as soon as she starts singing I start yawning and tears start rolling down my face? My sister kept asking why does everything Cee-lo Green wear look like a costume? Because he is little and rotund. Why didn't they just let Joe, Robin Thicke and Eric Benet do all the Earth, Wind and Fire songs? All those other folks were horrid.
The Original 7 aka The Time, were cute and when my sister said they were on tour I was like with 5 songs, really? No, really?
Nice tribute to Heavy D.
I made the cheesecake, my folks approved. The guy was like wow, with just looking at the picture. Recipe coming soon.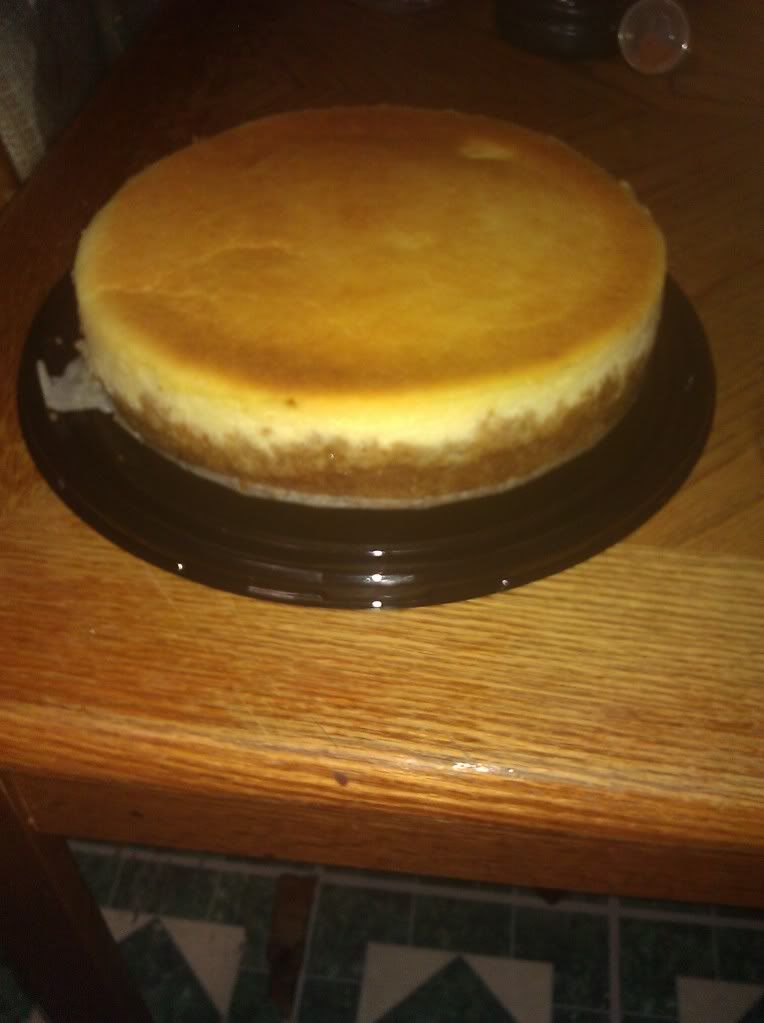 I hope you all had a wonderful Thanksgiving. My Thanksgiving was really peaceful and full of joy. Spending time with family and being grateful for all that has been giving is always great!
And for vanity sakes...A Thanksgiving hair picture! What?!