Creative Cooking...Samoa Bars
This is the recipe for those who crave Samoa cookies around Girl Scout time and want to make them yourself. I saw several recipes and one had me making my own caramel. Um, that was going to be doing the most and frankly, I ain't that damn ambitious. So I found one on bakingbites.com. This one uses Kraft caramels that you melt in the microwave. Yeah, that is more my speed.
Samoa Cookie Bars as adapted from
bakingbites.com
Cookie base:
1/2 cup sugar
3/4 cup butter, softened
1 large egg
1/2 tsp vanilla extract
2 cups all purpose flour
1/4 tsp salt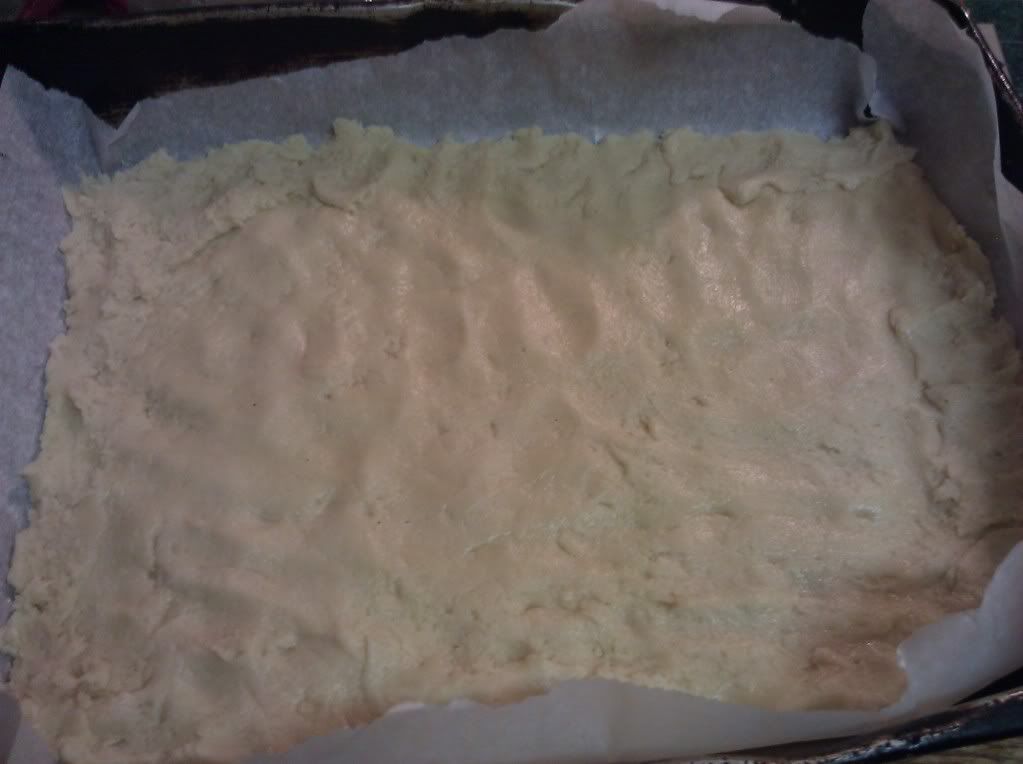 According to bakingbites.com, you need to make the crust first. First, in your mixer combine your sugar and butter and mix until fluffy. Then add your egg and vanilla. Then slowly add your flour and salt mixture on the lowest setting for your mixture. Your dough according to bakingbites.com, your dough should be crumbly. Mine was not. It was smooth, which made it difficult to place it in my 9 x 13 parchment lined pan. But I did it even as my OCD was getting the best of me. I don't like stuff on my hands. Don't ask. In your preheated oven, bake on 350 degrees until edges are brown the middle is set. Let cool.
Topping: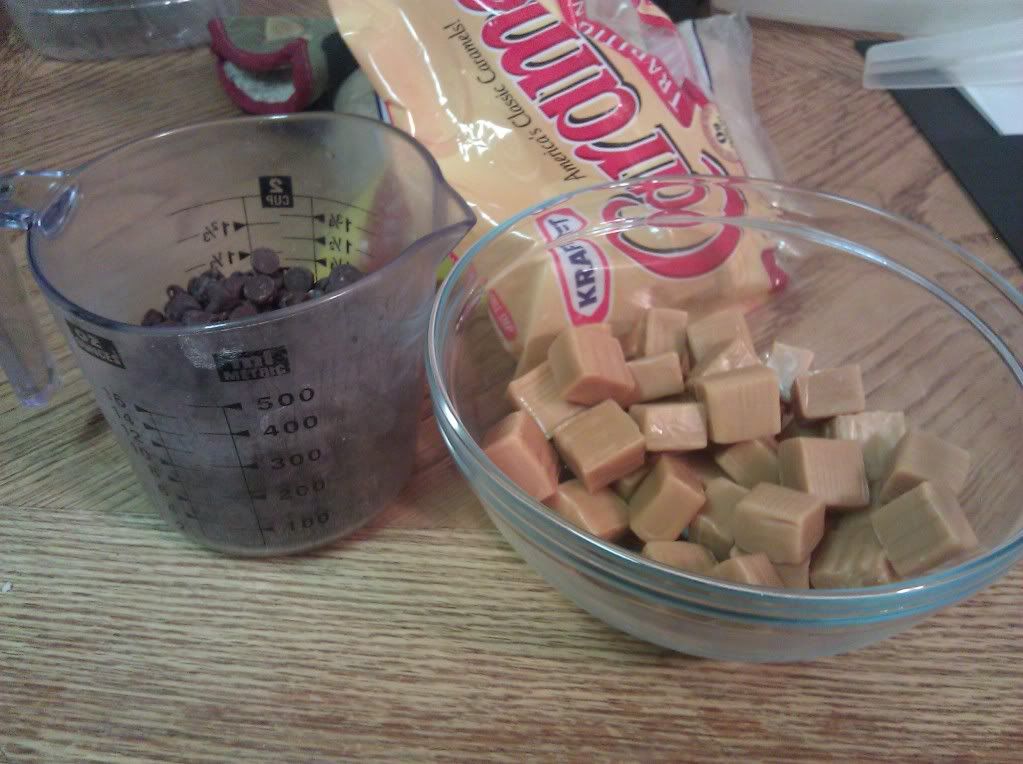 3 cups shredded coconut (sweetened or unsweetened)
12-oz good-quality chewy caramels
1/4 tsp salt
3 tbsp milk
10 oz. dark or semisweet chocolate chips are ok
On a parchment lined cookie sheet, place your coconut on it and place in a 300 degree oven and brown until golden and set aside.
In your microwave, unwrap your caramels with your milk and salt melt, stirring occasionally. Only took about 3 minutes in my microwave.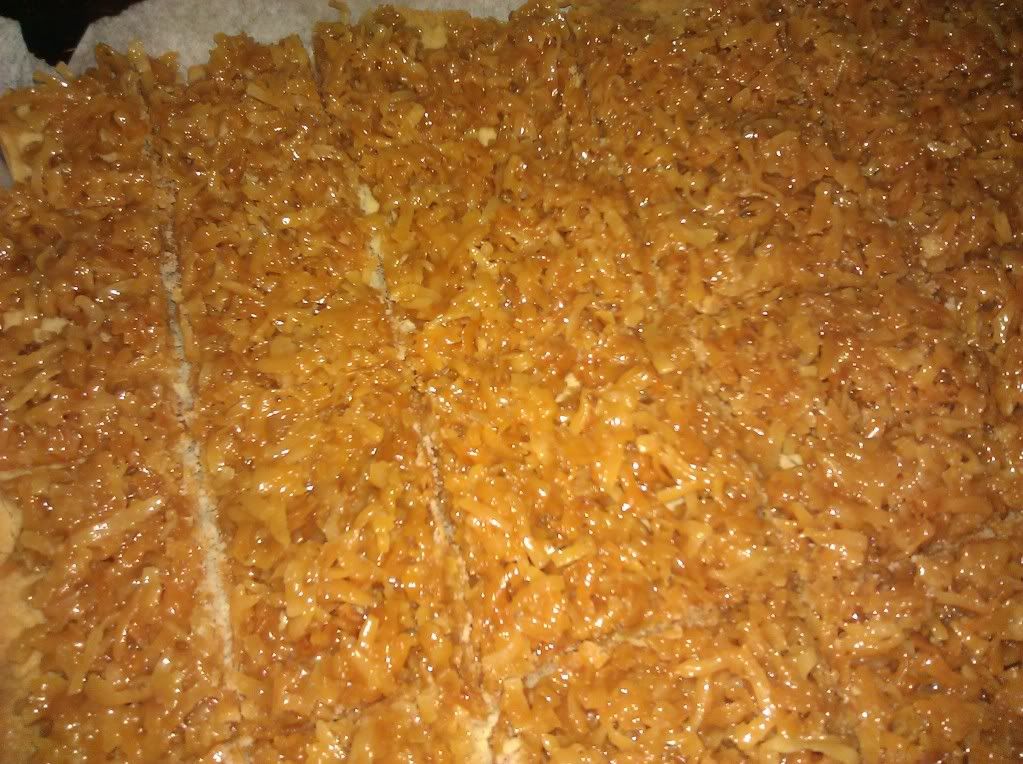 Mix your caramel and coconut and spread on your cooled cookie and let it cool. Once cooled cut into squares approximately 30, um I did less I have the patience of a gnat.
I melted my chocolate over a double boiler, although bakingbites.com recommends the microwave, I rarely have a good occurrence from this method. With the cookie squares, dip the bottoms into the chocolate, now if you had the problem I had with the cookie actually crumbling a bit, I just used a spatula and smeared the bottoms and places them on wax paper to cool and set. Using the baggy method, I drizzled chocolate over the tops. I actually placed the bars in the refrigerator to set a bit faster.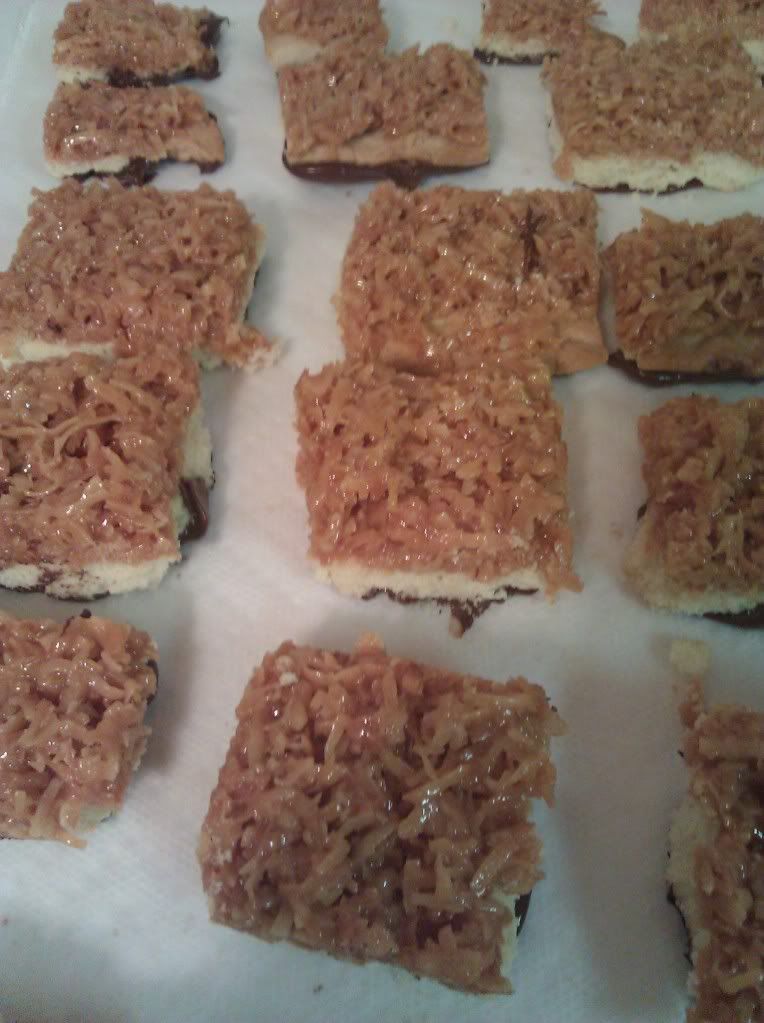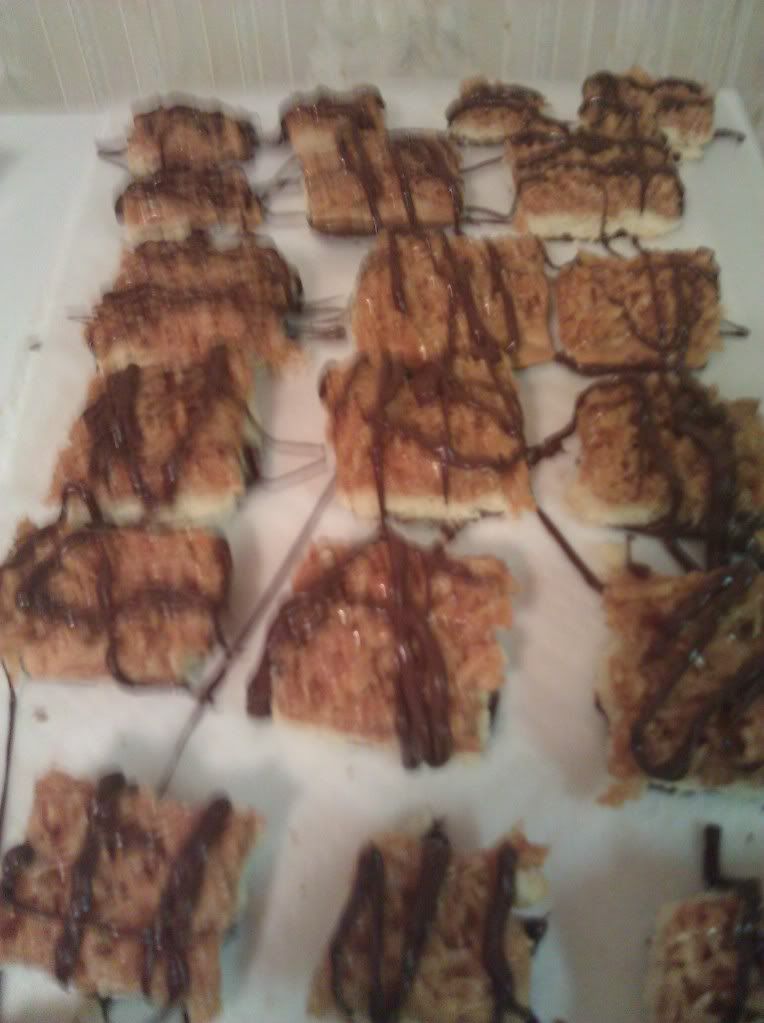 Blurry just shows how impatient I got.
VERDICT:
Flavor was right on for the Samoas. However, I didn't like the consistency of the cookie because it was so crumbly. I mean you have to eat it with a napkin or crumbs are everywhere. Maybe if my dough had been more crumbly this would not be the case. Not sure I will make these again. Although they were tasty and my kids on my second job enjoyed them, we all agreed the cookie part needed some adjustment maybe some baking powder or soda? Hey, you try and tell me how they work out. Bakingbites.com recipe is simple and easy to make.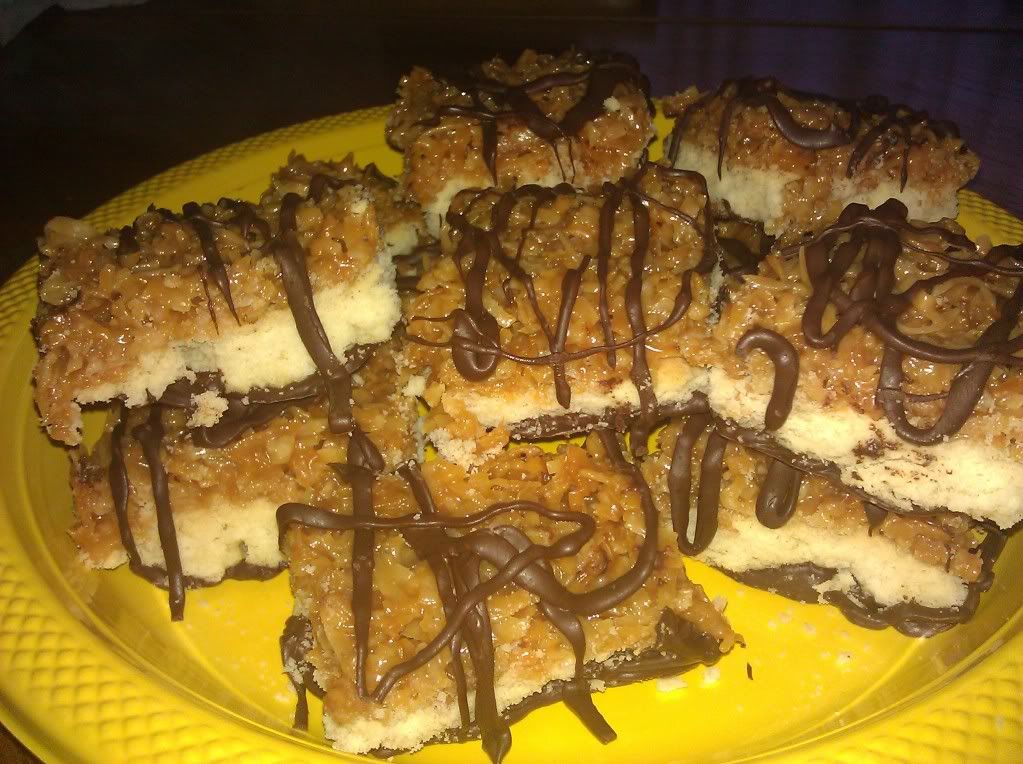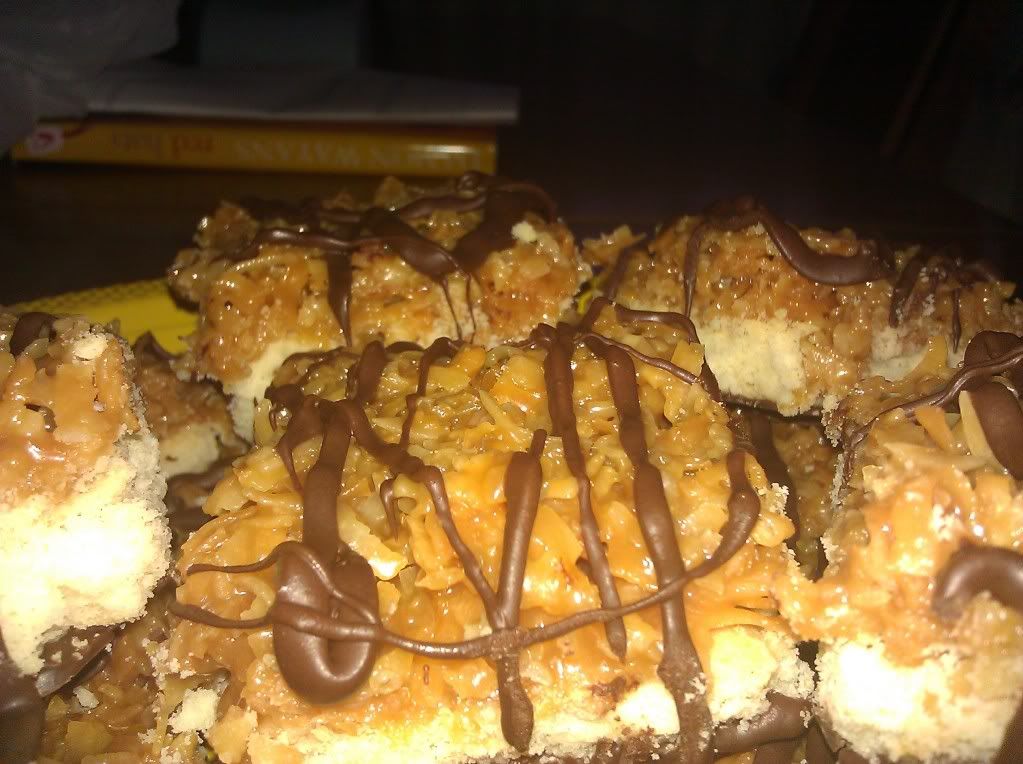 A little closer view of the caramel, coconut and chocolate...
Just so you know I have two more recipes I have to test one is a coconut, pineapple cupcake and just for the guy a plain, in the springform pan cheesecake. Lawd, help me. No really, I need prayer on that one because I do not eat cheesecake. No siree! But for him, I will use my guinea pigs at the 2nd job to test. So pray. Pray hard!