Creative Cooking...Hot & Sweet Drumsticks
I decided to cook a meal Sunday. I am not hyped about cooking anything right now. All I want to do is rest and cooking isn't synonymous with resting. Plus, there isn't much I am craving or have an itching to taste so that plays a role in me actually cooking. This weekend I made a new chicken dish and hoped it would come out right or I would have wasted money on chicken legs and apricot preserves.
My new obsession of Pinterest tipped me in the direction of the
Pioneer Woman
. I have seen her show on the Food Network and I read about her on another blogger's site. However, I was pleasantly surprised by her different recipes and reading her stories before and during the recipes is hilarious. She has a marvelous sense of humor. Anyway, I tried to decide between two different recipes but ended up choosing the easier of the two. Well, the one that didn't require me to buy too many ingredients. Ya'll know I am lazy.
So from
Pioneer Woman
to
Tasty Kitchen
here are the ingredients for the Hot and Sweet Drumsticks.
Hot and Sweet Drumsticks Ingredients:
1 cup Apricot Preserves
½ cup of Ketchup
¼ cup of Soy Sauce
2 teaspoons of minced garlic
2 teaspoons of Hot Pepper Sauce (El Yucateco – Habenero Hot sauce)
3 pounds of Drumsticks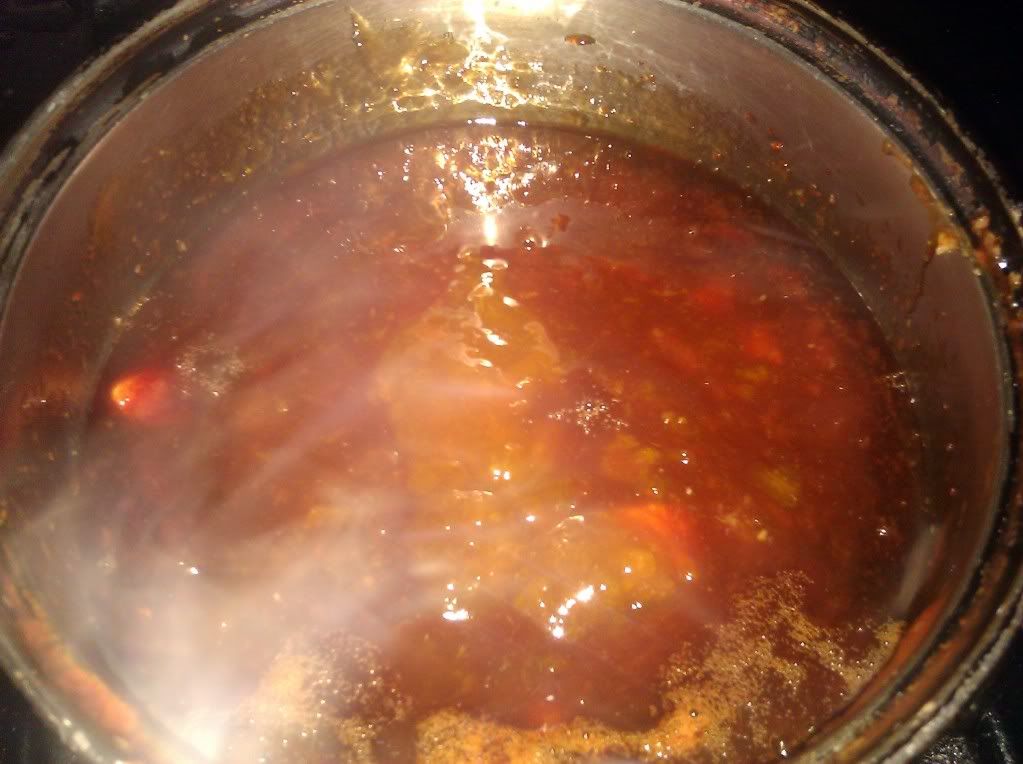 Combined ingredients simmering. It smelled great as well.
You know I changed up a few things in the recipe right? I used light soy sauce, because that is what I had on hand and plus, it is what I prefer. Yes, I actually minced my own garlic since I have a whole one in my refrigerator and I used 6 very large drumsticks, which I seasoned with low sodium seasoning salt and black pepper.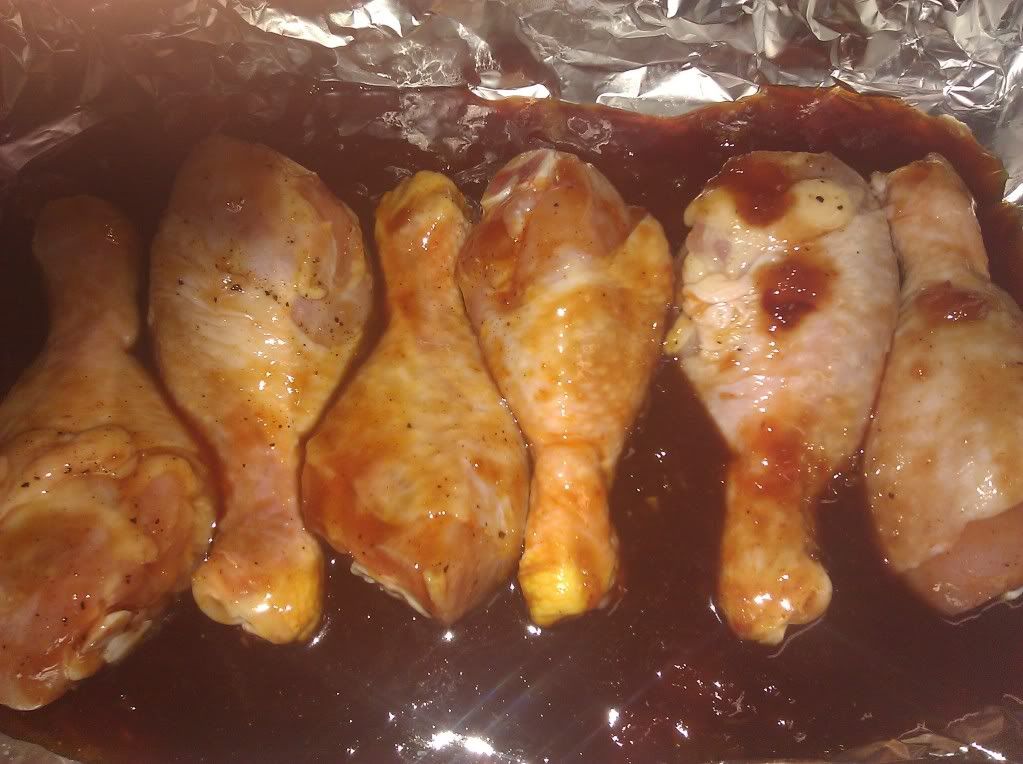 These suckers were large. One is a serving.
Preheat your oven to 350 degrees. In a sauce pan, combine your preserves, ketchup, soy sauce, garlic and hot pepper sauce. Cook and stir over medium low heat until preserves are melted. Arrange your drumsticks in a baking pan; I lined mine with nonstick foil. Pour sauce over your chicken legs and turn to coat. Bake uncovered for 40-45 minutes or until done. Spoon sauce over the legs while baking.
Almost done, just got to keep spooning the sauce of them.
Verdict:
Yumm-o! In the infamous words of Rachael Ray. This was quick and easy to prep. I have made similar sauces before and the one thing I detest more than anything is a piece of meat with this wonderful sauce on it but the chicken is lost because it wasn't seasoned properly. I also followed the suggestion of the Pioneer Woman and added to my taste my hot sauce. The kind I use is quite hot, but I added the right amount so you got the sweetness and got hit with the heat on the end. As with using dark meat, you will get unless you really mess things up a juicy, tender and flavorful piece of meat. I paired mine drumstick with loaded mash potatoes and lemon pepper steamed fresh broccoli. I enjoyed every mouthful. And I am sure you will enjoy it as well.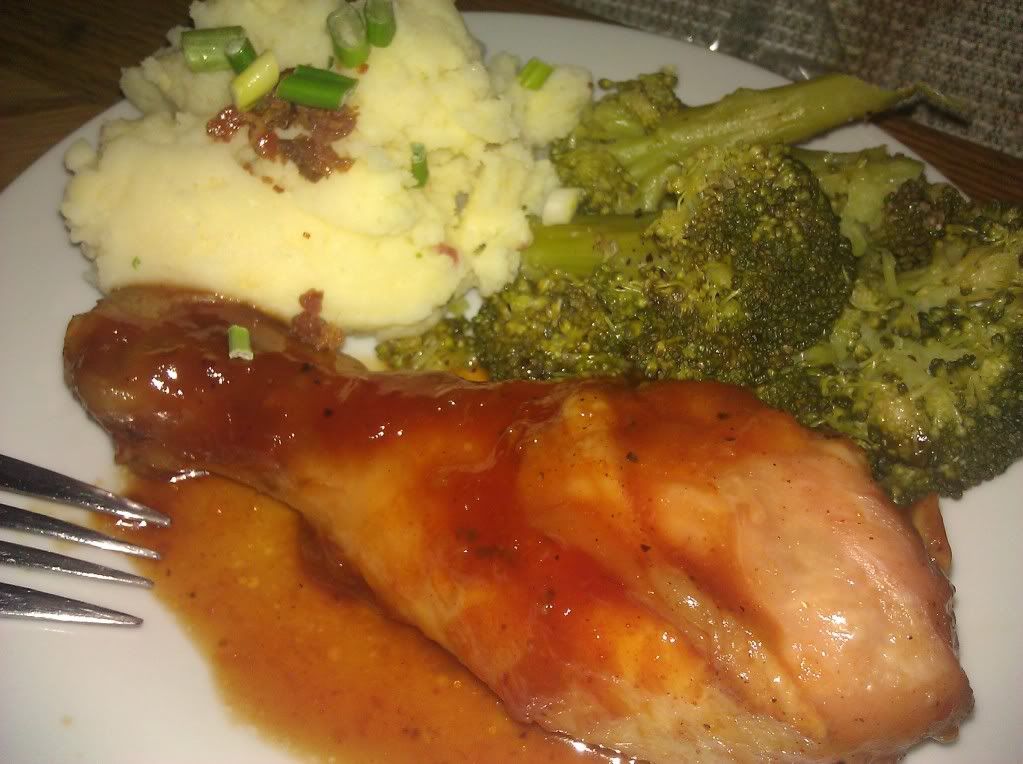 Hot and Sweet Drumstick w/loaded mashed potatioes and lemon pepper steamed broccoli