Cupcakes by Tish...
Cupcakes by Tish
are easily my one guilty pleasure. My kids on my second job keep asking when I am going to bake them something and my answer is no time soon. Why? Because I am enjoying taste testing the cupcakes that come from the kitchen of
Cupcakes by Tish
. I have been meaning to post all the differing cupcakes on the blog, but with the eye surgery and everything else, it just seemed impossible to do separate posts on them so I am putting them all together.
Cupcakes by Tish are made by the owner very early in the morning from all the press I have read. She puts a lot of love into her cupcakes and let me tell you can taste the difference. The cupcakes are fresh, tasty and worth every dime. I have a few that are just my absolute favorites, but I have tried several different flavors and they are all very tasty and good, but I seem to have a palate that just loves the richness of a few of her flavors.
The very first cupcakes I tried were the Chocolate Pomegranate and Chocolate Chunk Mochaccino.
OMG! Were the words out of my mouth regarding these cupcakes. Very rich and flavorful. The pomegranate cream cheese icing on the Chocolate Pomegranate Cupcake just had my eyes rolling to the back of my head. Amazing. The chocolate cake was rich and moist and the bit of tart in the pomegranate cream cheese frosting is a great combination for the chocolate. The Chocolate Chunk Mochaccino gives you a hint of coffee, but it has a rich chocolate taste that is neither too sweet or too bitter, just right. However, if I had to choose one from the first tasting, I choose the Chocolate Pomegranate. And when it is on the menu for the day, you will find me at the counter on my lunch break. I must have this one.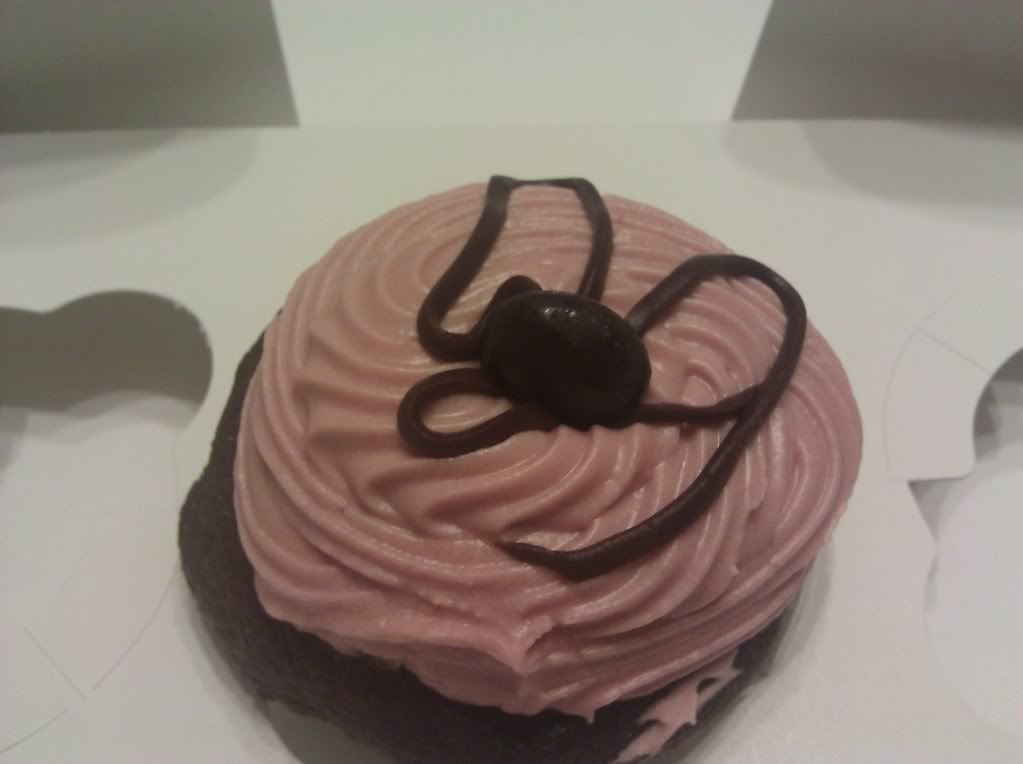 Chocolate Pomegranate - When in season she uses the pomegranate seeds.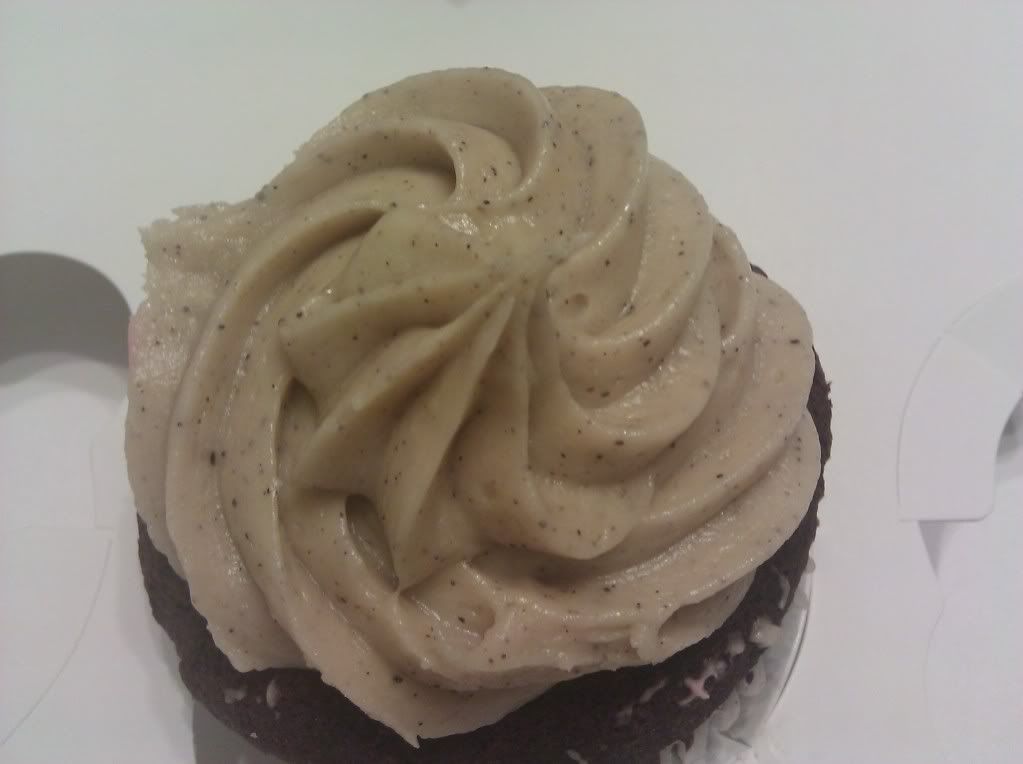 Chocolate Chunk Mochaccino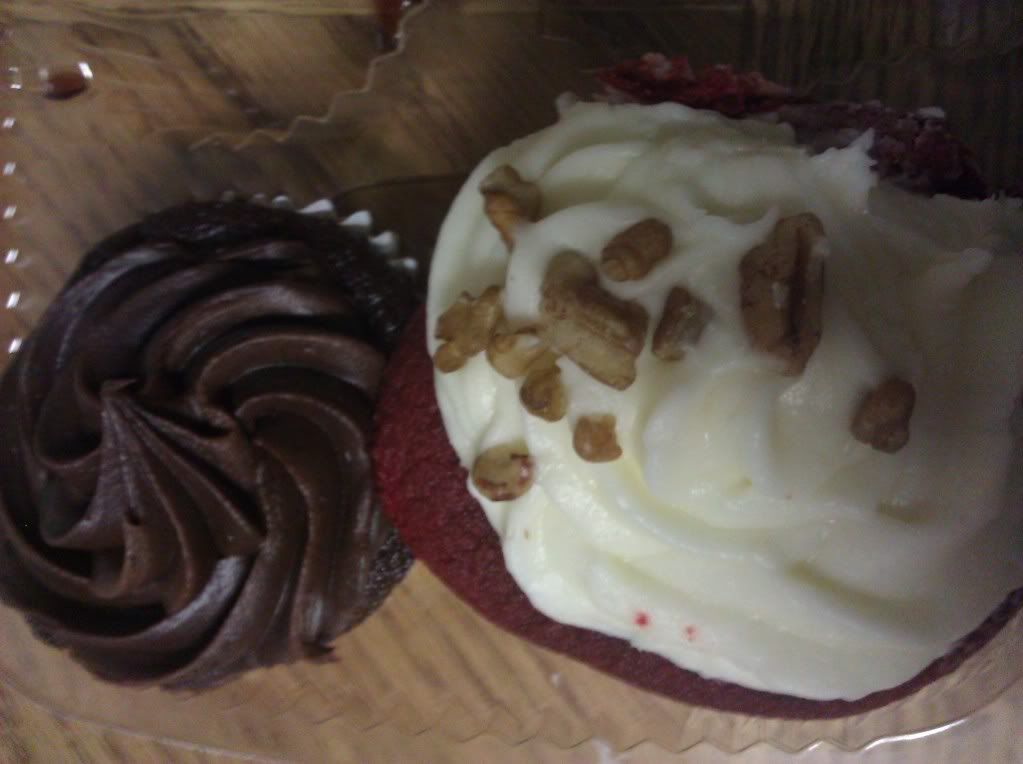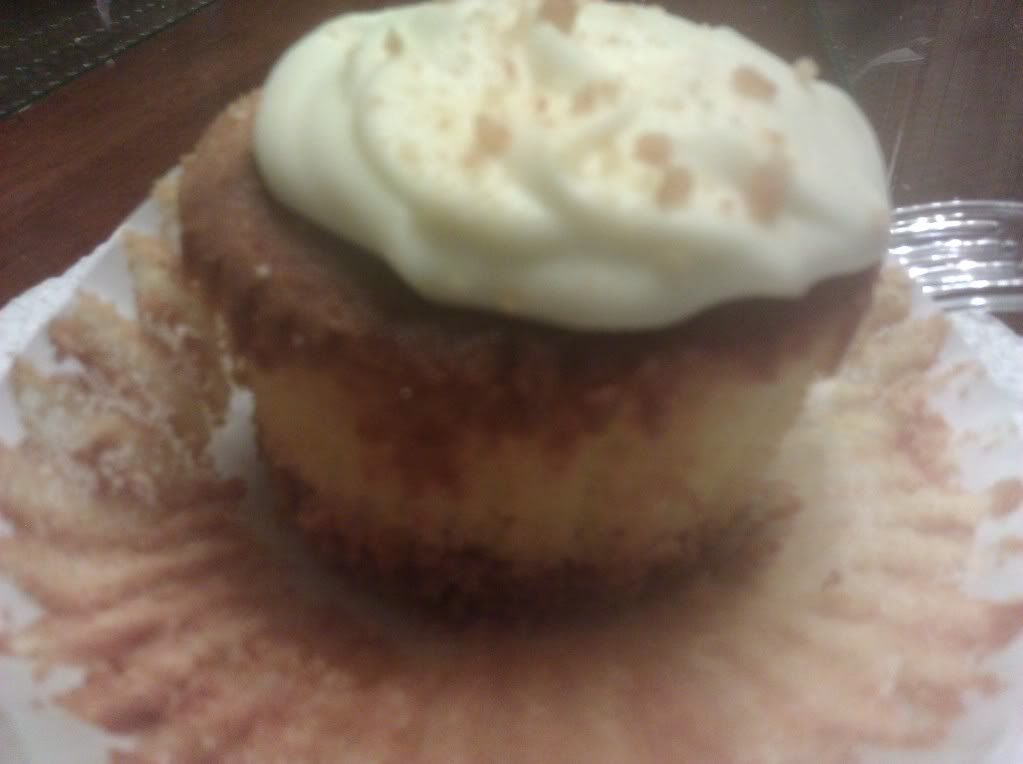 The Sweetnin and the Red Velvet were the next ones I tried. The Sweetnin is named after Tish's grandmother and it is a triple chocolate cupcake with a red wine infused chocolate icing. Think on that for a sec...It is amazing. Quite rich, but one of the few chocolate icing on chocolate cake flavors I will eat and enjoy. In the middle of the cupcake is some chocolate ganache. Shut up! Her Red Velvet is also wonderful and is on the menu everyday and I know why. I have attempted to make red velvet cupcakes twice and after the last attempt I gave up, because I could never make them as light and moist, but extremely flavorful as Tish does. Loves them. Her Key Lime cupcake also took me by surprise. The bottom of the cupcake has the graham cracker crust and the cake was yummy with a great cream cheese lime icing. This one makes the menu quite a bit, because it is just that good.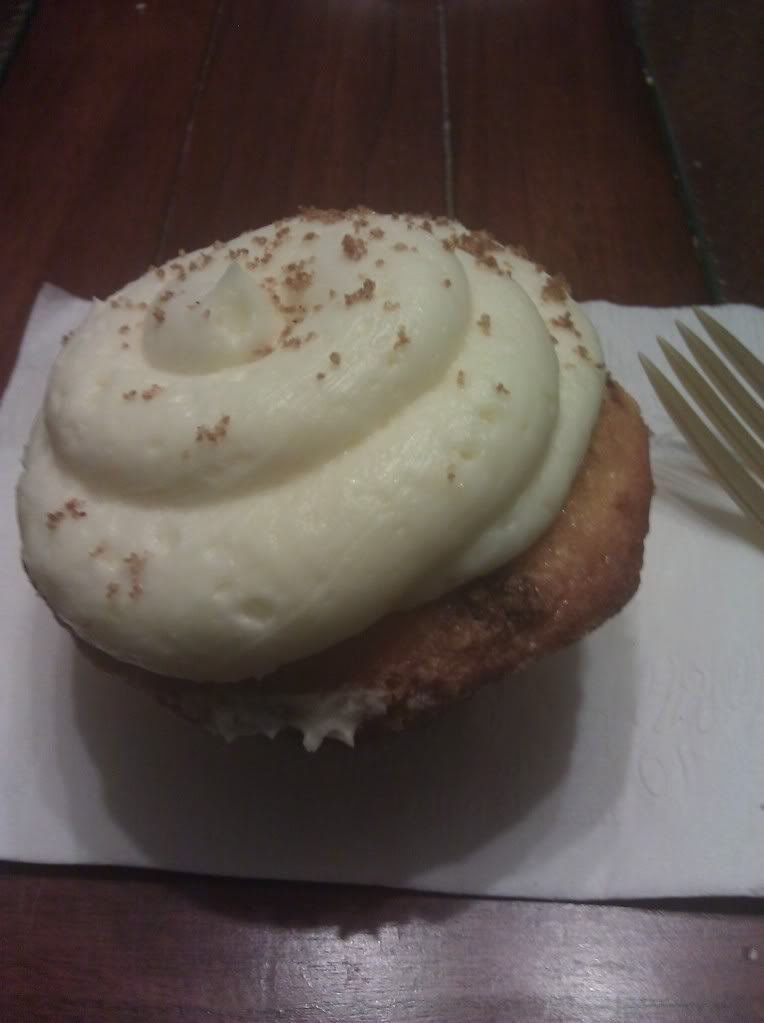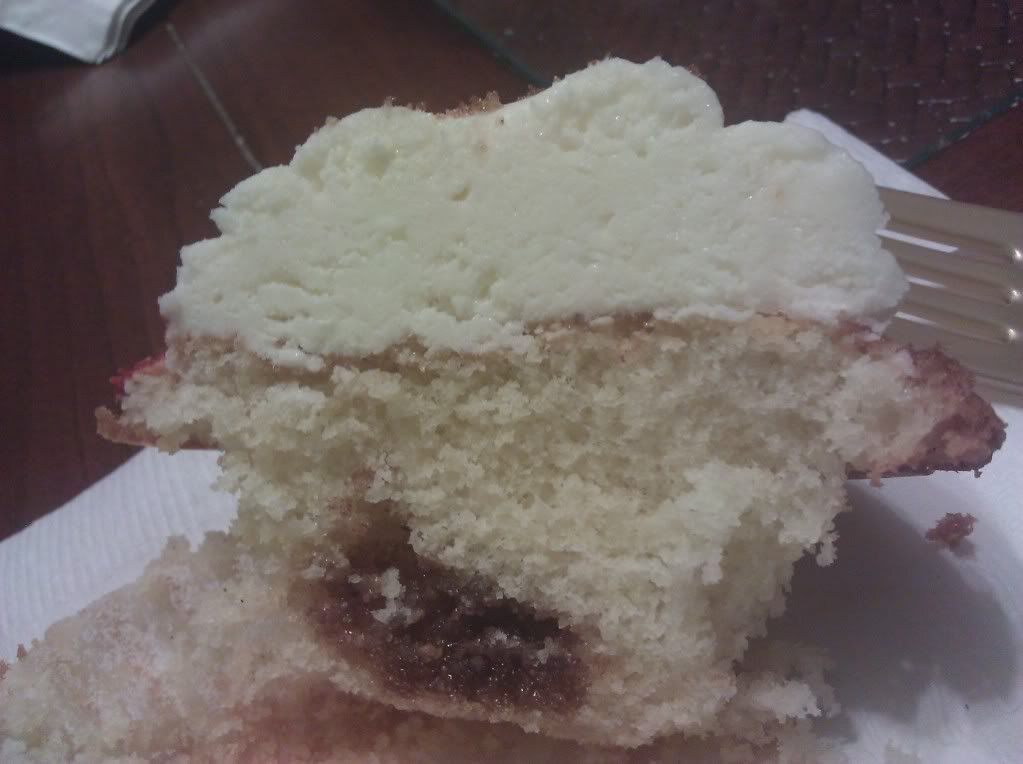 Inside the Cinnamon Roll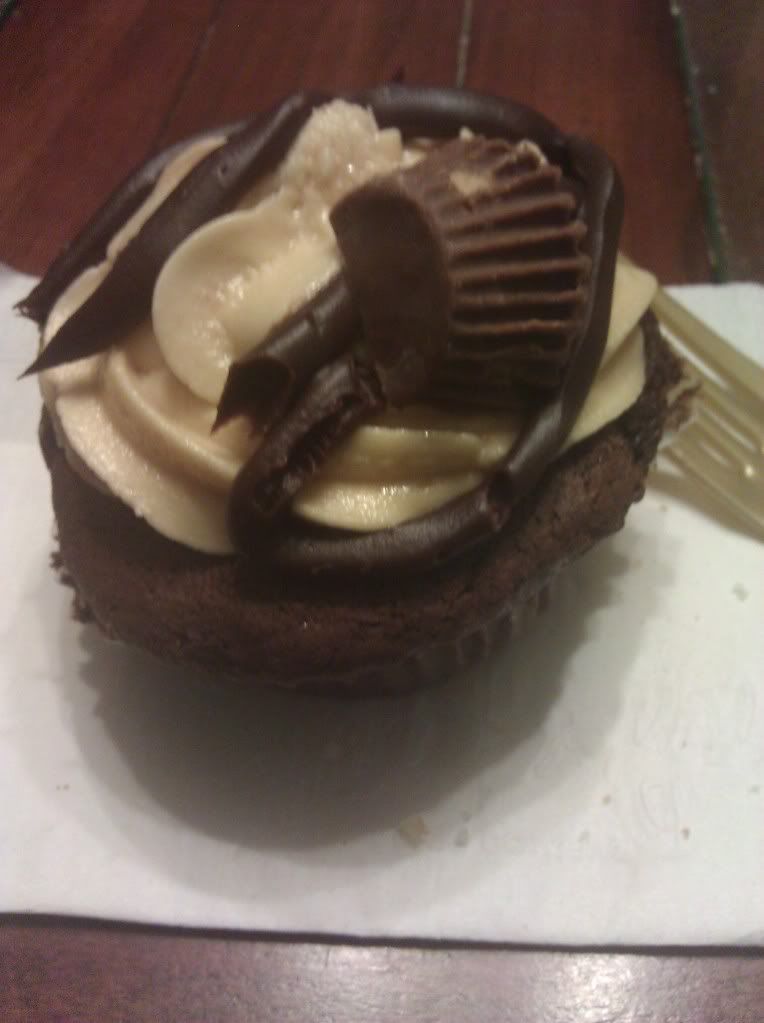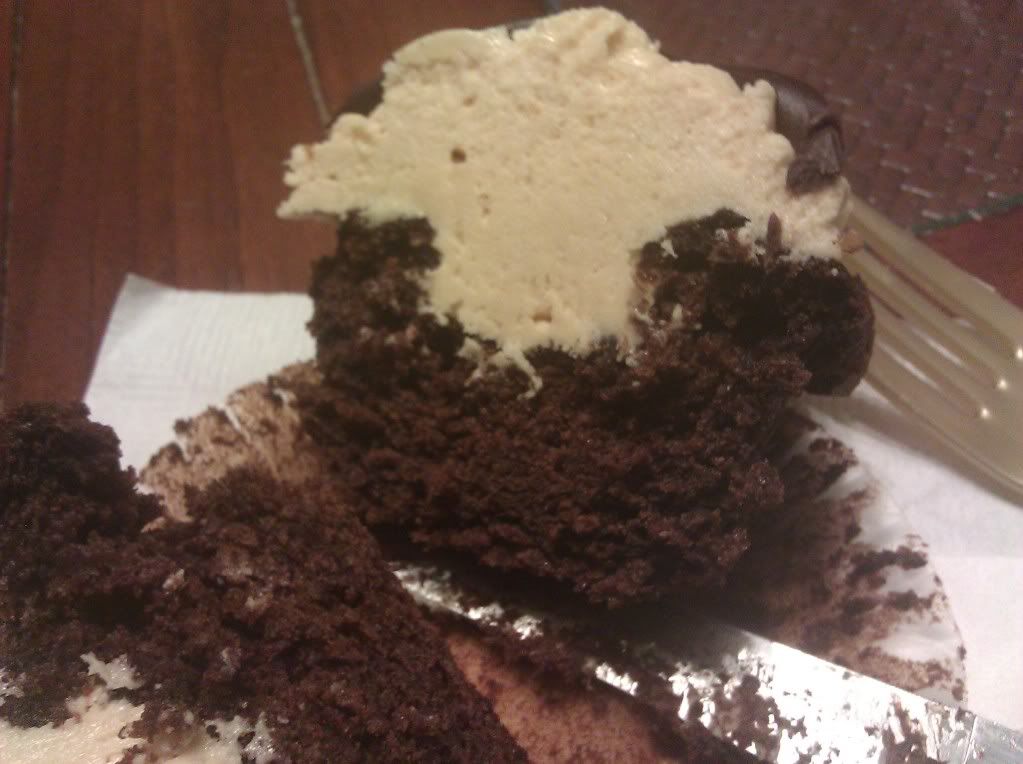 Inside the Peanut Butter Cup
The Rasberry Lemonade was quite interesting because the icing was light and the cake was also very light and it conjured of the flavors of rasberry lemonade. It also is one of those cupcakes that isn't overly sweet. I tried the Cinnamon Roll just to try something new and I was pleasantly surprised. It had the cinnamon roll taste and that nice bit of cinnamon in the actual cake made for a quite tasty cupcake. One of my absolute favorites is the Peanut Butter Cup, which I kept asking for while I was recovering from my eye surgery. My cousin went twice trying to catch it, but neither day was PB cupcake day. Actually, it seems to appear often on the menu now. I love it. The icing is the most luscious peanut butter tasting icing I have had the pleasure of enjoying, the chocolate cake is moist and rich. I have found that most of Tish's chocolate cupcakes are moist and tasty. Not once have a had any of her chocolate cake that was dry or heavy. Anyway, back to the PB Cupcake, lovely, rich and just plain yummy. And let's not forget the little peanut butter cup on the top. Icing on the cake!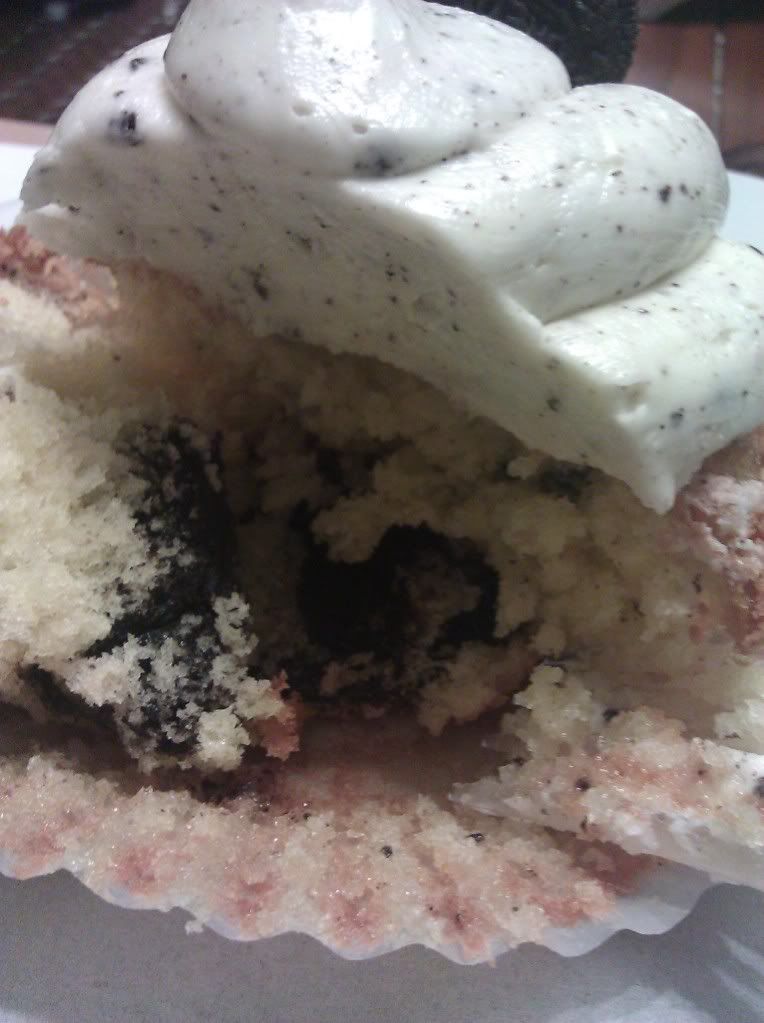 Inside the Cookies and Cream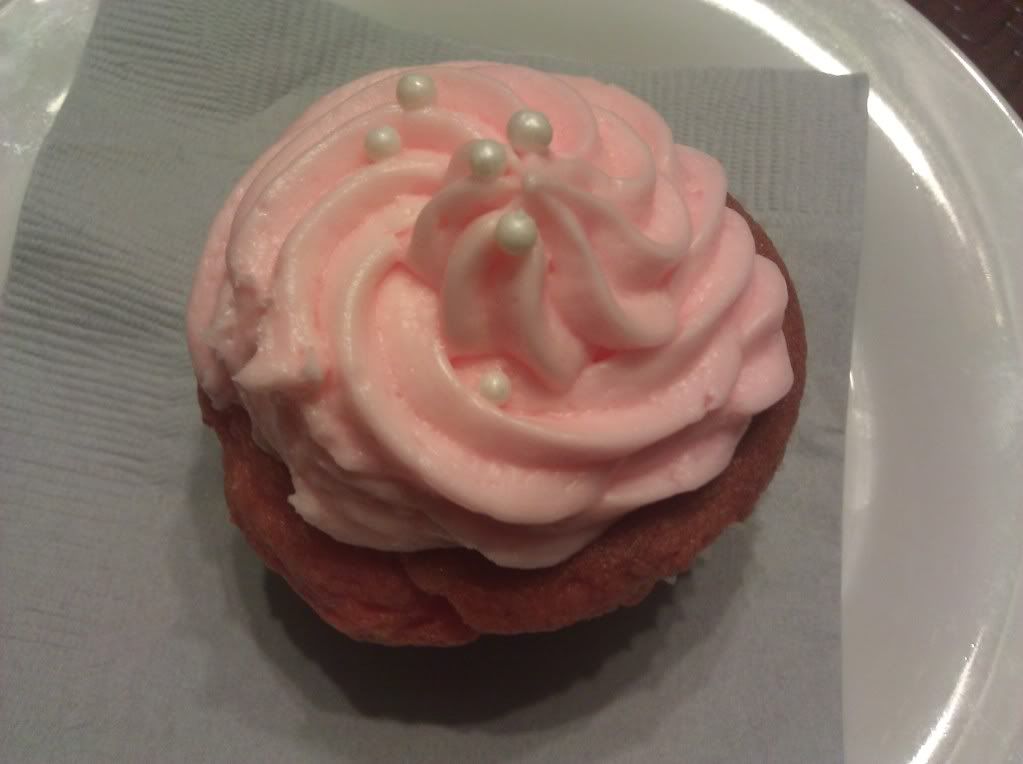 Strawberry and Champagne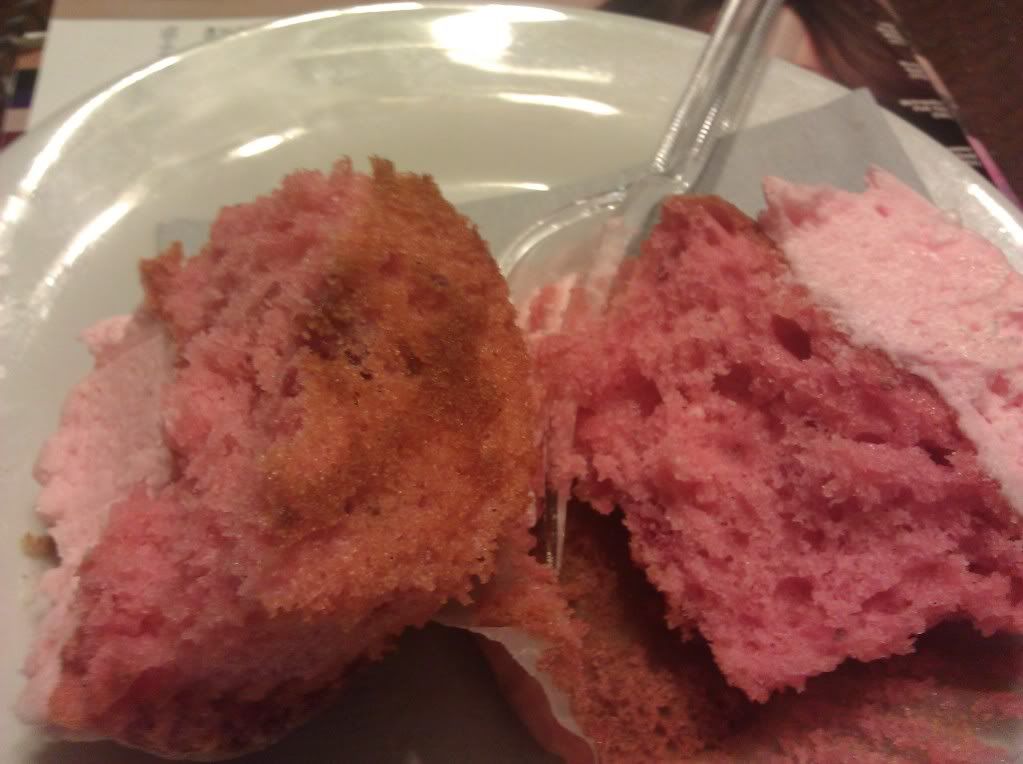 Inside the Strawberries and Champagne

If you love Cookies & Cream, you will definitely enjoy this cupcake flavor. Rich icing with a moist cake center with a nice cookie pieces through out. And finally, this is also one of my absolute flavors, Strawberry & Champagne. OMG! From my very first taste I knew I was going to be addicted to this flavor. Moist strawberry cake, with bits of strawberry within it and a strawberry buttercream icing infused with Champagne. Shut your mouth! Absolutely amazing! I just love this cupcake and when it is on the menu I am at Cupcakes by Tish. Seriously, I wait for them. I waited 30 minutes today for them. This is a serious flavor addiction. Oh, you can tell I love this one.

If you live in Montgomery, head on over to 1940 Mulberry Street and Like them on Facebook. Everyday they list their flavors on FB so you know what you want to savor and enjoy. The workers are customer service oriented and always smiling and nice when I am there. I have told my book club members and everyone to check them out. I have a few more flavors to try and of course you know I will definitely tell you about them. These cupcakes are flavorful and exotic and worth every dime!

**Disclaimer to the right, but just so you know I didn't receive any compensation or free cupcakes for this blog. The opinions are my own and I purchased my own cupcakes.
Labels: Cupcakes by Tish, Food