Creative Cooking...Chilled Spicy Sesame Noodles with Shrimp
Chilled Spicy Sesame Noodles w/Shrimp

This recipe caught my eye immediately when I saw it on
Crepes of Wrath
. I knew it was something I could replicate easily and I had most of the ingredients on hand. The only thing I had to purchase was the hot chili paste. I ended up going to one of the Asian markets here and finding it. The worker said, "You know this is hot." Of course I did. But I was side-eyeing her when she took me to the cooler and retrieve the paste and said you have to heat it up so it can thaw a bit. Okay, I guess. While I was there I also picked up a couple of plantains and figured I would cook them up too.
I started this recipe that morning and finished it that night. Since it is a chilled recipe, I figured this was the way to go. Plus, you know I am not heating up my kitchen at all if I don't have to during the day.
Ingredients:
1 lb of Angel hair pasta
1 tablespoon of vegetable oil
3 cloves of minced garlic
3 tablespoons of sesame oil
2 tablespoons of soy sauce
2 tablespoons of rice wine vinegar
2 tablespoons of sugar
1 tablespoon of hot chili paste
3/4 teaspoon of kosher salt
10 scallions/green onions thinly sliced
3 or 4 carrots grated
For the shrimp:
1 lb of shrimp cleaned and deveined
2 tablespoons of vegetable oil
1 shallot minced
1 tablespoon of hot chili paste
1 tablespoon of Sriracha
1 teaspoon sesame oil
1 teaspoon of sugar
1/8 of fresh minced ginger
pinch of salt and pepper
1/4 of sesame seeds for garnish
For the noodles:
1. Cook them according to the directions on the package. Drain and run cold water over them until they are no longer warm. Then set aside until ready to use.
2. In a sautee pan, add your vegetable oil over medium heat. Add your garlic and cook for about 2 minutes until fragrant. Set aside until ready to use.
3. In a large bowl toss together the sesame oil, soy sauce, vinegar, sugar, chili paste, salt, scallions, carrots, and lemon juice. Add in the cooked noodles, toss to combine taste and adjust seasonings as necessary. Add your garlic and cover and refrigerate until ready to serve.
Sauces and veggies for noodles
For the shrimp:
1. Heat up your oil over medium-high heat. Add in the shallot and cook until translucent, about 3 minutes. Meanwhile, combine the chili paste, Sriracha, sesame oil, sugar, ginger, salt and pepper in a bowl, and toss the cleaned shrimp in the mixture.
2. Add your shrimp to the pan for 5 minutes or until shrimp is done. Set aside and allow to get to room temperature before adding your noodles. If you have leftovers, keep your shrimp and noodles separately.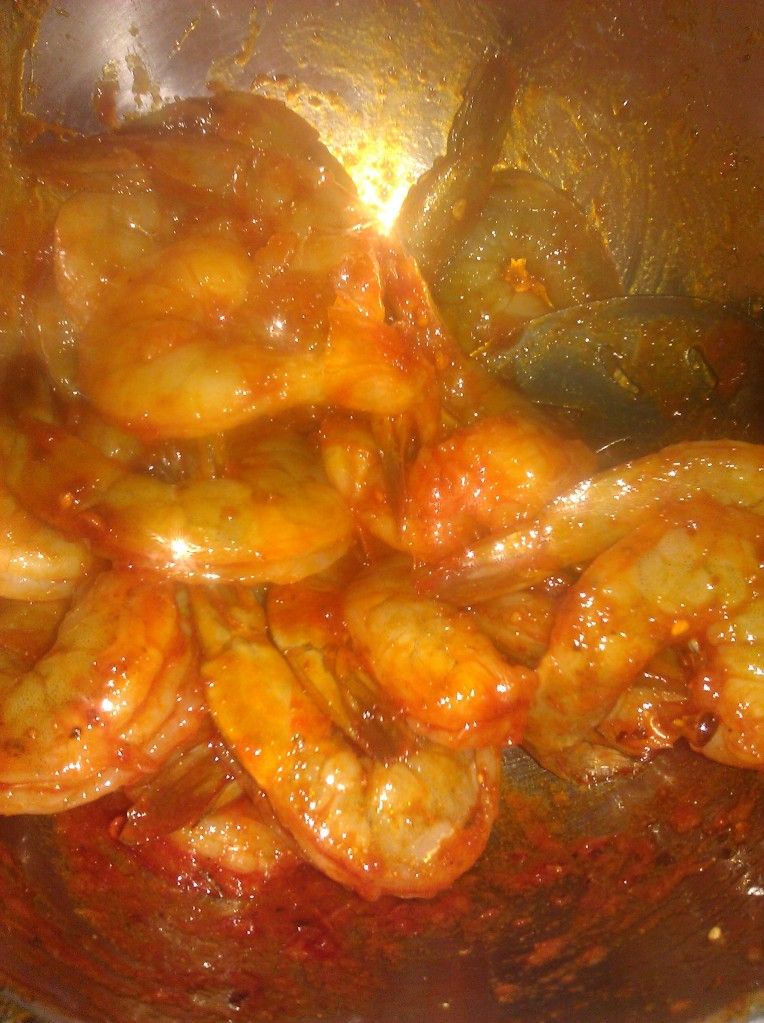 Shrimp being tossed with the sauce

Cooking the shrimp, done...
Verdict:
Um, I have made this dish twice since I made it the first time. I ain't shame to say so either. The first time I found I could barely eat it because of the chili paste, was just a notch above tolerable, but Lawd, I couldn't stop eating it. My nose was running and I was blowing a lot, but I would eat about 5 shrimp and I would be finish and start again later. Seriously, I was eating one meal all day long just to finish the one serving. It was that spicy. Subsequently, when I made the dish I added a pinch more sugar to the sauce for the shrimp to counteract the spiciness. I really love this dish, because it is easy to make and flavorful and tasty. And hell, after you cook the shrimp you don't have to cook it again just plate from the refrigerator and eat at room temperature. Can't beat that at all. If you like spicy and flavorful Asian foods, try this one out.
Crepes of Wrath
gave me a winning recipe!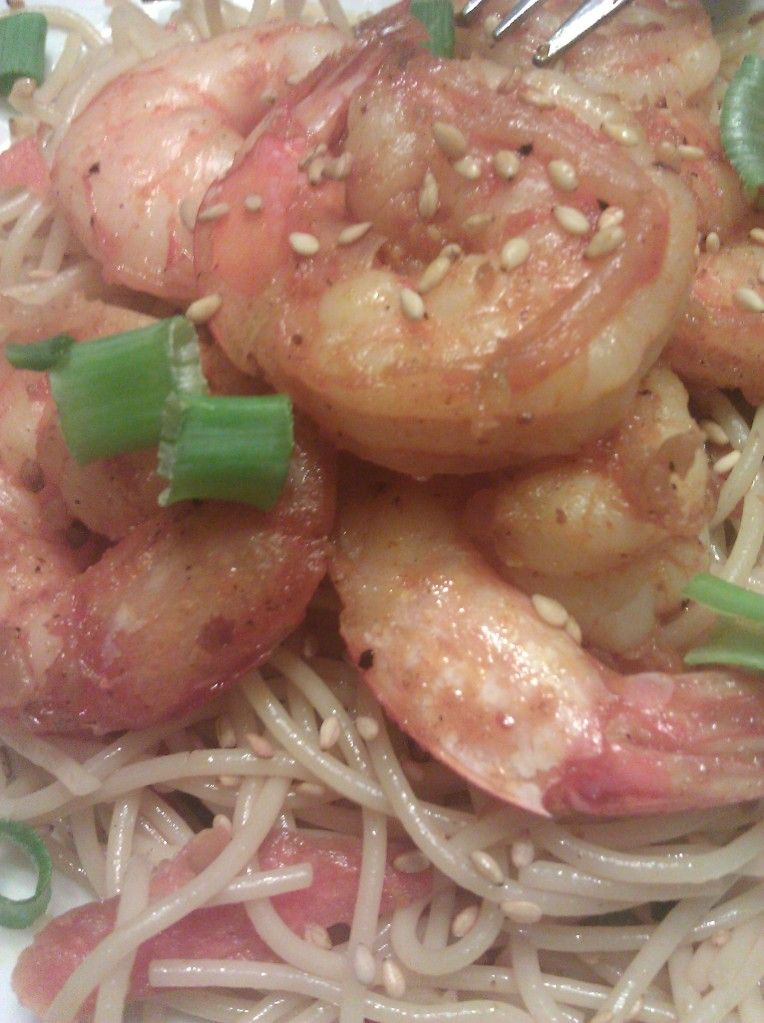 Just wanted you to get a close up of the shrimp and noodles.