Creative Cooking...Sweet and Spicy Tilapia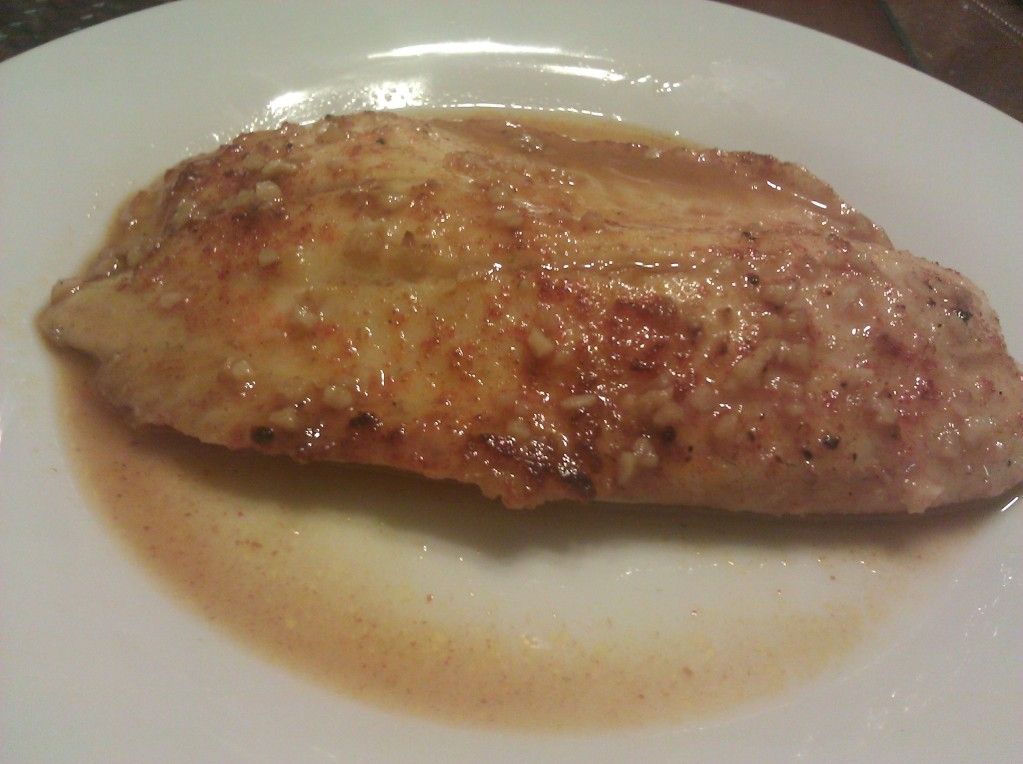 Sweet and Spicy Citrus Tilapia

Well, Pinterest did it again. I was just doing my usual wasting time thing and was browsing Pinterest and I came upon a picture that had me salivating. It was a picture of Sweet and Spicy Citrus Tilapia and when I clicked to get the recipe I realized I had all the items to make the dish except an orange, so I knew I was going to make this dish. I have been trying to eat balance meals for dinner and especially on Sunday. So this was something I could do quickly and plus it looked easy. Because you all know I am a lazy cook.
Now, you know I only cook late at night, right? I cannot heat of the house and since this dish required the broiler to be on, um, I knew I would have to do it at night. So I prepared the marinade ahead of time. I covered it and put in the refrigerator until I was ready to work with it.
Sweet and Spicy Citrus Tilapia from
myrecipes as done in Cooking Light August/2010
Ingredients:
4 tilapia fillets (I actually had 3 fillets and one small catfish fillet)
Cooking spray
½ cup of fresh orange juice (really is just one large orange)
3 tablespoons of fresh lime (only used one lime and got 3 tablespoons)
1 tablespoon of brown sugar
1 tablespoon of EVOO – Extra Virgin Olive Oil
2 teaspoons of low sodium soy sauce
½ teaspoon of salt
½ teaspoon of ground cumin
¼ teaspoon of ground red pepper
2 garlic cloves (I used minced garlic)
½ teaspoon of paprika
First thing I did was mix up the marinate/sauce using everything from OJ on down the ingredients list through to the garlic. I wrapped and placed in the refrigerator until I was ready to use.
I sprayed a shallow baking dish with cooking spray and placed my fish in the pan. Then I poured my marinade/sauce over the fish and let it sit for 15 minutes. Remember there is lime juice in this marinade and lime will "cook" your fish, so don't let it sit too long. Preheated my broiler and when I was ready to place in the oven I sprinkled my paprika over the fish. Then I broiled for about 15 minutes or until done. Then I drizzled the sauce over the fish. I served it with spinach and a baked potato.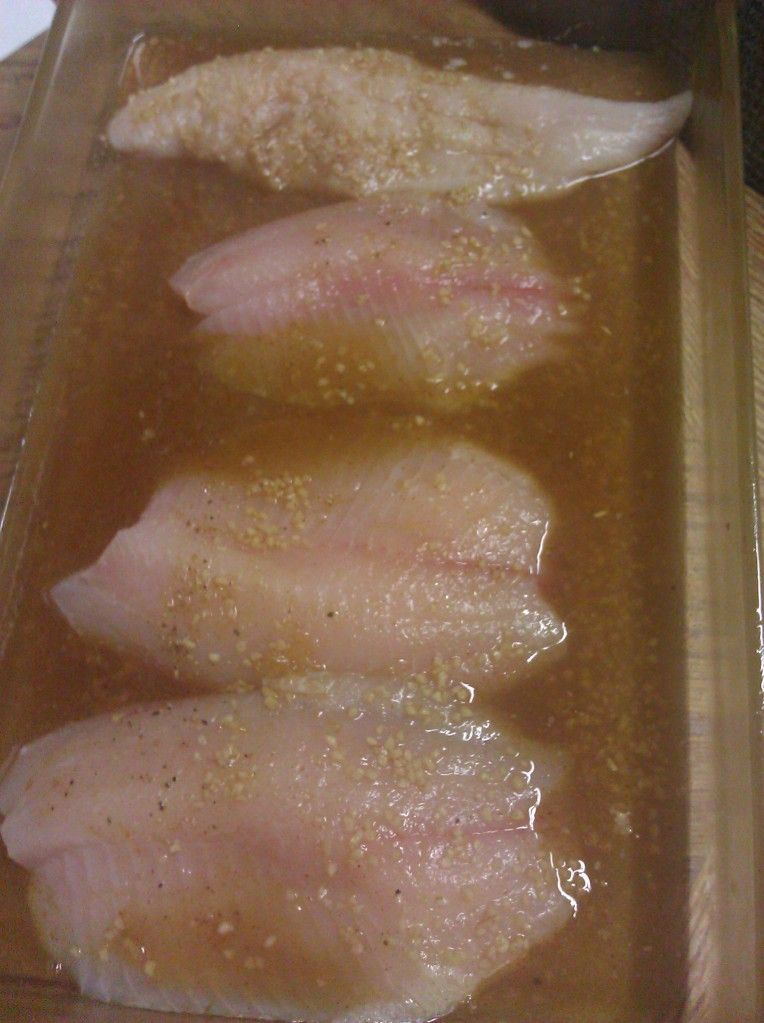 Fillets marinating in the sauce.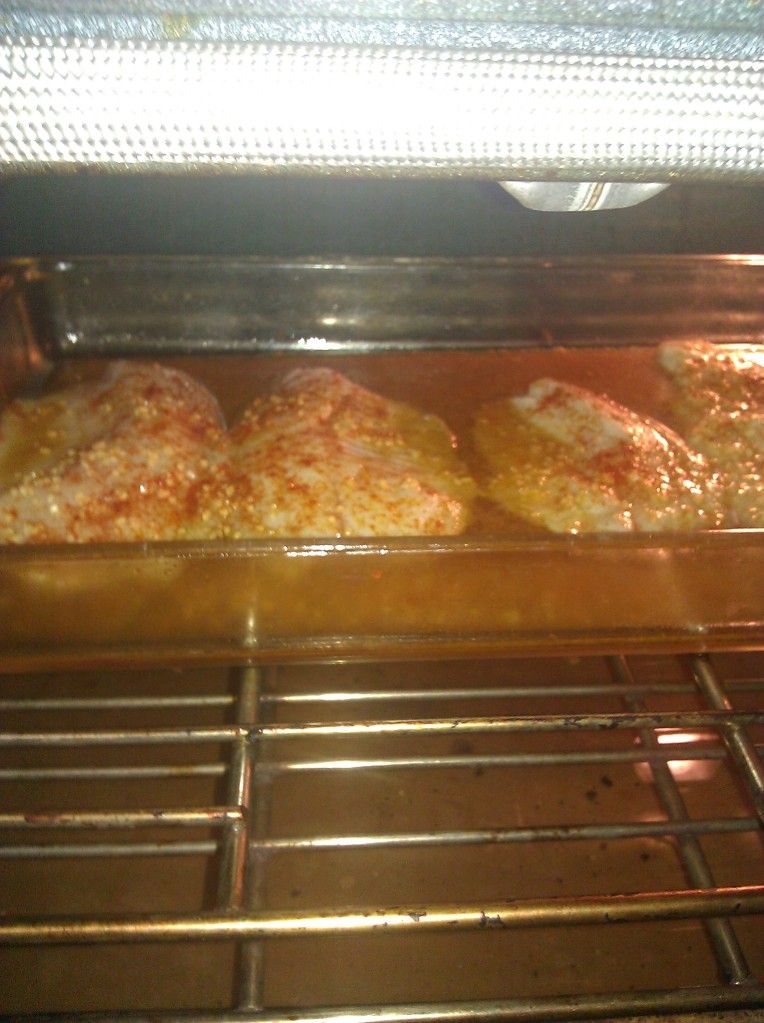 Verdict:
Absolutely yummy. The flavors worked well together with the fish and I can imagine chicken can replace the fish comfortably. The fish was nice and flaky, with just the right amount of spice and sweetness. The sauce was really amazing. My only recommendation for this fish is to eat when you cook it. I enjoyed it when I tasted it fresh from the oven, but heating it up the next day made the paprika extremely strong for my taste. (I am not a fan of paprika, but I do use it in cooking.) I will definitely keep this on the easy and quick dishes to cook during the week. Now you go and try it.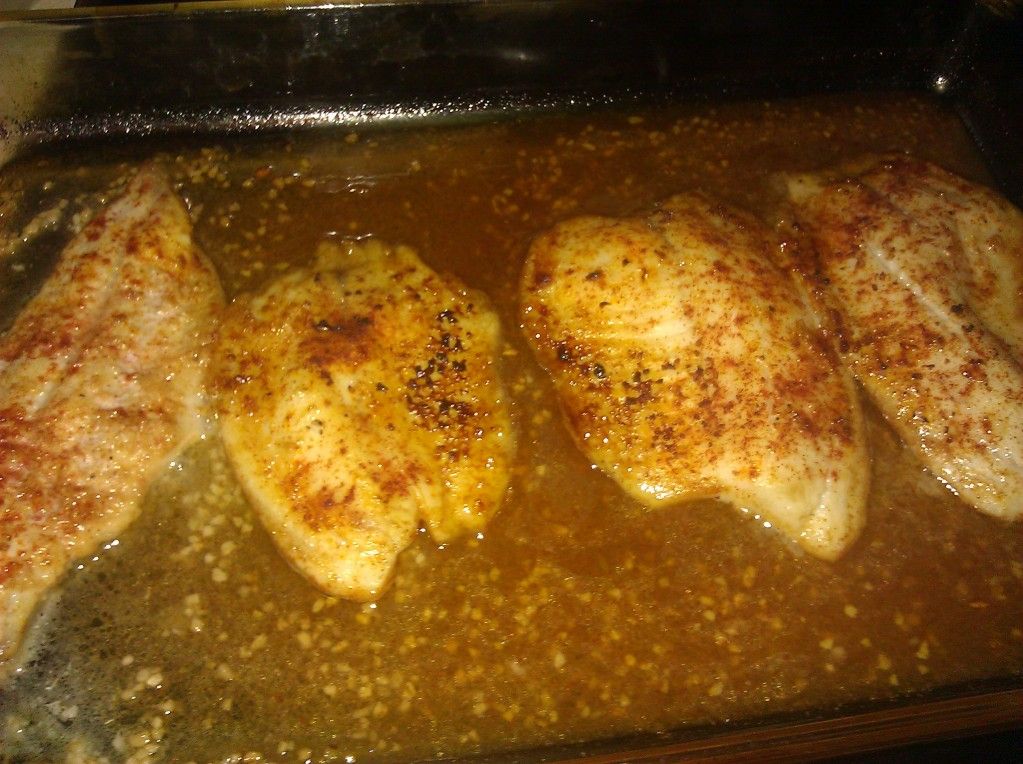 Finished product, fresh out of the oven