Creative Cooking...Sausage Stuffed Zucchini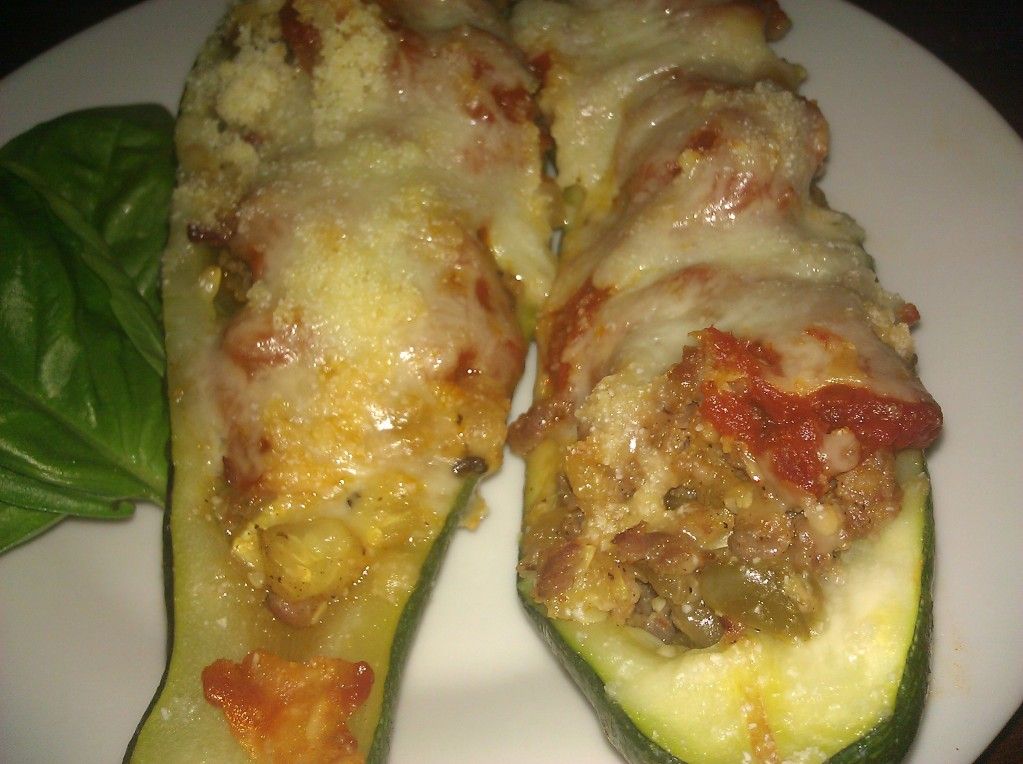 Do ever peruse food blogs and see something that you MUST try? I did that the other day and one of my favorite blogs is
skinnytaste
. Gina makes these healthy weight watcher meals and points the nutritional values as well as points, if you are following ww. I personally do not follow it, but there is nothing wrong with wanting to make healthy and delicious foods. This recipe, I will say is not as healthy as Gina's, because I used Hot Italian Sweet Sausage. Sorry, but my local grocery store didn't have the chicken or the turkey that they are known for having and my heart was set on having fresh zucchini in a different way. I have only cooked zucchini a few times and it is always roasted in the oven. So although I veered away from the original recipe with the sausage, I stayed on course with most of the rest of the ingredients.
Ingredients: Sausage Stuffed Zucchini as adapted from
Skinnytaste
1 ¼ of marinara sauce (Bertolli's Burgundy Marinara)
5 small to medium zucchini
1 tsp of oil
½ small finely diced onion
3 tsp of minced garlic
½ cup of green bell pepper (she used red bell pepper, and since I had the green at home, that is what I used)
14 oz, Italian Sweet Sausage, the recipe calls for Italian chicken sausage for a lower fat and calorie meat
½ cup of part skim shredded mozzarella
8 tsp of grated Parmesan cheese
Tony's and Black pepper to taste
First thing I did was get a large pot of water to boil and while that was taking place, I cut my zucchini in half lengthwise and scooped out the insides with a small spoon.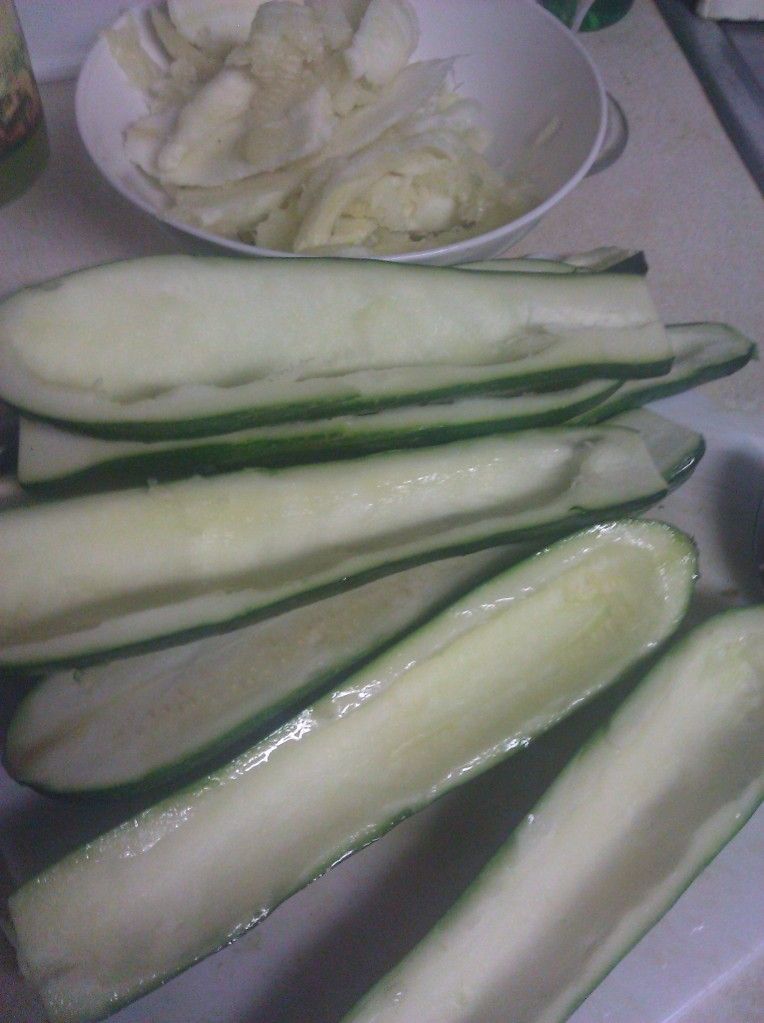 See the zucchini with its flesh removed or in the process of being removed and the flesh in a separate bowl.
Then I placed my zucchini in the boiling water for a minute or two. What? I got a little busy and it was early in the morning. Once I removed the zucchini from the water I placed in baking pan of 9 x 12 which had a ¼ of the marinara sauce on the bottom.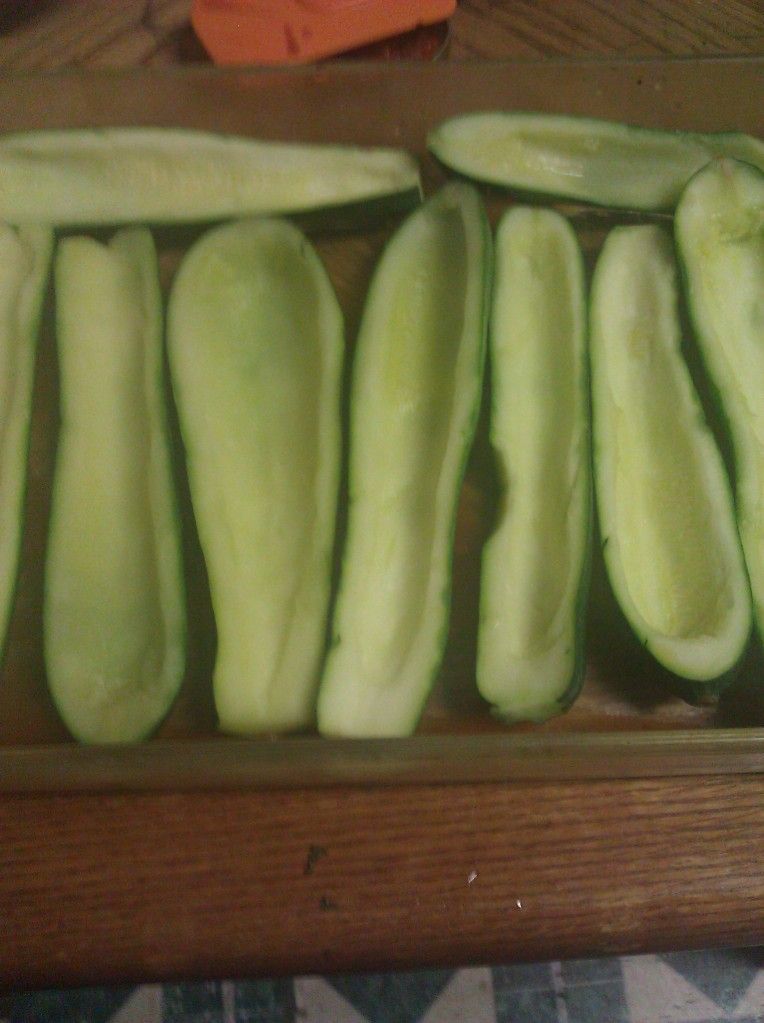 After the 2 minute boiling and sauce lined baking dish
I chopped up my onions and the flesh of the zucchini. In a sauté pan, I browned up my sausage and when it was brown, took out of pan and put to the side. While it was the meat was browning I tried to make sure to get the pieces broken up to smaller pieces.
I heated up the tsp of oil and added my garlic, onion and bell pepper and cooked until the onions were translucent, then I added the zucchini flesh and seasoned with my Tony's Chachere and black pepper and cooked for about 3 mins. Then I added the sausage to the mixture and cooked it for a few more minutes.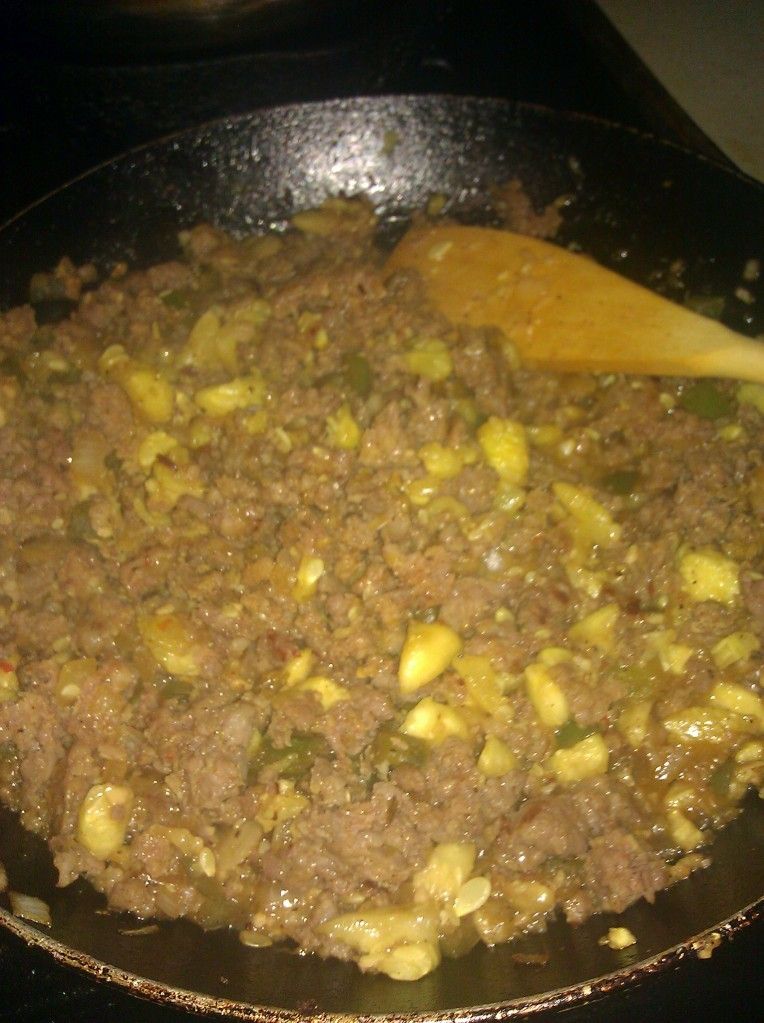 Sausage and zucchini mixture
Using a spoon I filled each of the zucchini boats with the cooked sausage mixture, pressing firmly into the boats. Then I topped with marinara sauce, sprinkled on the mozzarella and put a sprinkling of Parmesan cheese. Nope didn't measure those last few ingredients I just insure the meat was covered and since I used the thinly shredded mozzarella, I used my best judgment. After all the boats are filled and covered with cheese, I baked the zucchini in the preheated oven of 400 degrees covered in foil for 35 minutes. Your zucchini should be cooked through and the cheese is melted and bubbly.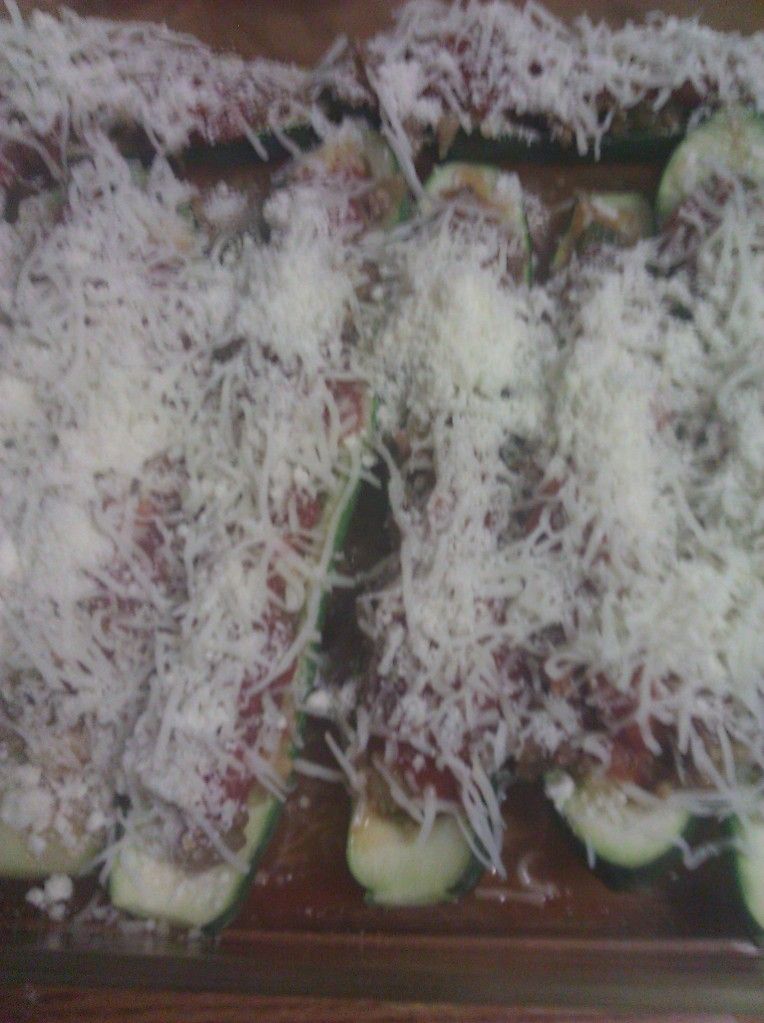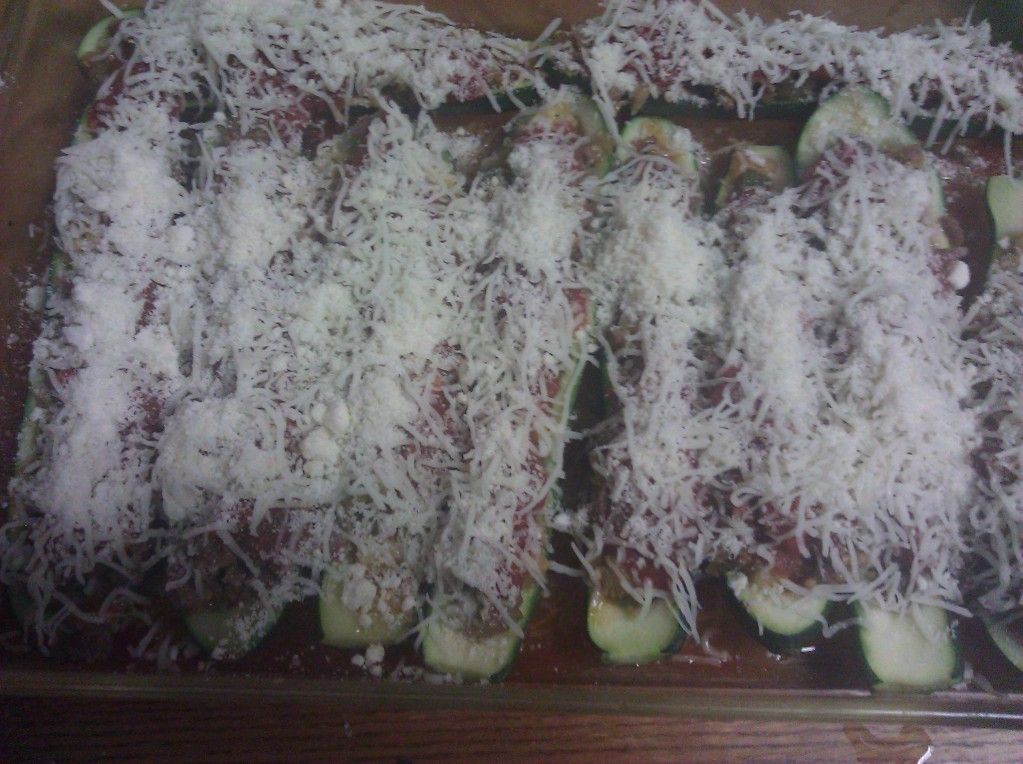 Zucchini stuffed and covered in cheese ready for the oven.
Verdict: Seriously, I can't go wrong with a Skinnytaste recipe. This was very delicious and although I used a few short cuts, I don't think it was too significant. One boat is feeling, really. I ate as a Sunday dinner with a small salad and a small piece of garlic bread. Very tasty, simple recipe and worth the extra effort. Seriously, that 400 degree oven had my house hot! But I would definitely make this one again. Like I told my sister, this dish probably would work with any sausage substitute if you do not eat pork. So if you try it out, let me know how it turns out. And be sure to check out Skinnytaste, because she has an arsenal of healthy weight watcher dishes.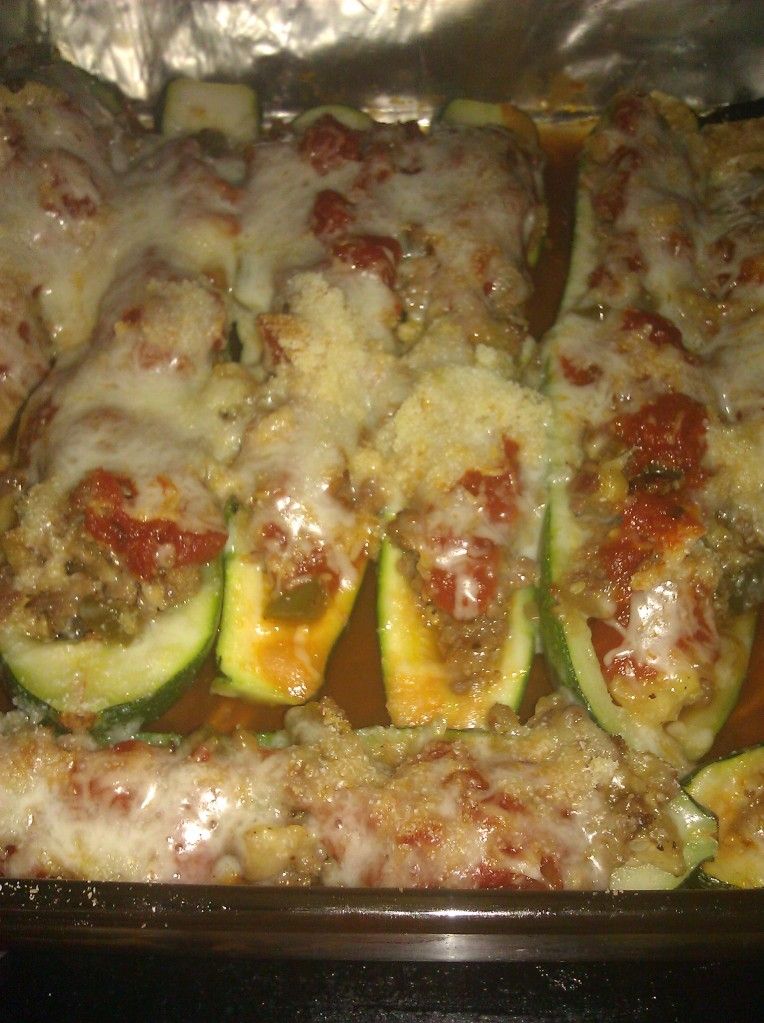 Fresh from the oven. Piping hot!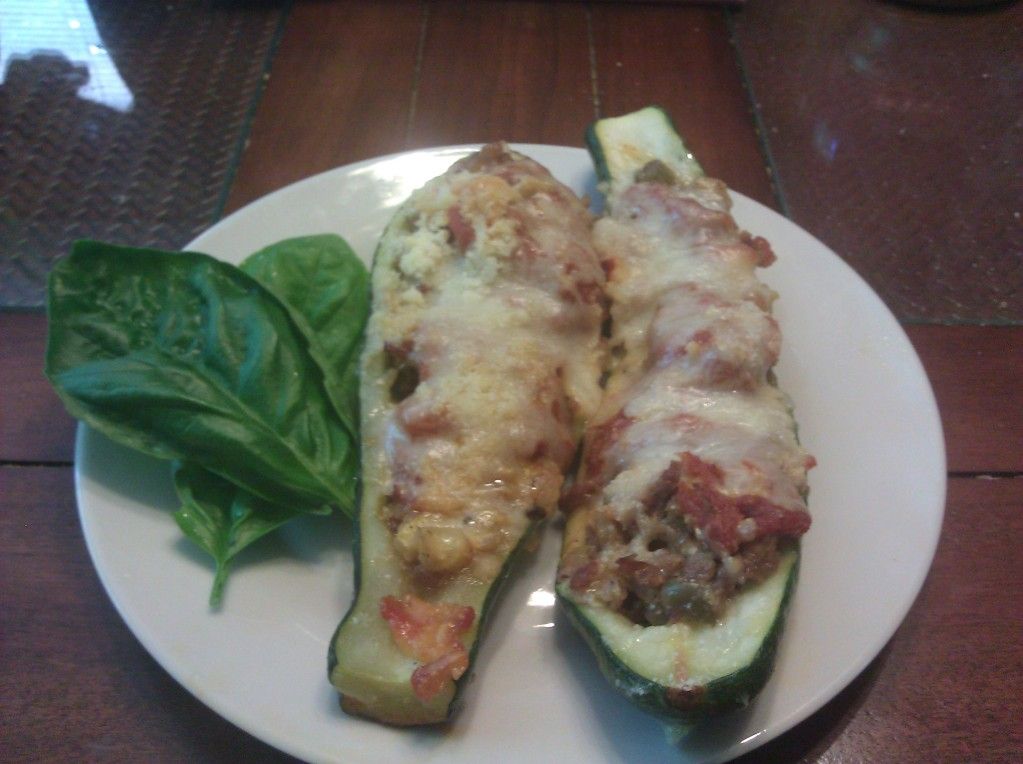 Plated with fresh basil from my garden