How Was Your Weekend...Randoms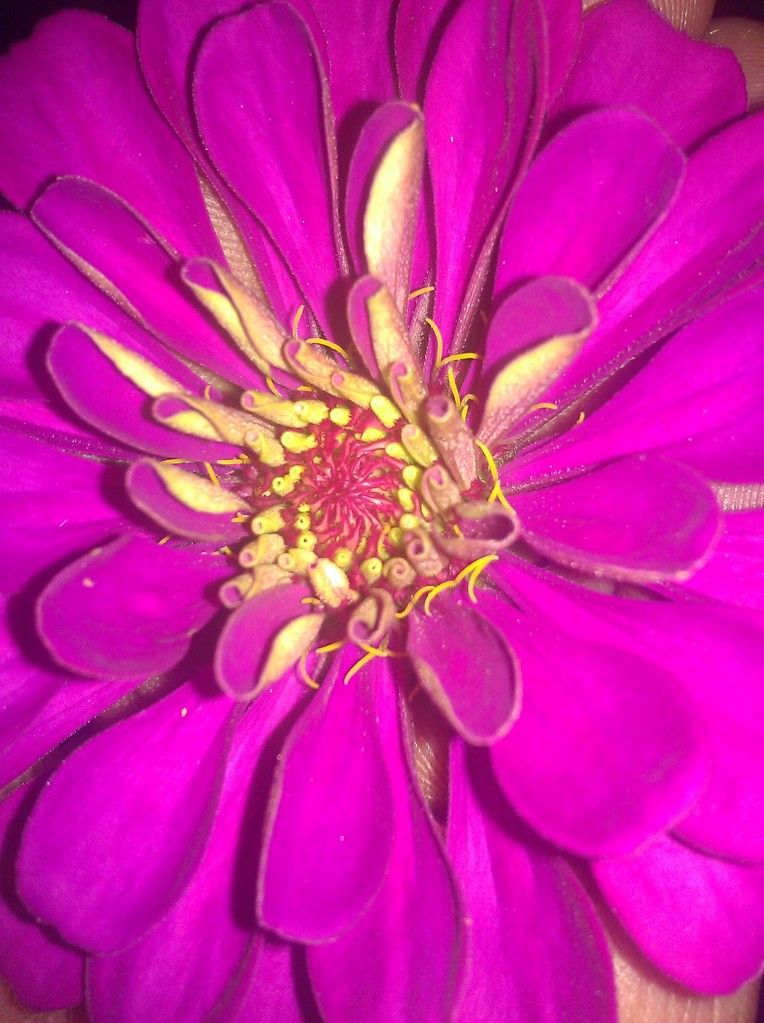 How was your weekend? I ask the lady who takes care of our floor every Monday, and she always replies, "Just wasn't long enough." Ain't that the truth?
I remember waking up Saturday and the next thing I knew it is Sunday night. Yeah, I feel just like she feels, it isn't long enough.
Last week I had to order my facial cleaner, moisturizer and make-up from Dillard's online, because no one told me the one I normally go to is now their clearance center. Really? In the mall? Seriously? Well, my things came in short time, because me driving all the way out to Shorter, which is where I say the "other" mall is, wasn't going to happen since I have been trying to get out there since before the 4th. Sometimes you have to bite the shipping costs.
All the little bottles were free, free I tell ya!
I am still working in the garden. The tomatoes are still turning red. Didn't I mention I have been over this for a while?
Harvest from July 18th...sighing...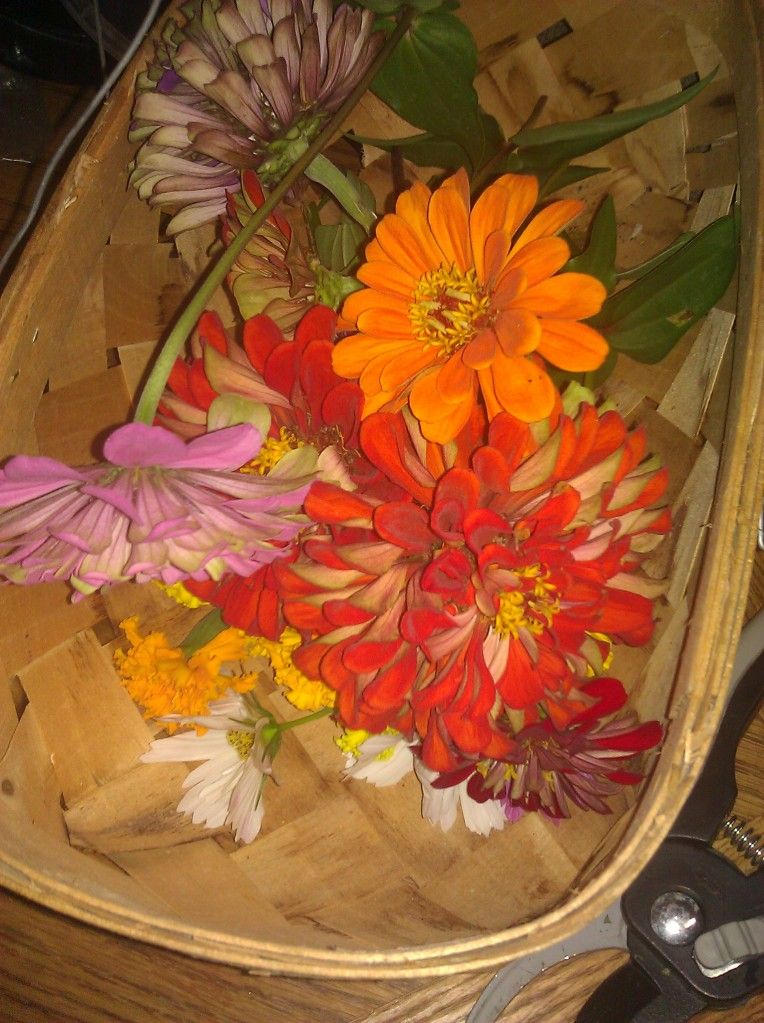 Cut flowers for the bouquet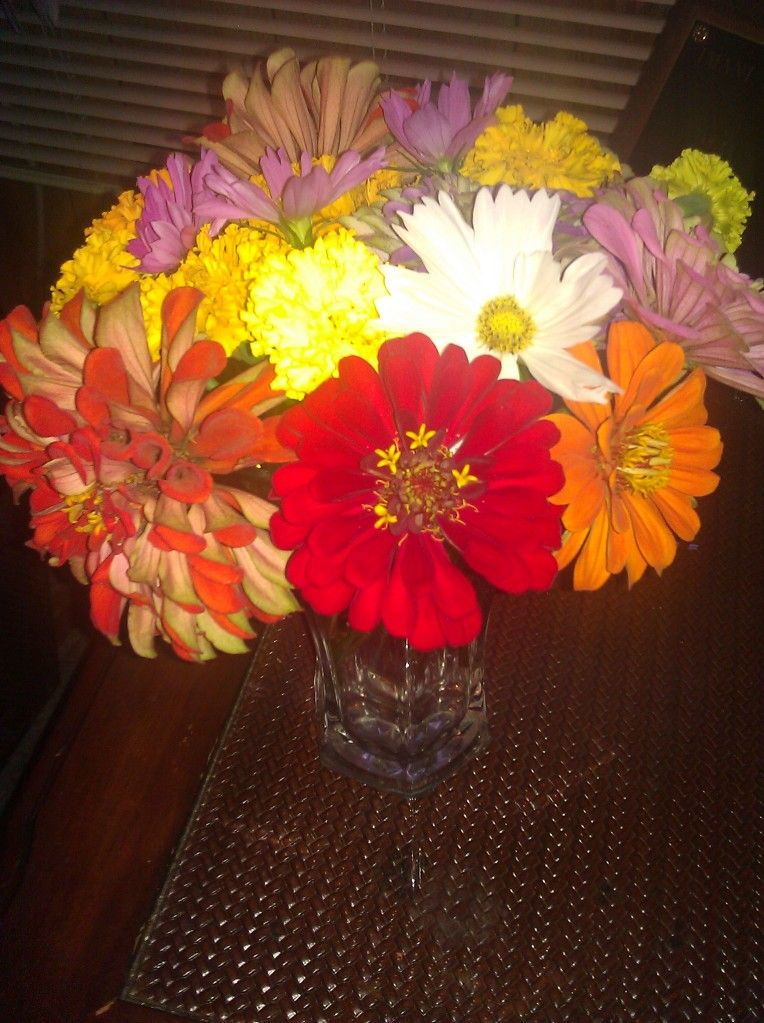 You see I have been cooking. Sparingly, though. The Guy asked what was for dinner last night and I said all the tomatoes you want, or a salad or Peanut Butter and Jelly sandwich. I don't think the choices were good for him. I told him it is too hot to turn the stove on. Really.
I had my annual female doctor appointment yesterday. I love my gyn; he gets me in and out. We laugh and talk before we get down to business and he knows, do what you got to do, don't talk and hurry the hell up! And he does.
My sister has moved to San Diego. Bless her heart. She said my brother was emotional when she left and it almost made her change her mind. I was telling The Guy about it and I told him I am soldier and I don't cry…Just kidding. He was like you are so silly. My sister's stepmom asked how I was doing. Side-eyeing her. Seriously, my sister and I talk most days sometime several times a day. We haven't lived in the same household since my mother died. We have always lived miles away from each other. Plus, I am gangster. LOL!
Little Carson isn't quite ready for the club. They took him to the skating rink last week and it seemed to cause him tension with all the lights and such. Um, he will be ready when I take him.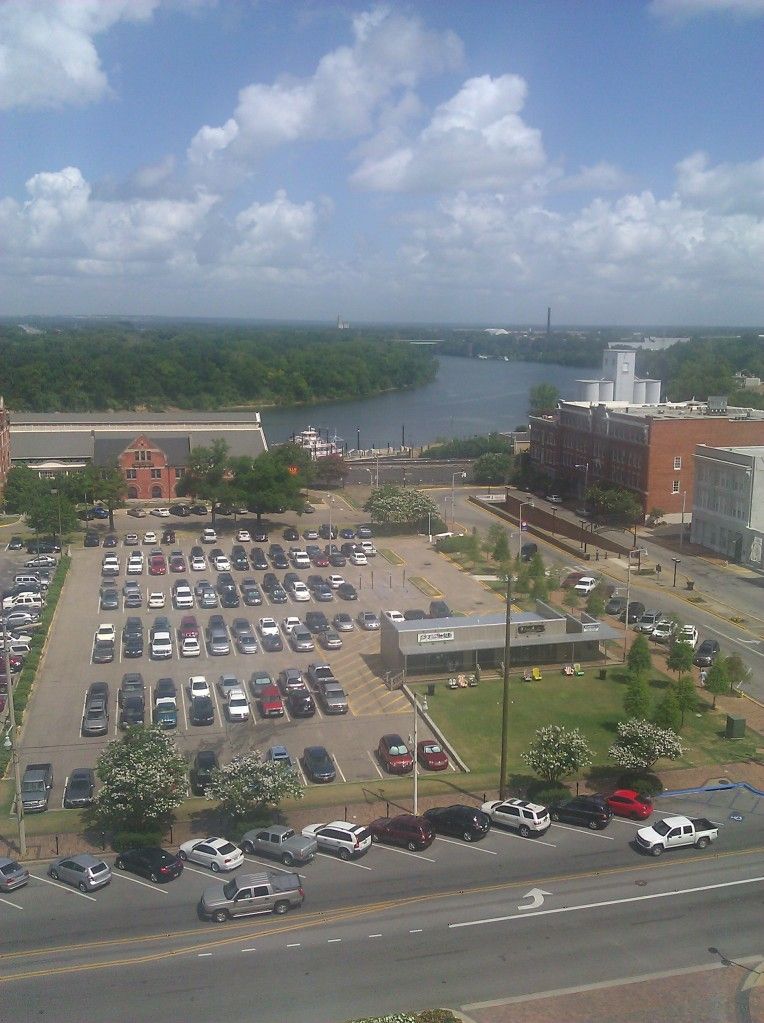 River view from our hotel suite!
This past weekend was my book club's annual slumber party meeting. We really need to stop doing this, because only three of us spent the night. Several stayed until after midnight. It is weird how what seems so simple, can be so much fun and enlightening. We had a great time just talking and enjoying each other company. We ate at Wintzell's. I even did a review which will soon be posted on Trip.Advisor. Food amazing, service lukewarm. We stayed at the Renaissance downtown and we were given a river view and everything. Only issue is we moved to 3 different rooms. The first room the TV remote didn't work and we were Viggling. Google viggle. Anyway, so they moved us to another room. Well…the bathroom smelled pissy, yes I said pissy and the cooler, was hot. Finally, we went down to the lobby because obviously calling wasn't good enough, especially when the young lady said you want us to just clean around the toilet. No ma'am, we want the bathroom thoroughly cleaned. At the front desk, Joseph, who checked us in, upgraded us to a suite. Yes, that is what's up. Plus, using my retirement discount, made us smile the whole time we were moving to our third room. Fun was had by all. One of the members is a Mary Kay rep, and she did a small demonstration. I have only had a makeover down by a rep many years ago and I didn't like it. She did the Satin Hands and Satin Lips and I was hooked. Amazing is all I can say!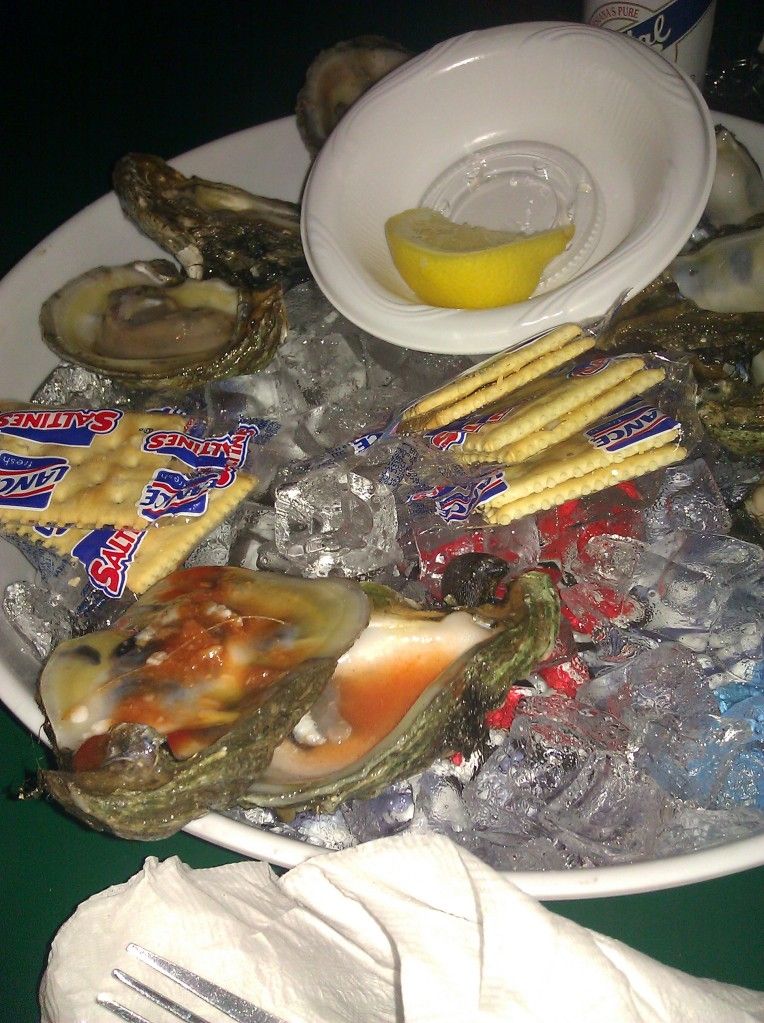 Me and another member shared a dozen and then looked at each other and said, "We could have just each gotten a dozen!"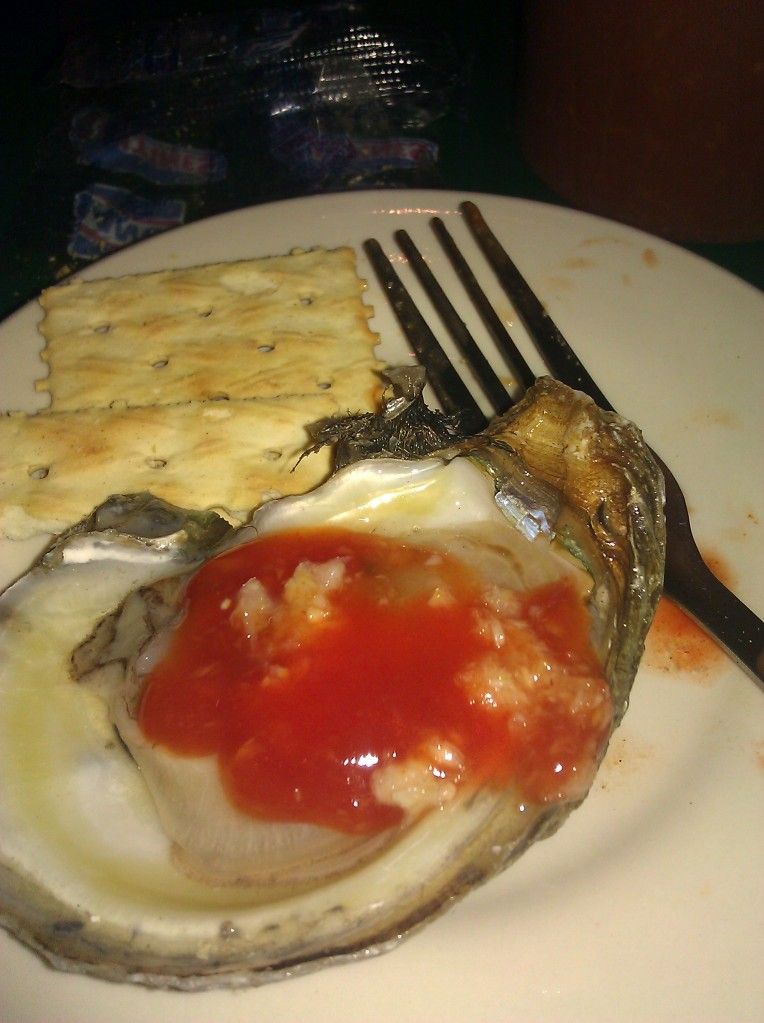 Because they were so good, a close up!
I had planned when I got home Sunday, to water the plants, eat and nap. I didn't get my nap. Too busy running my mouth on the phone. Everyone seemed to have had a great weekend.
Some food for thought: When someone shows you who they are, believe them.
The summer is winding down here, because school begins in August. I guess I need to hire some folks ASAP for the second job. So not looking forward to that.
My sister turned older than me on the 19th of July. (I am going to see how long before she notices this).
I am so proud of my brother he got a mode of transportation so he can get to and from his job until he can get his drivers' license. He is still working and going to school. He makes me smile.
Some more food for thought: Faith. It really works.
I seem to be squinting in my pictures without my glasses. I guess I need to start back wearing my contacts. Geez.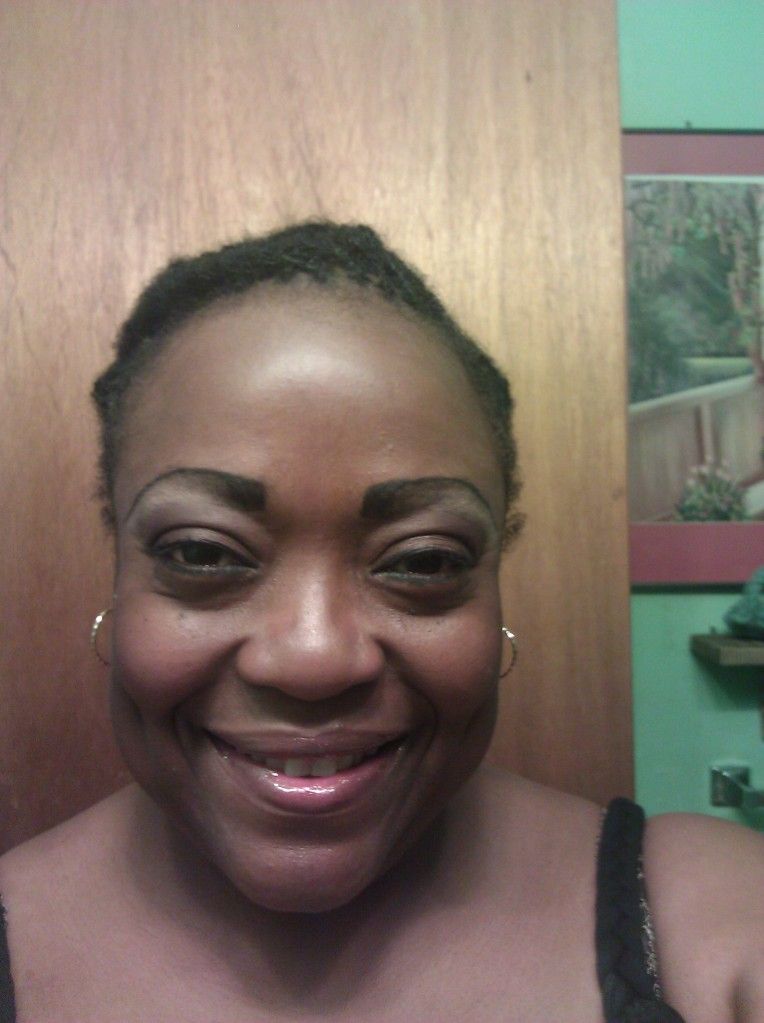 Taken 7/21/12 braids pulled back into a bun.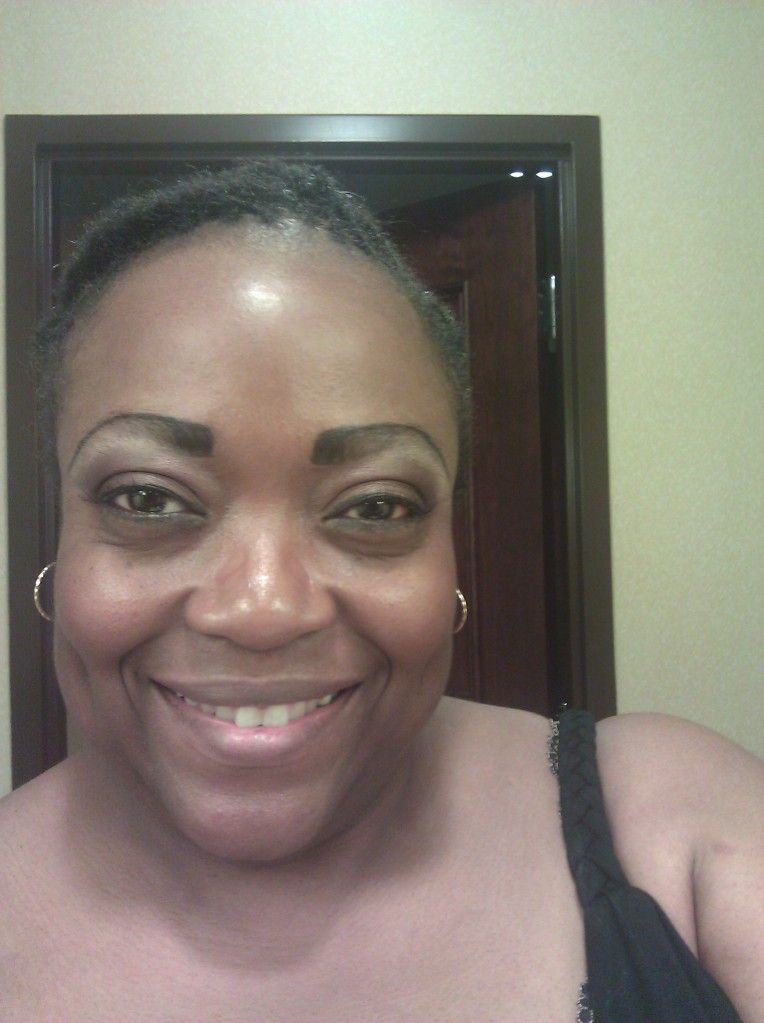 I did my nails this weekend. Cute?
The Jacksons are making me sad. This family drama is playing out in front of the world and no one really knows what is going on. Hopefully, it will get resolved; because I am sure Michael is looking down distraught.
Okay, you know I am an avid, The Closer watcher. I haven't watched an entire episode yet. Why you may ask? I don't want it to end. I know Major Crimes is taking its place, but it still makes me so sad. I will pull up my big girl panties and watch it soon…
I am currently reading The Impeachment of Abraham Lincoln by Stephen Carter and Gathering of Waters by Bernice McFadden and finishing The Help by Kathryn Stockett. Yeah, I like to juggle my reading. Have you checked out my book club website lately? http://www.imanivoices.com/
Prayers for the families in Colorado.
RIP -Sherman Hemsley. Geez, I found out about this on FB.
Hope you have a wonderful week. I think I have a scheduled recipe coming this week as well. Later!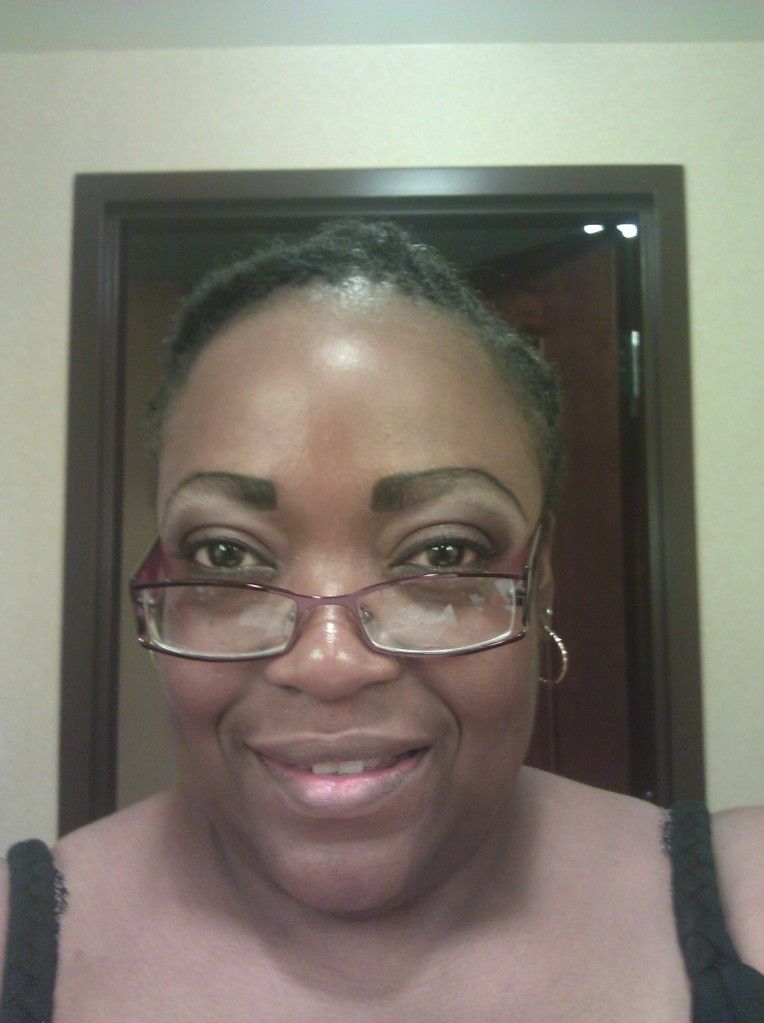 Sexy Intelligent Woman? Cute though!
Labels: Book Club, Food, Fun stuff, Hair photos, Ramblings, Randoms