Creative Cooking...Triple Chocolate Espresso Bean Cookies
Triple Chocolate Espresso Bean Cookies

Okay, I think at one point in my life I was addicted to my Café Mocha. Seriously, I had to have my coffee every morning, then my coffee shop closed it was such a sad day for me. Then I purchased an Espresso machine and made my own coffee. However, I found I didn't want to make coffee in the morning and I was so engrossed in my gardening I just didn't have the time in the morning to make the coffee and water my plants. So I stopped cold turkey with my coffee. Probably wasn't my best idea because I noticed my metabolism slowed down and although I wasn't eating any differently, I was gaining a few pounds then I just hit a plateau. Anyway, I have lost them added pounds, and still trying to lose more pounds and that is another blog post. Back to the cookies, so in my mind why not make a cookie with espresso in it. Then I was like, ooh it would be so great if I could find a recipe with chocolate covered espresso beans in it. And I did. I saw quite a few recipes, but too many of them were a bit too involved for my laziness. My search finally came to an end when I went to the
Foodblogga
site and found a recipe that her family loved and they had to hide the cookies because over half the cookies disappeared as they were cooling. Right there told me these cookies were going to be a hit. Believe it or not, finding the espresso beans wasn't so hard to find here. FYI, the other reason I chose this recipe is because it uses whole wheat flour and you know I still have about 4 pounds of that to use. LOL!
Ingredients: From Foodblogga
1 1/4 cups all-purpose flour
1 1/4 cups whole wheat flour
2 tablespoons espresso powder
3/4 teaspoon baking soda
3/4 teaspoon baking powder
3/4 teaspoon salt
1/2 cup Hershey's unsweetened cocoa
1 cup unsalted butter, at room temperature
2 cups white sugar
4 large eggs
1 tablespoon vanilla extract
3/4 cup semi-sweet chocolate chips
1 cup chocolate covered espresso beans
Preheat your oven to 375 degrees and line your cookie sheet with parchment paper.
Dry ingredients ready to be mixed together. See the espresso powder?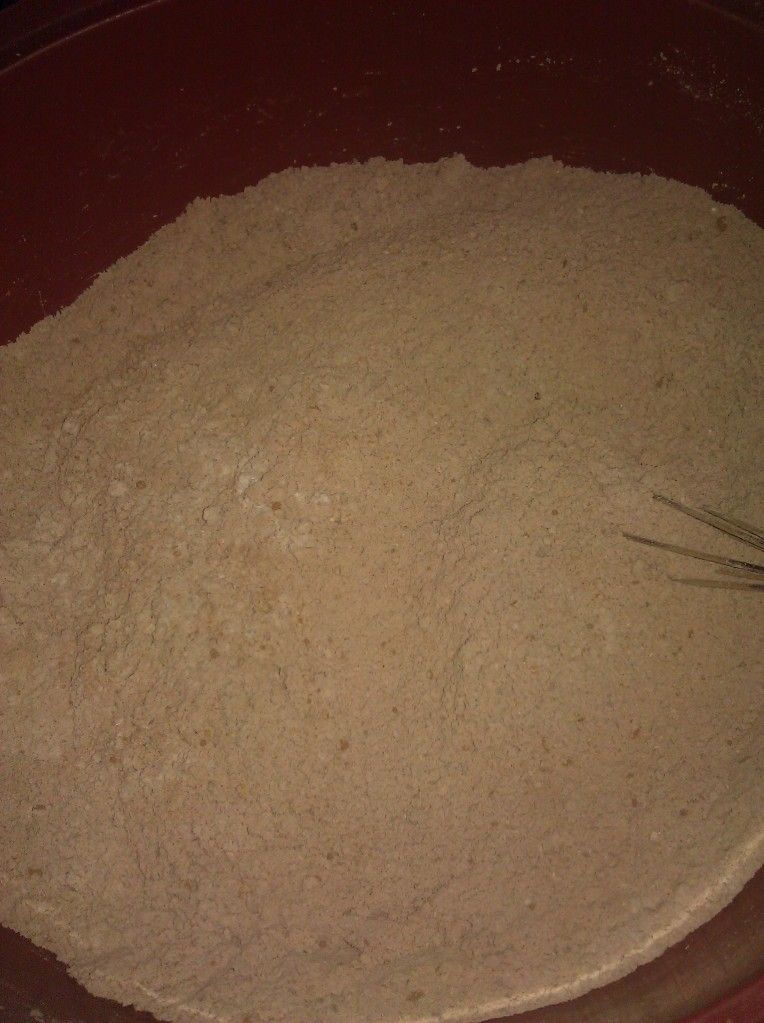 Dry ingredients all mixed together.
Combine your dry ingredients of flours, espresso powder, baking soda, baking powder, salt and cocoa in a large bowl.
Wet ingredients as well as dry ingredients
In my mixer I creamed my butter and sugar. I added my eggs one at a time and my vanilla and beat until it was smooth. Then on the stir, I slowly added in batched my dry ingredients until everything was well incorporated. Your dough will be dark brown and at this point stir in your chocolate chips and espresso beans. I did this part by hand with a wooden spoon.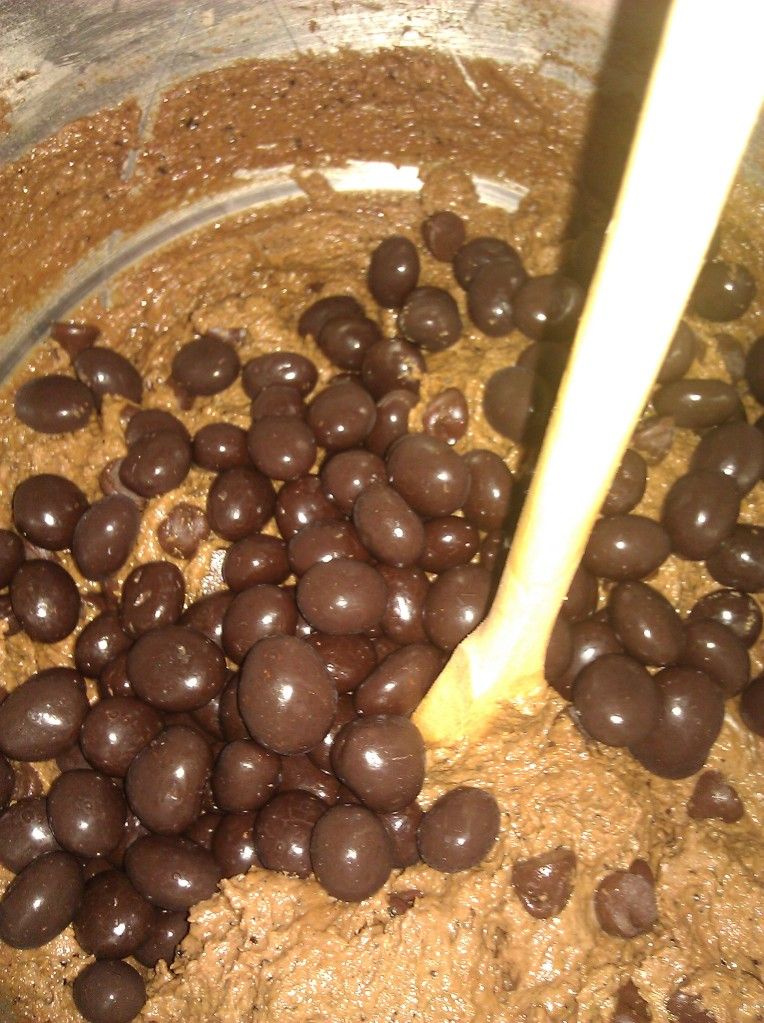 A good close up of the dough as well as the chocolate chips and chocolate covered espresso beans
I placed the dough on my cookie sheet with my cookie scoop about 2 inches apart and baked for about 15 minutes or until they were firm around the edges. The recipe calls for 9 to 10 minutes, but you have to adjust the time based on your oven. Then I let them cool on a rack.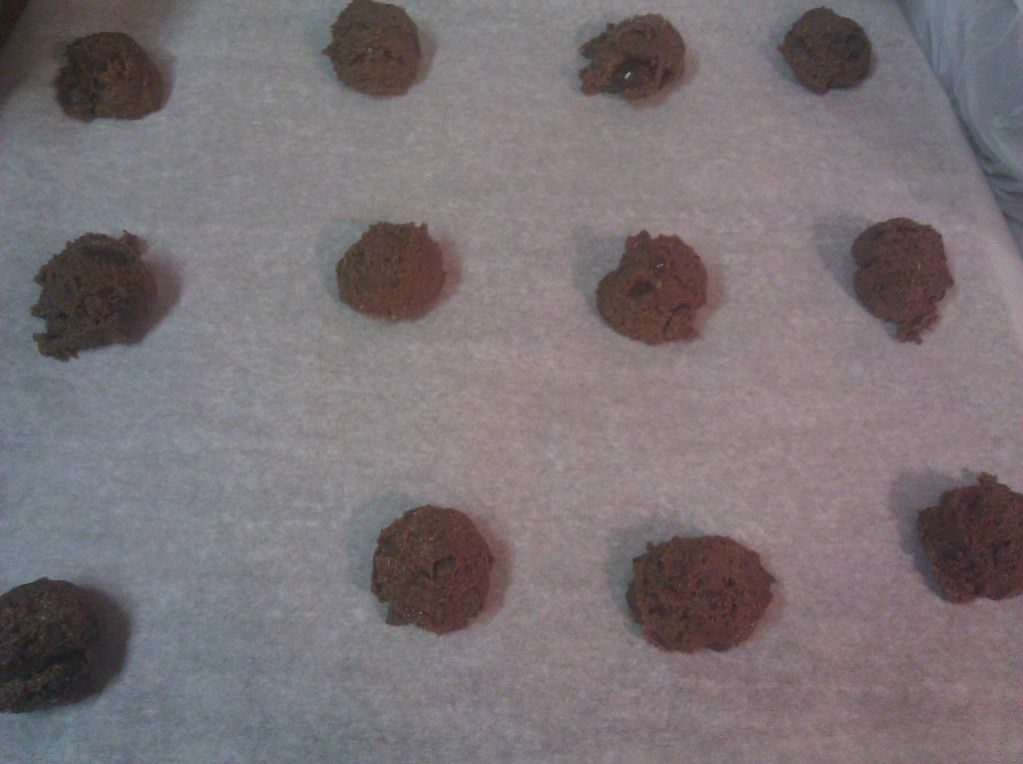 All on the cookie sheet spaced apart
The recipe says it makes about 36 cookies but I was able to make 52 out of this, which is probably due to the size of my cookie scoop.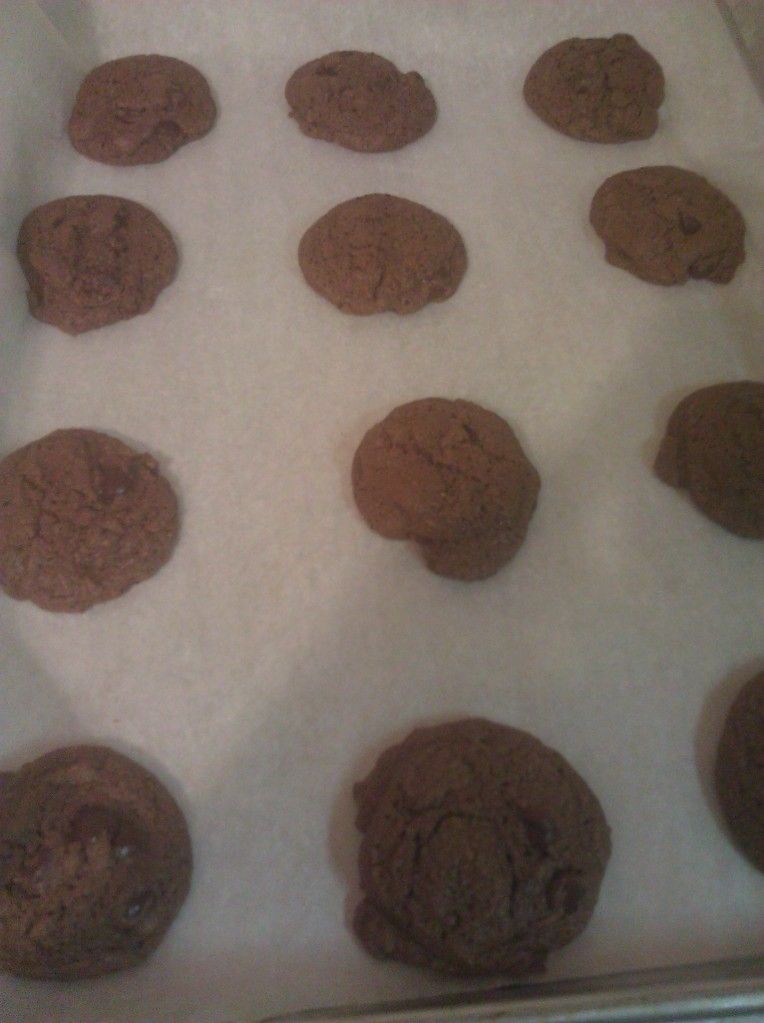 Verdict:
Being addicted to coffee ain't a bad thing. And eating cookies that blend the flavor of chocolate and coffee together is amazing. And when you bit into a chocolate covered espresso beans, your taste buds dance and sing. Amazing. The cookies were crunchy around the edges, but soft in the middle. As
Foodblogga
says, neither the chocolate nor coffee over powers the flavor it is a nice delicate blend. I will definitely be making these again probably around the holidays. Yummy!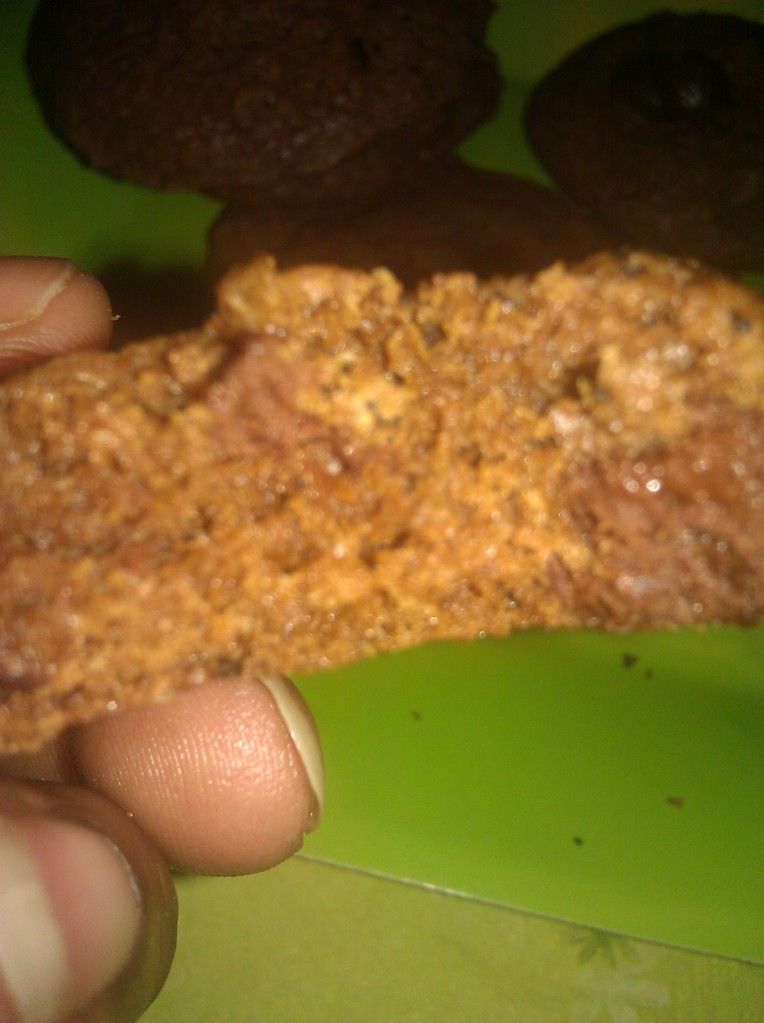 Inside view. Sorry picture didn't come out as clear as I wanted it to be.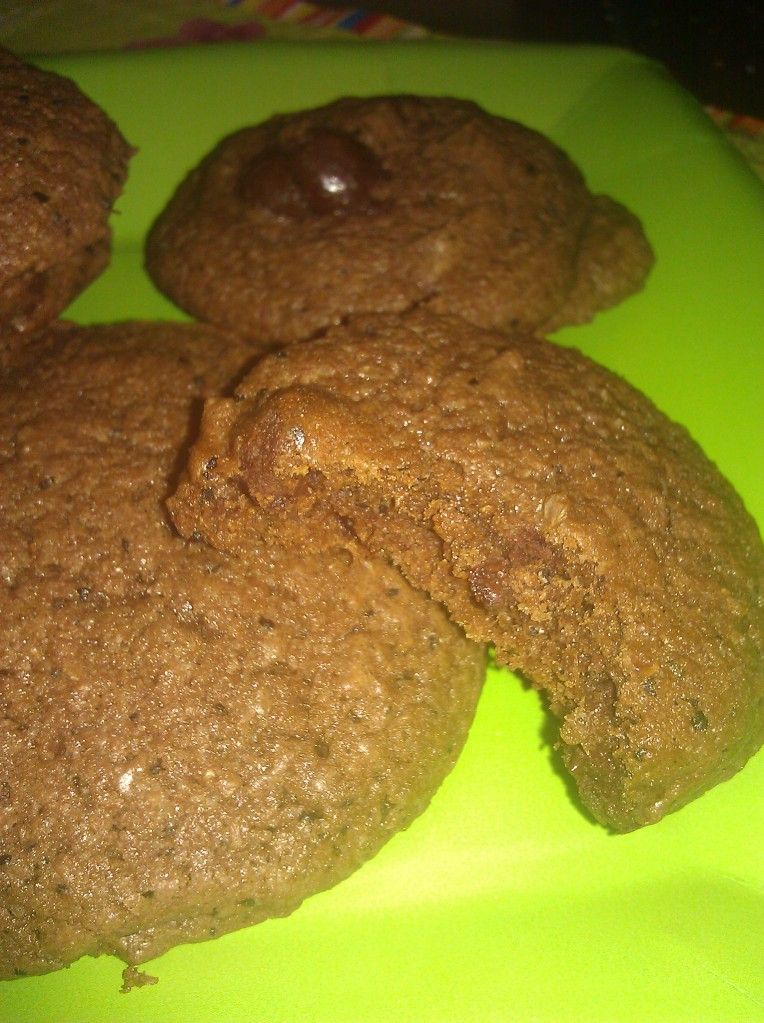 Just so you knew I really did eat one. Like there was ever a doubt!