Creative Cooking...Homemade Chicken Nuggets with Polynesian Sauce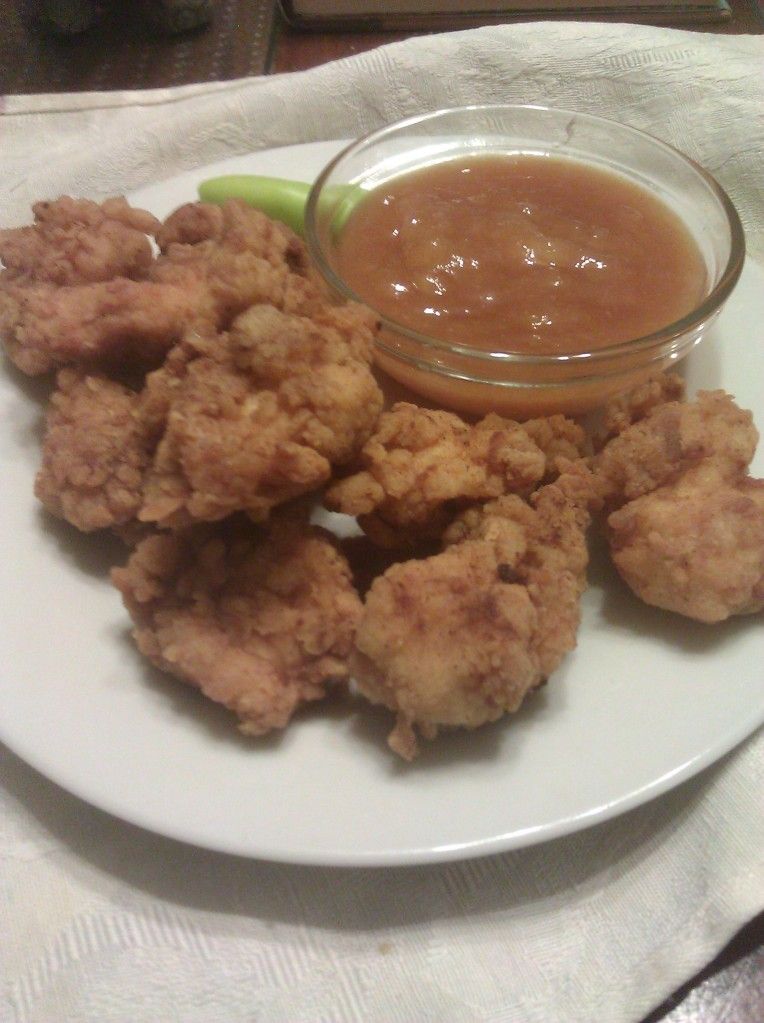 I felt guilty. Seriously, I did. I haven't posted anything in a week and I felt like such a slacker. Really, I have just been so tired that cooking anything just seems to take too much energy. I have to be careful when I take too many days off in a row, I become
lazy
. I was telling The Guy I wanted some chicken and I wanted some
fried
chicken. I was craving some. This happens when you don't eat fried chicken often and when you want it you have to have it. So as a compromise, I decided to do chicken nuggets and make my own dipping sauce. And since I didn't have a cooking post in the que...this is what I came up with.
Homemade Chicken Nuggets
2 boneless chicken breasts or 1 to 2 lb package of tenderloins cut into nuggets
Brine
½ cup of Buttermilk
1 large egg
Seasoning for chicken
2 tbsp of Tony's or seasoning salt
1 tsp of black pepper
1 tsp of Cayenne pepper
1 tsp of Accent
Flour seasoning
2 tbsp of Tony's or seasoning salt or just plain salt
2 cups of all purpose flour
1 tsp of baking powder
1 tbsp of powdered sugar
1 tsp of black pepper
1 tsp of paprika
1 tsp of Cayenne pepper
Canola oil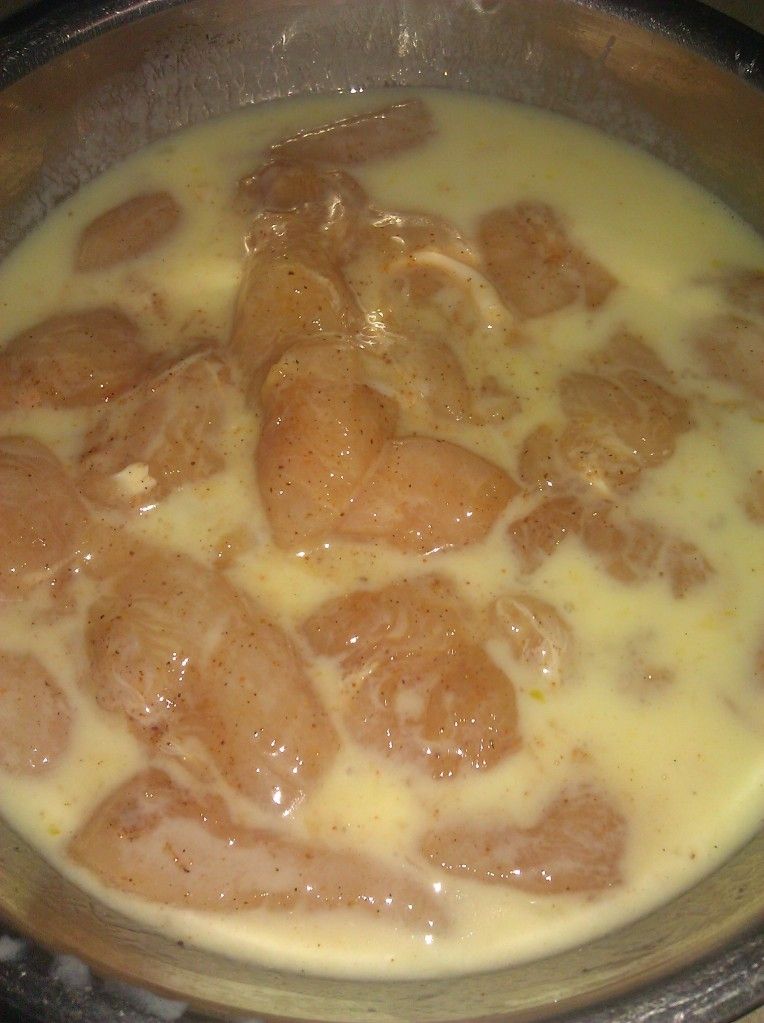 Brining in Buttermilk and egg mixture. You can see the seasoning of the chicken as well.
First cut up your chicken and season with the seasoning for your chicken. Then in a bowl pour in your buttermilk and whisk in your egg, once incorporated add your chicken and cover and refrigerate for 45 minutes. I am sure you can brine it for a bit longer, but I haven't tested to see how long one should brine it.
In a pan or a bag, which I used, mix in your flour with the seasoning. Yes, that is powder sugar used in the flour mixture. You can adjust seasoning according to your taste buds. Look, I eyeball my seasoning. And you may think the Tony's is a lot but really it isn't going to be too salty unless your over season your chicken prior to brining.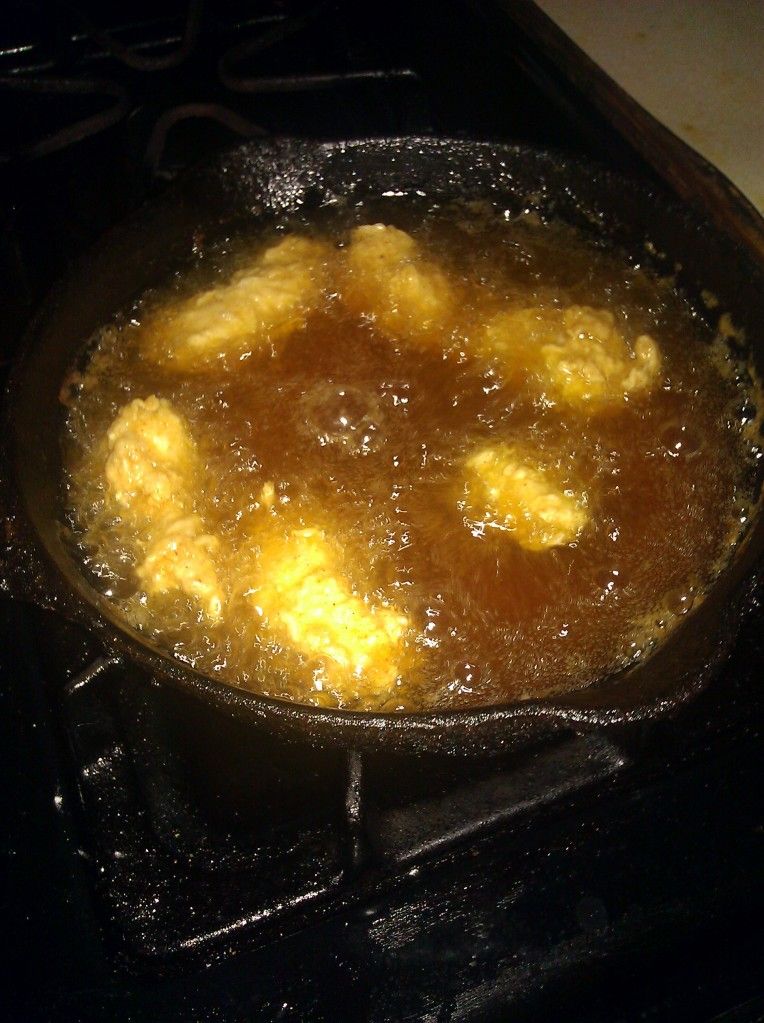 In a cast iron skillet or deep fryer, heat up your oil. After your chicken has brined in the buttermilk mixture, take it out of the bowl and allow a good portion of the liquid to drain off before putting the chicken pieces into the flour mixture. When your oil is ready, cook your nuggets in batches. Depending on the size of your chicken pieces will determine how long they will cook. Do not overcook and do not have your oil too high because you will burn the nuggets and no one likes burnt chicken. Once you have turned them and they have turned golden brown drain on paper towels.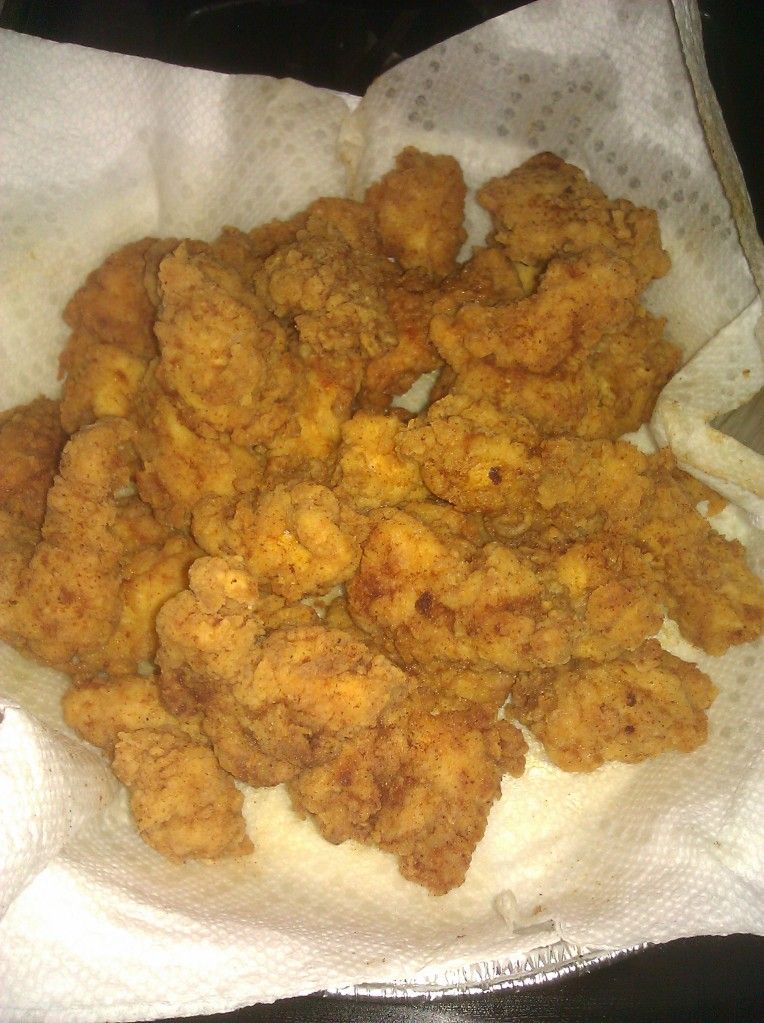 Golden brown and drained.
Serve with your own Polynesian sauce.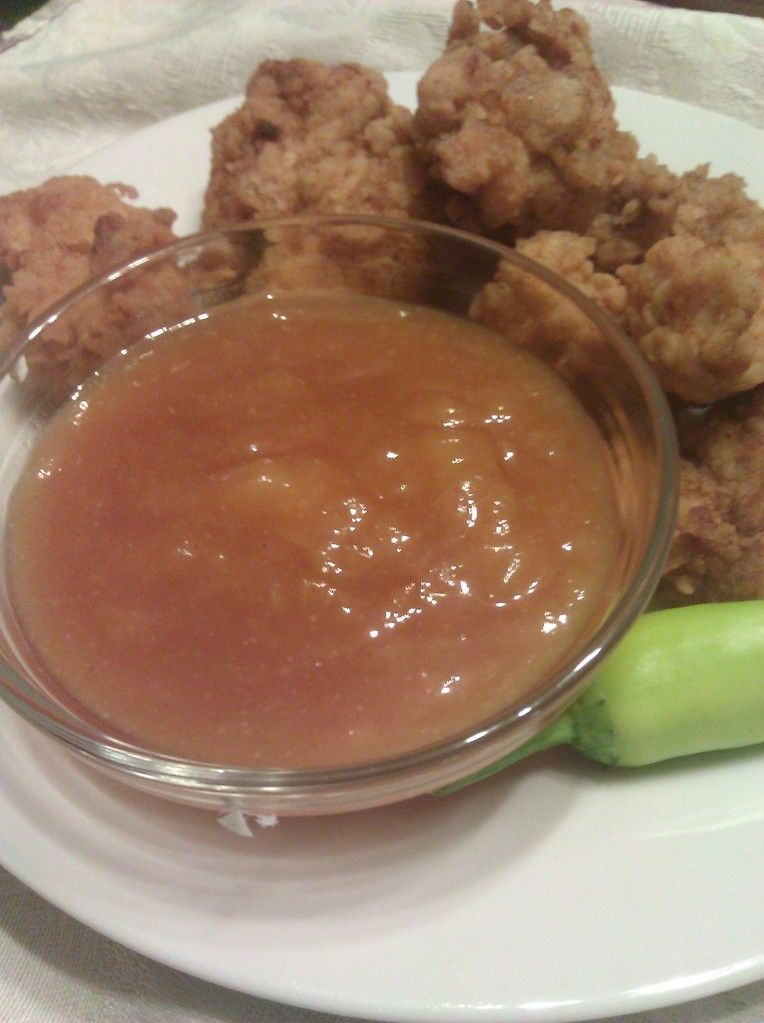 Polynesian sauce with pieces of the crushed pineapples.
Polynesian Dipping Sauce
(This is a variation of what I saw on multiple sites.)
1 cup of pineapple juice from a can of crushed pineapple reserve the crushed pineapples to add later
¼ cup of honey
3 tablespoons of Worcestershire sauce
1 tsp of salt
1 tsp of sugar
½ tsp of garlic powder
1 tsp of ground ginger
1 tbsp of ketchup
Cornstarch
Over medium heat in a saucepan heat up ½ of your pineapple juice, which I drained from a can of crushed pineapples I had on hand with your honey. Add in your Worcestershire sauce, salt, sugar, garlic powder, ground ginger and ketchup and let simmer for a bit. After the flavors have married for about 5 minutes make a slurry with the remaining pineapple juice and a tbsp of cornstarch and slowly add to the mixture and allow it to thicken under a low heat. When thicken add some of the crushed pineapples to your liking and serve with your nuggets.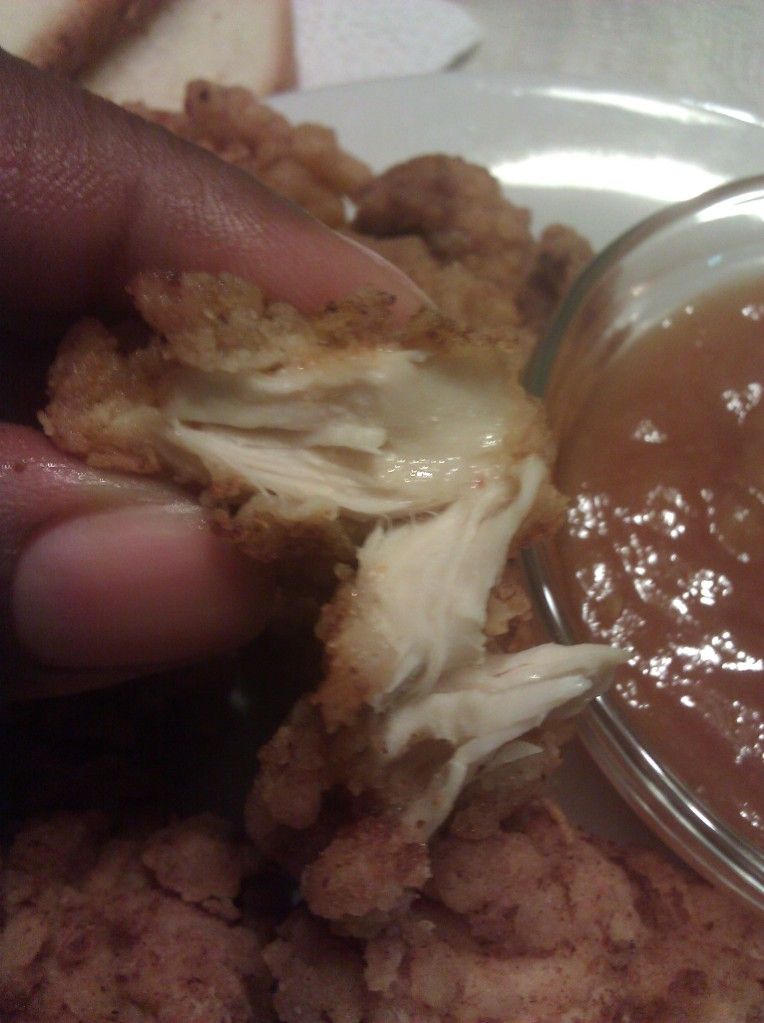 Brining gives you juicy chicken...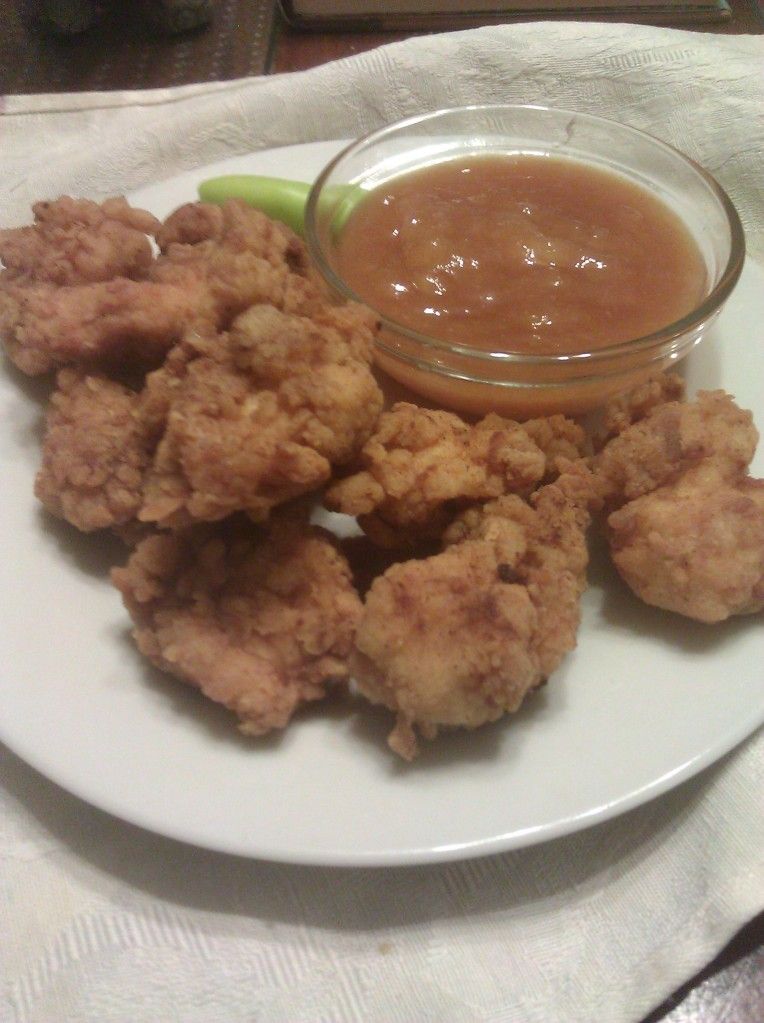 Let me know how you like it if try it.