Final day of Family Vacation
Sunday morning I got up at 6 am to catch the sunrise. As I looked out over the ocean, I saw a couple who had taken it upon themselves to actually sleep on towels on the beach. And believe me they were sleep, you should have seen them tossing and turning. And within a few minutes two of the lifeguard stations had folks sitting in them. They weren't lifeguards. The sun began to rise around 6:40 am and I took pictures as it made its grand showing. Just so you know it was already getting hot and humid during that time. After such a beautiful beginning to my day, I took my azz back to bed. I am on vacation. Geez!
Around 10 am, I started getting calls about the day's itinerary since we wanted to go to the outlets in the area. So they decided to hit the beach first then go shopping. Let me disclose a bit of information here, I do not do sun, water, sand or heat and this vacation was all about being with the family because I do not like the beach. When I was younger I loved the beach especially when we lived in Jacksonville, Florida. Now, my little OCD quirks and issues with cleanliness are such that you will not catch me in a pool because I think of them as unsanitary and in the same way that is how I feel about the ocean. Plus, if sand gets on me and I go to wipe it off and more gets on me, I am liable to have a mental breakdown. So family members took my youngest niece to the beach and she put on a show. First of all, she isn't going to go too far into the water and when the water touched her ankles she was like that is enough. Then she decided to go stand at the edge of the water and holler, "Save me! Save me! Neptune is going to get me! Save me!" All the while waving her arms frantically, and of course my cousins get concern and rush over to her because she sounded so distressed only for her to say, "There goes a wave." Yep, she had folks thinking she was about to drown in an inch of water, as she states she felt they were bored so she decided to entertain them. A mess! My 60 year old cousin went to the beach and promptly got knocked down by a wave, which I heard was a sight and then he went under trying to negotiate the lazy river, which was this pool where inner tubes circle this pool all slow. Oh he can't swim, but he got back in the tube and had a ball.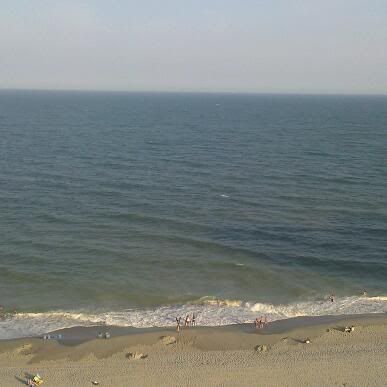 We went to the Tangier's outlet and got really disappointed with the fact shyte was not discounted in my opinion. I did go in this Kitchen store and I remember looking at the decorating tips and saw about 6 I could use and realized I was doing too much and had to get out of there because I do not do that much baking and I was thisclose to crazy to even consider buying them. I love kitchen gadgets, but I don't use all of them. I purchased some cheap hardcover books and of course found me a pair of shoes in the Nine West outlet. Then we headed back to the hotel for you guessed it, a nap.
For dinner we went to a Japanese Hibachi steakhouse and had a ball. Folks had never been before so it was an adventure. Unfortunately, my cousin ate something that aggravated her allergies and had to go to the doctor upon returning home.
When we got back to the hotel, Johnitis promptly appeared. What is Johnitis? My uncle was notorious for going out of town and planning to stay a certain amount of time, but inevitably he would be ready to go a day before and when he was ready you betta be ready or you were going to be left behind. I have been afflicted with this condition for years so when we got back to the hotel, I immediately packed and was ready to go, just in case my ride said let's go now!
Labels: Family Vacation, Funny, Vacation 2011