Creative Cooking...
Yes, I have been cooking some. I have laid off the sweets for a month or so because I want to lose a few pounds before the holidays and as you know when you are testing recipes you taste too. I will be testing a coconut cupcake and a chocolate candy mint cookie before the holidays officially commence. One thing about keeping the weight off is eating complete meals. Although I have gained about 10 pounds back since I lost 70 pounds in the last two years, I am always mindful of the things I put in my mouth. I also notice I do better in the weight game when I eat complete meals. So recently I decided to try a new chicken recipe and see if I could perfect Piccadilly's carrot soufflé that I love so much.
Carrot Soufflé
adapted from Allrecipes
2 lbs of cleaned carrots
1 stick of butter
½ cup of sugar
3 tbs of all purpose flour
1 ½ baking powder
1 ½ vanilla extract
3 eggs
Confectioner's sugar
I steamed my already cleaned baby carrots for about an hour. It took that long for them to get as soft as I needed them to be. Preheat oven to 350 degrees. In my mixer I placed the still warmed carrots, melted butter and sugar and mixed on medium until they were smooth. Then I added my flour, baking powder and vanilla extract and as it was being incorporated I added the eggs one at a time. One of the things I notices when reviewing differing recipes, some folks found the soufflé to be extremely egg tasting and you know I have an allergy so I just hoped this wouldn't be the case. Once everything was incorporated I sprayed my pan lightly with cooking spray and poured my mixture in and let bake for an hour. I wanted it crisp around the edges.
You will notice that it will rise, but it will surely flatten when it is removed from the oven. Once removed from the oven I sprinkled Confectioner's sugar on the top and hoped this tasted a little back like what I crave from Piccadilly's.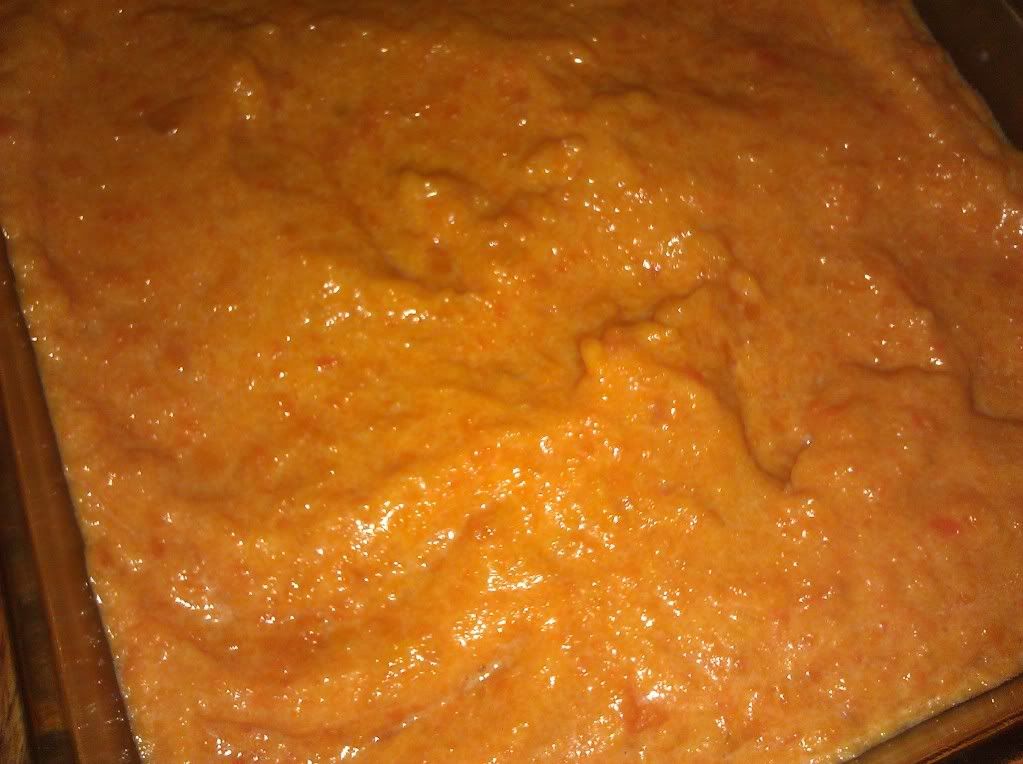 All incorporated and ready to bake.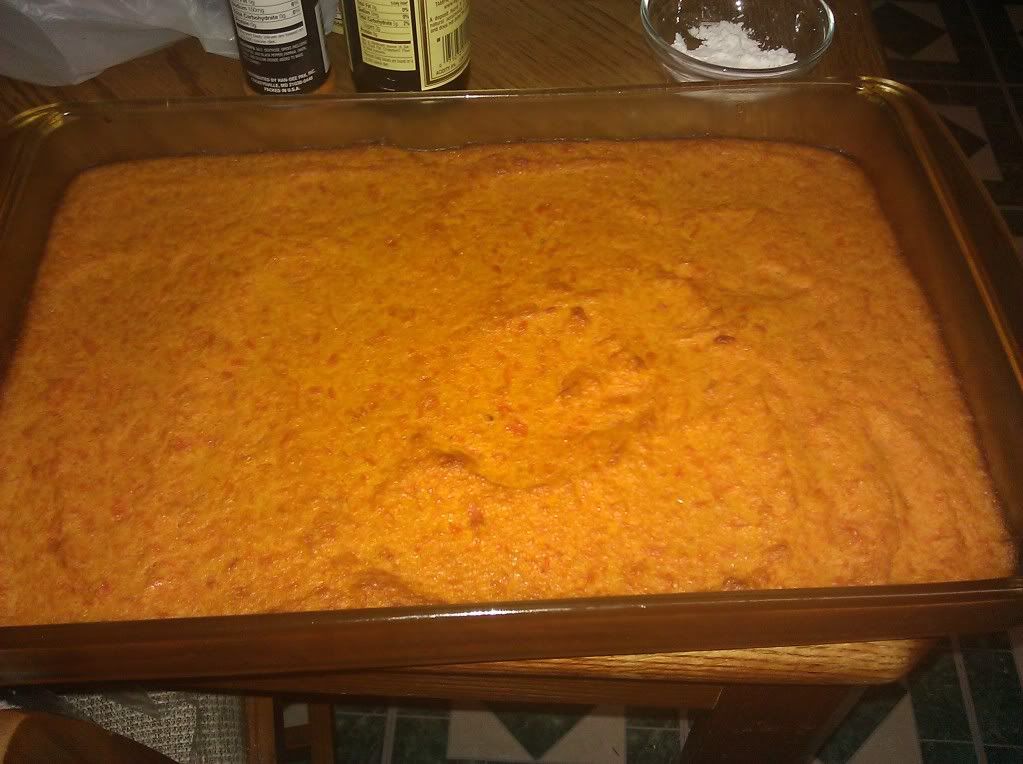 Verdict:
I loved it. I mean it was crispy around the edges and it was firm and not overly sweet. The one you get from the restaurant is bit sweeter than mine, but I like it this way because the original recipe I saw the soufflé has over 400 calories for a serving. No egg taste either This one is half the calories.
Spicy Honey Balsamic Vinegar Chicken
adapted from The Girl Who Didn't Eat Everything blog
Chicken wings, breast or thighs
Rub:
2 tsp of garlic powder
2 tsp of chili powder
½ tsp onion powder
½ tsp seasoning salt
1 tsp of cumin
½ cayenne pepper
1 tbs of olive oil
Glaze:
½ cup of honey
¾ cup of Balsamic vinegar
Preheat oven to 375. Clean and dry your chicken. I used chicken wings and one chicken breast. After combining the rub mixture I rubbed the chicken down in the oil and the rub. Prior to this I tasted the rub and it reminded me of Lay's BBQ potato chips. You know I am going to make my own chips soon, right? I then placed in the oven on a rack with a pan underneath. I know ingenious, but I can't take credit for it I found it on a cooking blog and thought, yes. In a sauce pan, place your honey and balsamic vinegar and cook until thicken. Cooked the chicken for about 15 minutes and turn over and start basting. Reserve a small amount to cover chicken with when done. Baste the other side after about 15 minutes and then turn your oven to broil and cook for about 10 more minutes to darken and caramelize your chicken.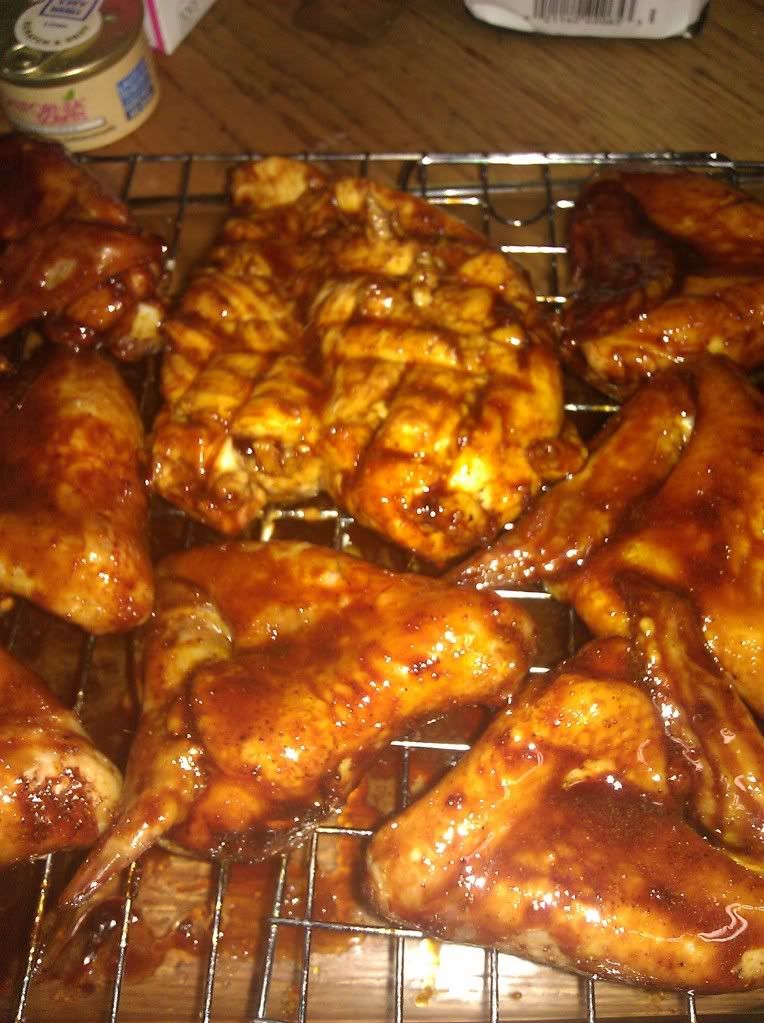 Verdict:
The chicken is okay. It needed more salt and more spice. The sauce is good, but I think this recipe works better if you grill your chicken so the sauce can really caramelized on the chicken. I will try again but using a real grill and more salt and cayenne!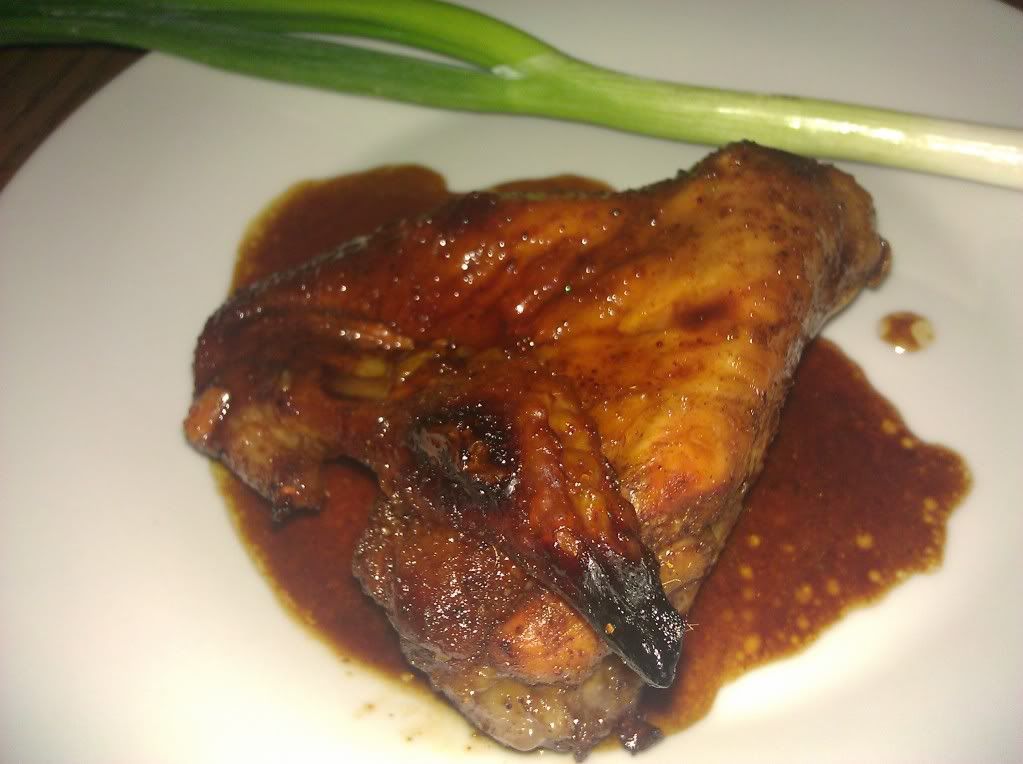 Labels: Cooking