Part 1 - New Orleans 2011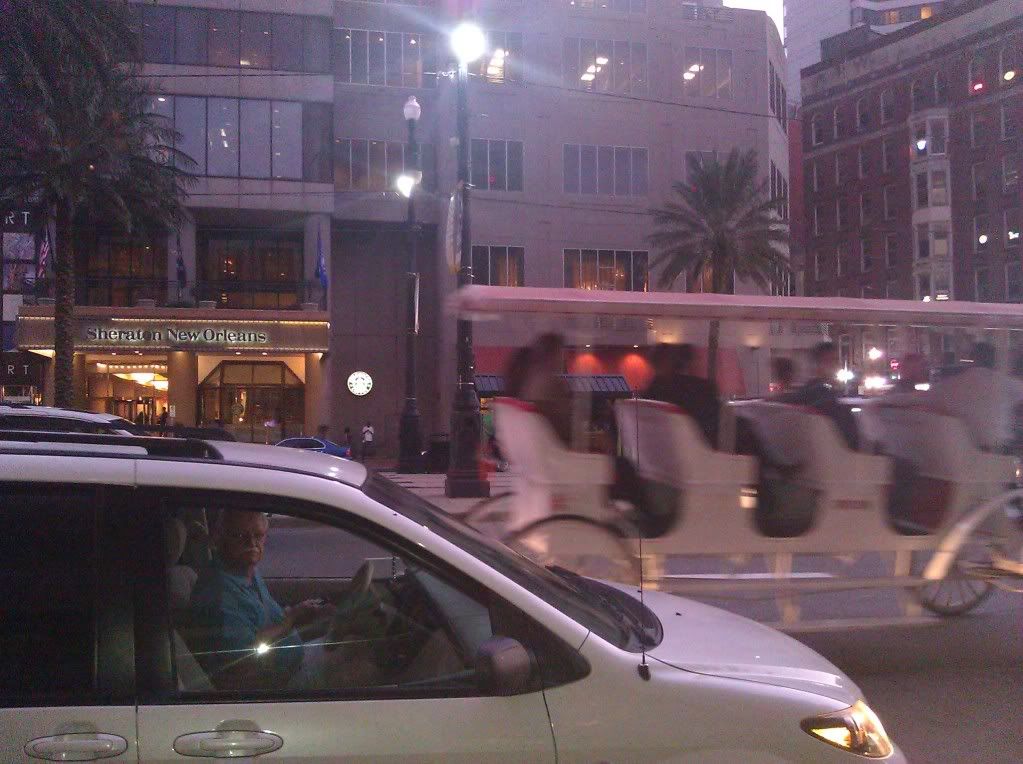 Okay nobody guessed, but I did mentioned it a while back that my book club was having a destination book club meeting in New Orleans in September. And let me tell you this was a meeting that threatened not to happen.
Here is the scenario. We start discussing this back in January or February and decided to make it happen in April at our annual business meeting. Each month until our meeting in August we discussed what we were going to do, stay and completing our community service commitment. I had one member in charge of locating a school for us to donate books to in New Orleans and a family that was still struggling years after Hurricane Katrina. After a couple of months we found a school and a family. However, my book club members were being wishy-washy. We had decided to get books, but a month before we leave folks wanted specific books or magazines they needed. Well, that part of the community service got scrubbed because the contact just didn't have the time to compile the information on such short notice. One of the members was in contact with the young woman we had adopted to see what her children needed for school and the member was astounded to discover her kids were in a charter school where they had to wear a uniform which could only be purchased from one supplier and the uniform cost $50 each and she had 2 daughters. Each child had one uniform, so she was hand washing the uniforms every night. Upon hearing this, I decided then and there the books to the school were out, because I already discovered on my own there are a lot of drives going on in New Orleans to help replenish the libraries and frankly this mother doesn't need to be washing clothes every night because the school system requires uniforms that are really too costly for most folks. So imagine my thoughts when the week of our scheduled departure we had lost more members who were to attend, which meant our hotel costs would escalate. I was so disturbed by this I shut down for about 8 hours and when I returned I sent out an email that basically stated: We made a commitment to this family and we will follow through on it, all members are to donate at least $20 towards us getting her uniforms and the book club will make up the balance and as much as I really want to go to New Orleans we will not go if do not have enough folks for bonding and if we can't even garner a measly $20 to help someone else. I was hot. Not because I didn't understand folks have hardships and shyte does happen, but the week of the departure you acting shady and not thinking about the others this decision would affect was not cool at all. Needless to say, folks responded immediately and once we had the drivers in place, 6 folks firmly committed and money pledged New Orleans was still on.
A few members wanted the trip to be cancelled and we meet at a local restaurant, but honestly I wasn't having it. I wasn't. I thought about this and I had saved my money from April until now and I had family vacation in between this scheduled event. We had actually changed the date to accommodate folks, who incidentally didn't even go. I just could not see myself sitting at a restaurant with folks who didn't plan or save better for a scheduled and planned trip. I would be resentful and plus it just wasn't fair for those of us who took leave and really saved our money.
So with a revised budget, we were headed to New Orleans on Friday, September 23. Why was my left eye jumping?
Part 2 tells why my eye was jumping…
Labels: Book Club, New Orleans, NOLA 2011