Mama Nem's - Review
In Montgomery, as a restaurant, you only get one chance to make a first impression. Montgomery has a plethora of restaurants depending on what your taste buds are craving; chances are there is a restaurant here to help you out. We have an overabundance of chain restaurants, but one thing for certain; even the chains have a hard time making it here. For example, I remember when Whataburger came here. Folks were excited about the promise of great burgers and the fixings. Um, Whataburger may have lasted 6 months. Why? The food was mediocre and the service was the worst! I went, once. I was in the drive thru line for 30 minutes and when I got to the window to pay I saw workers dancing and playing. I saw a young man who had put in an application on my second job and I am so glad I dodged that bullet. Folks in Montgomery are not going to wait for mediocre food and service. We just won't. Lone Star Steakhouse is gone. O'Charley's is gone. Macaroni Grill is gone. I could go on and on, but that isn't the premise of this post.
For my birthday, I and two of my friends went to dinner the Friday before my birthday. I decided to try Mamma Nem's again; even though the Urbanspoon reviews rated it 45% of the people liked it. The most recent reviews were quite good with only one being lackluster basically stating the food was warmed up and the food wasn't fresh. I wasn't scared by the reviews because I know how Montgomery is when it comes to our food and restaurants. So we got there a little after 6 pm and funny thing is the waitress who served my sister and I back in November was still there and just as friendly. She asked me about my first experience and my thoughts about things then and I was quite honest. The food wasn't great and it wasn't worth the 2 hour wait to get it. I understood they were working out the kinks, but I was reluctant to return until I was sure the kinks had been worked out. From some the reviews I read, I saw that they had gotten rid of employees and revamped their menu and hours.
Upon entrance, you walk into the building that has this urban feel with the African-American art and eclectic design. The dining room is a bit of a hodge-podge, but presentable. We were immediately greeted and seated. Our server told us about the buffet, which basically serves the same thing that is on the menu. We started with drinks. I ordered a glass of Merlot and one of my friends ordered a Margarita. My glass of Merlot came out cold. Like the wine had been refrigerated. Where do they do that at? I had to sit there waiting on it to get to room temperature. Actually, that was my only bad moment.
My friends ordered the fried tilapia and catfish and I ordered the fried chicken. Hell, I was craving it. And about 15 minutes later or orders came out piping hot and delicious looking. I ordered lima beans and smashed yams as my sides and they didn't disappoint. The chicken, which is a supposed to be ½ a chicken, was hot, flavorful and juicy I ended up with a leg, wing, and two breasts and I was quite happy because I don't like thighs. My lima beans were quite tasty and the yams although had a bit more nutmeg than I care for, they were quite good. Nothing was over-seasoned. My friends were enamored with their fish entrees which looked and according to them tasted as good as it looked. We enjoyed our meals immensely. I enjoyed it so much my family and I ended up there Sunday as well.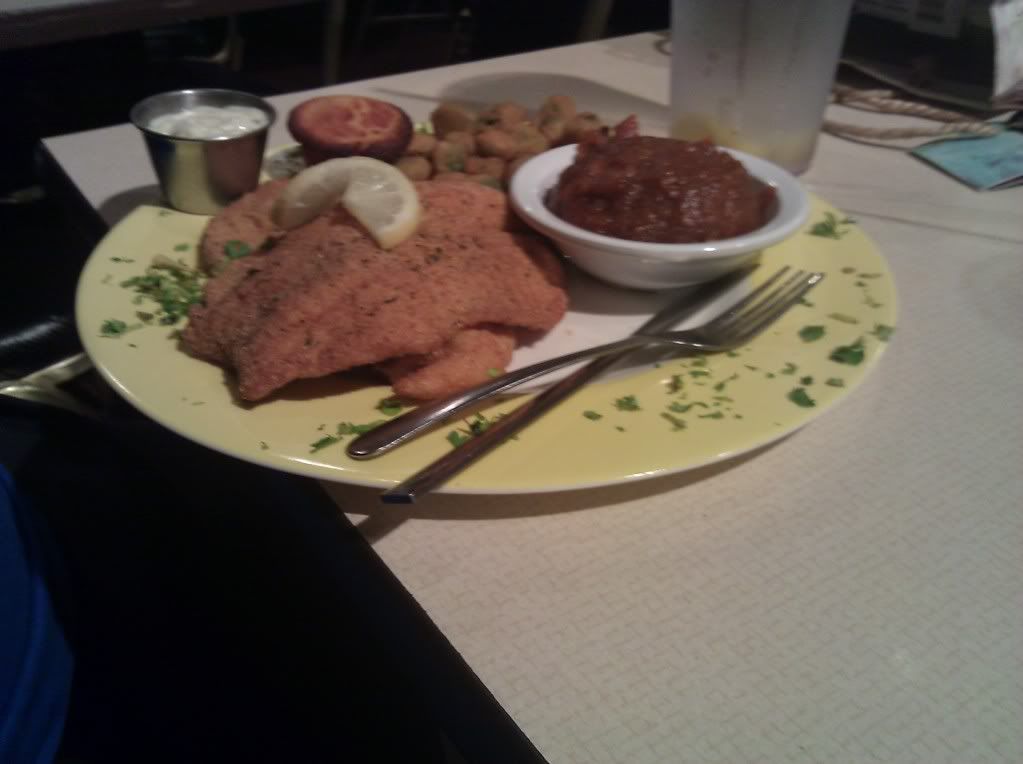 Fried Tilapia w/fried okra and smashed yams
Fried Catfish w/macaroni and cheese and fried okra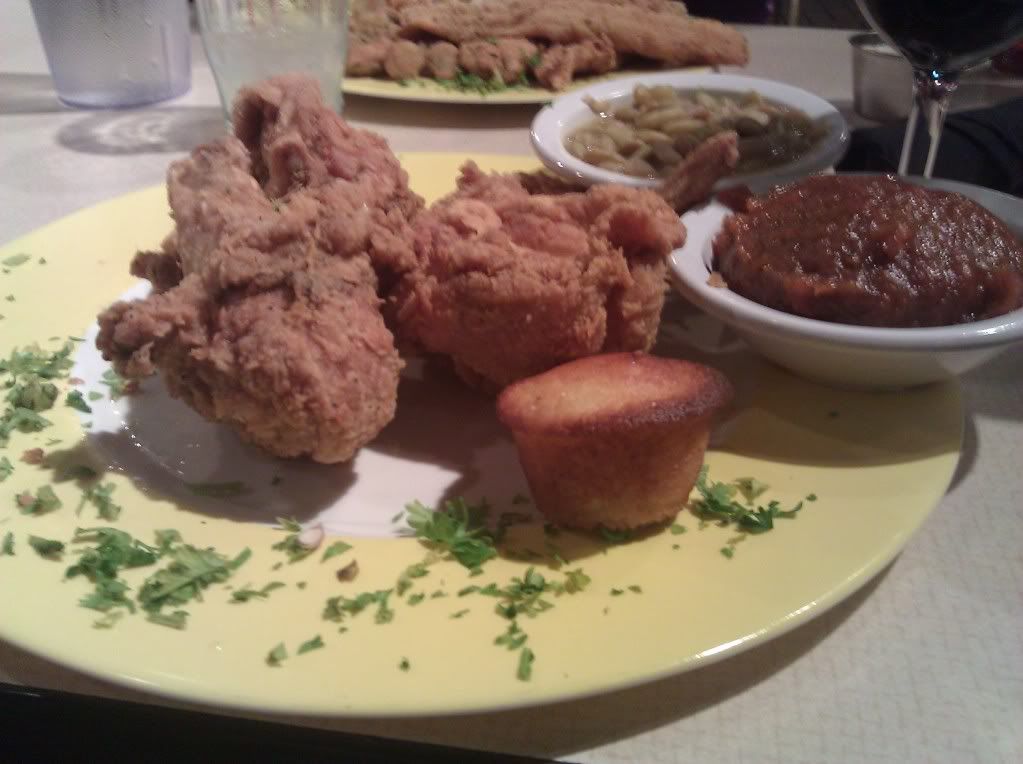 Fried Chicken with smashed yams and lima beans. I don't like cornbread so I gave to one of my friends.
My family ordered the buffet and I ordered the fried catfish. My folks enjoyed the buffet and found something to their liking and the cleaned plates were an indication of the deliciousness of the food. My fish was yummy. Not fried too hard, flavorful and not greasy. I kept to the same sides and they were just as good as on Friday. Our server was a young man who was as friendly as our previous server and that always makes a dining experience wonderful.
Mama Nem's is still be reincarnated. One of the chefs took my folks and me on a tour of their lounge rooms and meeting rooms as well as the porch area they plan to use for those who just want to come in and enjoy the jazz music and drinks. They are planning to change their hours once they get the jazz musicians in Friday and Saturday nights, but they plan to keep the terrific food in place. They do serve breakfast on Saturday, which one day I will try to get to just for the tasty bacon. So although their start hasn't been the best, they are working to make it better and hopefully, some of Montgomery will return to get another impression to erase the previous one they experienced.
Labels: Restaurant Review