Part 4 - Lost looking for Dinner...
Our young mother recommended as well as other folks we consulted with recommended we try Deanie's Seafood in the Quarter. According, to the directions we were very close to the restaurant. Hey, we all saw the street when we were going to our hotel. Please tell me how we missed the street and were on our way to the hood? Not only were we lost, but folks were whining about the walking, the heat, can't we take the trolley, yada yada yada. Needless to day, I was at my breaking point. One, I do not like to be lost. Two, I can't deal with folks complaining. When you visit New Orleans you prepare to walk, riding the trolley is cute, but you miss the sights and sounds of the Quarter when you do that. And the weather in New Orleans was wonderful. We were hot because we had already started drinking. Some of us can handle our liquor, and some of can't. I ain't calling no names.
My 1/2 dozen raw oysters, they were yummy, but no one else wanted to taste them.
Shrimp Po Boy. Which was blah...no flavor
One of my members Grilled Chicken Club Sandwich
Anyway, they stopped and asked a woman passing us, who politely instructed us to go back the way we came because we were heading into hood territory. I was already walking back. I wasn't waiting on a trolley; hell I was ready to eat something. We finally made it back to Dauphine and would you believe when we turned on Dauphine; there was Deanie's Seafood on the corner and a long as line to get in. Of course that was a no go. We took a walk down Bourbon and ate at Desire's Oyster Bar. I have eaten there plenty of times and I was truly disappointed in the food and service. My oysters were phenomenal and my shrimp po boy was okay, but my usual hurricane was horrible. I couldn't taste any liquor and normally one will make life right, this time I just drank a glass of orange juice. No one was completely satisfied. One member liked her gumbo, but most everyone was talking about the lack of flavor. Oh well.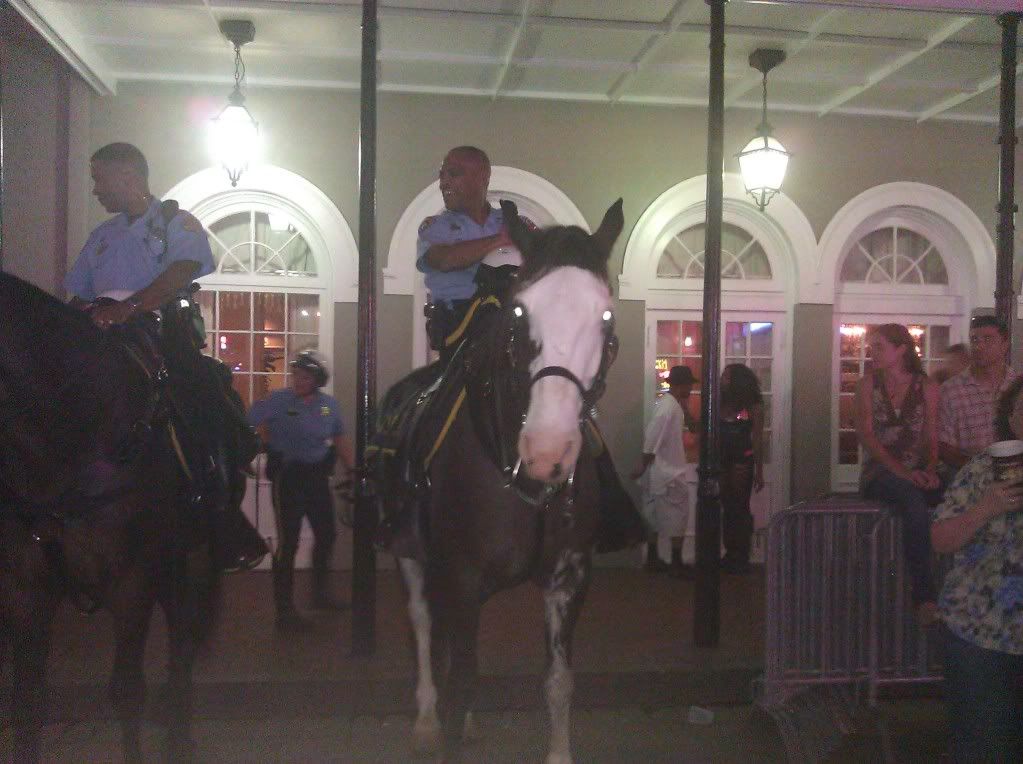 This horse was so beautiful and fiesty as hell. He kept an eye on me.
Then we proceeded to venture down Bourbon Street. It was still early around 9ish or so. Bourbon Street hasn't changed much. Still smelly and a disgusting street, but the party atmosphere was still quintessential New Orleans partying. I did notice a lot more "gentlemen" clubs. You couldn't miss them because the scantily dressed workers were in the doorways and on balconies tried to entice customers to come in. I didn't see the female impersonators club though. You can still get a tall daiquiri, but I suggest you pay the extra money for an additional shot of liquor, because those were weak too. All the liquor on Friday night was weak. No buzz and no one got tipsy, well almost no one. I did do what I do almost every time I go to New Orleans, and that was to pat the police horses. I love how majestic they are and usually the officer on its back isn't too bad to look at either. LOL!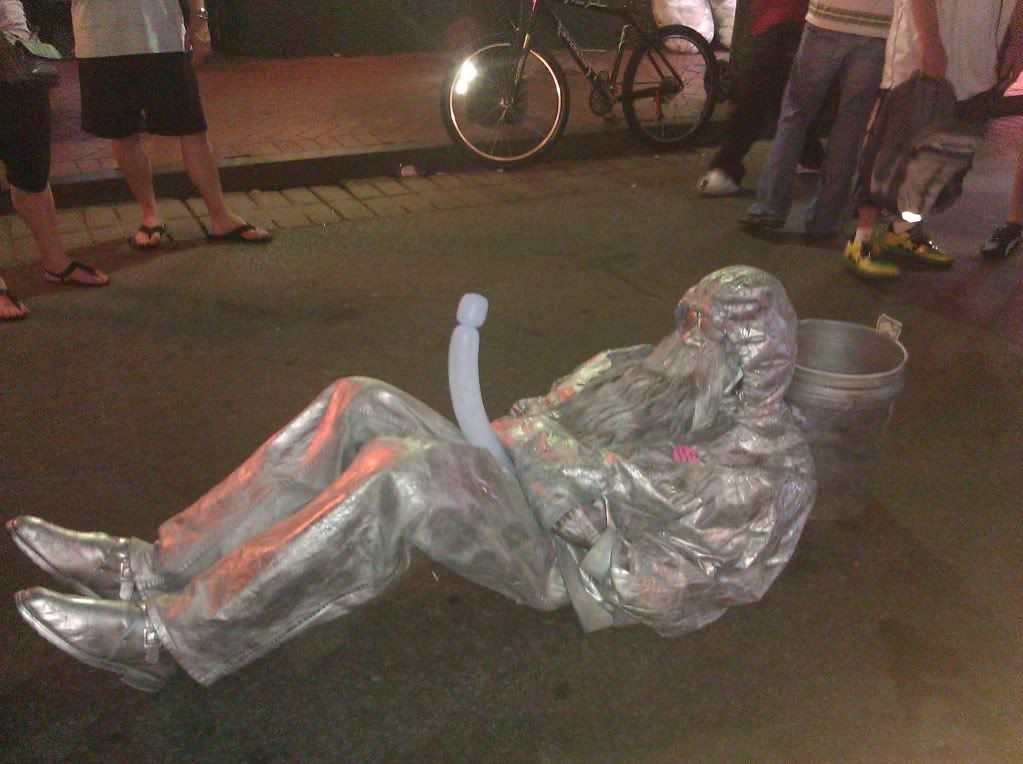 You should have seen what drunk folks were doing to this art piece. Because he wasn't real and the artist showed us that he wasn't by emptying the bucket of money and placing him on his bike. Some folks let liquor go to their heads.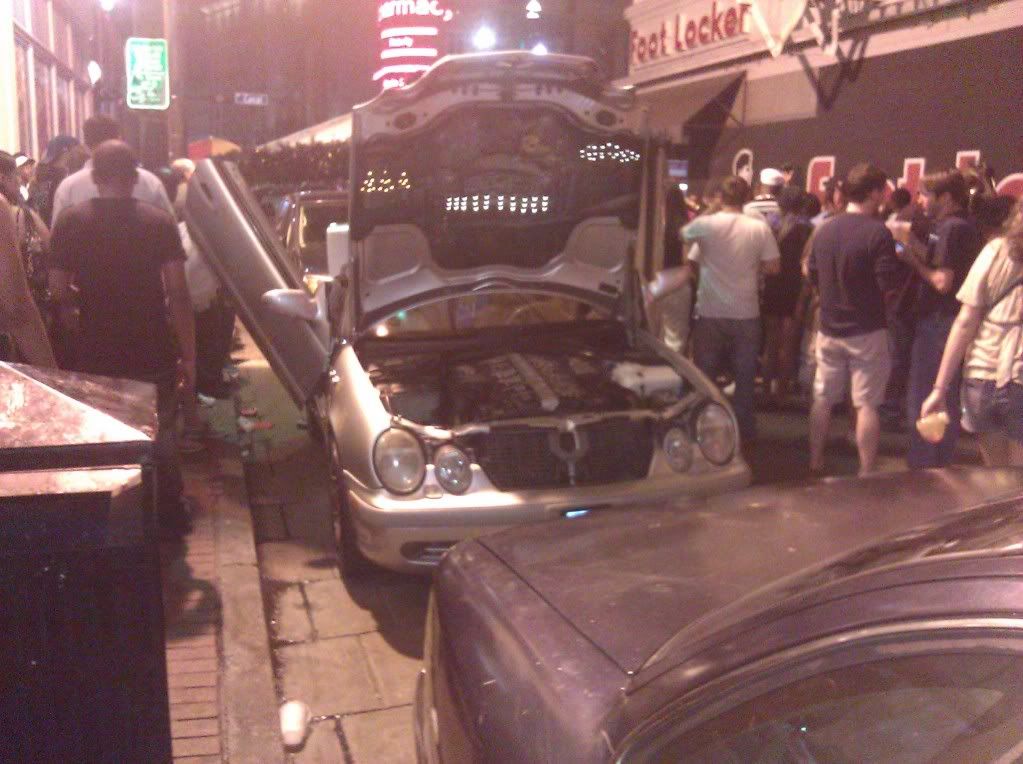 As we went back to our hotel on Canal Street, there was a band on the corner doing its thing. I loved it. And it reminded me why I love New Orleans, the culture; the music, the art and the people make it a city worth visiting often.
Next up: Some things stay the same but most change…

Labels: Book Club, New Orleans, NOLA 2011