Part 5 - New Orleans: Some things change, some things stay the same
Some things stay the same, but most things change is how I would describe New Orleans right now. Saturday after a good work out, I ventured out onto Canal Street to people watch. Yes, there are still panhandlers, but they basically walk up to you and ask for a cigarette if they see you smoking or money. I was asked for money but since I had just finished working out and had my cup of coffee from Starbucks, I didn't have any on me. Plus, I do not give folks money on the street. However, this guy was really nice and we chatted for a few about how beautiful it was outside and our blessings. The street was coming alive with people and transit, so I knew the day would be quite interesting.
On our agenda was shopping because some folks needed shoes much more comfortable than what they had with them. We did eat at the IHOP down from our hotel, where I proceeded to eat an egg substitute that ignited a nice little allergic reaction from me making my eyes look like Quasimodo's. Someone should have explained it thoroughly to me that egg substitutes have eggs in them, just not yolks. FYI – I am allergic to eggs and can only consume them cooked in food items. After, the shopping on Canal Street we took the trolley to the French Market. New Orleans temperature was quite mild and I have been there when you are sweltering. So it was pleasant outside.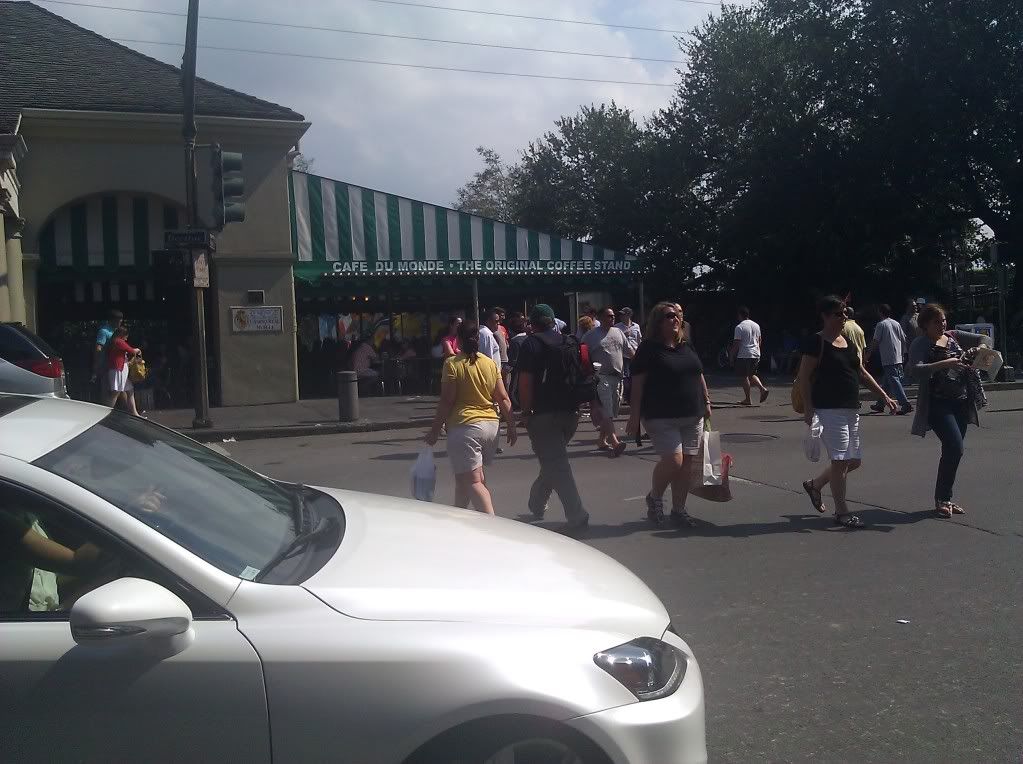 We went through the French Market and shopped along the streets as well. What we found was that I remember when things in the French Market were reasonable prices, but I purchased nothing because I could get the same things cheaper in other places. I wanted some Shea butter and the tub I wanted was $10, but I can get the same tub here in Alabama for $5. So things truly changed. What I noticed while people watching, was that the fashion trend is to wear boots, mostly tall ones, with dresses and short shorts. I said the temperature was mild, but it wasn't cold or cool enough for me to even consider sweating my feet. Ugh! But that didn't seem to stop the fashionistas I witnessed in that attire. Cute, but a mess.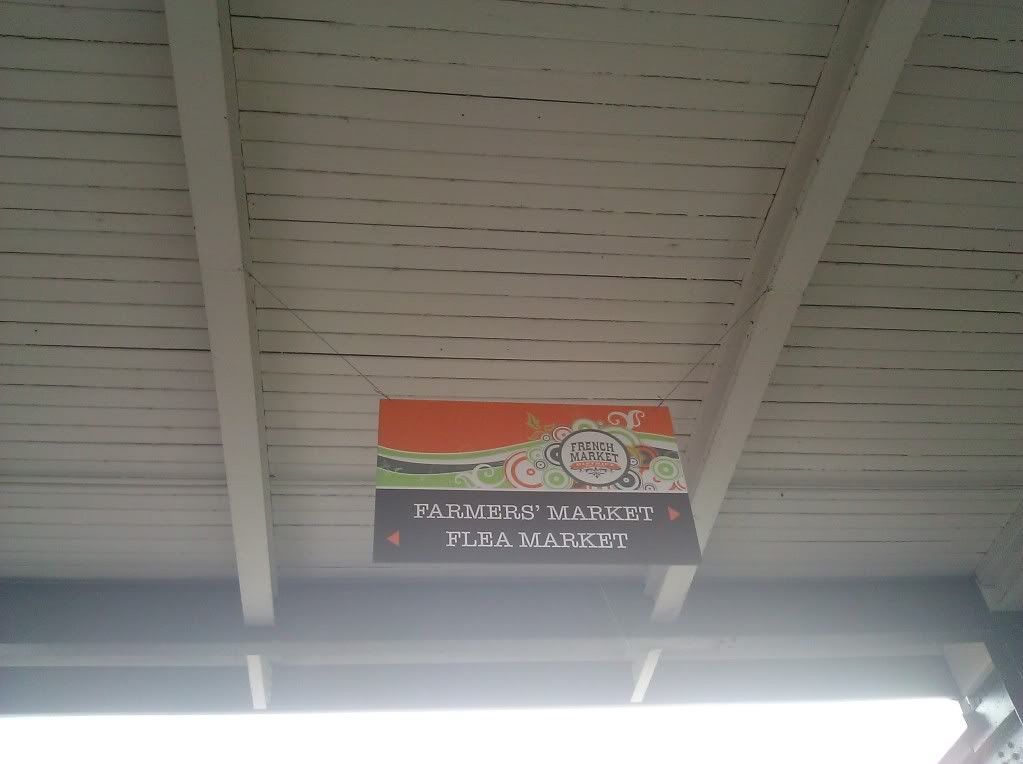 From the French Market we headed to lunch at Deanie's Seafood Restaurant. A word of advice, drinking beer and walking a mile to eat ain't fun or comfortable. Luckily, I didn't do that but I saw the effects on those who did. LOL! We were immediately seated and when I opened up the menu I was trying to find their famous boil, which I did but of course it didn't have a price on it because you had to ask the waiter. When Harrison arrived, he brought to our table some boiled potatoes. Um, that was different. Initially, I didn't know what the hell they were. I thought they were hushpuppies. Anyway, I did inquire about the boil and he told me the individual prices for the shrimp and crab. I found that interesting and odd. We all ordered and were blown away with their fried seafood platters, which were huge. I personally do not care for much of my seafood fried except for catfish because the batter can be overbearing and caused the seafood flavor to disappear. After our orders were placed, Harrison came back to the table and told me that they were out of crabs. A seafood restaurant in New Orleans was out of crabs, yeah okay. He wanted to know if I wanted to change my order or get additional boiled shrimp. Mind you he was standing beside me with a plate of boil shrimp. Remember I ordered their seafood boil and when I think of boil I think of shrimp, crab, corn, potatoes and sausage. I got a plate of boiled shrimp. I couldn't concentrate on what the hell he was saying because before me set a plate of about 8 jumbo shrimp. I just said I would just eat the shrimp, at this point thoroughly disappointed. One of my book club members ordered one of their salads and although she prefers vinaigrette the only one they had was sweet fig balsamic vinaigrette, which was on the side. Harrison assured her it was very tasty. Well, it was too sweet for her and when she asked about additional dressings this was the only vinaigrette they offered. She didn't eat her salad and it sat there while she read from her Kindle. Harrison returned to the table and asked if she was finished with her salad and then he took it away and he charged her for it. I found the food and service at Deanie's Seafood to be deplorable. As a waiter, when Harrison noticed his customer was not eating her food, he should have offered an alternative or suggested another meal option he did neither and he should not have charged her for the salad, but he did and said, "There wasn't anything wrong with the salad." Yes it was. You recommended a dressing that was deplorable and you had no viable options, so yes something was wrong with the salad. She didn't argue but the rest of us knew it couldn't be us. So far all the food in New Orleans was blah. I have always enjoyed my food in New Orleans and to find that Katrina took away the flavor too was a bit much. So some things did change, but at least the people, the history and ambiance hadn't.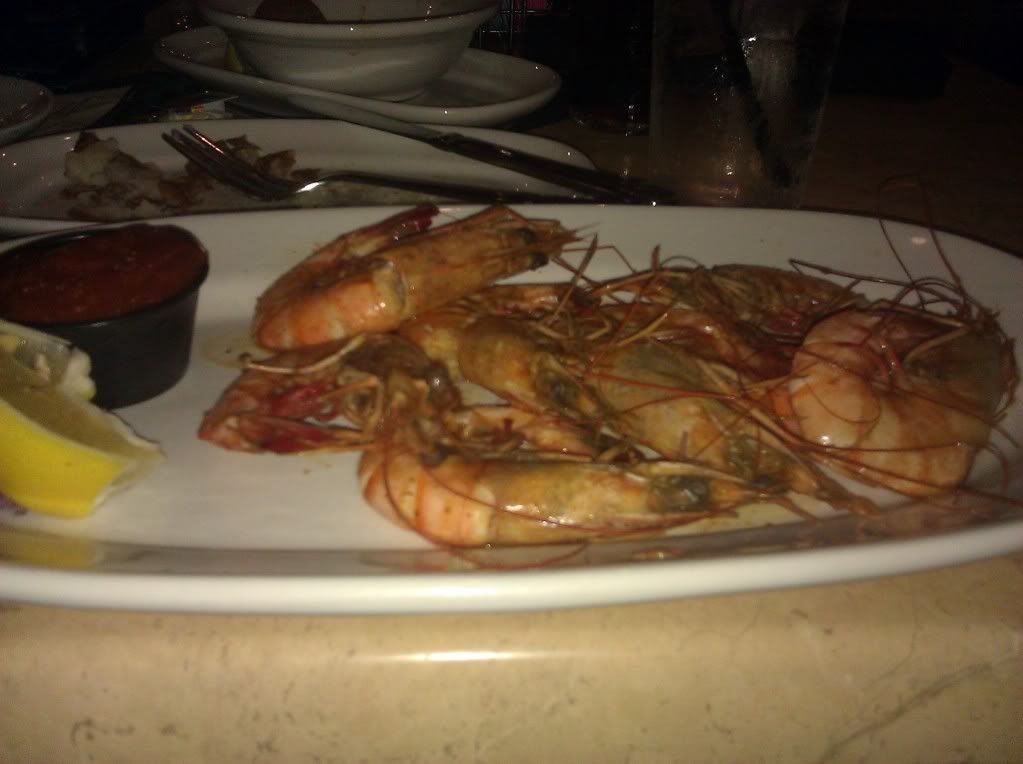 My Famous Deanie's Seafood Boil...yeah right!
Next up: Book club meeting and finally some good eats and we say goodbye!
Labels: Book Club, New Orleans, NOLA 2011