Creative Cooking...Easy Baked Egg Rolls
Have you ever just wanted to try to make something you have eaten, but not sure how it would turn out? I do that mess all the time. I like cooking. In fact, dare I say I love to cook, although reading will always be my favorite past-time? I decided to make egg rolls, but I didn't want them fried. Since, I am trying to increase my metabolism, what better way than with a healthy snack enriched with protein and veggies?
So I scoured the Internet in search of an easy and the optimum word is easy, baked egg roll recipe. Once that was done, I knew I was in for an adventure in finding egg roll wrappers, because living in Montgomery; folks ain't making their own egg rolls. We aren't talking about fried chicken, corn bread or greens, we are talking about egg rolls. I knew not to check my usual grocery store, so I went to my local Publix and for a reasonable price I got my first package of Nasoya Egg Roll Wrappers.
Easy Baked Egg Rolls as adapted from Joyful Abode.com
Egg roll wrappers
Bag of coleslaw mix
1 cup of chopped fresh mushrooms
½ cup of chopped carrots
½ cup of chopped onions
½ tsp of dry ginger
1 tsp of minced garlic
2 tbs of soy sauce
1 tsp of oyster sauce
3 chicken tenders
1 tbs of olive oil
Pinch of sugar
1 tsp of cornstarch
Cup of water
Seasoning
Sauteed cabbage w/carrotts, mushrooms and chicken
First I sautéed my seasoned chopped up chicken tenders, mushrooms, onions, garlic and carrots until soft in a tbs of olive oil. Then I added my bag of cole slaw and toss in the pan until they were softened and then added my soy sauce and oyster sauce in which I mixed in my dry ginger and pinch of sugar. Toss and coat and then set aside to cool.
Preheat oven to 375 degrees. I did this at this time because I wasn't sure how long it would take me to roll these suckers up.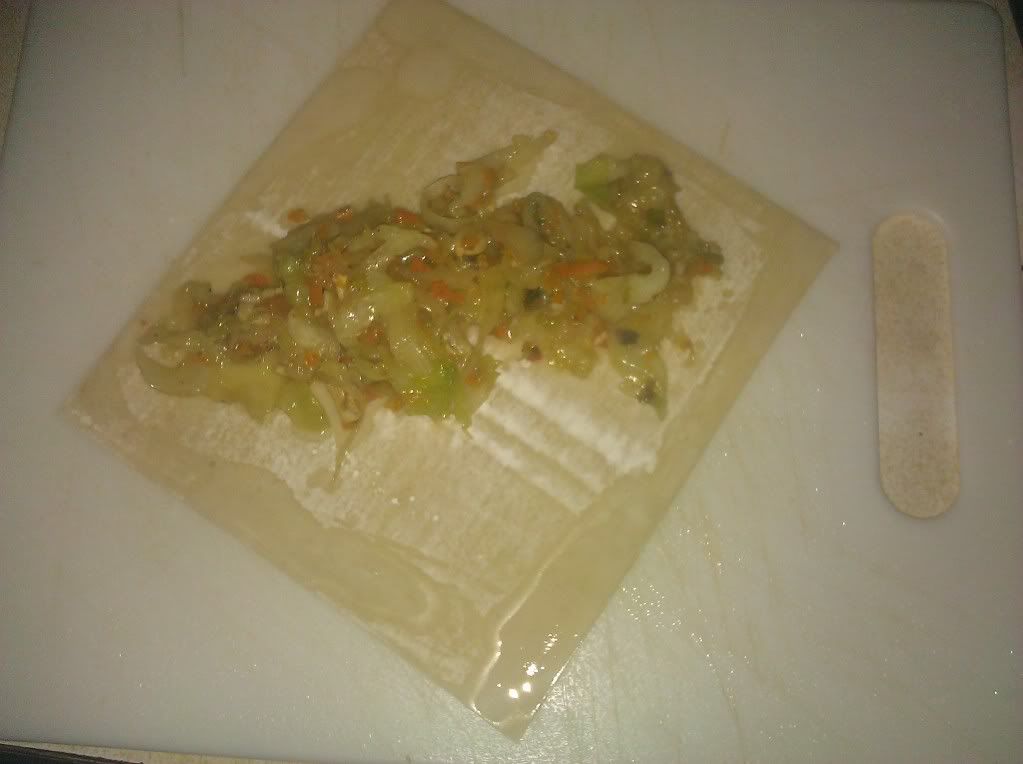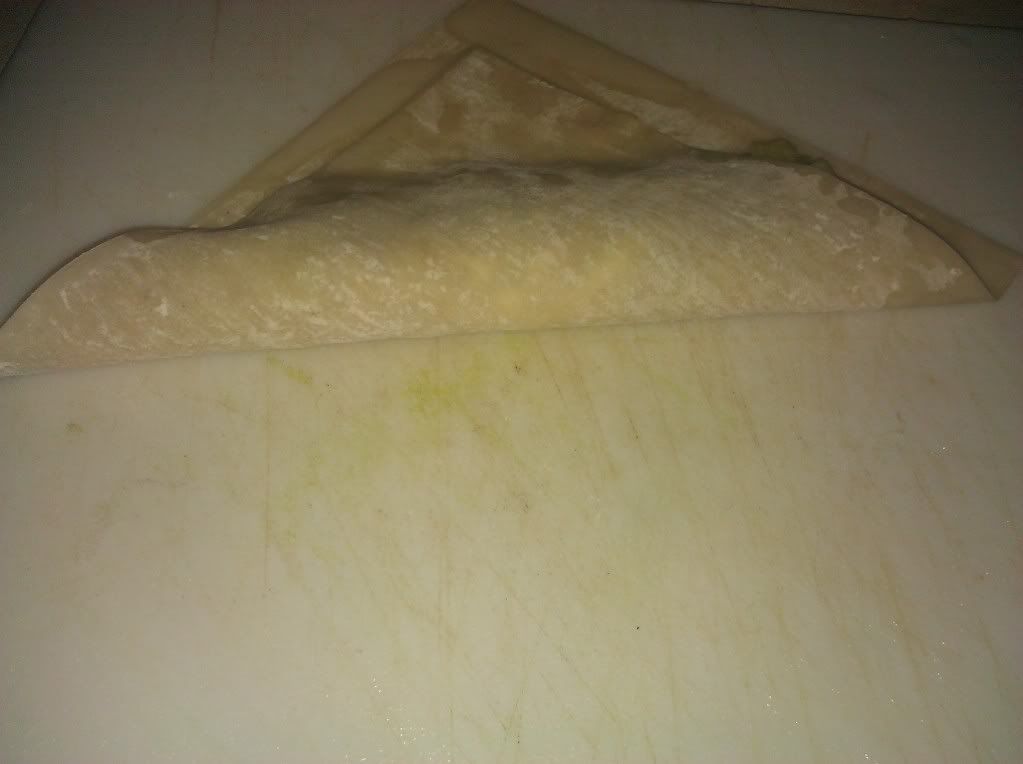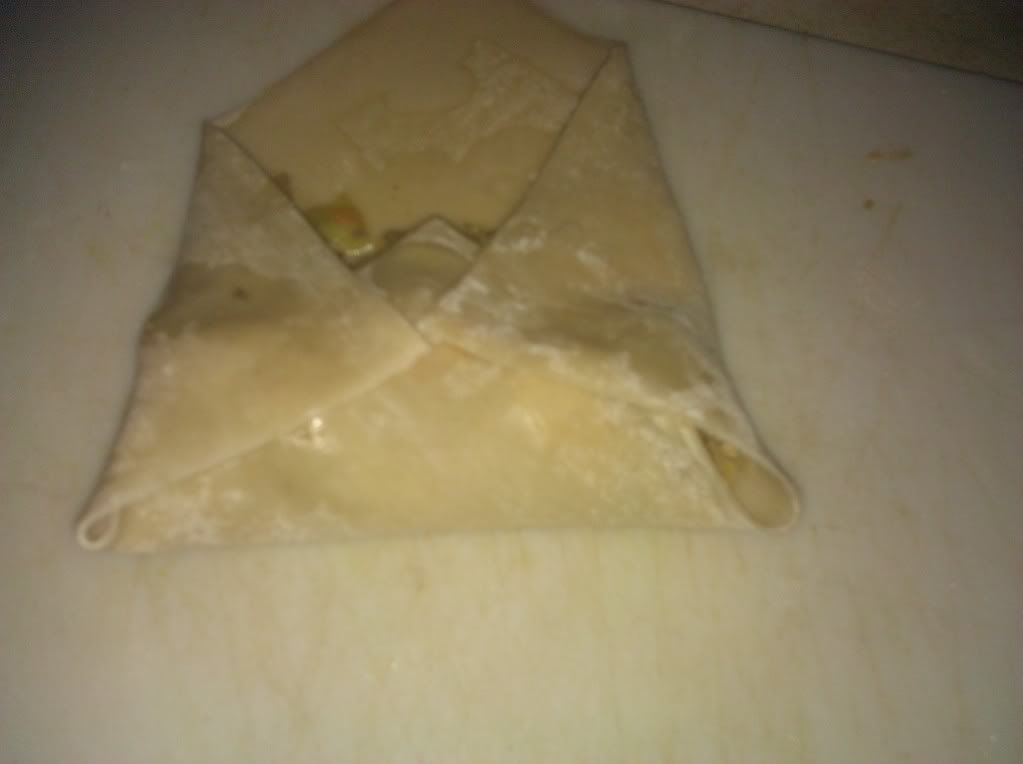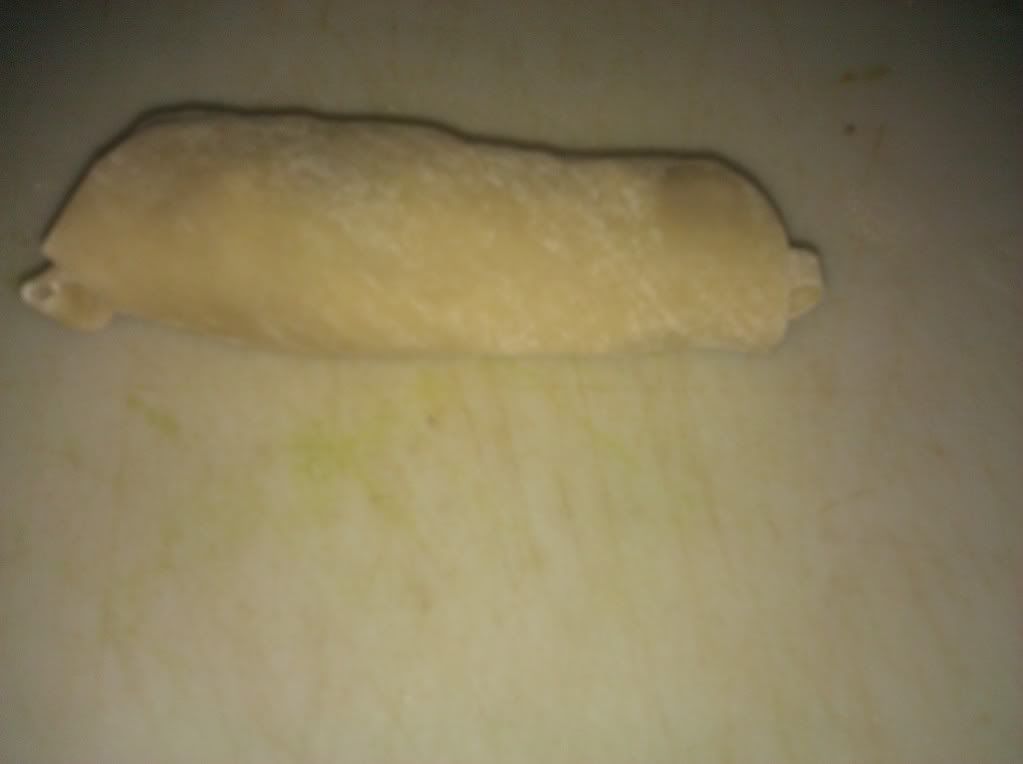 With my cornstarch and water mix in a small bowl, I laid out my first wrapper moistening all the edges and had it done in a diamond fashion and placed the cooled filling directly across the wrapper. First I rolled up the bottom and pulled it back on the filling then brought in the two sides and rolled. Not hard to do just a bit labor intensive. LOL! As my sister says, I be doing the most!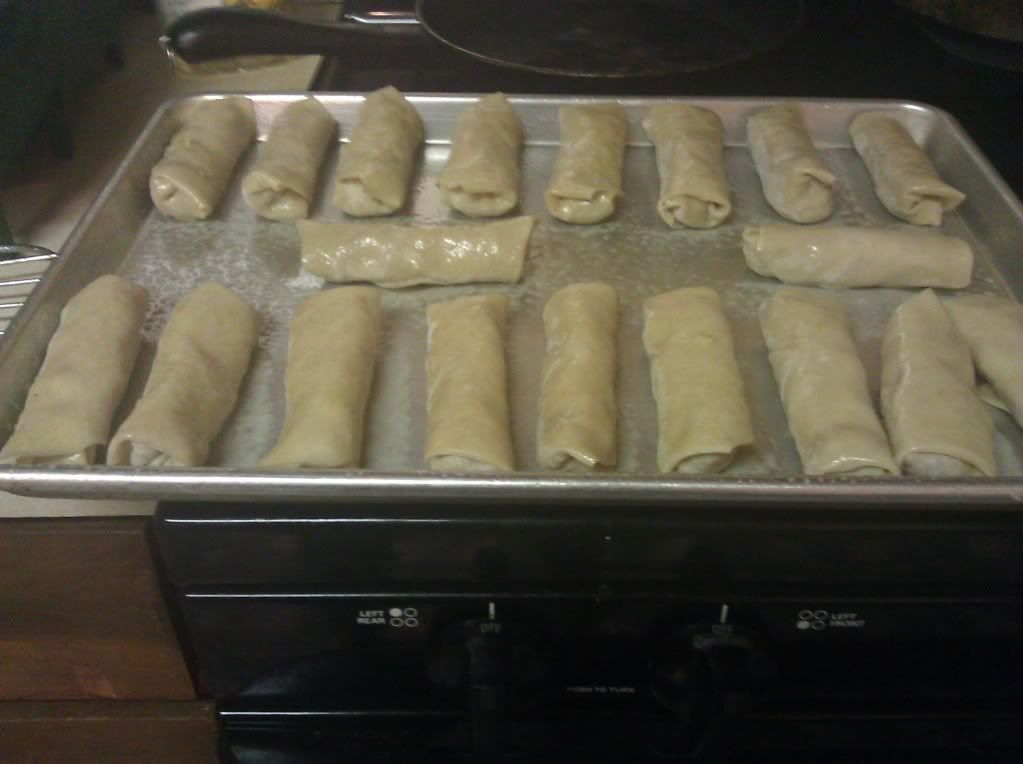 I placed my egg rolls seam side down on a greased pan and sprayed the top of my egg rolls as well. Placed in the oven and baked about 25 minutes and turning over half-way through so the other side could brown.
As for my dipping sauce:
Just soy sauce
Two squirts of Srirachia chili sauce
Rice wine vinegar and a pinch of sugar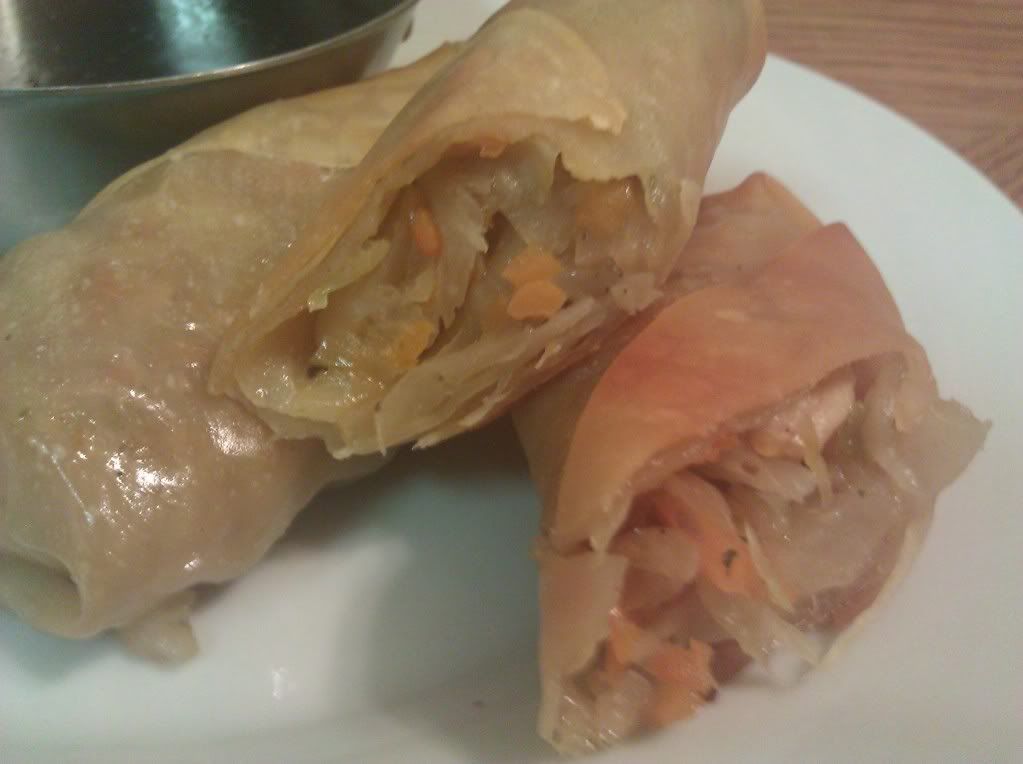 Close up of the tasty insides of these easy baked egg rolls. And yes they were crispy!
VERDICT:
I do not care what the hell my sister says; doing the most has some great benefits! The egg rolls are flavorful and great the next day. You should be able to freeze and cook as needed if you don't want to have as many as I had, because I used the entire package of egg roll wrappers. These little nuggets of goodness are my snacks this week. The only changes would be to not cook my cabbage as long, add a bit more seasoning and use ground chicken, but seriously they are really good as they are.