Creative Cooking...Asian Glazed Wingettes
The other day I decided I needed to cook a meal. Since the holidays, I have done very little cooking. Well, let me rephrase. I have been cooking but I am cooking things that will last two weeks if frozen. Yeah, I have become the lazy cook. However, when I get home and it is dark the last thing I want to do is think about preparing a meal. Hell, sometimes I go home and eat a nice bowl of oatmeal and have a piece of turkey sausage and I am good. According to my sister, um, that is just plain nasty. Sue me, I love oatmeal. Anyway, I decided to try out an Asian chicken recipe and put some sides along with it and make a quick meal.
I turned to several sites looking for the winner and a recipe without too many ingredients. I know lazy. I found on
skinnytaste.com
the perfect one. Asian glazed legs. I followed her recipe to a certain degree. I used wingettes instead of legs and I wasn't about to take the skin off them little bitty suckers. I also baked my wingettes after the sauce thicken I poured it over the chicken and baked until done. So head over to Skinny Taste and try it her way.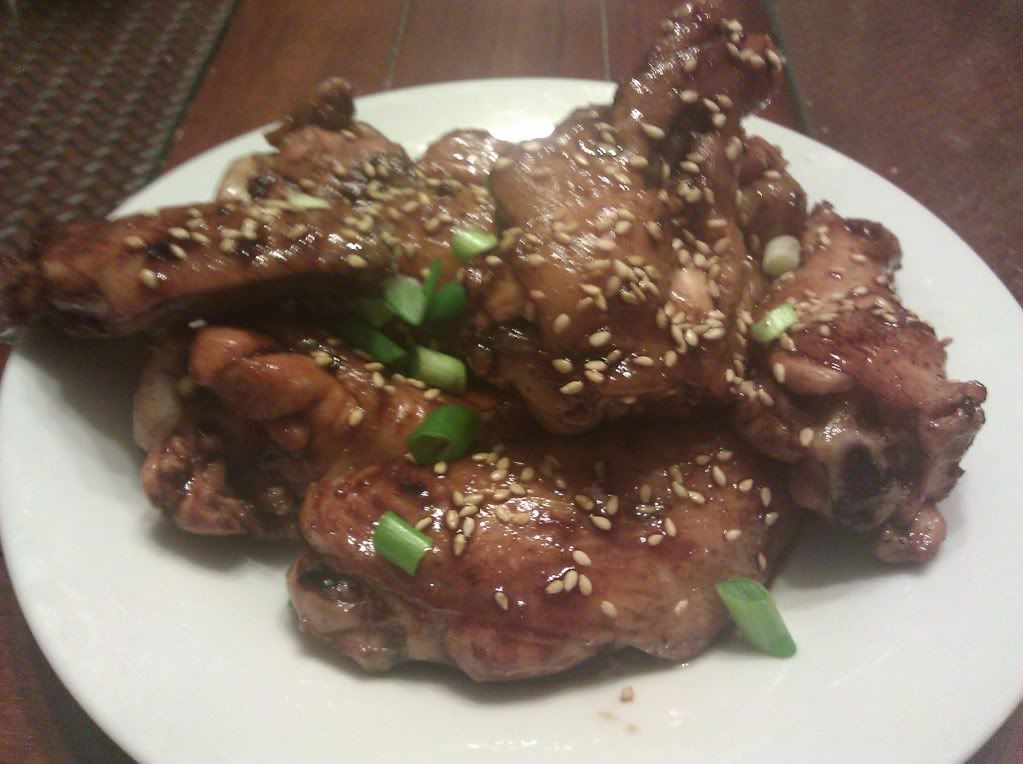 Verdict:
Yummy! And filling. It had the right amount of spice and definitely finger-licking good. It was really important for my sauce to have thickened significantly before I started to bake the wings. I would definitely make these again. I paired my 3 wingettes with cream of spinach and steamed carrots with a drizzle of the sauce over them. Viola, a healthy and quick meal for dinner.
And yes, this is a saucer. Yummy!