Creative Cooking...Mongolian Beef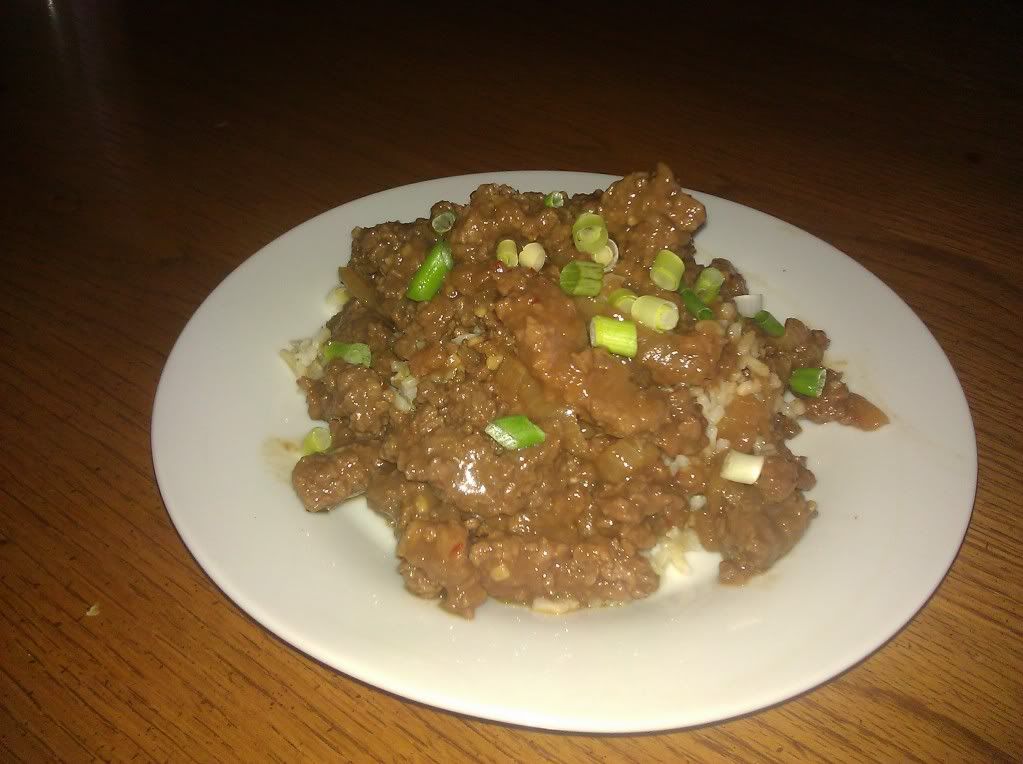 I have said it before on this blog I am a lover of Asian dishes. I seem to have a flair for them and as long as the list of ingredients isn't long or their difficult to obtain, I like making them. The ones I choose are usually simple and easy to prepare. So I decided for lunch the following week I would make Mongolian Beef and decided to google up some possible recipes, but I realized real quick some of the recipes were just too complicated or required too much prep time. So I went back to my trusty food blog of Crepes of Wrath and found a quick and easy recipe. By the way, Crepes of Wrath got the recipe from Pink Bites.
Ingredients:
1 lb of flank steak or cube steak sliced thinly crosswise
1/4 cup of cornstarch
3 teaspoons of canola oil
1/2 teaspoon of grated ginger
1 tablespoon of minced garlic
1/2 cup of water
1/2 cup of low sodium soy sauce
1/2 cup of brown sugar
1/2 teaspoon of red pepper flakes
Green onions
1/2 yellow onion sliced thinly
Rice
In an effort of disclosure, I made this dish twice. Both versions were made with the same ingredients except I used cubed steak the first time and thin sandwich beef the second time. Now both tasted the same, but the visual was quite different. The cube steak gave the appearance of cube steak in gravy, well that is what my sister said. She was like, "that looks like gravy." I chalk that up to the way I sliced the cubed steak, which left a lot of crumbly pieces of meat the pan and in the sauce as I was cooking it. Yeah, she almost hurt my feelings, but hell it tasted too good for me to care.
1. First you slice up your beef and make sure it is completely dry before adding your cornstarch. Nope, didn't measure the cornstarch just used a enough to coast the meat, but I did put in a strainer to shake off the excess.
2. To make your sauce heat half your canola oil in the pan, no I do not have a wok, but if anyone wants to make me a happy camper...Anyway over medium heat add your minced garlic and ginger. I actually purchased a small piece of ginger root to mince. Then immediately add your soy sauce, water, brown sugar and pepper flakes. Um, I added a little more than 1/2 teaspoon of pepper flakes. I like heat. Cook sauce for about 2 minutes and then transfer to a bowl. Be careful, it is hot. Don't ask how I know.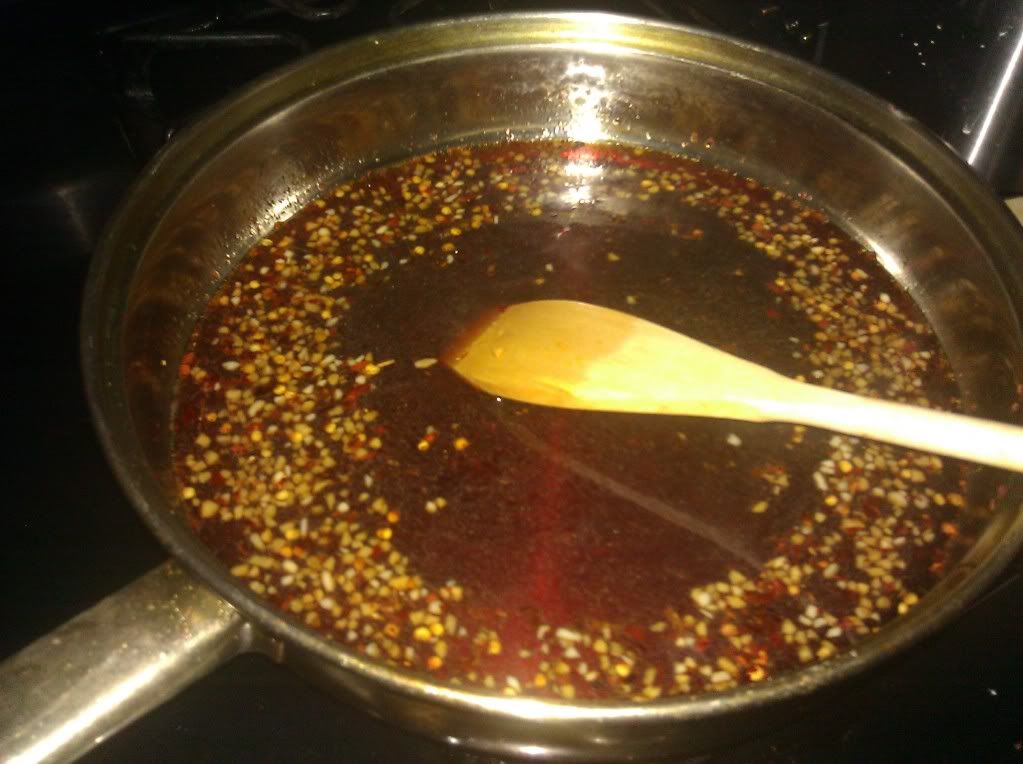 3. Put your slice beef in the pan with the rest of your canola oil and cook while stirring until the meat is all brown, doesn't take too long. Pour your sauce back into the pan and let it cook along with the meat.
4. I cooked mine until the sauce was thicken. I used the green onions to garnish my dish instead of putting them throughout the dish. Why you make ask? Because I cut half a small yellow onion and added to my sauce a minute or two before I was ready to take it off the stove.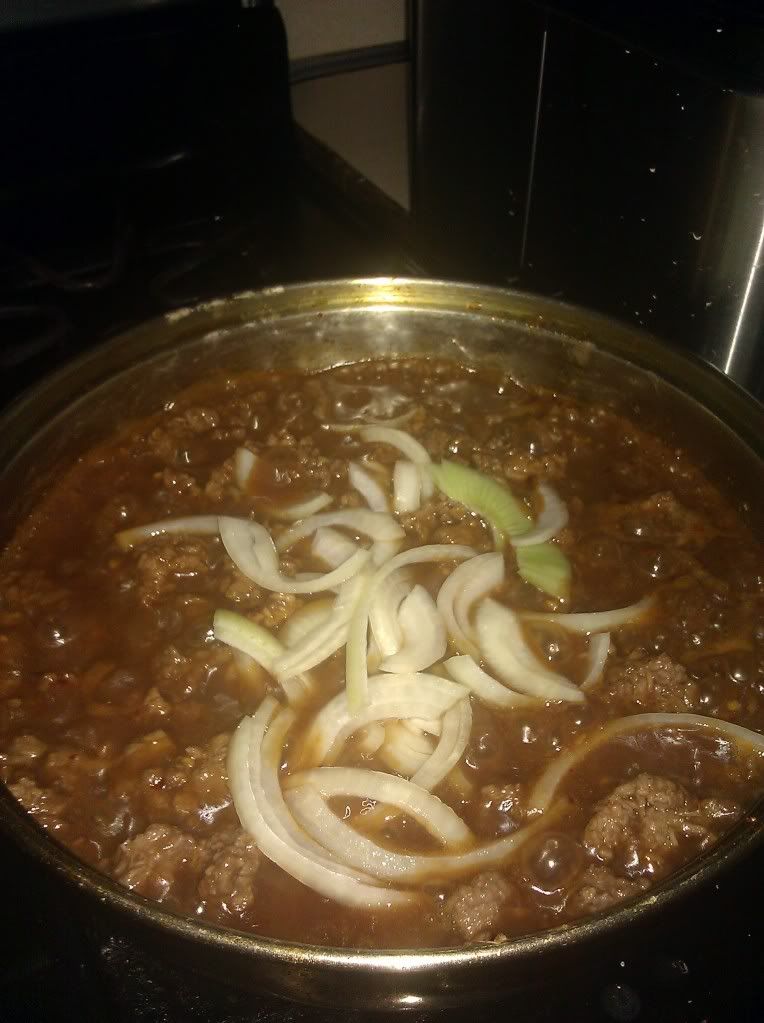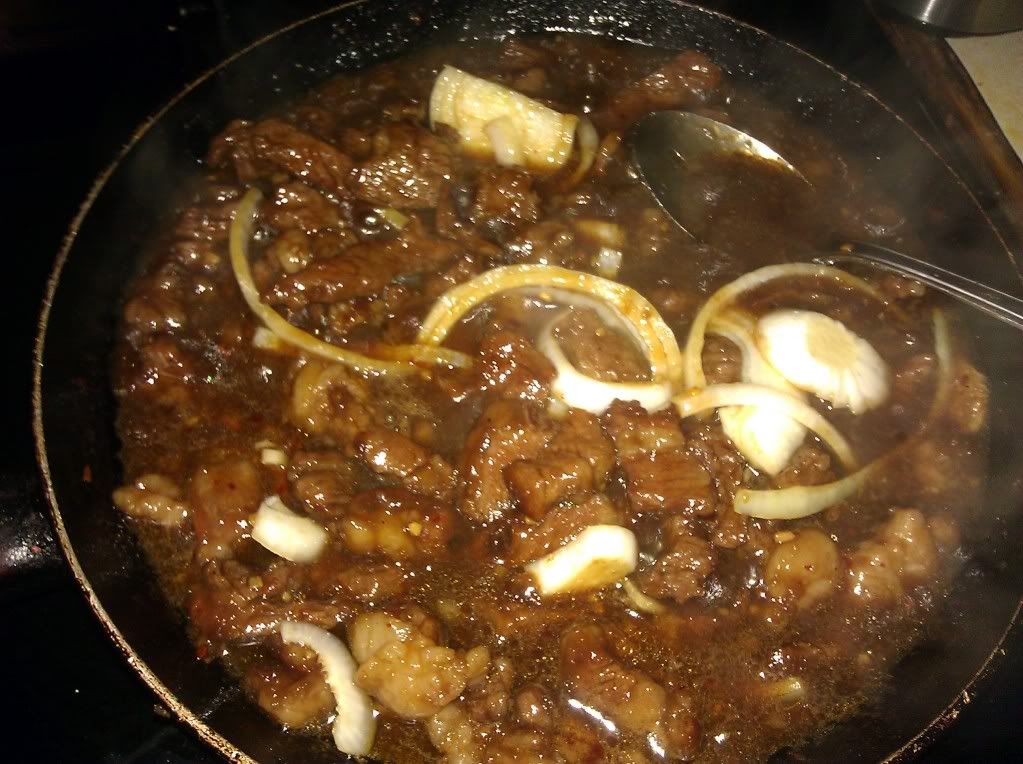 5. I cooked my brown rice ahead of time and then added early peas, onions and grated carrots to it. You can add soy sauce or other items including butter and seasoning, but I rarely add much more than veggies when I am using a flavorful Asian dish.
With the slice sandwich steak
Verdict: Amazing flavor, taste. The aroma waifing throughout my house was intoxicating. The meat was nice and tender and the dish had the right amount of heat for my taste buds. However, this recipe only makes for 2 servings and since I needed to eat this all week for lunch, hence me making it a second time. Next time, I will double the ingredients. So go ahead I know you want to try it and make this dish and head over to Crepes of Wrath and Pink Bites for other delicious dishes to try.