Creative Cooking...Fresh Tomato Salsa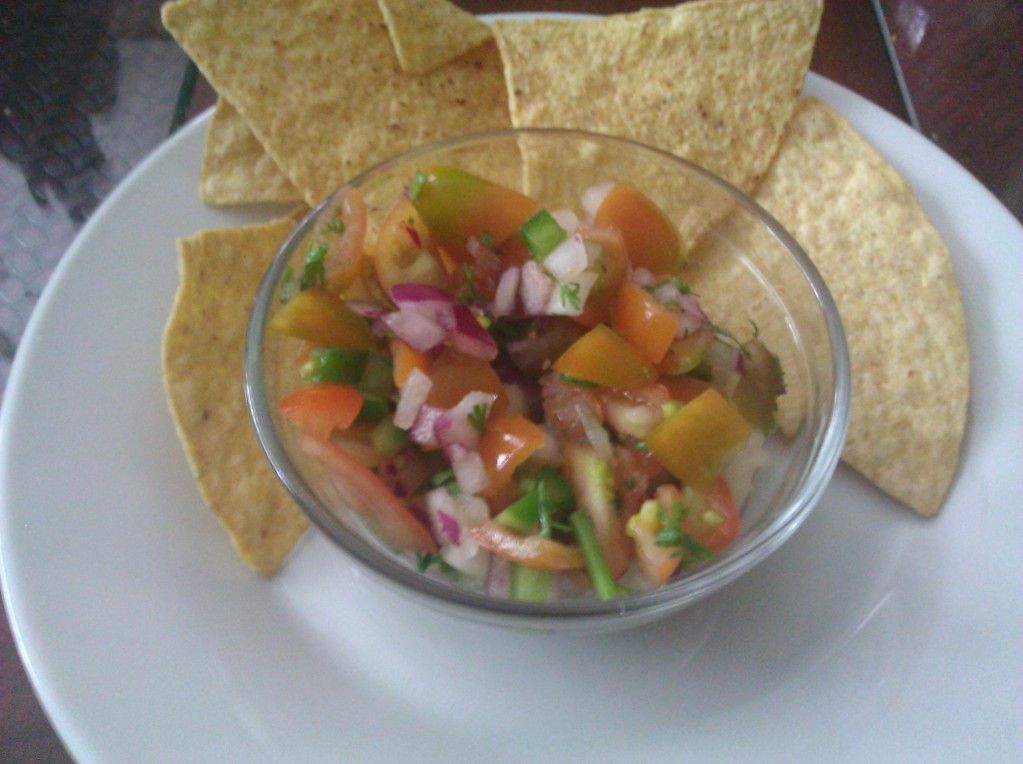 Fresh tomato salsa using grape tomatoes w/tortilla chips

I figured out what to do with my overabundance of grape tomatoes. Salsa. Simple and plain. Now you know not only is it going to be time consuming and a little more work, but the results I was hoping for would be great. Seriously, co-workers, friends and family are a bit tired of the quart bags of tomatoes. No really. The Guy, who is allergic to them, wanted them for target practice. Um, no. I am not throwing away food if I can help it. So, I decided I was up for the task and found a recipe on
Simply Recipes
for Tomato Salsa. You know I changed up some things right?
Tomato Salsa as adapted from Simplyrecipes.com
2-3 medium sized fresh tomatoes; i.e. as many grape tomatoes as I can cut into quarters
1/2 red onion, finely diced; i.e. quarter of a small white onion and a quarter of a red onion
1 jalapeño chili pepper (stems, ribs, seeds removed), finely diced i.e. 2 because I couldn't find any Serano's at my local grocery
1 serano chili pepper (stems, ribs, seeds removed), finely diced (see above)
Juice of one lime
½ cup chopped cilantro
Salt and pepper to taste
Optional: oregano and or cumin to taste
A pinch of sugar
Teaspoon of cayenne pepper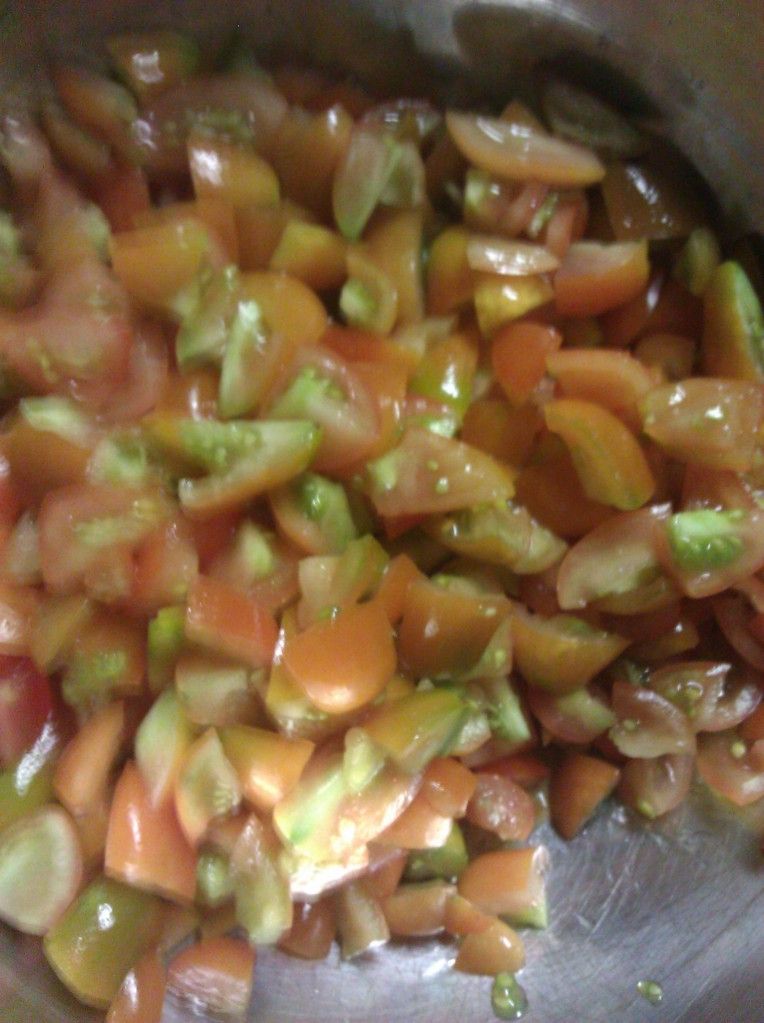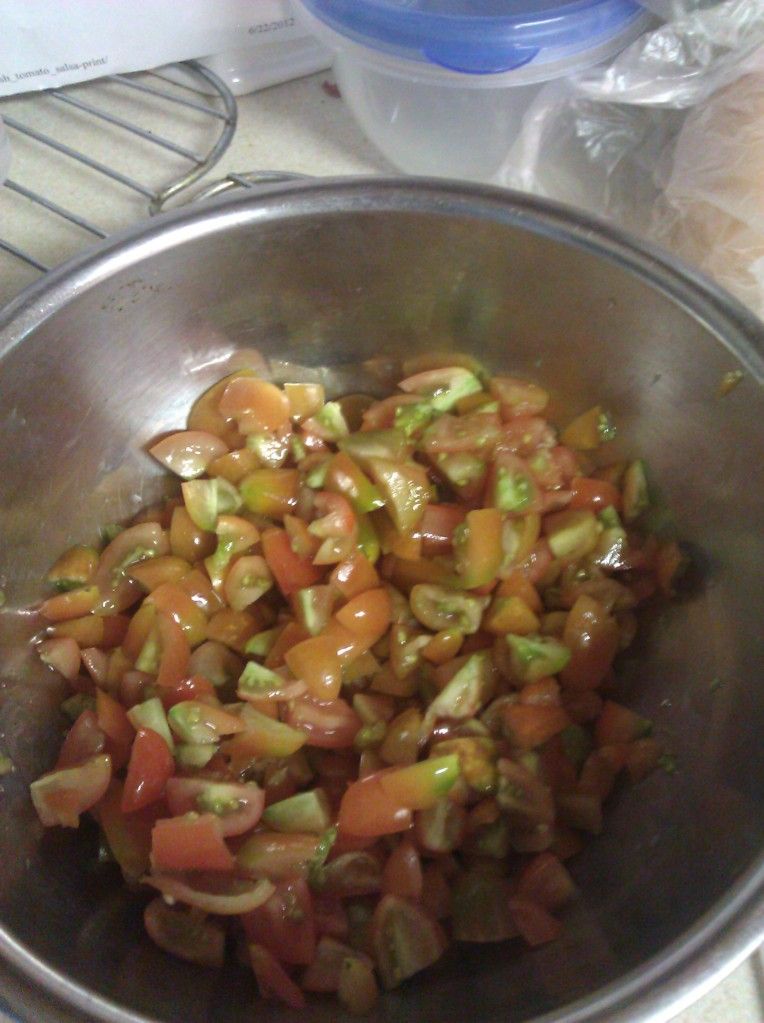 That is a lot of tomatoes!
I stared by quartering my grape tomatoes. Seriously, it only took about 10 minutes. Then I cut up my jalapenos removing the ribs, stems and seeds dicing them finely. Then I cut up my fresh cilantro. This took about 20 minutes total to cut and dice. As I cut up my ingredients I place them in my mixing bowl. Then I rolled my lime and then squeeze the juice over the cut up veggies. I added a pinch of sugar and a teaspoon of cayenne pepper. Then I mixed up my ingredients, tasted and added my salt and pepper to taste. Viola! Done.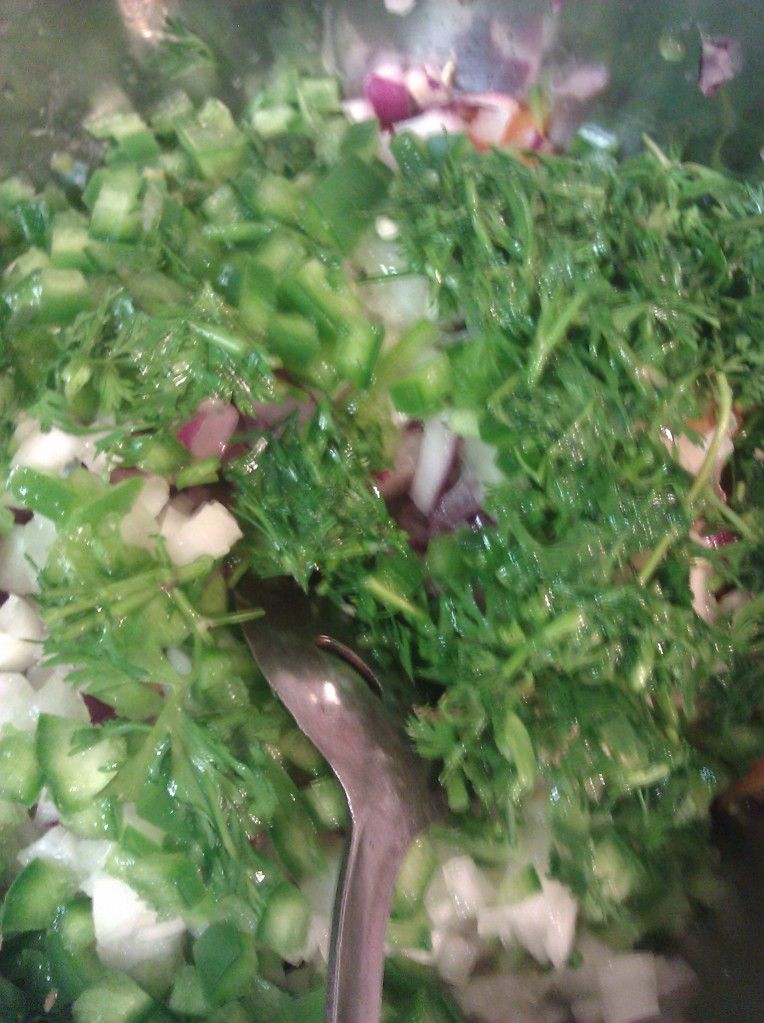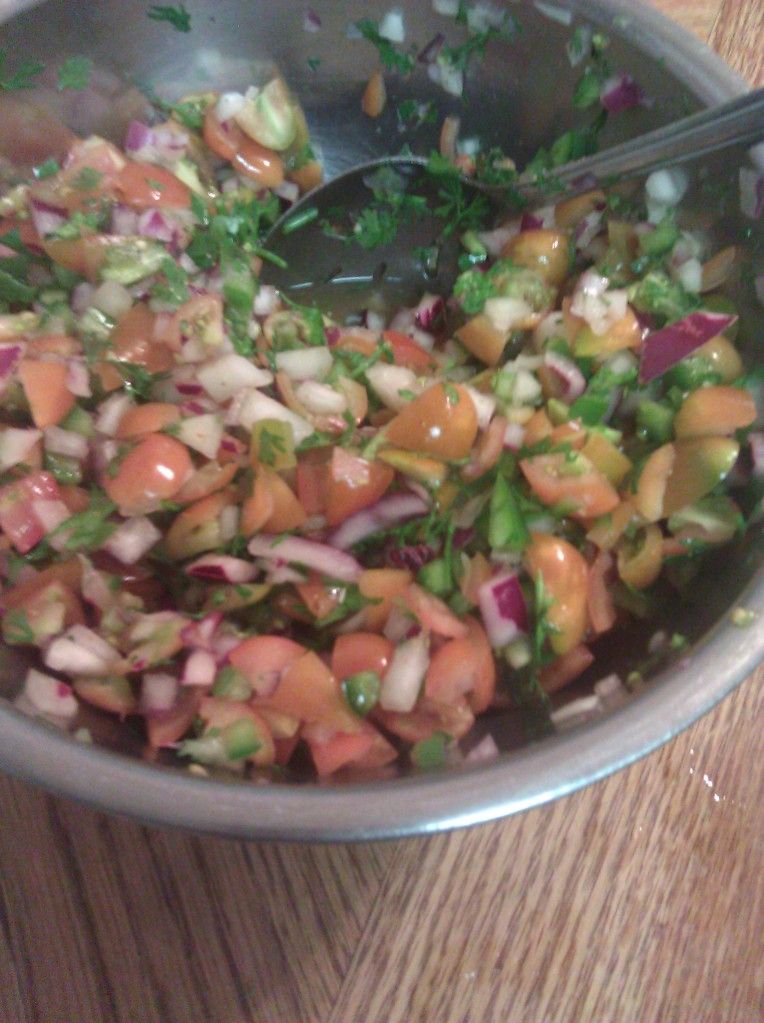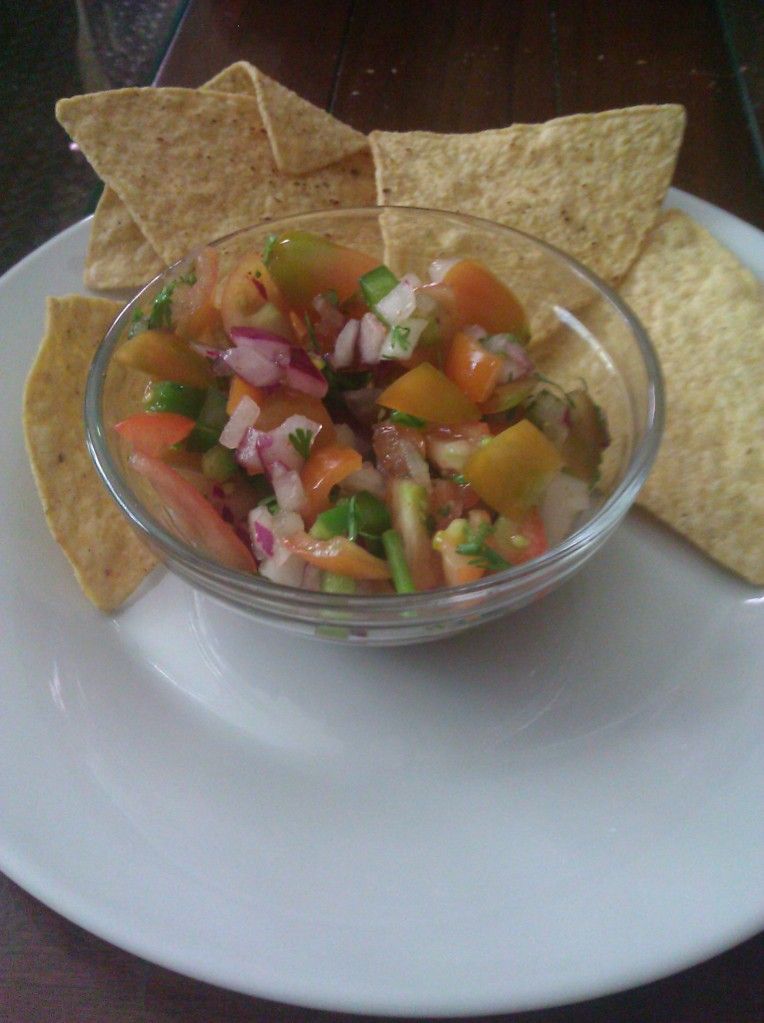 Looks great! Tastes even better!
Verdict:
Amazing. I don't know if I will ever buy bottled salsa again after making it for the first time. Okay, I am lying because I will not always have fresh tomatoes and cilantro on hand. I had all the things on hand except the peppers because my peppers are still growing. Geez, those things take a minute to grow. The freshness of the vegetables made this a stand out. There something about the crispness and pungency of fresh items right out the garden this can enhance a recipe. The only thing was I wished I had kept some of the ribs and seeds in for a spicier salsa. I like hot. Even so, I can say this was a wonderful success and I cannot wait to make it again. Plus, what a good and healthy way to get rid of all my grape tomatoes. Um, I was eating this as dinner and lunch. It was even better the next day, sad to say, but I finished it the next day. It was that good!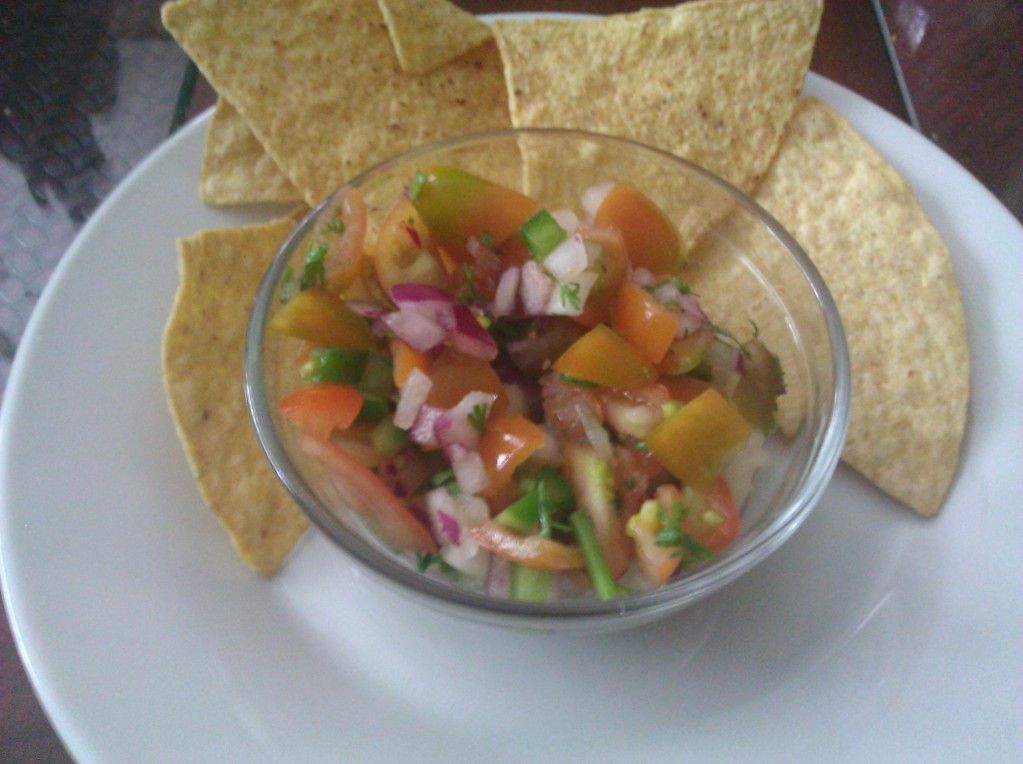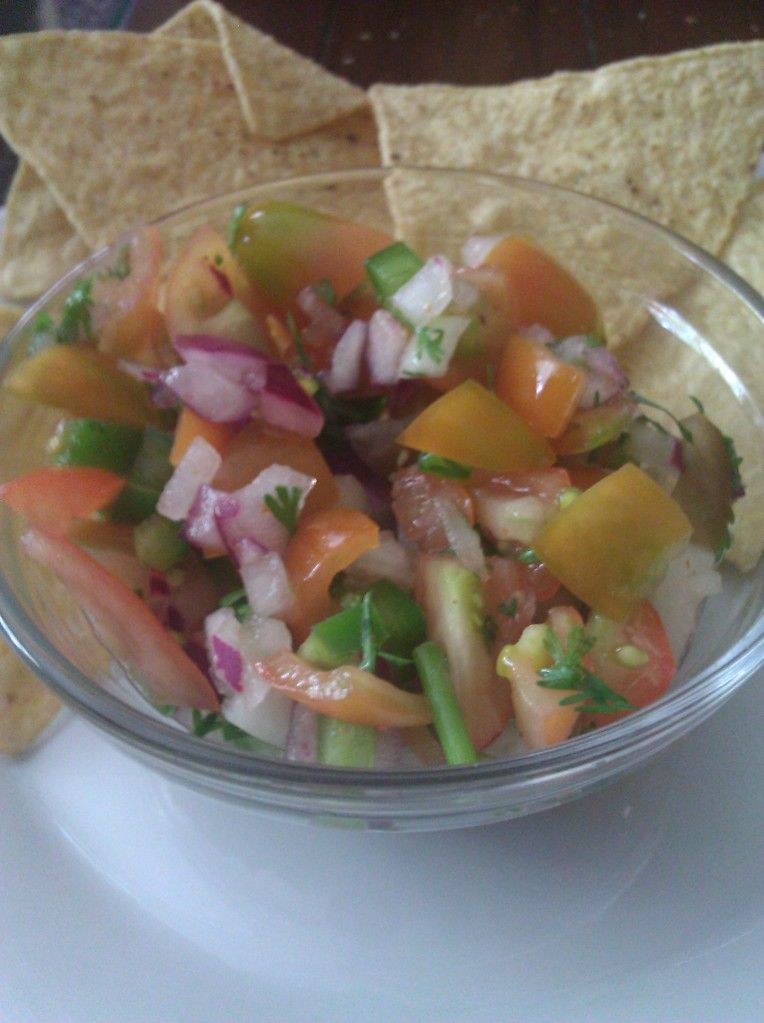 Grape tomatoes make good salsa!