Post July 4th Randoms...and Ramblings...
Seriously, my cousin had me outside holding up a tent... that is why I look so dewy...LOL!
Hope your 4th of July was filled with fun and excitement and the heat didn't do you in.
Let's see what has been going on? I posted a recipe yesterday. I know it has been a long time, but I just do not feel like cooking. It is too hot.
On June 30th we had our book club meeting and one of the members picked up a sweet potato soufflé from a local restaurant and she needed to melt the marshmallows on top. My response,
"Sweetie, I do not know if my oven is working because it is too hot to be heating up the house unnecessarily. Child, put them marshmallows on that thing and cover it back up and if it is hot enough they will melt."
She couldn't be serious?
That day the temperature was the bowels of hell hot, over 100 degrees. No ma'am.
Since I had to barbecue the hamburgers and hot dogs, I got up at 5 am, although it was still dark out to set up the grill and get the coals hot. At 8 am, I was done and lawdy, lawdy it was already taking on the feeling of hell.
I managed to use the flowers from my container garden as part of the decorations throughout the house. The arrangements came out quite lovely, if I do say so myself. And I do.
I am over the raised garden now. Really I am. The tomato plants are started to darken and brown, its lifecycle is coming to an end. And frankly not soon enough. Just kidding. I have enjoyed not purchasing tomatoes, cucumbers, cilantro and green onions from the grocery story. Frankly, my bounty has yielded a lot and they have all been quite tasty. On the 4th I plucked 100 grape tomatoes from my plants. 100. And yes I counted them. So you know I immediately washed and bagged a quart bag to take to my cousins. Yesterday, I picked 66 tomatoes. My cucumbers are pretty much done, but they were good while they lasted. This year has been a wonderful learning experience and next year I have my dos and don'ts.
My flowers are doing well, but the sunflowers have yielded their last bloom. Next year I plant in a deeper planter and next to a fence. My only issue was the damn worms. I can't with them. I just don't understand why the smaller variety I was growing died so quickly. Next year we will try them again. My favorite flowers are the portulaca and the coneflowers. The colors and vibrancy of them made me happy. Cosmos are cute, but not as resilient. And I most definitely will be growing marigolds again; I forgot how much they make me happy when put in vases. My roses are coming out of their black spot fungus issues, hell it took two months, but it is getting healthy. And it only took a 4 dollar product and no rain to make it happen.
Last sunflower bloom. Tall right?

My neighbors, who finally cut their grass, have gotten a pitbull puppy.
Really?
The problem is they do not have a fence and when I saw him he was just roaming on the side of their house. His little azz was trying to come on my property to play. Pitbulls are cute as puppies, but I don't care, they are aggressive by nature and if they do not get him on a leash or in a fence, we are going to have a real problem.
Real talk.
We had a splendid 4th of July with our family from my mom's side. It was nice to be around folks and it not be for a funeral. Plus, I needed to know what my folks look like now. They would recognize me, but I wouldn't them. LOL! Little Caleb, is styling and profiling. His little brother, who I didn't get a picture of didn't want to leave especially when I told him I was taking him to club.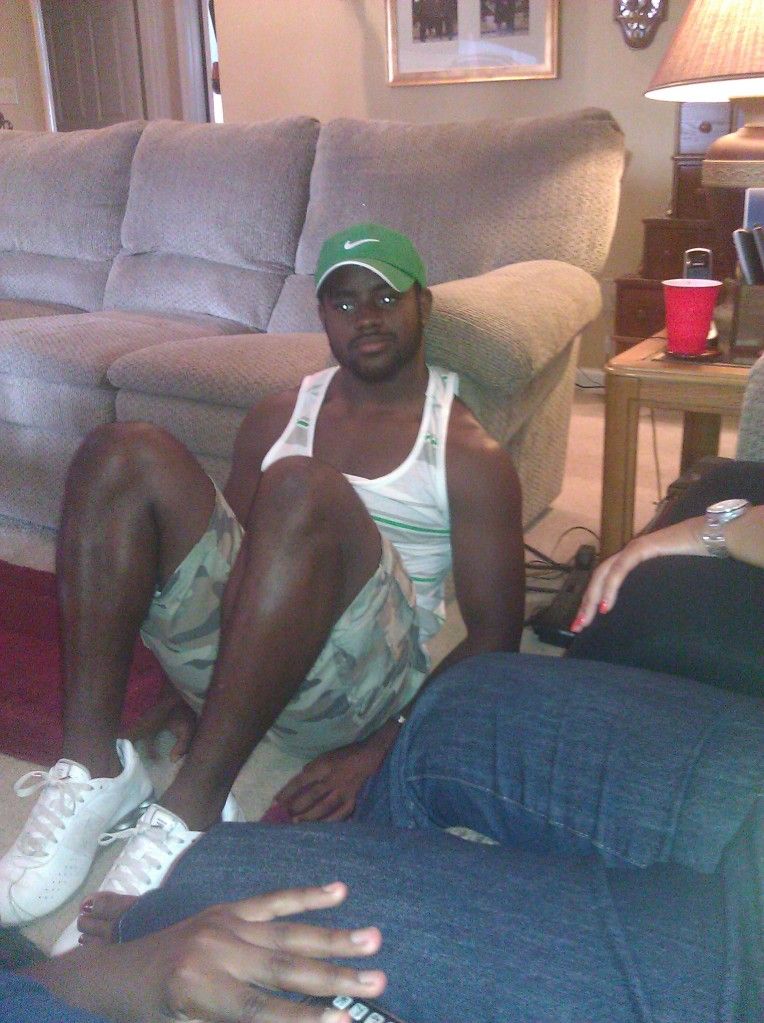 No one is at work. I probably should have taken off too, but nooo; I came in to get ahead.
On my 2nd job, which again is part-time, the owner had us reading a book so we can take a test. Side-eye. And listening to a cd and coming up with 12 things we would do in 90 days if we owned the business. The managers are trying to act enthused, but seriously he is asking too much when we have to do it on our own time. I am busy. We are all busy. Did I mention this is my part time job?
Really?
I am over it.
Ya'll I love my family, but some family members make the hair on my…never mind you get the picture. One of the F&L decided to change her baby's diaper on the den couch where folks were eating and talking and watching television. My response, "I can't with you all. I just can't. WTF?" Then since she is F&L she had a little cousin put the diaper in the garbage, then the poor thing got in trouble because his grandfather was like, "GO WASH YOUR HANDS NOW!" Then F&L decided to enjoy a brownie and she never washed her hand. Trifling. You know she can't cook anything that I would dare eat? I could go on and on about her, but I want. Yesterday, I wish I was active on twitter.
Speaking of Twitter, I didn't see the BET Awards, because I was at work, but I caught the tail end when Brandy was singing the tribute. But ya'll when Cissy sang, OMG! I was done. My sister said she had to leave the room because she was boo hooing so bad. I cried so hard I brought back on a headache from earlier, because for some reason it really dawned on me at that moment Whitney Houston was gone…
I have Basic Extended Cable. I am very unhappy with my carrier. Why you may ask? Because we barely have 40 channels and my bill is goes up every damn month. Seriously on June 26, we lost 5 channels, we just lost 3 back in December. I called their customer service line and apologize to the rep, because he was going to hear me vent. Period. Frankly, I feel like I am being manipulated into purchasing digital cable in order to get all these damn channels that I will not watch anyway. I watch the same few stations. Ya'll we lost VH1 and when I asked why, they said because they wanted to be exclusively on digital so they would more exposure. So…you don't want to reach the homes of folks who have basic and basic extended cable to be able to watch television, but those who already paying an astronomical amount for stations they do not watch? Let me be clear, I will not be making life decisions about channel stations. I will be able to eat and go to work and paying another light bill is ridiculous to me. So yeah, I am currently examining my options. Satellite and your competition that still has all the channels you removed. Lucky for you there are only 3 other options, but they are more affordable and likeable than you CC.
To Frank Ocean, I applaud you. Courageous.
Anderson Cooper?
We already knew. But doesn't take away from your sexy.
Speaking of sexy…I can't wait to see Magic Mike. And Spider Man. On DVD, you know I am not going to a movie theater.
RIP Andy Griffith...I whistled the whole song the other day. But, um, how do you bury someone
that
quickly?
Are you tired of seeing Kanye and Kim K.? I am over them too. Isn't she still married?
My cousin tried to make me take an enormous amount of food home Wednesday. I was like there is only me. She was like, "Take a plate home for The Guy." Really? No. He grilled too. I don't think they believe he exists, but I ain't ready for the family get togethers yet.
Last week I washed my hair and braided it up, and then I put those plaits up in a bun and wore it like that until the 4th. I was so proud of myself, because it was neat and so much more manageable while working out. And the results…
See

hair looks marvelous! Braidout
Oh, before I forget I have lost 6 pounds…Wait until I tell you how!
You know I need to really learn to take better full body shots, but my dress was amazing...
Have a marvelous weekend. I will be chilling and working and preparing for a test on my 2nd job…
And on behalf of Lala and Carson..Later!
Lala with her Hey face on!

(I can't wait to get them in the club!

Just kidding...maybe.)
Labels: Food, Fun stuff, Gardening, Hair photos, Happy, Holiday, Kids, Sisterlocks, weightloss