Creative Cooking…Pulled Pork Crockpot style
Yes, that is coleslaw on top of my pulled pork sandwich. Nope, didn't make it myself.

Anyone who knows me understands I love me some pulled pork. However, not every day and if it wasn't for my blood pressure, I'd figure out a way to eat it every day. The thing is when it isn't loaded with a lot of salt and other ingredients you can have a healthy run of it.
I have made this recipe a few times. I am not oppose to smoking the Boston butt on the grill, but this girly, girl doesn't like smelling like smoke especially my hair so that is out. However, a good alternative is the crock pot. Best to do this late at night, because the aroma will have your mouth watering before it is every done.
Since this is my recipe don't expect any real measurements. You know how I do!
Ingredients:
Boston butt (I get a medium size one)
Rub
1 sliced onion
½ slice bell pepper
¼ cup of water or you can use liquid smoke
Medium Boston Butt, rubbed down
My BBQ sauce, and yes the wooden spoon keeps it from boiling over, thanks Pinterest!
Basically, you use whatever rub seasoning you choose and rub it all over the Boston butt and be sure to get into the crevices. You can use another type portion of pork, I prefer the Boston butt because it has just the right amount of fat and it is easy to remove the fat as well. Then wrap your meat in plastic wrap and let sit in the refrigerator for about 8 hours or overnight. Then in your crock pot add your onions, bell pepper and water or liquid smoke. I have only used the liquid smoke once and I am still on the fence on whether I like the flavor. Put it on low and let it cook slowly. I do mine overnight and when I wake up in the morning, it is ready to be pulled. Take your meat out of the crock pot and let it rest for a few or until it isn't too hot to pull and drain the juice from the pot and reserving a small portion in case it is needed. After your meat has cooled, start pulling you can use two forks or very clean hands to pull the pork as well as remove all the fat. Once this is done put your pulled pork back into your crock pot and add your BBQ sauce and let it simmer in the sauce for 30 minutes. Once it is done, have at it, if you can wait that long. By the way, I make my own BBQ sauce with tomato sauce and vinegar and spices and let it cook and simmer for hours as it thickens and the flavors marry. Not ready to share the sauce yet, because I have no measurements!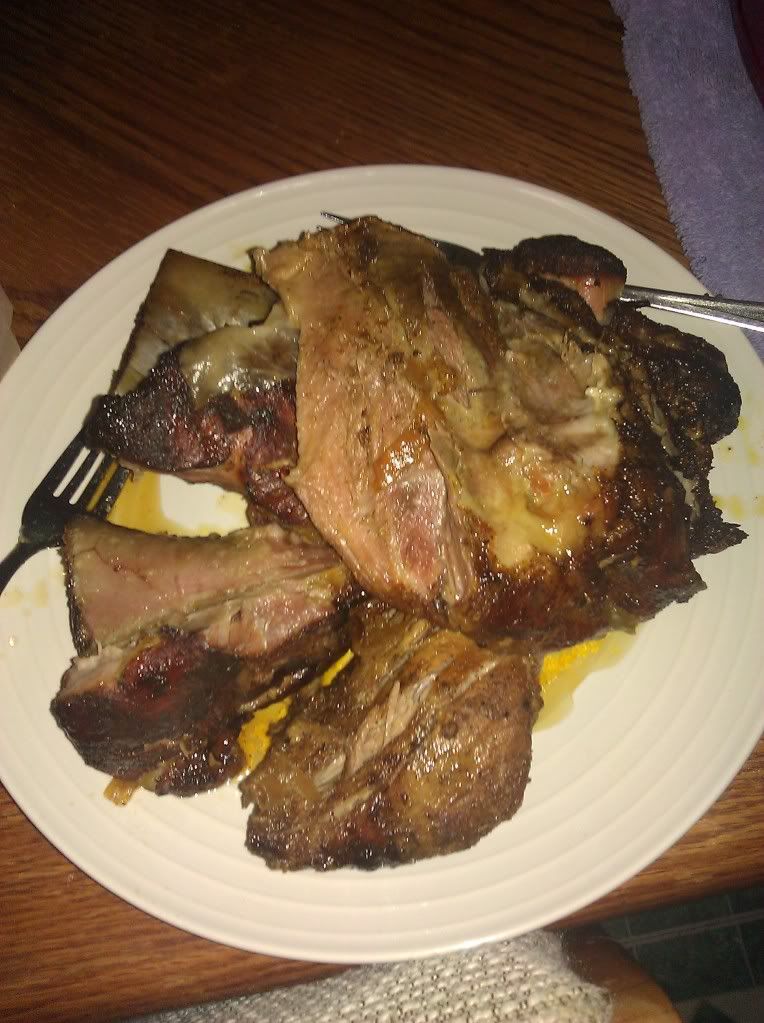 Pork ready to be pulled. See my two forks!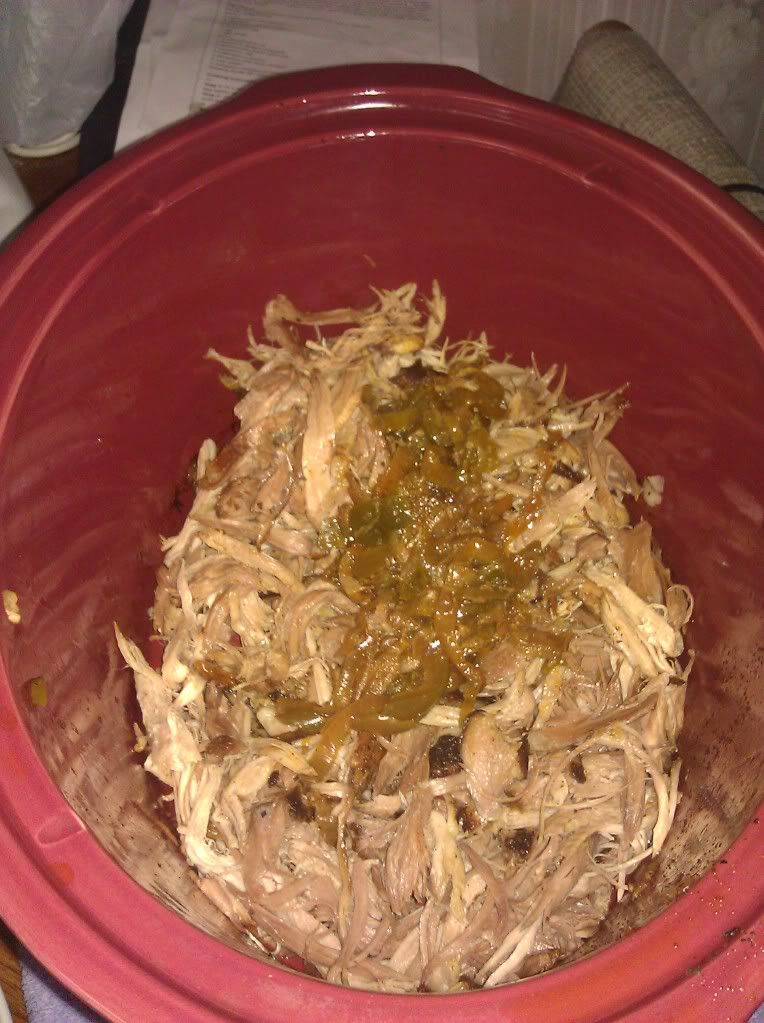 The reserved liquid and the veggies (onions and bell pepper)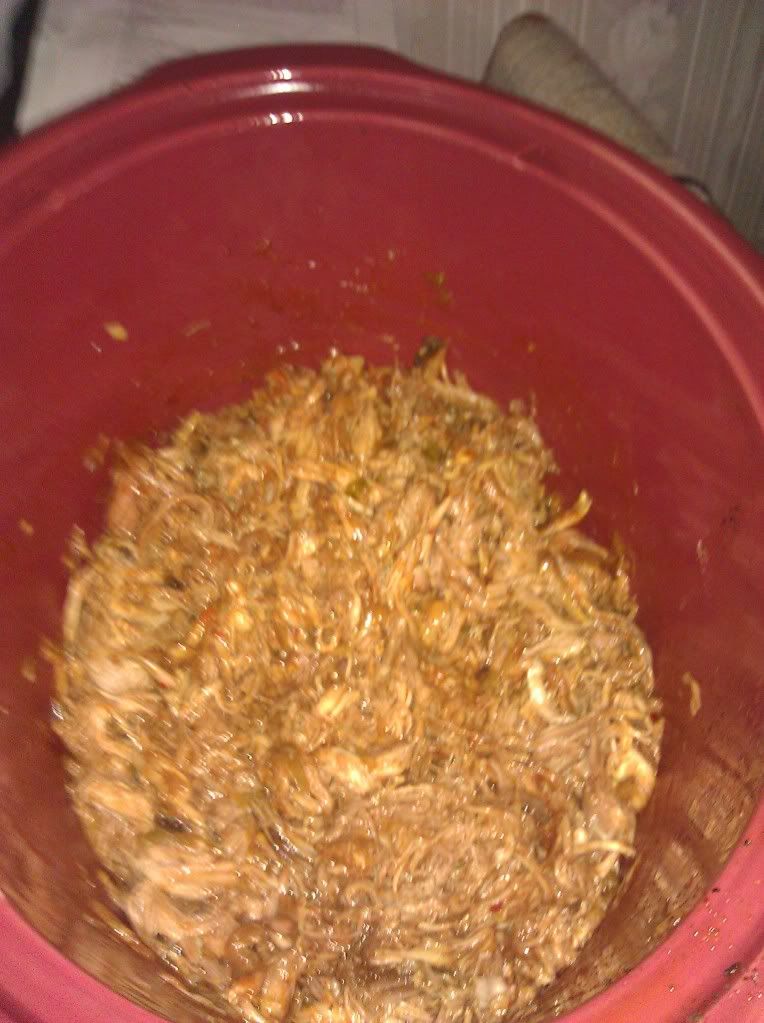 Pulled and sauce mixed in. Not too much, always keep some on reserve.
Enjoy! The meat is always tender, flavorful and damn tasty. I eat it on a whole wheat bun or use it in a Redneck taco fashion. Don't ask.
Redneck style. Flour tortilla instead of bread.