Creative Cooking...Peanut Butter Cup Truffles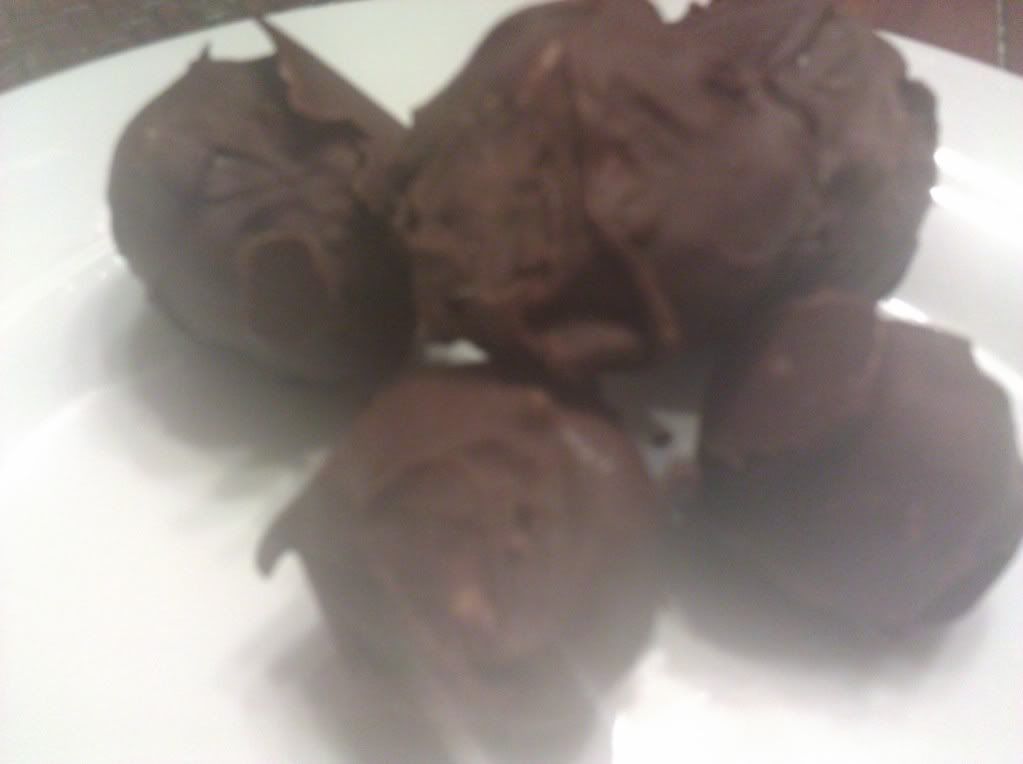 The one candy bar which I love dearly, but rarely partake is Reese's peanut butter cups. So while I was on Pinterest, I noticed the exorbitant amount of pins for these peanut butter truffles. After a few days of fantasying about making them I decided to try them out. I learn a couple things about myself from doing this and I will expound on it at the end of this post.
I got the recipe from
Six Sisters Stuff
, which has an array of interesting recipes to indulge in when you feel the need to cook up something. The ingredients were simple and I had most of the items already on hand.
Ingredients:
Peanut Butter Cup Truffles
from
sixsistersstuff.com
2 sticks of butter
1 lb of powdered sugar
1 cup of peanut butter (used an all natural kind)
Graham cracker crumbs (yeah, I cheated and got them already in the box. A whole box of graham crackers costs $4.89, ridiculous!)
Dipping chocolate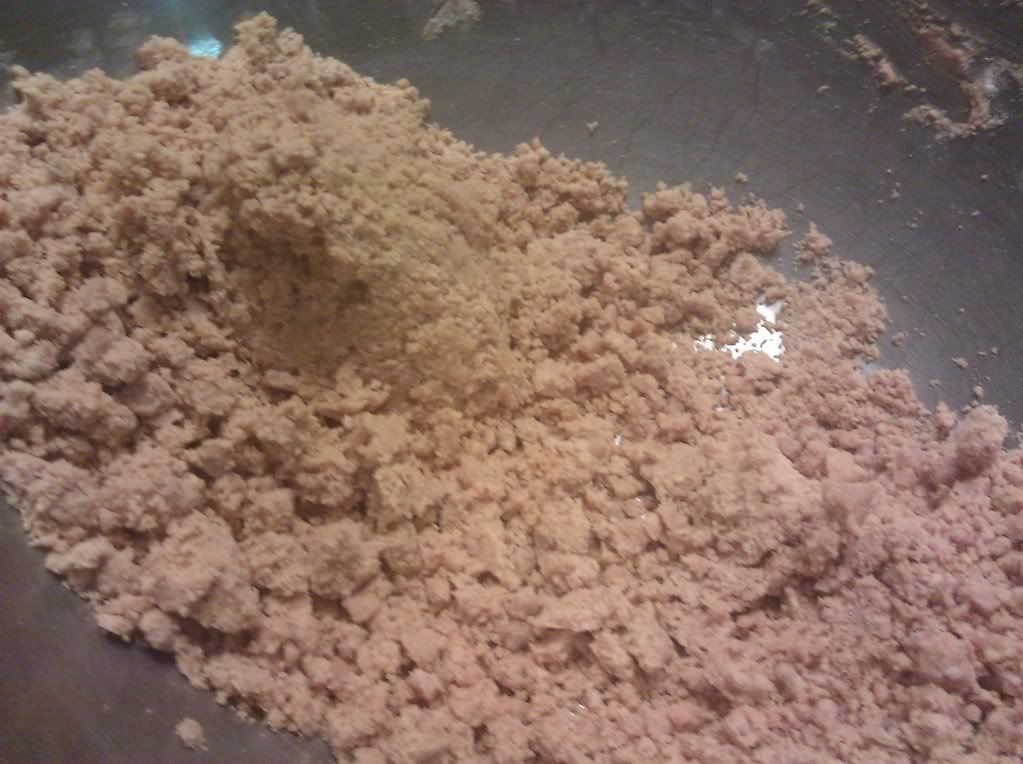 Butter, grahram cracker crumbs, peanut butter and powdered sugar mixed together
Basically I followed the directions from the site. I mixed my butter, sugar, peanut butter and graham crackers together. Then I rolled into balls, but I wasn't consistent in size. I'll explain later. I placed them on a wax paper lined cookie sheet. Once all rolled, I placed them in the freezer for about 45 minutes. After this time, I melted my semi-sweet chocolate chips and readied my peanut butter balls for dipping. This is when shyte took a wrong turn. It took me 2 hours to get all the balls covered because…I will explain later. I had to keep putting the peanut butter balls back in the freezer and reheating my chocolate, so not good before they were as covered as I felt like doing. Yeah, I was over these Peanut Butter Truffles, way over them. Once they were all finished and set up, I placed them in an air tight container and kept them in the freezer.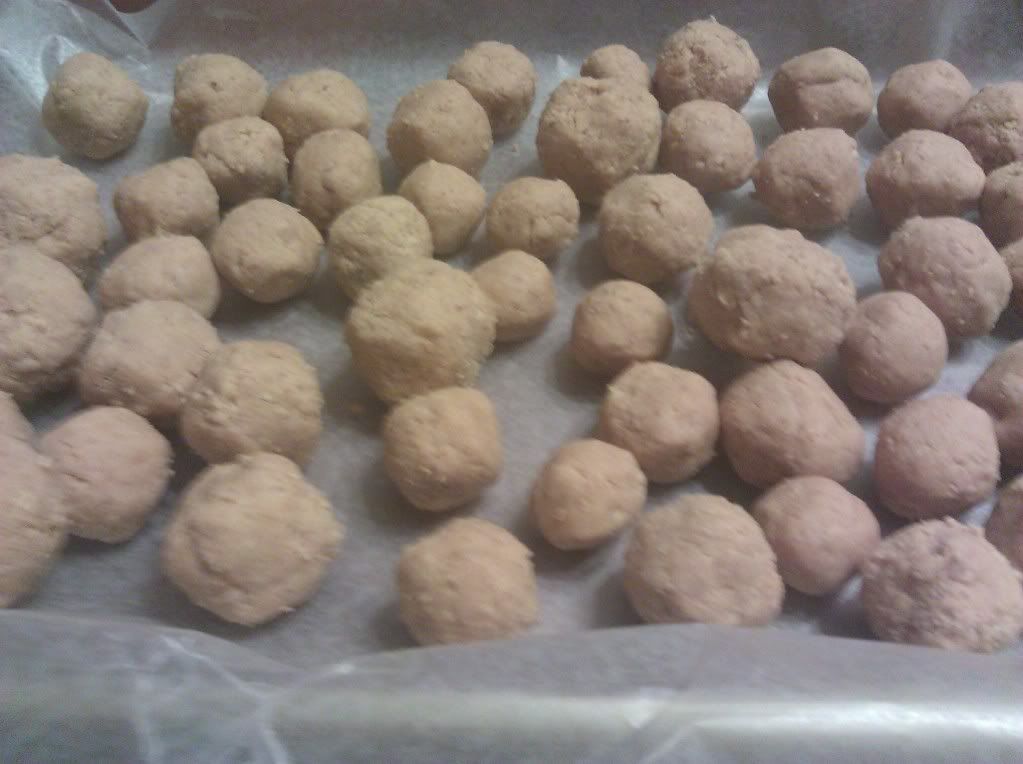 All rolled up! No there isn't a picture of them covered in chocolate before being put back in the freezer. Chocolate was everywhere!
Verdict:
Very tasty. If you crave peanut butter cups, this will satisfy such a need. I can pretty much promise you I will not be making these again. I learned my patience isn't longer than a gnat and my OCD tendencies really can get the best of me. This was the messiest dish I have ever made. Rolling the peanut balls wasn't a problem, really that part was almost cathartic, but trying to make the balls uniform, my patience cannot take that. However, I must have made a grave mistake in using the semi-sweet chocolate chips, which I had on hand. I think I should have used the milk chocolate because of the melting point. Rolling the pb balls in the chocolate sent me over the edge! I deplore things on my hands. No really, the chocolate on my hands was doing too much and I was truly upset while making these pb balls. The more I washed my hands, seems like the more the chocolate would be attracted to my hands. It took 2 hours because I would have to stop every few minutes to wash my hands. This was just too ridiculous for words and my patience had already run out. I even tried skewing the balls, but they would start to crumble, which means I needed to add some butter or something. And rolling them around in the stiff chocolate just got on my nerves. I will say they were delicious and the kids like them. However, I will not be making anything sweet any time soon. My patience can't handle it.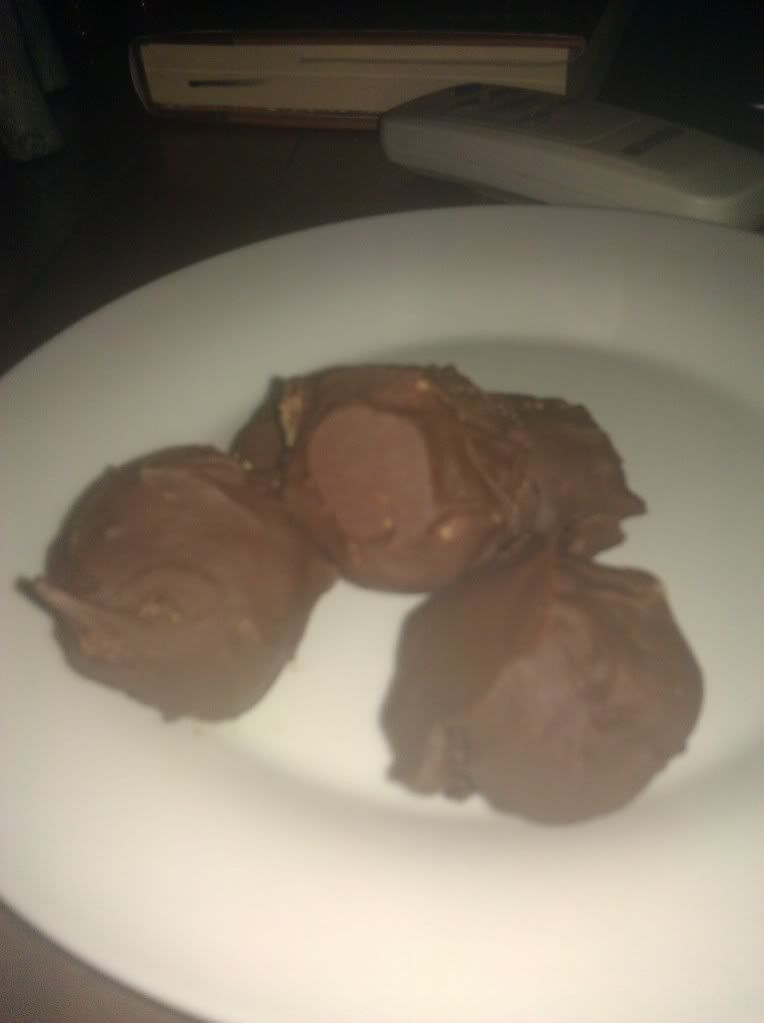 Best picture I could come up with, because I was so over these!