Creative Cooking…Moo Goo Gai Pan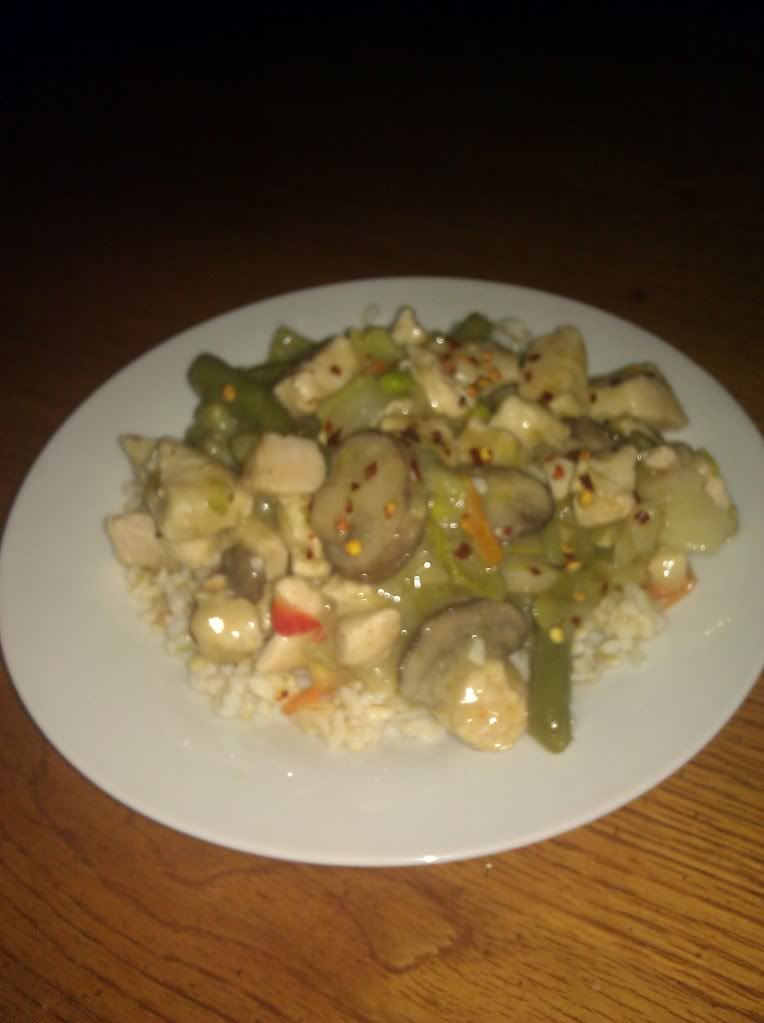 As you are aware or can tell from the recipes I post, I am really a lover of Asian dishes. Mainly, if they are easy to prepare and don't cost an arm and a leg for the ingredients. I don't know about you, but as one of my book club members says, "I am at the gas station making life decisions." I am seriously watching my money with gas inching towards $4 a gallon. And that is another whole story. The government is messing with my vacation plans. Ugh! On to my dish, I love the flavor of Moo Goo Gai Pan, because I really do love mushrooms and what is not to like with chicken and mushrooms. So being thrifty I was able to garner 8 chicken breasts for $4 and some change. Go me! Of course I only needed three for this dish, so freezer the rest go. I scoured the Internet for a simple recipe and of course I pinned it on Pinterest and the rest is history. This recipe is adapted from
Blog Chef.net
.
Ingredients:
3 large chicken breasts cut into chunks
1/3 cup of oil
3 slices of ginger
2 cloves of minced garlic
1 ½ cups of chicken broth
2 tablespoons of cornstarch
1 container of sliced mushrooms
Frozen stir fry mix
Seasoning to taste (sea salt)
Crushed red pepper
Rice to serve
After you have cut your chicken breasts into chunks season with whatever seasoning your choose, heat your oil on medium heat and add your garlic and ginger and stir fry for 30 seconds or a little more just do not overcook it. Add your chicken and cook and stir for approximately 4 minutes.
Chicken added to garlic, ginger and oil.

Chicken broth w/cornstarch added to chicken
In a separate bowl, mix chicken broth and cornstarch together and then add to your chicken and finally add all your vegetables. Continue to cook and simmer for 15 minutes covered and add red pepper if you like a bit of heat.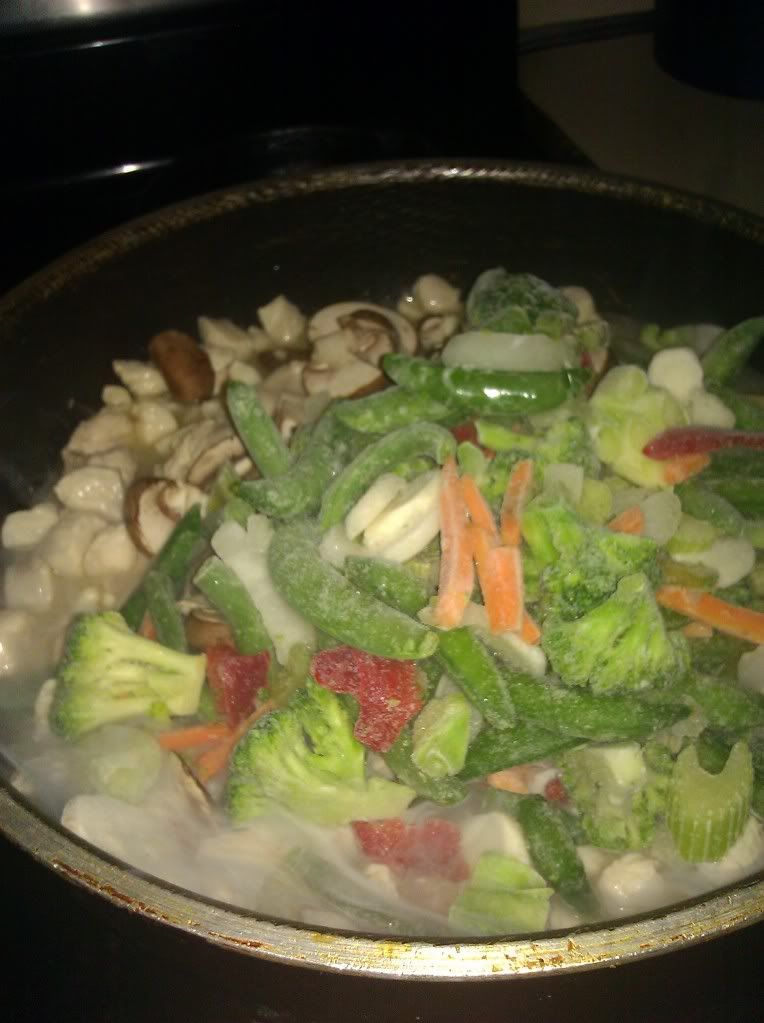 Frozen stir fry mix and baby portbello mushrooms.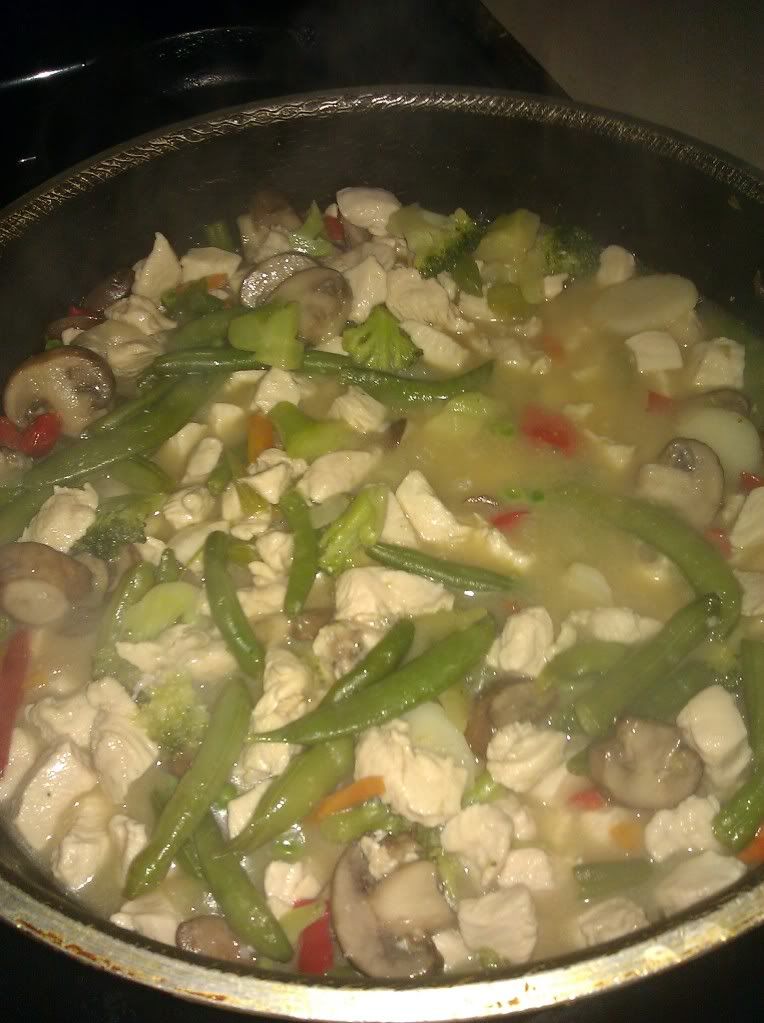 Serve over cooked rice. You can add soy sauce, but I like it just the way it is.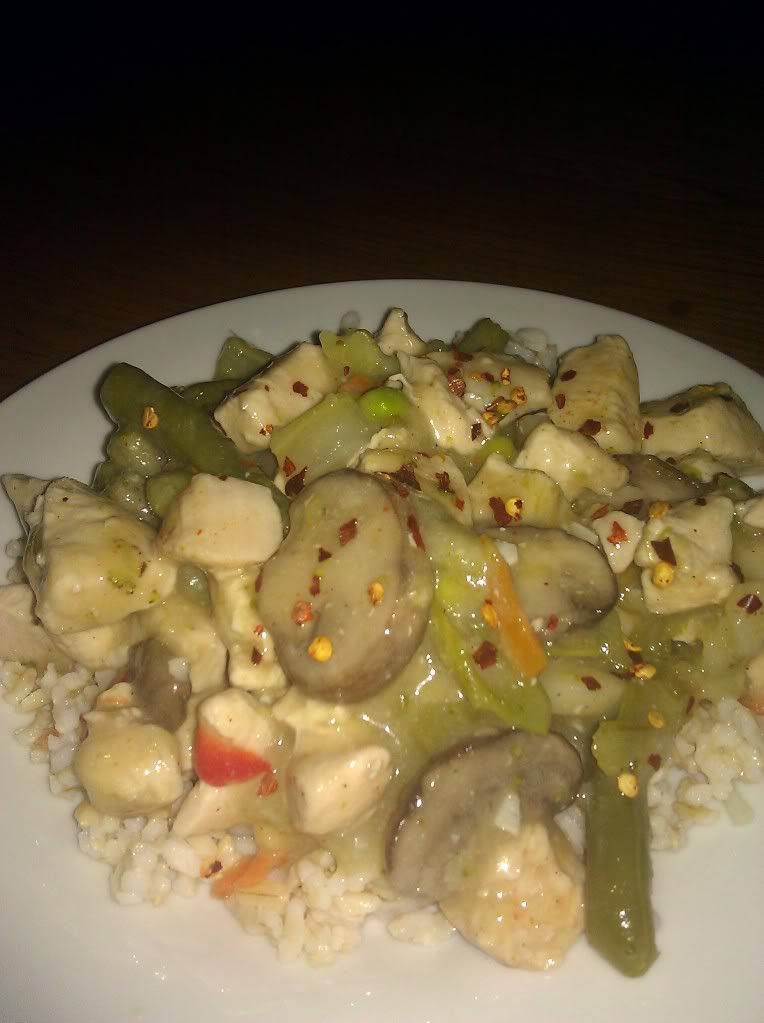 Verdict:
This dish probably took me 30 minutes from prep to cook. It was simple especially when you can add the stir fry mix to simplify things. The chicken was tender and tasty, while the veggies complimented the dish and the mushrooms adding the best part for me. If you are going to make this dish, I think it is sad if you don't have the mushrooms because the mushrooms are the essential part of the dish the vegetables help to Amerianize the dish. It is flavorful, filling and quite tasty. In the original recipe no season is added, since I used a low sodium chicken broth I added sea salt to taste.