Cupcakes by Tish...New Flavors
*See disclaimer. No compensation at all. My own opinions.
Strawberry Kiwi, Smores, Cherry Limeade
Smores

Graham cracker and Chocolate square (Her.shey's)
Inside view of the Smores
I do not understand why I have not tried this particular flavor. Maybe it is the adult in me that feels like Smores are for children or my regretful days as a Girl Scout and the one time we made Smores and that was all I really appreciated it from my one year experience as a GS. Who knows? On this particular occasion I of course checked their FB page and was delighted see their Hello Kitty cupcakes and cake, but they were also introducing fans to their Spring flavors, and since March 20 is the first day of Spring, how apropos.
The Smores cupcake is a chocolate cake with a graham cracker bottom and the chocolate cake is topped with a chocolate ganache and a marshmallow icing. When I tell you I was licking my fingers, I ain't even shame.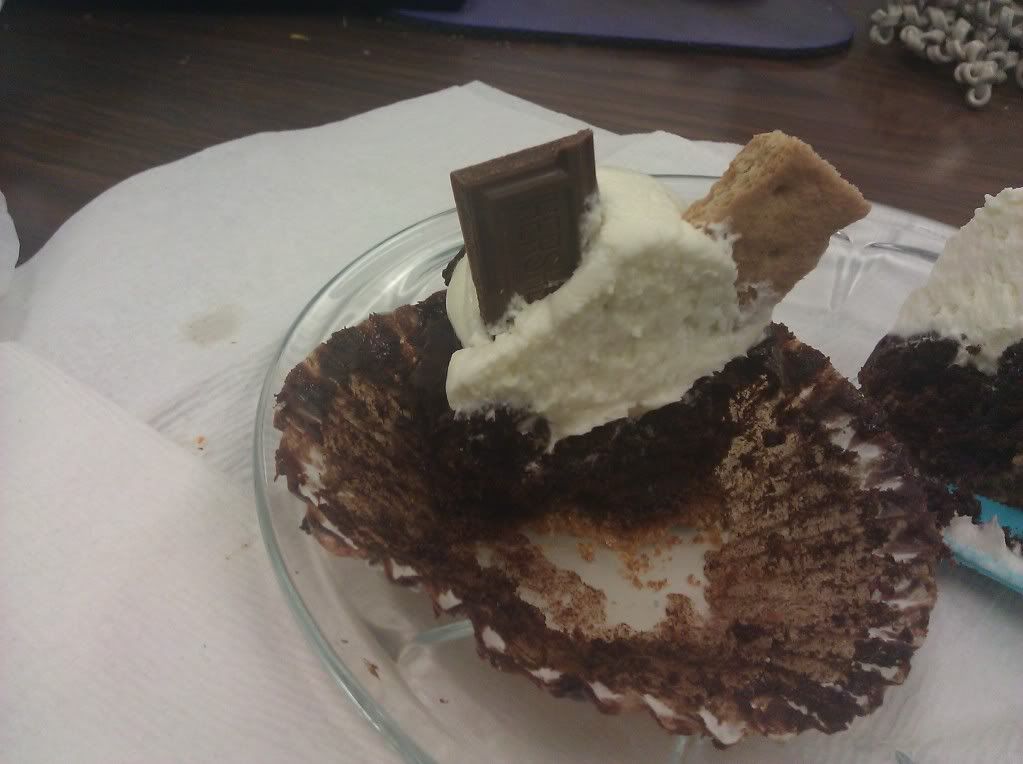 Cherry Limeade Cupcake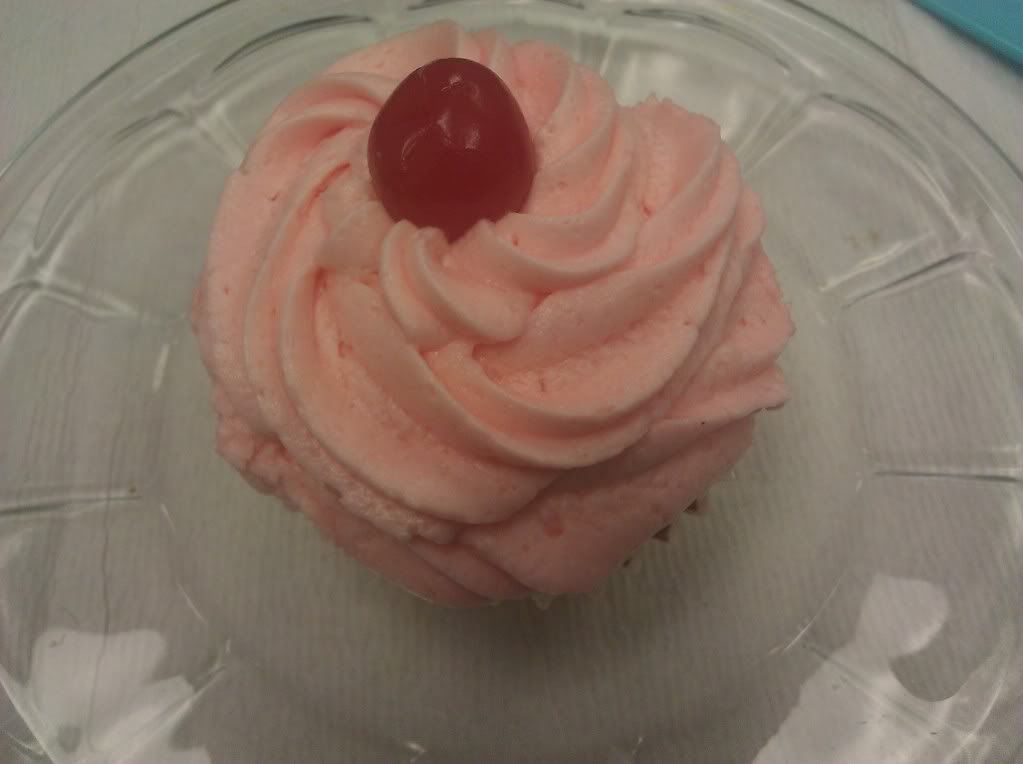 Cherry Limeade, very pretty presentation.
Inside view, pound cake density
This cupcake peak my interest because I may not like not one food item on Son.ic's menu, but I love their Cherry Limeade, which I haven't had in years. This was a white cake with the consistency of a pound cake with it density. The cake portion has little pockets throughout of a lime flavor especially near the top of the cupcake. The icing is a cherry butter cream flavor, but I detected an almond flavor in the icing. Let me say, that I once had a wedding shower cake that ruined me from the taste of almond flavoring, really. The baker used entirely too much almond flavor and it made the cake inedible for me. So I sit on the edge of liking this and fretting about the almond flavor. I figure the almond flavor brings out the cherry taste in the icing and although it is not over powering, I still could detect. Bless my taste buds, because that wedding shower cake is like a nightmare I refuse to forget. I loved the pound cake density of the cake portion and I liked the cherry butter cream icing, but I didn't love it. I may try it again just to be sure my tastes are off.
Strawberry Kiwi Cupcake
I have already told you how much I love the strawberry cake portion of the Strawberry & Champagne cupcakes. Now imagine the same strawberry cupcake with the same bits of strawberries in the cake and then imagine a butter cream frosting with bits of kiwi and the kiwi seeds. Mouthwatering! This is a very good flavor mixture. I was quite surprised to actually see bits of kiwi within the frosting. I figured she would use a flavor and put a slice of kiwi on top, but on no she did it up. It was quite tasty and I can't wait to try it again. I also got to finally taste fondant. I watch all the cake baking shows and many use fondant and modeling chocolate to design the details and figures on the cakes. Tish used fondant with purple sugar to make a butterfly to sit atop the cupcake. It not only tasted yummy, but it made for a visually appealing display.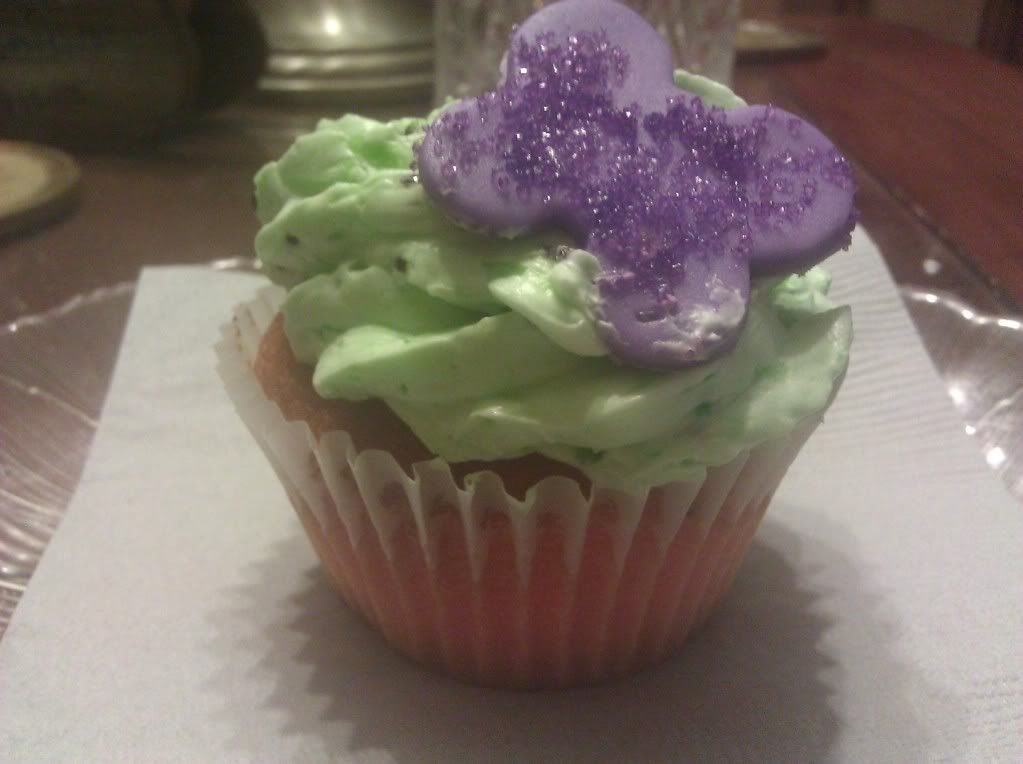 You know purple is my favorite color? See the kiwi seeds?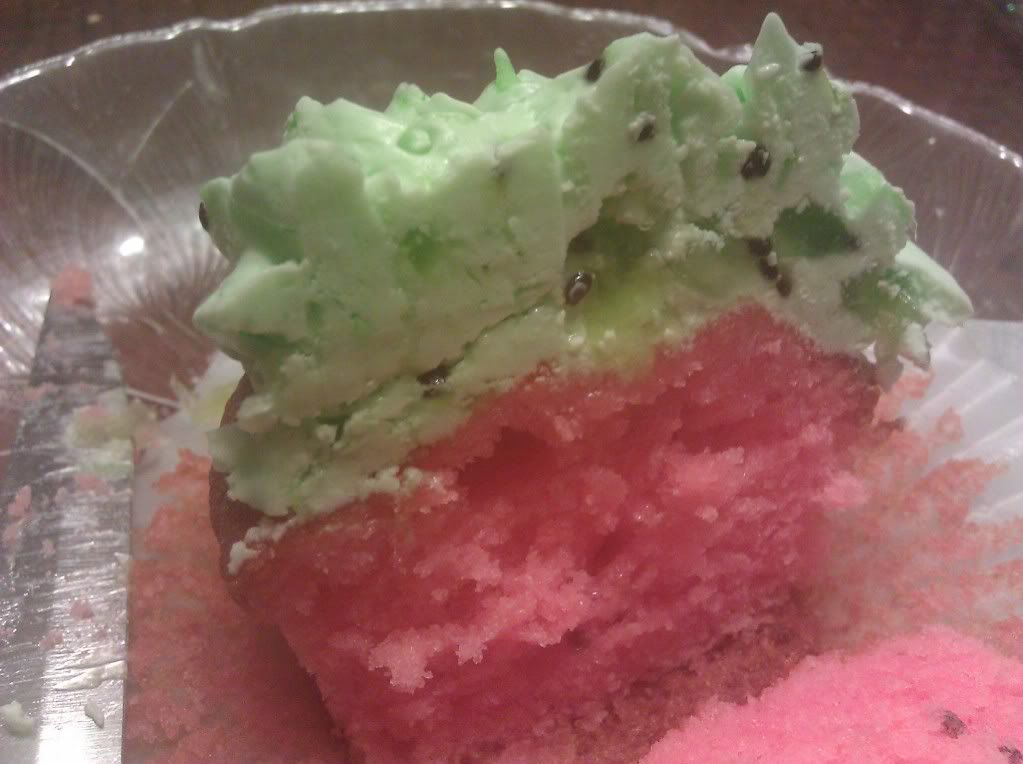 See the bits of kiwi in the icing?
Labels: Cupcakes by Tish