Creative Cooking...Whole Wheat Blueberry Muffins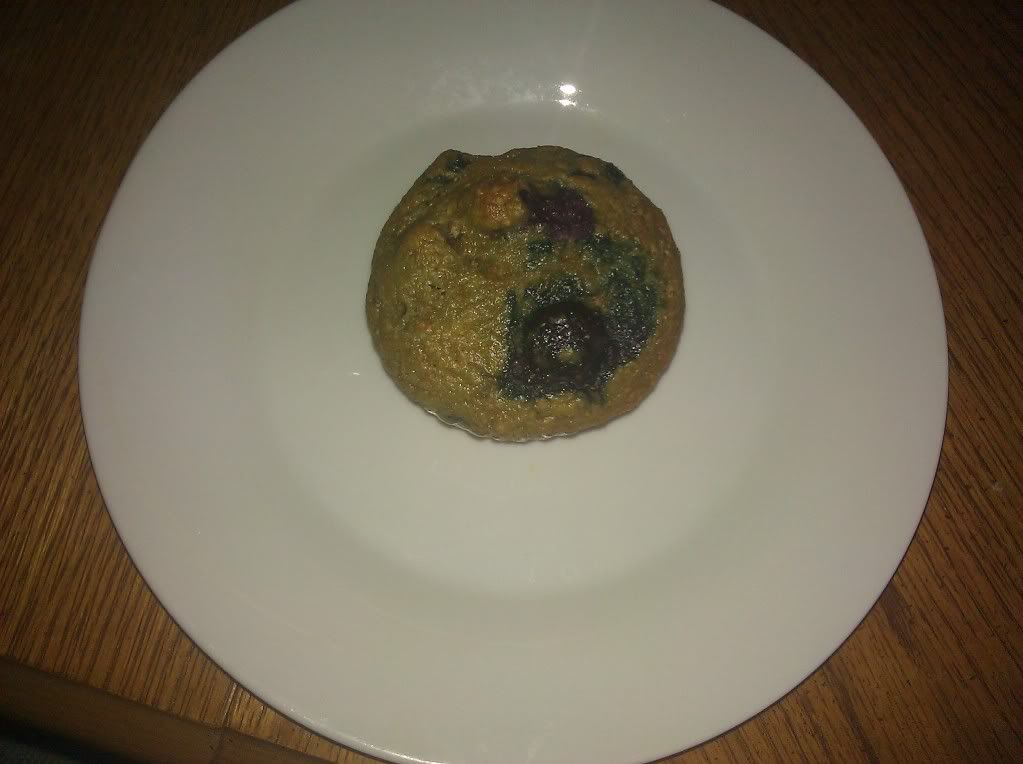 The 1st weekend in May marked my gentle return to baking. Nothing big, nothing huge and nothing I had to take to my kids on my 2nd job. I have a feeling they would have turned their noses up at the thought of me giving them something healthy to eat.
I got the recipe from Gina of
Skinnytaste
. I have made quite a few of her recipes on this here blog. So I have been eating mainly an egg and 2 slices of turkey bacon for breakfast every morning. However, I notice a change in my energy level during my 11:30 am workouts. This signaled I needed to add a few carbs to the menu for breakfast so I went on my quests for blueberry muffins, preferable whole wheat muffins. Dear old Google gave me a list and
Skinnytaste
was on it so I knew I was going to be okay, plus I love the recipes on her site.
The next dilemma was she specifically noted a particular whole wheat pastry flour. Now ya'll know… in my best southern drawl, I couldn't find the flour, but she did offer an alternative. A mixture of half all purpose and half whole wheat seemed to be a good compromise. The next issue was I stood on the flour aisle for about 15 minutes debating, while talking to my sister, the need for whole wheat flour and the smallest amount to purchase was of course 5 pounds. What the hell was I going to do with all that damn flour? I am not going to be making everything whole wheat. So I vacillated and then bit the bullet and purchased it. I mean the flour was double the price of good old fashion all purpose flour. My sister will be skeptical of eating anything I bake because she knows I am going to figure out a way to use up all that flour.
So Sunday morning as my Crockpot was finishing up my lasted dinner, I mixed up the ingredients for these blueberry muffins. I will say it didn't take much time, but sifting the two flours was really the only time consuming part of this recipe.
Ingredients: As adapted from
Skinnytaste
1 cup of unsweetened applesauce – I love applesauce!
1 cup of whole wheat flour
1 cup of all purpose flour
½ cup of sugar
1 tablespoon of brown sugar – You know I had to change up something in the recipe. I can't help it.
1 tsp of baking soda
½ tsp of salt
1 ½ cup of blueberries or 6.5 oz
1 large beaten egg
1 tsp of vanilla extract
2 tbsp of melted butter
You are going to have to sift your flours prior to baking. I have a crazy sifter, I wish I had the kind you turn the handle on. The one I have you squeeze the handle and just takes too danggone long.
Preheat your oven to 325 degrees
Mix your flour, sugar, baking soda and salt in a large bowl. Mix well.
In another bowl mix your egg, butter, vanilla and applesauce. Then add to your flour mixture and stir until just blended. Then gently fold in your blueberries. I used 6 oz of fresh blueberries and half an ounce of thawed blueberries.
Pour in your lined muffin tin and this will make a dozen muffins. Bake for 25 minutes or until toothpick clean. Cool for 10 minutes.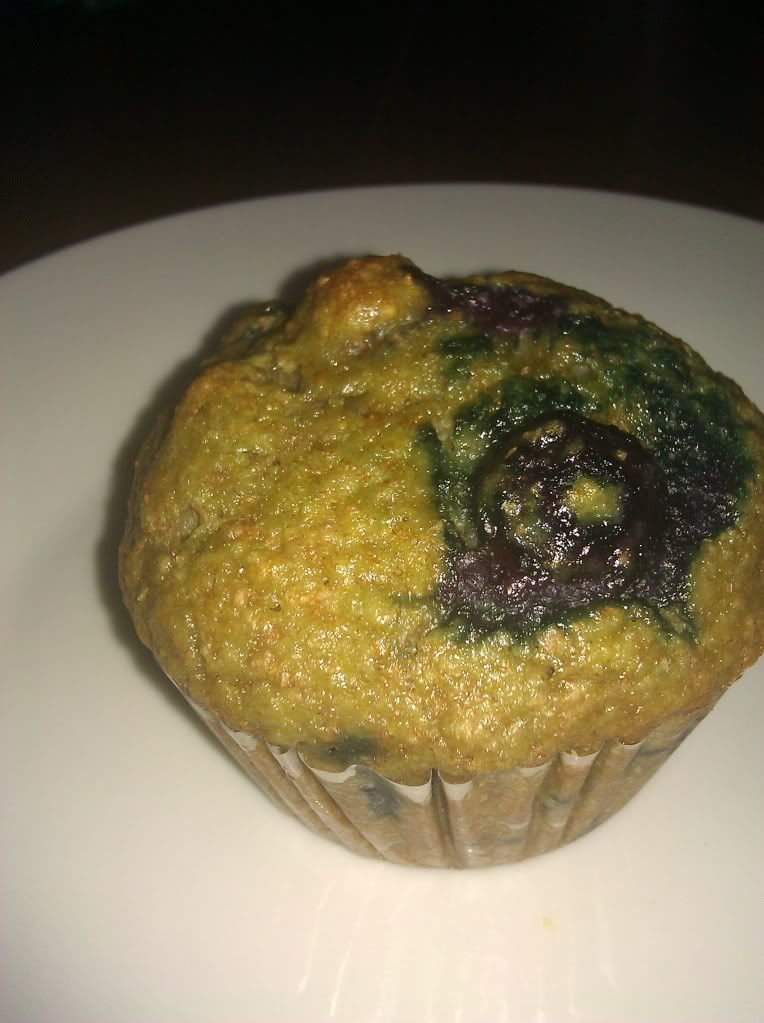 Look at the blueberries bursting from this muffin...
Verdict: I will definitely be making these again, especially since I have all that whole wheat flour! They were moist, not too sweet and bursting with blueberries. I hate to get a dry blueberry muffin that only has a few blueberries in it or the blueberries are some dried version of a berry. I thought the wheat flour may make the muffins kinda grainy, like wheat flour can do, but the half and half made this not happen. And because of the applesauce as well, you know you are getting a great dose of fiber. Try it and I know you will like it.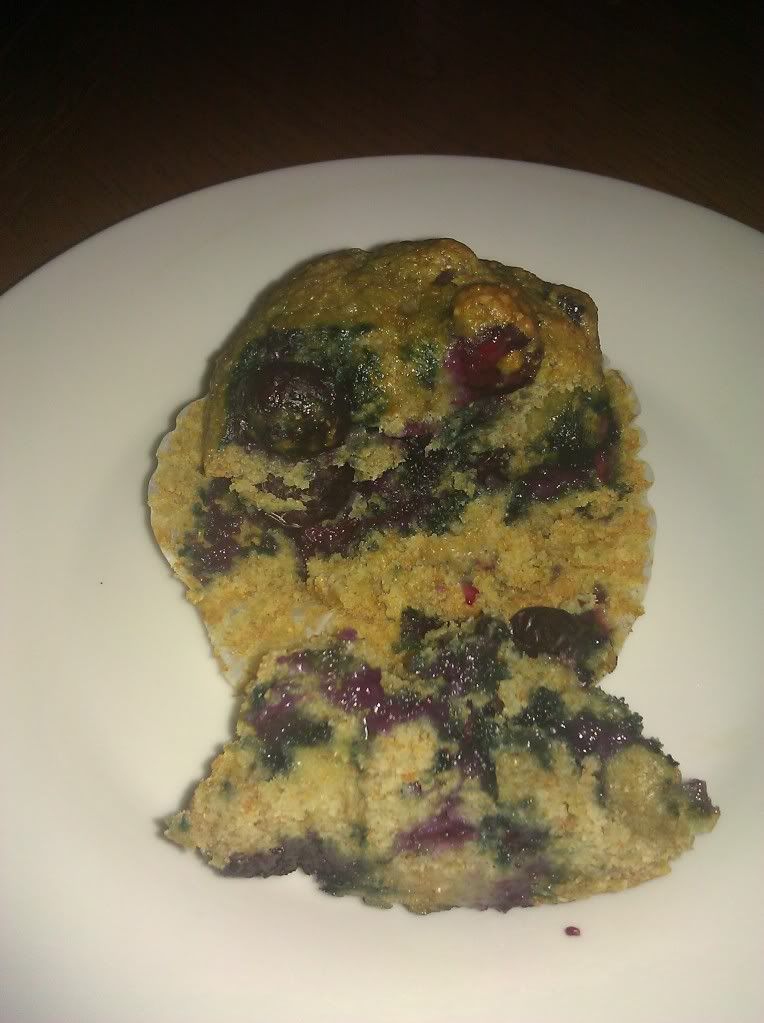 Every single bite, you get a nice fresh bursting with juice and flavor blueberry!