Creative Cooking...Spaghetti Squash Boats with Marinara Meat Sauce
Spaghetti Squash Boats with Marinara Meat Sauce
Have you ever tried Spaghetti Squash? I am a lover of squash and when I am in the market and see some great squash, I actually get excited. In fact, I am thinking of growing squash this year in my garden. And alas, I tried spaghetti squash almost two years ago at one of those chain restaurants. And frankly, I was unimpressed. The squash was flavorless and bland. I ate it, but I didn't enjoy it. However, I knew that too many food bloggers used this squash with great results; so maybe, just maybe I need to find a recipe and cook it myself.
Imagine my excitement when I saw that
Skinnytaste
posted a Cheesy baked spaghetti squash in January. Man, I knew I was going to make it, but I was going to use some of my Italian meatballs instead of chicken. And baby, this dish did not disappoint. Frankly, any recipe you find on
Skinnytaste
is great. Although this is a weight watcher meals blog, the food has taste and is good for you. Now, my meatballs probably added more points but I tried to stay closer to the recipe this time, because this was my first time making Spaghetti Squash.
Ingredients: as adapted from Skinnytaste
1 medium spaghetti squash
Sea Salt and Crushed Black Pepper
8 meatballs cut into quarters (frozen Italian meatballs)
1 tsp of Italian seasoning
1 cup of marinara sauce (Bertolli's Burgundy Marinara)
1 cup of skim mozzarella cheese
Basil for garnish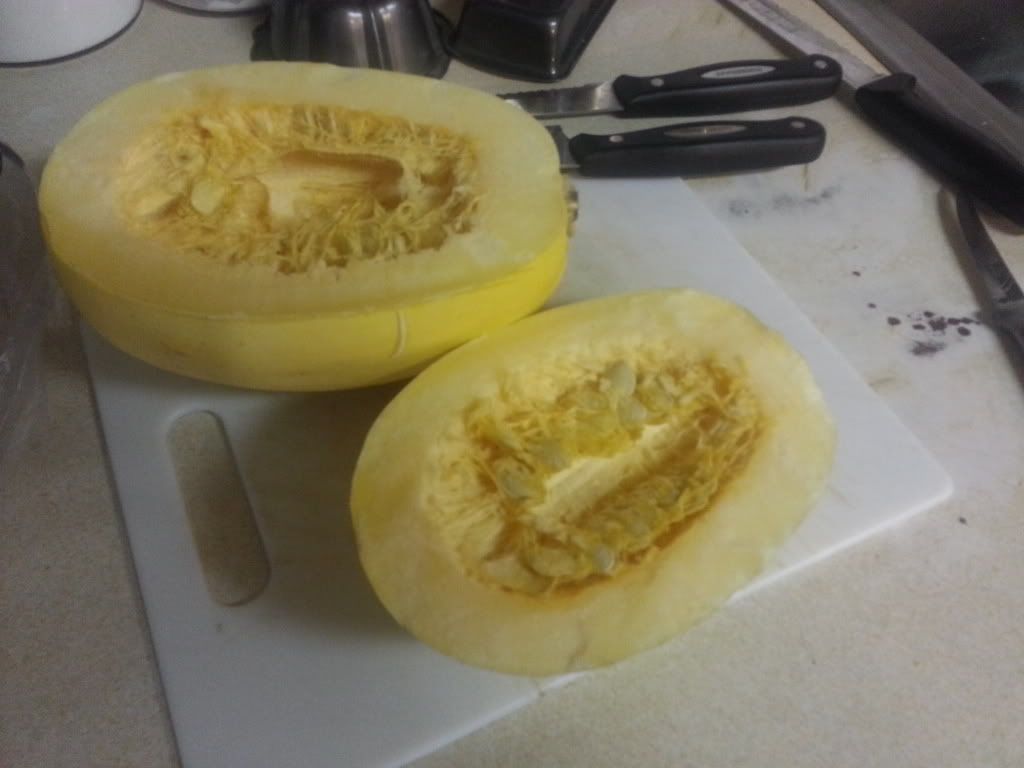 Count the knives and there were two more that you can't see.
Preheat oven to 350. Then you are supposed to cut your squash in half lengthwise. Let me tell you, the damn squash was hard to cut. I was using all my good knives trying to cut the thing. I feared I was going to cut my damn hand, but I eventually after 15 minutes got it cut, unevenly. I then proceeded to scoop out the seeds and the fiber stuff. I seasoned it with salt and pepper and let cook until the skin gives which took about 40 minutes.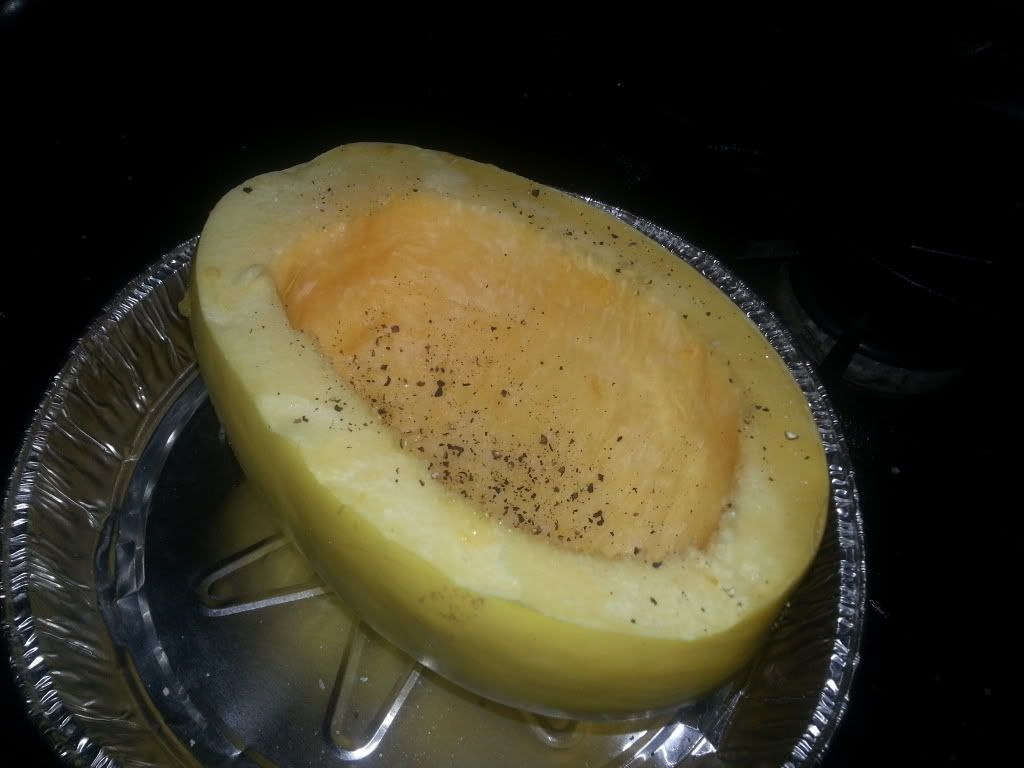 Seeded and fiberless and seasoned with sea salt and cracked black pepper
My marinara sauce I heated on low with the cut meatballs and Italian seasoning until warm enough.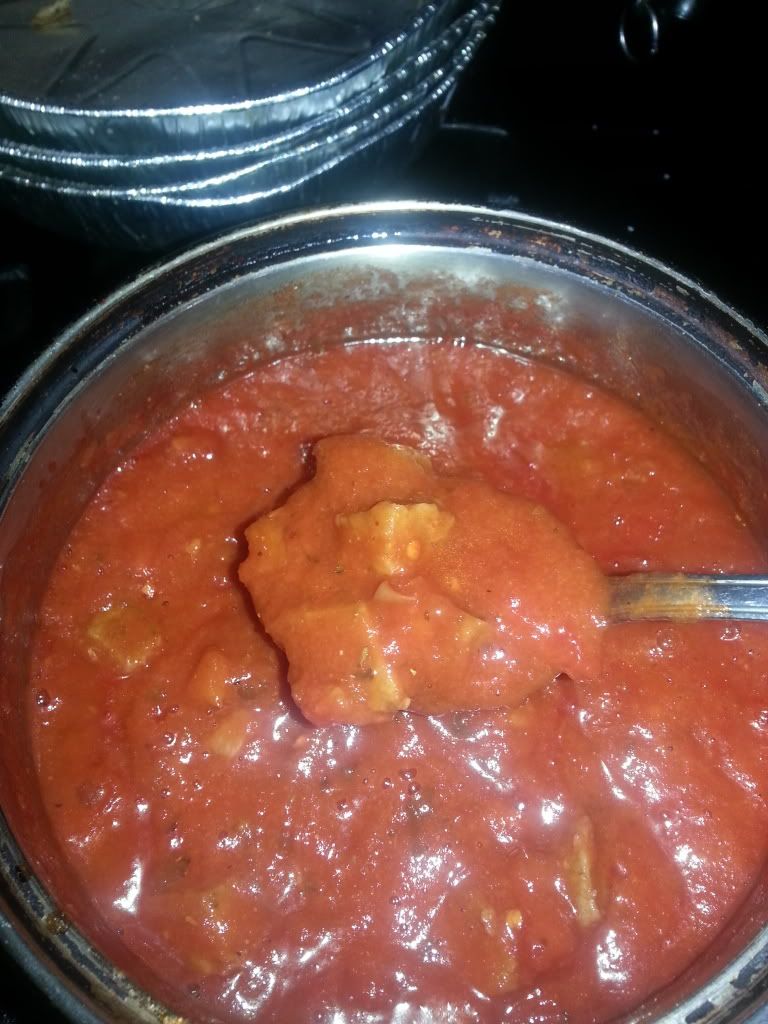 When the squash was done, using a fork I fluffed up the "spaghetti" on each half and seasoned again with salt and pepper. Then I topped the halves with my marinara with meat sauce and topped with mozzarella cheese and put back in the oven for about 10 minutes until cheese was bubbly. Then I topped with some fresh basil. This was Sunday dinner.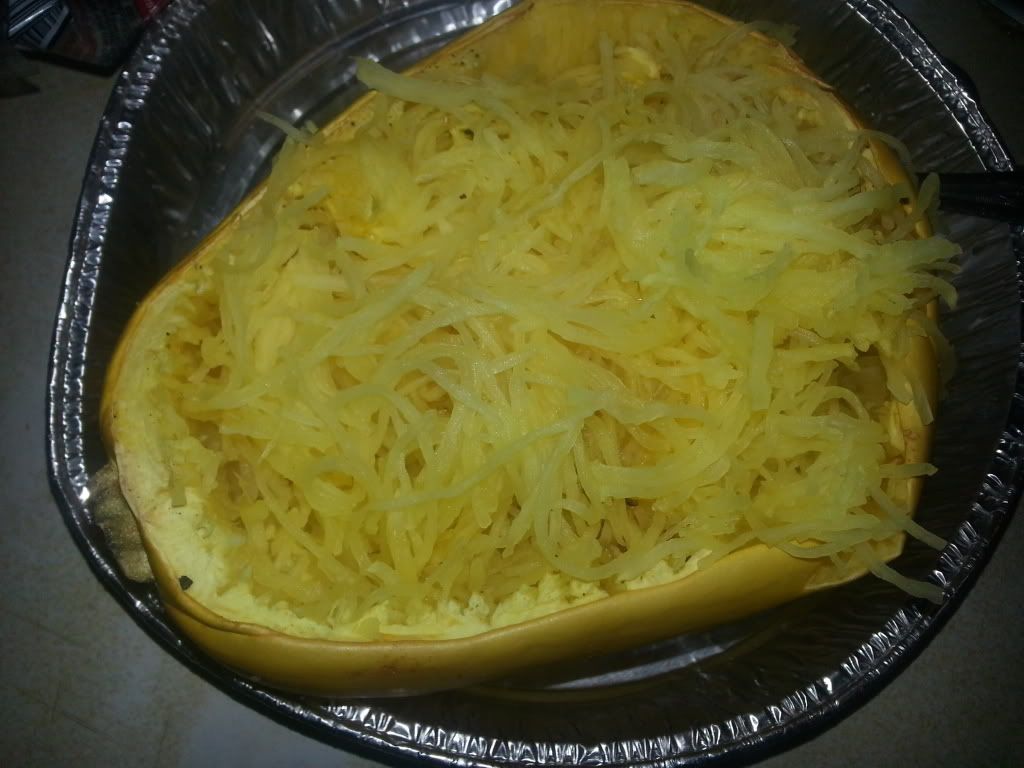 Fluffed Spaghetti Squash...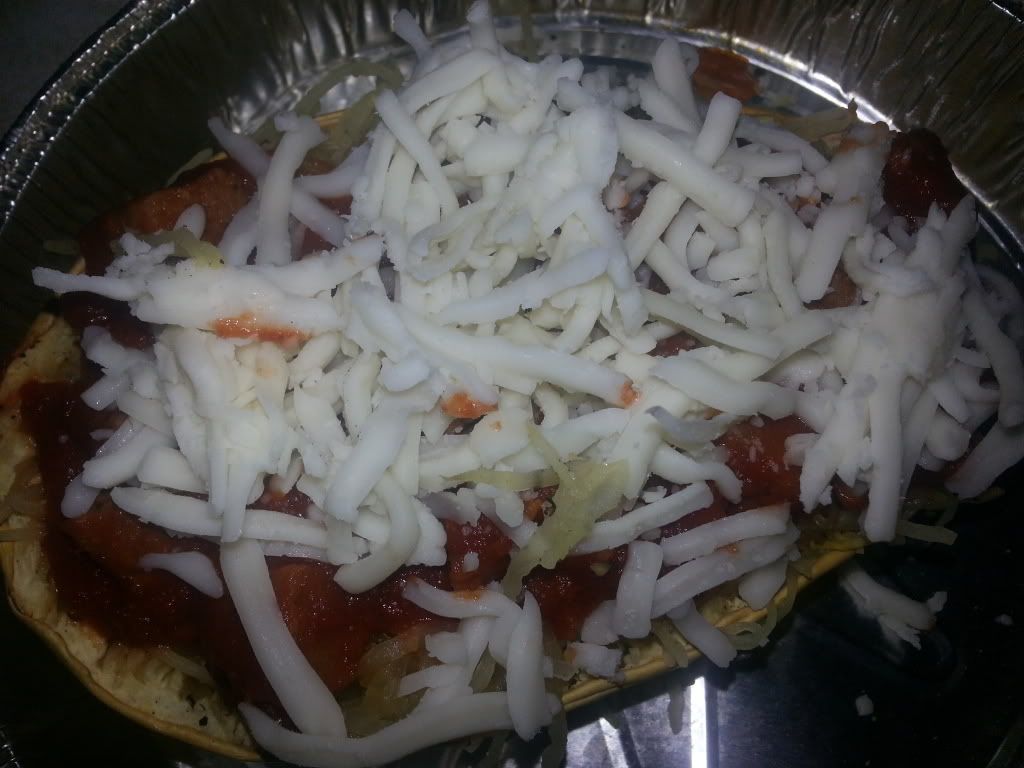 Dressed Spaghetti Squash with Marinara Meat Sauce and Mozzarella cheese
Verdict:
Yummy! I will definitely eat spaghetti squash again. The squash was plain tasty when paired with the marinara sauce. I ate half for dinner and halved the other half for a dinner and lunch the same week. The small half was plenty filling. I had the itis, bad. I paired this with a small green salad. So if you haven't tried spaghetti squash and want to try it, this recipe is probably the one you want to try to get your taste buds ready for such a unique squash. Let me know if you try it!
Doesn't this look amazing?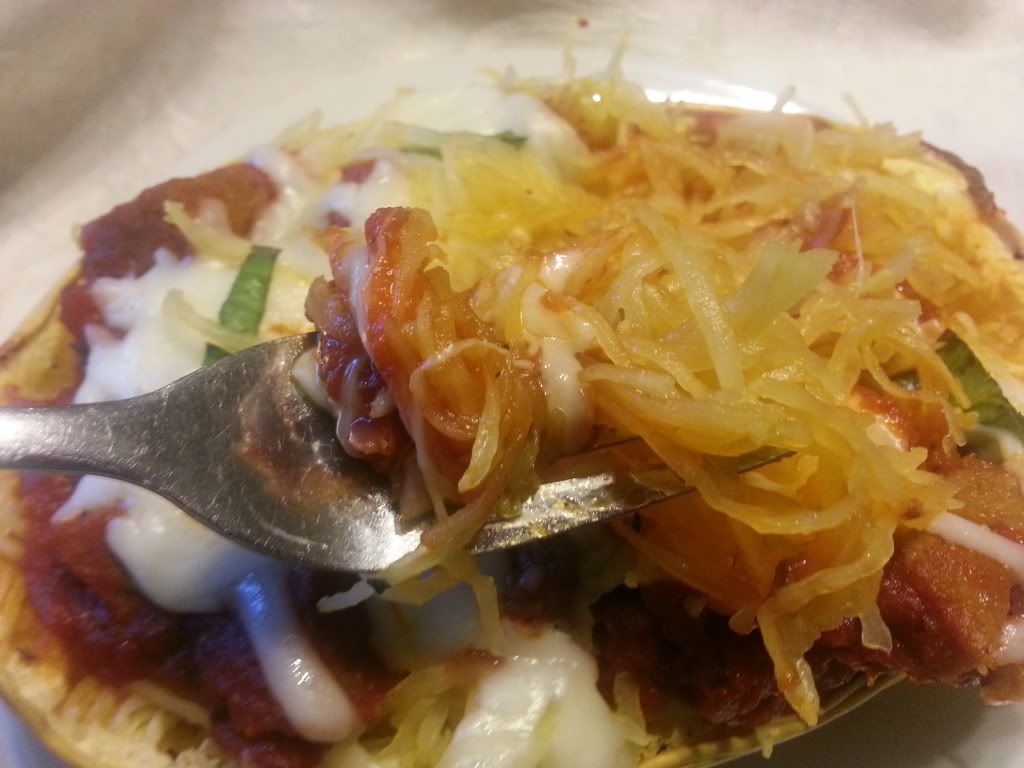 Here, have a taste...oh well maybe next time!