The One About the First of Two Family Trips…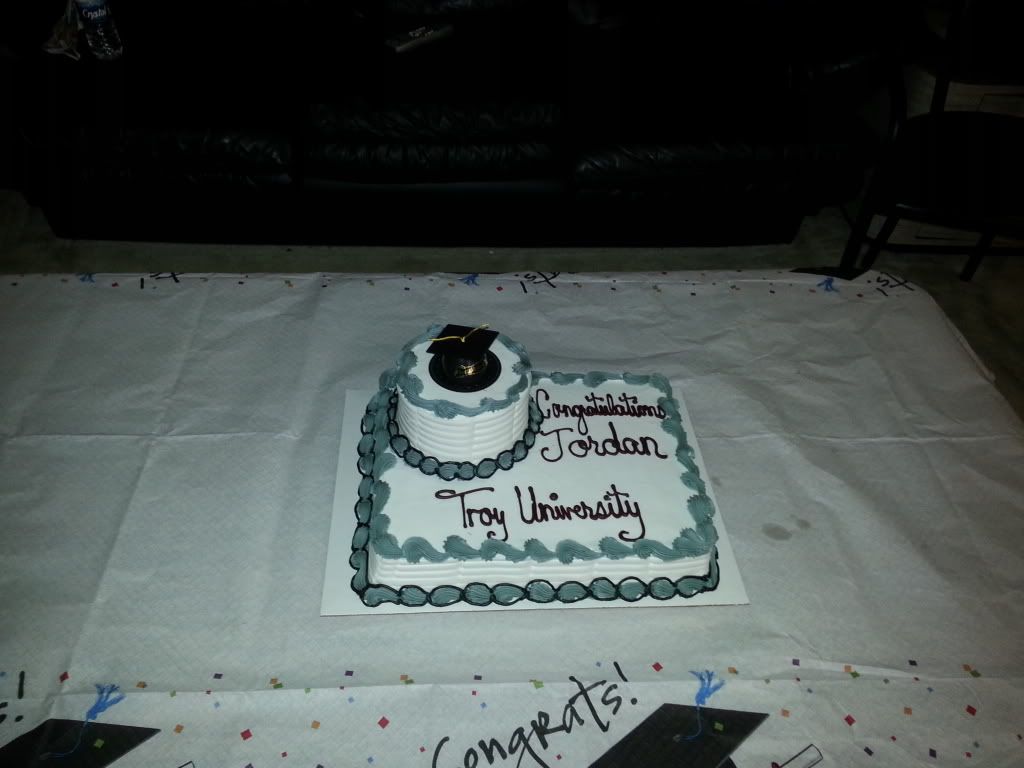 Traveling with family can be a rewarding experience. It can bring you closer and garner feelings of togetherness and a knowing that together as a family you can conquer the world! We decided last year we would be traveling to be a part of a couple of graduations. Everyone wants to support one another and let the graduates know how truly proud we are of their accomplishments. Well the first of the graduates had their commencement ceremony on last Thursday, May 23, 2013. So we packed into two vehicles and headed for Atlanta.
Since my break in, I am a bit neurotic and diligent about the security of my home so you know I wanted to leave during a time no one would notice and had a back-up plan for someone to watch my home for the one day I would be gone. So we left my house to pick up my cousin and her two grandsons and then we were to hit the interstate. For a trip that shouldn't take but a couple of hours.
Sighing
…we stopped right before we go on the interstate so my other cousin could catch up and of course that meant folks were going in the gas station to grab up snacks and such. It is a two hour drive. Really? So technically, originally we were to hit the road at 11:30 am, however, we left after noon.
The drive was uneventful. We almost got lost getting to the hotel. Let me tell you this, using MapQuest is like taking your life into someone else's hands. The MapQuest directions were slightly wrong, but my Navigation on my phone, was right. Once we got to the hotel, it was after 3 pm ATL time, so we knew we had to eat, shower, dress and be ready by 6 pm. Incidentally, my niece was already at her favorite cousin's house because she flew in that morning.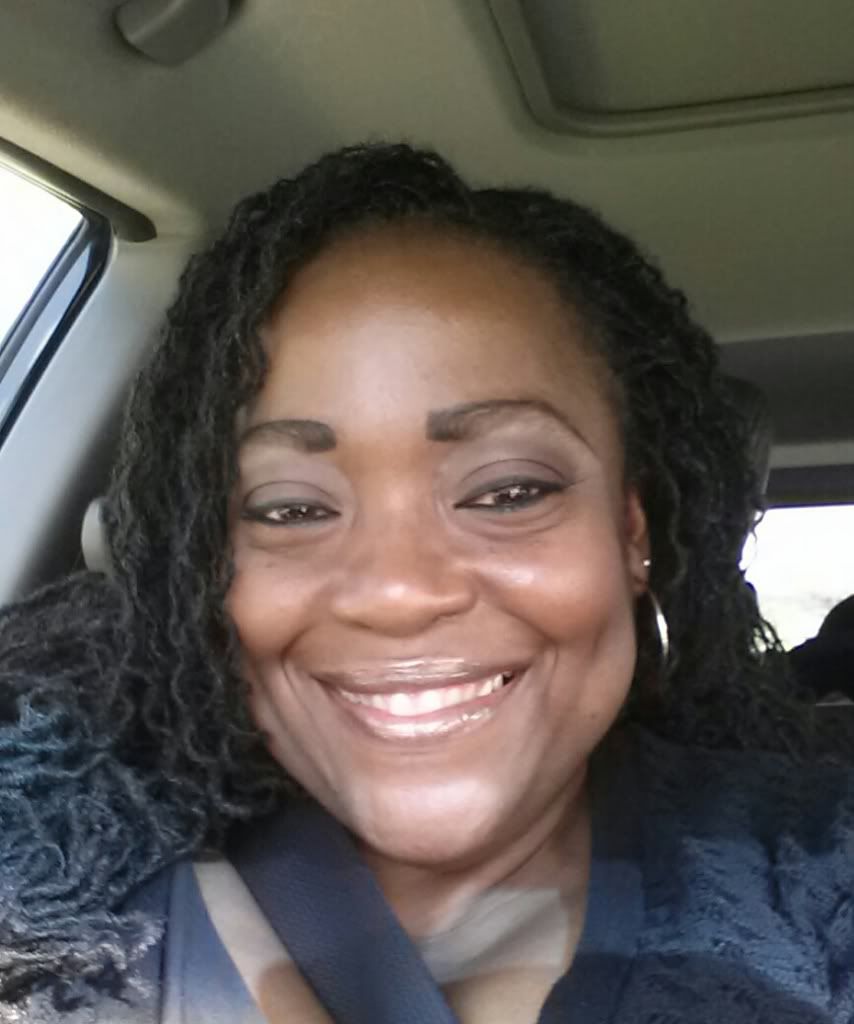 All smiles on the way to the Commencement ceremony...
We met the graduate's mother at a gas station on the way and it took us about 15 to 25 minutes to get to the ceremony location. Atlanta traffic is crazy. The graduation took place at Kennesaw State University. We had to pay for parking. But the school so graciously gave us a shuttled golf cart ride to the entrance of the commencement ceremony and the line to get in was ridiculous. Seriously, folks had been in line for at least an hour. Did I mention I had on 4 inch heels? Lucky for us, some of my family had gotten there early so we just slid in line. To wait. In heels.
JT the Graduate with his sister and brother
The thing about this graduation and what seems to be the norm now, is you must have a ticket to get into the graduation. The students are allotted only so many tickets and they have to hustle to garner more. My little cousin worked that hustle because he got 20 tickets. He is gangster like that. They tried the ticket thing here for our local graduates and let's just say the shyte didn't fly.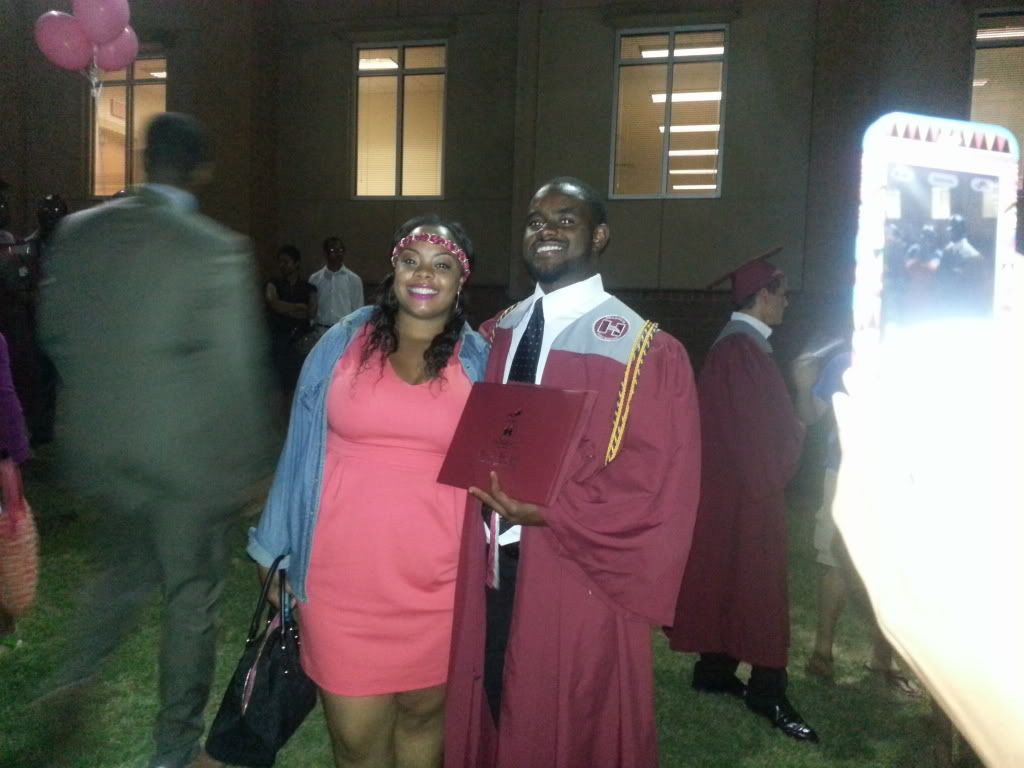 JT with his sister, the hand on the right is my nieces'
And when were allowed in they really did check tickets and take your tickets.
Really?
We were able to get a couple of rows where we were fairly close. My poor niece wanted to sit next to me but it didn't happen. The ceremony started with the processional at 8 pm. This class was over 500. And the processional took 30 minutes. In fact, they didn't hand out a diploma until an hour and half later. 9:30 pm they started handing out diplomas. Did I mention I have the attention span of a gnat? Did I mention that I forgot how boring graduations are? Did I mention my cousin's last name begins with A? They sang and talked and gave speeches, awards, and scholarships for over an hour. I ate my four jolly ranchers up during that time period. And we had to stand through the entire processional and it was long. Long I tell you! My feet were over it. And yes, I sat down.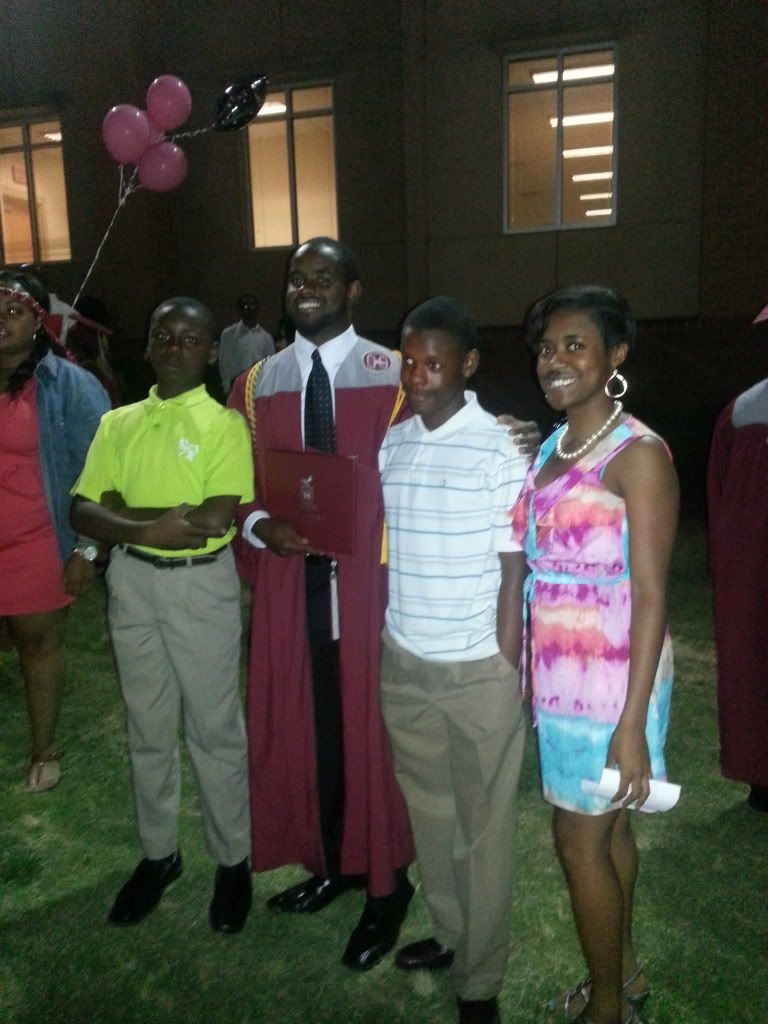 JT, with his cousins including my niece, Caitlyn
My cousin graduated with honors and over 200 of the students graduated with honors. What was funny was the Valedictorian had a 4.57 grade point average and my cousins were pondering how he got that average if the grading system is 4.0. Yeah, I had to explain the AP courses. We then had to stand for the Alma mater and recessional. We probably should have headed on out then. Getting out of the place was maddening. Or I was hungry. Seriously, I had road rage something awful. I just wanted to be out of there. And I did the cardinal rule no-no, I took off my shoes. There was too much stopping and going and holding up the exodus and it was either my shoes or … nevermind.
We were able to take some good pictures after we found the graduate, JT. Then it was time to head to my cousin's house for a small meal. It was after 11 pm before we got to their house. We took some kind of short-cut but it felt like we drove back to Montgomery with the time it took for us to get there. I was way over it. Our meal was simple and delicious or I was hungry.
On the way to the Cousins' before the cook out
The next day after very little sleep, because I was working on my book club website only for it to not upload, we headed back to the cousin's house. They were giving the graduate a barbecue at 5 pm. So we were there a few hours before time to help. Well some helped and some slept. Any guesses who slept? And my poor niece was so tired she slept for about 3 hours solid on the couch, babygirl was tired.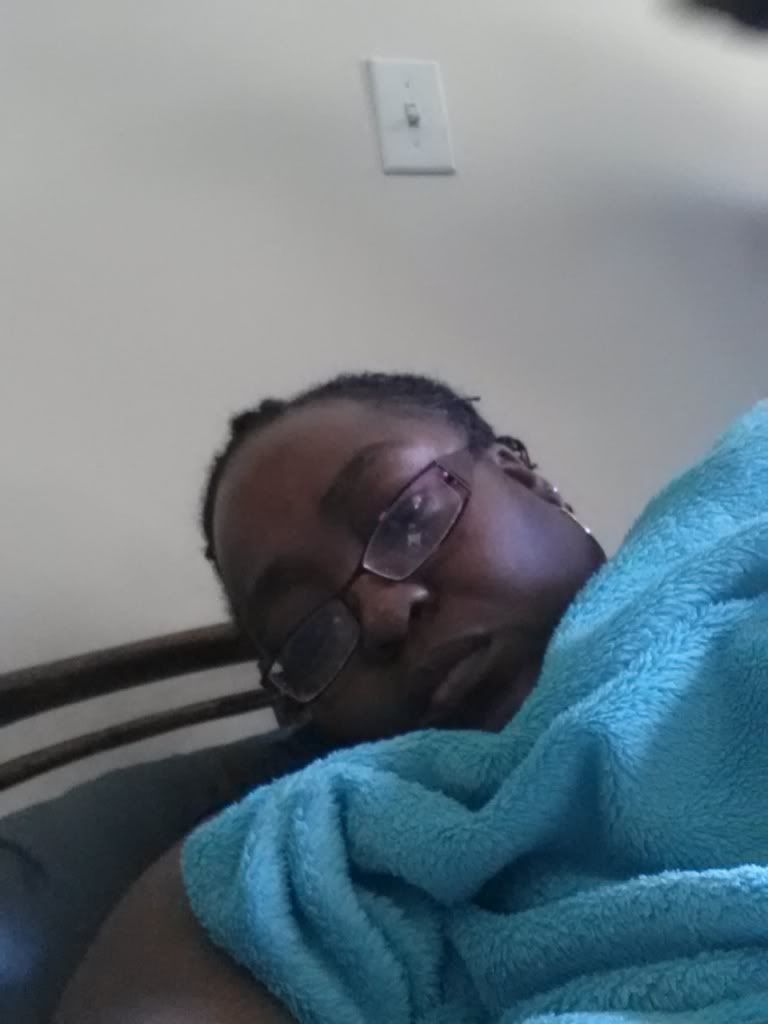 This was my perch for most of the time at the Cousins'
The turnout for the barbecue was great. And we had a great time. However, we had to hit the road back to Montgomery. We started out at 5:38 pm, Central Standard Time. We crossed the Montgomery city limits sign at 9:48 pm. Maybe I was hungry, but I was truly irritated to actually get home after 10 pm. From a normal 2 hour trip. All I am going to say is we made 3 stops.
Really?
We will be headed to Virginia in a few weeks and this trip has traumatized me. I needed all those traveling to get their bladders, stomach and minds together. I am not going to be stuck in a vehicle for 20 hours because they want to stop every few minutes. I am truly convinced me doing road trips will probably end in a few weeks.
Really.
I love my family but this is going to test my patience. And I already gave my niece notes on how her graduation better go, I am not for the standing, sitting, waiting and giving out diplomas hours after the start. I am not about that life.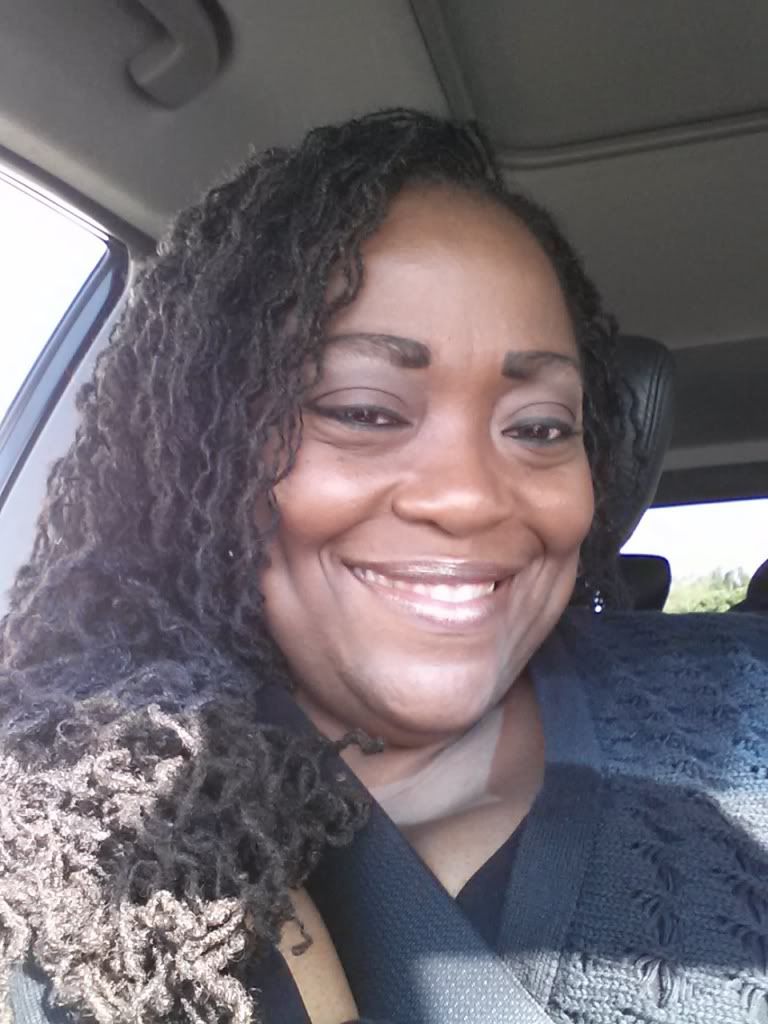 A gratutious hair picture. Looks lovely, huh?

Labels: Family, Family Vacation, Funny, Hair photos, Happy, Kids